Angry Workers Swarm Seoul's Streets, Demand President Resign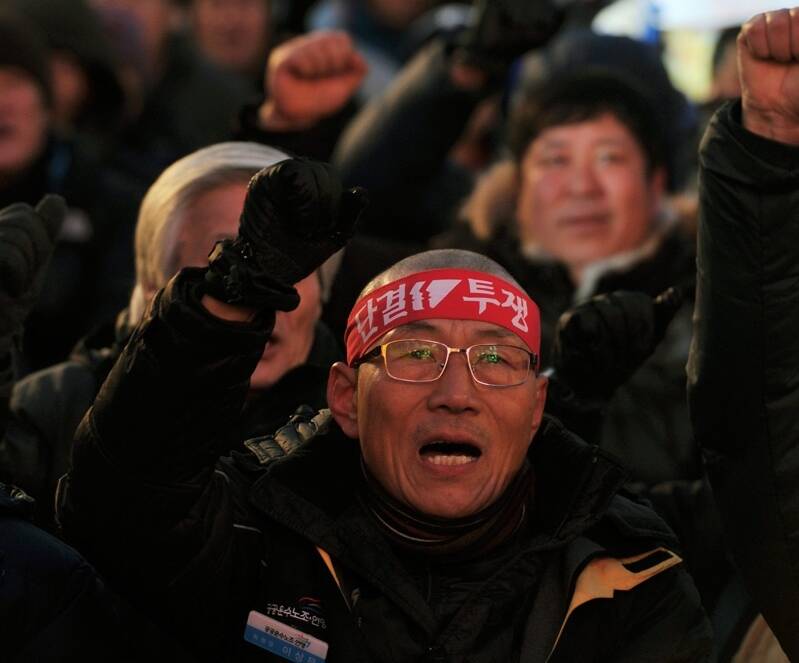 We wanted to make sure you didn't miss the announcement of our new Sustainer program. Once you've finished reading, take a moment to check out the new program, as well as all the benefits of becoming a Sustainer.

South Korea may best be known for slick electronics and saccharine pop tunes, but less of that stereotypical effervescence was present in Seoul in December. Instead, the streets were filled with throngs of angry union workers, facing down riot police in a show of defiance against a government plan that they say would lead to layoffs and privatization.
On December 28, workers staged a one-day general strike that capped about three weeks of intense smaller protests involving thousands of workers and activists and causing sharp service reductions. The establishment of a parliamentary committee to resolve the railway dispute has paused the demonstrations for now. But unions, who see the fight as a broader labor struggle beyond the rail issue, are not giving up and have vowed to keep protesting. On Friday, they demanded the president's resignation.
In recent months, the government has proposed subdividing and commercializing the national railway, Korail—supposedly a cost-saving measure to deal with the railway's debt burden and financial losses. Recently, tensions escalated when the government announced plans to split Korail services into separate segments and to create a subsidiary to run part of the high-speed rail service under a separate corporation, which would purportedly stay primarily state-controlled.
Labor activists suspect the claims of financial concerns mask the government's underlying aim to incrementally privatize the vital public institution, in turn triggering job losses and pay cuts. The Korean Confederation of Trade Unions (KCTU) and the Korean Railway Workers' Union (KRWU) have also argued President Park Guenhye's administration pushed through the plan without adequate public or opposition consultation. In response to the government's railway proposal, rail union workers voted to go on strike on November 22, launching a wave of public rallies and pickets that grew to flood the streets of downtown Seoul. In mid-December, after the Prime Minister declared the strike ​"illegal," police began clamping down on union leadership by issuing arrest warrants and confiscating equipment and documents from several local union offices.
When police then moved on to targeting the headquarters of the umbrella labor organization KCTU, which represents a multi-sector membership of more than 690,000 workers, union activists struck back. Eric Lee of LabourStart reported at OpenSecurity that the activists ​"formed a defensive cordon but eventually riot police charged the building, smashing down glass doors and firing pepper gas, causing several injuries. There were reports that some of the trade unionists responded with improvised water cannons."
After the blockade of the KCTU building resulted in 138 arrests of protesters, as Lee put it, ​"An enraged KCTU leadership issued a call for a million-worker strong general strike." Internationally, meanwhile, labor activists garnered about 14,500 signatures online on a statement of solidarity.
For union advocates, the key goal of the protests now going forward is not to push one particular alternative plan for the railway overhaul, but simply to ensure an accountable decision-making process. On the eve of the general strike day, Wol-san Liem, International Affairs director for the Korean Federation of Public Services and Transportation Workers' Unions (KPTU), which, like the KRWU is part of the KCTU, told Working In These Times, ​"We're just saying: Halt what you're doing now, so we can have a real debate where all of the parties involved — the workers, the employer, the government and the traveling public — can have their voices heard, put forth their proposals" and then develop a plan through deliberations before seeking the review of the National Assembly. Though the new parliamentary committee may pave the way for such debates, more union actions are planned to keep the focus on broader issues of labor equity and government accountability.
This isn't the first time militant union campaigns in South Korea have clashed with the government. Last January, KCTU issued several demands for the incoming Park administration, calling for the reinstatement of union members allegedly fired in retaliation for organizing and demanding ​"enforcement actions against anti-union retaliation by employers and the establishment of company unions." KCTU has also criticized the widespread exploitation of ​"dispatch" workers — temporary workers nominally hired by the company through outsourcing, but who essentially do the same work for less pay, without the job security of regular workers.
The unions got a legal boost last March when the Supreme Court upheld a ruling against General Motors Daewoo, declaring that subcontracted auto manufacturing work was actually illegal dispatch work. The violation carried millions of dollars in fines for both the employer and the subcontracted firm.
Of course, sometimes bosses don't feel like heeding the courts or the unions. In 2012, after a court found that Hyundai Motors had illegally misclassified a full-time employee as a subcontractor, the company refused to reclassify him, instead hitting back with its own lawsuits against several of its plants where protests had broken out.
And the government has taken to simply refusing to recognize some troublesome unions. The Korean Government Employees Union staged a sit-down strike last year before the National Assembly, after the government repeatedly rebuffed its attempts to register as an official union and fired more than 100 members, including the union's president and secretary general, alleging they were leaders of an ​"illegal" organization. Similarly, the Ministry of Education, Science and Technology threatened in January 2013 to de-register the teachers union unless it amended its bylaws to exclude from its membership retired and dismissed teachers. When the union balked, it was decertified in late October, despite protests from members and international labor activists.
Beyond Korail, the general strike was an explosion of long-brewing resentment from many sectors of Korean civil society, particularly workers who feel left behind by the country's breakneck development and right-wing regime.
Now that the Korail issues has newly highlighted the government's anti-union activity and authoritarian tactics, Liem says, there has been a groundswell of public solidarity from students and civil society groups. The protests might even have the potential to bubble into a broader populist movement, paralleling the anti-austerity campaigns that swelled in Europe in 2012.
​"There has always been, for the last several years, an alliance between civil society and the labor movement, and that is continuing of course, and I think it will get stronger," Liem says. Though, like Occupy Wall Street, the movement currently lacks a single agenda or formal political leaders, she adds, ​"there is potential for that to become the basis of something much larger and hopefully a political leadership will emerge through that process."
Be a Sustainer
We surveyed thousands of readers and asked what they would like to see in a monthly giving program. Now, for the first time, we're offering three different levels of support, with rewards at each level, including a magazine subscription, books, tote bags, events and more—all starting at less than 17 cents a day. Check out the new Sustainer program.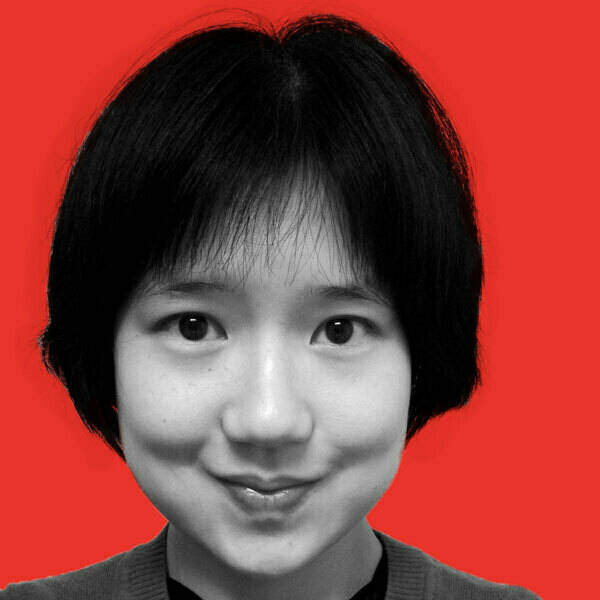 Michelle Chen is a contributing writer at In These Times and The Nation, a contributing editor at Dissent and a co-producer of the ​"Belabored" podcast. She studies history at the CUNY Graduate Center. She tweets at @meeshellchen.