A Left Strategy for Breaking the Power of Trump and His White-Supremacist Base
It's time for the anti-capitalist Left to bring the fight to the electoral arena.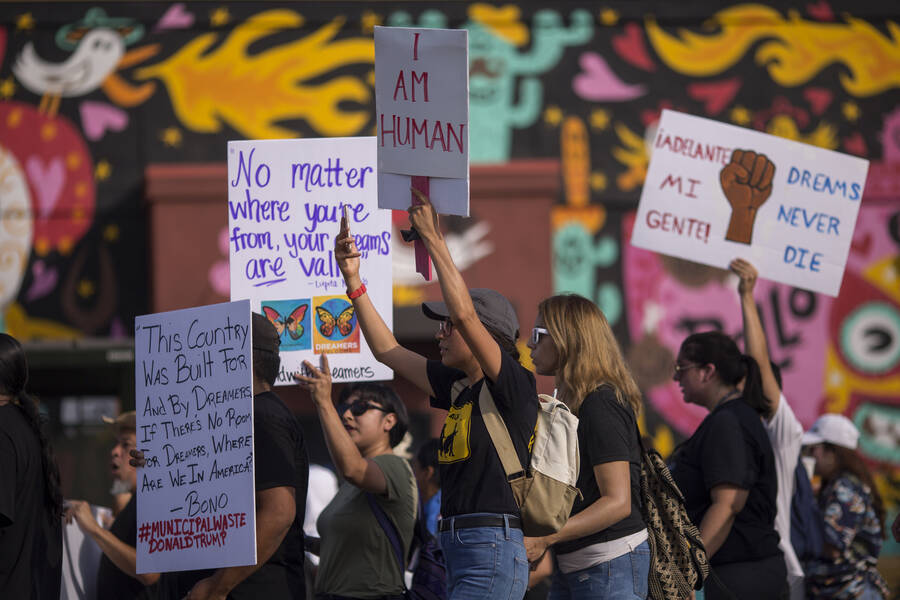 A longer ver­sion of this arti­cle appeared on Orga­niz­ing Upgrade.
The consolidation of a grassroots-based, independent political formation that can fight both inside and outside of the electoral arena and the Democratic Party is crucial for translating a victory over Trumpism into momentum for radical change.
The white-suprema­cist vio­lence In Char­lottesville — and Don­ald Trump's embrace of the ​"very fine peo­ple" who marched and mur­dered under Con­fed­er­ate and Nazi ban­ners — did more than sharp­en the intense polar­iza­tion already under­ly­ing U.S. politics.
It spot­light­ed the dan­ger­ous role white nation­al­ism plays in gal­va­niz­ing Trump's racial­ly anx­ious white social base, while ener­giz­ing the anti-racist and demo­c­ra­t­ic-mind­ed forces that have the poten­tial to over­come it.
Real­iz­ing that poten­tial is going to require the resis­tance — espe­cial­ly its rad­i­cal wing — to up our game. This esca­la­tion must be anchored in five key points:
1. The over-arch­ing pri­or­i­ty of the cur­rent peri­od is to break the pow­er of Trump, and the white nation­al­ist bloc, that togeth­er dri­ve the Right's anti-demo­c­ra­t­ic and anti-work­ing-class agenda.
2. Direct action and street protest make up indis­pens­able com­po­nents of the resis­tance. At least one show of force on the scale of the Wom­en's March would be a reminder that the pop­u­lar major­i­ty will not leave it to intra-elite maneu­vers to deter­mine Trump's fate. Ener­gy from mass action needs to be car­ried into the 2018 and 2020 elec­tions, which pro­vide the only avenues to remove the white-nation­al­ist Right from power.
3. To bring togeth­er suf­fi­cient social forces to defeat Trump and the GOP, and strength­en pro­gres­sive ini­tia­tives if and when Trump is oust­ed, the Left needs to engage the fight with­in the Demo­c­ra­t­ic Par­ty over mes­sage, can­di­dates and allo­ca­tion of resources. There is a par­al­lel here with the 2016 cam­paign. Almost all sec­tors of the Left grew as that elec­tion polar­ized the coun­try. But the ones that grew the most — Demo­c­ra­t­ic Social­ists of Amer­i­ca and Labor for Bernie — were those that plunged into Sanders' cam­paign, not those who crit­i­cized it for being insuf­fi­cient­ly rad­i­cal or dis­missed it because it fought on the ter­rain of the Demo­c­ra­t­ic Party.
4. The strug­gle for a work­ing-class pro­gram of eco­nom­ic, racial, gen­der and envi­ron­men­tal jus­tice—and peace—will be con­duct­ed beyond the next few elec­tion cycles. We should have con­fi­dence that the kind of pro­gram advo­cat­ed by Bernie Sanders or Rev. William Bar­ber can, at some point, gain major­i­ty sup­port and shape the nation­al agen­da. But we also need to strate­gize based on hard-head­ed real­ism about how far we have to go to address the frag­men­ta­tion of the pro­gres­sive move­ment and the rel­a­tive­ly mar­gin­al­ized anti-cap­i­tal­ist Left.
5. The issues front-and-cen­ter in Char­lottesville — and under­scored by Trump's end­ing DACA — are race, racism and the inte­gral role peo­ple of col­or have always played in the very heart of the U.S. work­ing class. Because of the char­ac­ter of the Trump régime, and the weak­ness­es in race-class analy­sis and prac­tice in the resis­tance, these fac­tors stand out as deter­mi­nants of whether or not the resis­tance con­tin­ues to mature.
In short­hand: The Left must inter­act with the post-Char­lottesville upsurge by pur­su­ing a strat­e­gy that is anti-Right, anti-racist, gen­der-inclu­sive, ground­ed in the inter­ests of the work­ing class and ori­ent­ed toward work­ing inside and out­side of the Demo­c­ra­t­ic Party.
The resis­tance has come a long way
The resis­tance has come a long way since Trump's gloat­ing inau­gu­ra­tion. Trump's insis­tence that ​"both sides" were to blame in Char­lottesville alien­at­ed major sec­tions of the polit­i­cal class. With cor­po­rate lead­ers flee­ing his show-piece coun­cils, the top mil­i­tary brass issu­ing state­ments con­tra­dict­ing his views, and open feud­ing with con­gres­sion­al lead­ers of his own par­ty, Trump's gov­ern­ing coali­tion is sig­nif­i­cant­ly nar­row­er than it was in Jan­u­ary. His pop­u­lar approval rat­ing is at a record low of 38 per­cent.
Still, that 38 per­cent con­sti­tutes a big major­i­ty of Repub­li­cans. So GOP elect­eds defy Trump at the per­il of a pri­ma­ry chal­lenge. Their cal­cu­la­tions are chang­ing dai­ly, but GOP mem­bers of Con­gress still see align­ment with Trump as nec­es­sary to imple­ment their shared agen­da of crush­ing the labor move­ment, rolling back the rights of women and LGBTQ peo­ple, stonewalling action against cli­mate change and trans­fer­ring even more wealth into the pock­ets of the already rich.
Our side is the major­i­ty, and we also have the moral high ground. But these are not enough. This fight will be decid­ed by pow­er. The Right will not be divid­ed and forced into retreat until the open advo­cates of white suprema­cy, Islam­o­pho­bia, anti-Semi­tism and unre­strained patri­archy are demor­al­ized by being out-num­bered 100 to one every time they show their faces. And it will take the ener­gy in the streets trans­lat­ing into an anti-GOP, anti-Trump tsuna­mi in the vot­ing booths to break their grip on power.
Right-wing goal: a racial­ized, author­i­tar­i­an state
U.S.-style racism came into being in the midst of strug­gles over land, prop­er­ty, pow­er, and polit­i­cal rights in the 17th cen­tu­ry. Slav­ery, along with the geno­cide of Native Amer­i­cans, is accu­rate­ly termed the coun­try's ​"orig­i­nal sin."
Among the man­i­fes­ta­tions of this deeply root­ed racism is a recur­ring pat­tern. In response to move­ments that advance the inter­ests of peo­ple of col­or, espe­cial­ly African Amer­i­cans, there is a fierce back­lash — even as these move­ments expand democ­ra­cy for all peo­ple. That back­lash involves build­ing a cross-class, white unit­ed front which advances the eco­nom­ic pro­gram of the most reac­tionary wing of the rul­ing class. The back­lash enlists all who can be mobi­lized to defend white pow­er and priv­i­lege, and it is aid­ed by the pas­sive alle­giance of oth­ers who believe that they can advance their own nar­row inter­ests by con­nect­ing with this bloc.
This pat­tern began with Nixon's ​"South­ern Strat­e­gy." It took a leap for­ward with Rea­gan's elec­tion and the entrench­ment of the ​"neo-lib­er­al mod­el" of pri­va­ti­za­tion, de-reg­u­la­tion, pro-1-per­cent tax ​"reform" and a with­er­ing offen­sive against unions.
In the wake of the 2008 finan­cial cri­sis and reces­sion, we saw a sharp rise in eco­nom­ic inequal­i­ty and anx­i­ety, demo­graph­ic changes and the elec­tion of first Black pres­i­dent. The back­lash bloc expe­ri­enced an unprece­dent­ed twist: Lead­er­ship was ripped from the GOP estab­lish­ment. It was seized by a dem­a­gogue who rode birtherism, anti-immi­grant hys­te­ria and bla­tant Islam­o­pho­bia to the White House.
Trump and his core sup­port­ers — forces bent on ​'racial and impe­r­i­al revenge'—now sat in the dri­ver's seat. The rest of the GOP fell in line, with minor excep­tions. Con­ser­v­a­tive intel­lec­tu­al Avik Roy explained why: ​"We've had this view that the vot­ers were with us on con­ser­vatism — philo­soph­i­cal, eco­nom­ic con­ser­vatism. In real­i­ty, the grav­i­ta­tion­al cen­ter of the Repub­lic Par­ty is white nationalism."
The Right's goal is to estab­lish a racial­ized, author­i­tar­i­an state. Giv­en the unpop­u­lar­i­ty of their eco­nom­ic agen­da, and demo­graph­ic changes not work­ing in their favor, the Right sees that kind of state as need­ed to imple­ment their full pro­gram of fos­sil fuel-dri­ven cap­i­tal­ism and per­ma­nent glob­al hege­mo­ny. This is not clas­si­cal fas­cism: It more close­ly resem­bles the Unit­ed States dur­ing the height of Jim Crow, or Israel today, than the bour­geois democ­ra­cy that has defined the Unit­ed States since legal­ized dis­crim­i­na­tion was abol­ished in the 1960s.
The Left's cru­cial role
The U.S. major­i­ty is against this shift, and the coun­try has become polar­ized along a Trump vs. anti-Trump axis. The road to max­i­miz­ing chances of defeat­ing Trump and grow­ing the anti-cap­i­tal­ist Left in the process is for the Left to bring our­selves and our pol­i­tics to the bat­tle as it is actu­al­ly unfolding.
The Left can play a cru­cial role in keep­ing a stress on mass action by get­ting peo­ple out in the streets, onto the pick­et lines and into town halls. We can fight for the orga­ni­za­tions that mobi­lize peo­ple to devel­op and main­tain a demo­c­ra­t­ic, par­tic­i­pa­to­ry char­ac­ter and do all we can to sus­tain and deep­en polit­i­cal dis­cus­sion along­side mobi­liza­tion and protest.
Regard­ing the elec­toral are­na, Trump and the GOP attained pow­er by win­ning elec­tions. It is hard­ly sur­pris­ing, then, that most peo­ple opposed to Trump, know­ing they con­sti­tute a major­i­ty, have con­clud­ed that the key task is beat Trump and the GOP at the bal­lot box. This has led to a surge of ener­gy in the direc­tion of what is now the only prac­ti­cal alter­na­tive, the Demo­c­ra­t­ic Par­ty bal­lot line.
All the ener­gy mov­ing ​"from protest to pol­i­tics" is a good thing. But giv­en that it is flow­ing onto Demo­c­ra­t­ic Par­ty ter­rain, there are many chal­lenges. The trick is to engage the Demo­c­ra­t­ic Par­ty in a way that max­i­mizes chances of an anti-Trump vic­to­ry while build­ing pro­gres­sive clout, con­sol­i­dat­ing inde­pen­dent vehi­cles for long-term strug­gle and expand­ing the ranks of the anti-cap­i­tal­ist Left.
No repeat of 2016
The lessons drawn from 2016 are a good start­ing point. Demo­c­ra­t­ic can­di­dates need a mes­sage beyond, ​"We aren't Trump." A pro­gram of eco­nom­ic, racial, gen­der and envi­ron­men­tal jus­tice and peace has to per­me­ate through Demo­c­ra­t­ic cam­paigns at all lev­els. Only such a mes­sage can inspire the mass Demo­c­ra­t­ic con­stituen­cies, those who stayed home in 2016 or vot­ed third par­ty, as well as Trump vot­ers who now real­ize that the pres­i­dent is a con man.
The Left also must keep remind­ing our­selves and oth­ers not to under­es­ti­mate the Trump régime or the stakes in the 2018 and 2020 bal­lot­ing. If the GOP isn't sound­ly defeat­ed, every­one in the GOP (and too many Democ­rats) will con­clude that appeals to racism are polit­i­cal win­ners and will act accord­ing­ly. Con­verse­ly, a crush­ing vic­to­ry over the GOP will divide and demor­al­ize the ene­my camp and give the forces who spear­head­ed that vic­to­ry tremen­dous momentum.
We also bear the respon­si­bil­i­ty of being an anchor force regard­ing the ways race and class are inter­linked. Only a mul­ti-racial, class-con­scious force of mil­lions has any chance of win­ning last­ing vic­to­ries over the world's most pow­er­ful, racist rul­ing class. Through­out U.S. his­to­ry, the Achilles heel of efforts to con­struct that force has been the sus­cep­ti­bil­i­ty of its white com­po­nent to view the non-white sec­tor as some­thing oth­er than class broth­ers and sisters.
The con­sol­i­da­tion of a grass­roots-based, inde­pen­dent polit­i­cal for­ma­tion that can fight both inside and out­side of the elec­toral are­na and the Demo­c­ra­t­ic Par­ty is cru­cial for trans­lat­ing a vic­to­ry over Trump­ism into momen­tum for rad­i­cal change. The build­ing blocks of such a form have become vis­i­ble. The task is to fur­ther increase the bud­ding polit­i­cal align­ment between such groups as Our Rev­o­lu­tion, Labor for Our Rev­o­lu­tion, MoveOn, Col­or of Change, the Work­ing Fam­i­lies Par­ty, the var­i­ous nation­al and state-based com­mu­ni­ty orga­niz­ing for­ma­tions, 350​.org, Planned Par­ent­hood and many others.
We need strate­gic patience, as well as a sense of urgency. Build­ing a base in the mul­ti-racial work­ing class, reviv­ing the labor move­ment and con­struct­ing a uni­fied, inde­pen­dent orga­ni­za­tion­al vehi­cle can­not be accom­plished in one elec­tion cycle. These tasks will unfold uneven­ly — devel­op­ing state by state and local­i­ty by local­i­ty, as well as nationally.
But these tasks will be orders of mag­ni­tude hard­er, if not impos­si­ble, if we have to attempt them for sev­en more years with the GOP hold­ing power.
Max Elbaum
has been active in peace, anti-racist and rad­i­cal move­ments since the
1960
s. Most recent­ly, he was part of a team that pre­pared a three-part
2016
Elec­tion Cur­ricu­lum, ​
"
The U.S. Elec­toral Sys­tem and Pro­gres­sive Elec­toral Strat­e­gy," and a fol­low-up Post-Elec­tion Dis­cus­sion Guide ​
"
Changed Ter­rain Demands a New Orientation."