The President Is Goading Anti-Lockdown Militias to Violence
We must not overlook the danger of Trump's signaling.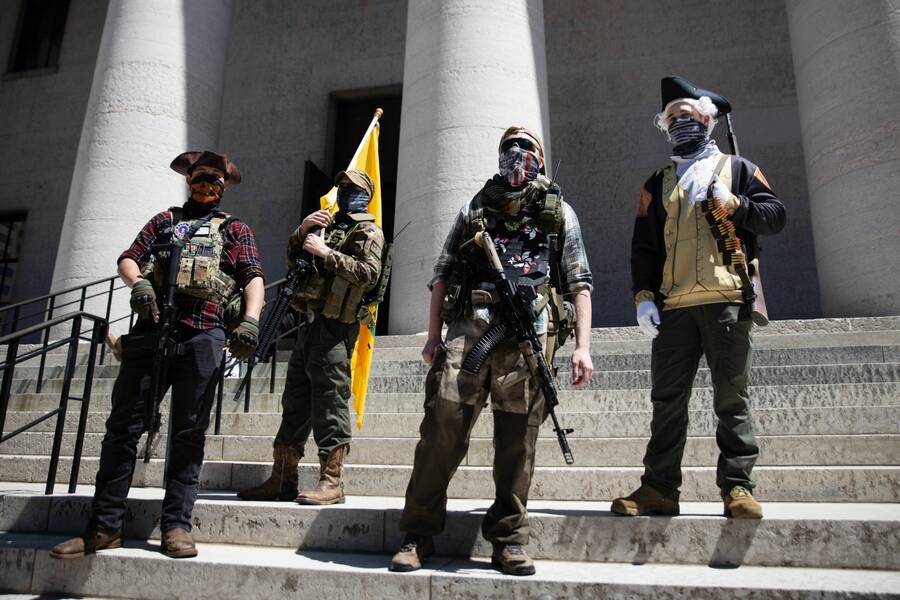 Don­ald Trump tweets so many out­ra­geous things and tells so many lies, it's easy for any par­tic­u­lar state­ment to get buried in the shitstorm.
The tightening of the Trump-GOP-Militia embrace is rooted in the way the Covid-19 crisis has affected Trump's re-election plans.
But a pres­i­den­tial call to ​"lib­er­ate" states led by elect­ed offi­cials of the oppo­si­tion par­ty while Trump sup­port­ers car­ry guns into their state capi­tols should­n't be one of them.
A call to arms
In the last three weeks the coun­try has seen a series of ​"anti-lock­down" protests in states with Demo­c­ra­t­ic gov­er­nors. Two protest­ing Michi­gan Gov­er­nor Gretchen Whit­mer's Covid-19 emer­gency stay-at-home order received the most media cov­er­age. Rifle-car­ry­ing mem­bers of the Michi­gan Lib­er­ty Mili­tia entered the state­house, some car­ry­ing signs say­ing ​"Make trea­son pun­ish­able by hang­ing."
Repub­li­can leg­is­la­tors, instead of loud­ly con­demn­ing these threats of vio­lence, vot­ed to autho­rize a suit against the Gov­er­nor for exceed­ing her authority.
Trump tweet­ed ​"Lib­er­ate Vir­ginia," ​"Lib­er­ate Michi­gan" and stressed the ​"Sec­ond Amend­ment" (read: ​"Bring Your Guns") dimen­sion of the protests.
Align­ment between Trump, the GOP estab­lish­ment and armed con­fed­er­ate flag-wavers isn't new. But these demon­stra­tions saw a lev­el of coor­di­nat­ed action and mes­sag­ing that went beyond their pre­vi­ous asso­ci­a­tions. The anti-lock­down ral­lies were ini­ti­at­ed and anchored by for­mer White House offi­cials, a num­ber of state-based con­ser­v­a­tive pol­i­cy groups, and a coali­tion of high-lev­el GOP donors. Attor­ney Gen­er­al William Barr has aligned the Jus­tice Depart­ment with the pro­test­ers' goals.
Most impor­tant, Trump's tweets appeared to back the rifle-car­ry­ing mili­tia com­po­nent of the protests, as the Pres­i­dent called for defy­ing legal author­i­ty. His ​"lib­er­ate" mes­sage was embraced as a ​"call to arms" through­out the insur­rec­tion­ist right wing. There was an imme­di­ate surge in Twit­ter posts about the Pres­i­dent and the ​"booga­loo" (a term denot­ing armed insur­rec­tion in the world of the con­spir­a­cy-the­o­ry-infused right).
Piv­ot to an ​"anti-lock­down" message
The tight­en­ing of the Trump-GOP-Mili­tia embrace is root­ed in the way the Covid-19 cri­sis has affect­ed Trump's re-elec­tion plans. Pre-pan­dem­ic, Trump and his team were con­fi­dent they had a for­mu­la that would win the Pres­i­dent a sec­ond term. Run on racism and a ​"hum­ming economy."
Covid-19 has thrown that plan up in the air. The econ­o­my is in sham­bles and all but cer­tain to be in trou­ble through the elec­tion. Trump's Chi­na-bash­ing res­onates in many sec­tors. But it has­n't proven suf­fi­cient to stem the loss of sup­port due to his dis­as­trous han­dling of the Covid-19 pan­dem­ic and the embar­rass­ing ​"brief­in­gs" where his bleach-inject­ing igno­rance on display.
A repack­ag­ing of the racism, xeno­pho­bia and all-wealth-to-the-rich core of Trump­ism was required. The result was insight­ful­ly dis­sect­ed in an April 17 Twit­ter thread by Jere­my Menchik, a polit­i­cal sci­en­tist at Boston Uni­ver­si­ty, which states, ​"If the elec­tion is a fight between Trump vs gov­er­nors who refuse to open their economies, Trump doesn't have to defend his record on Covid-19. He's an advo­cate for lib­er­ty!" Menchik goes on to argue that the protests ​"will frame the 2020 elec­tion as a choice between the pro-open econ­o­my Trump ver­sus the Wash­ing­ton insid­er #Bei­jing­Biden who is com­plic­it in China's efforts to hurt work­ing class Americans."
It is a pow­er­ful mes­sage with the poten­tial to influ­ence large num­bers well beyond Trump's base. With the eco­nom­ic cri­sis deep­en­ing, mil­lions have to wor­ry about how to feed, clothe and house them­selves and their fam­i­lies as well as keep­ing them healthy.
Trump's prob­lem is that the major­i­ty is still con­cerned about reopen­ing too soon and pro­tect­ing peo­ple's health. So draw­ing from the Tea Par­ty play­book, the GOP high com­mand like­ly decid­ed it was time for phys­i­cal demon­stra­tions to gin up their base, grab head­lines, and infuse every news cycle with their frame on the 2020 contest.
But who is going to go out there in a crowd with no social dis­tanc­ing, no masks and a mes­sage that, at least ini­tial­ly, is not going to be pop­u­lar? That's not a risk big fun­ders, GOP lawyers and elect­ed offi­cials are going to take!
How about bla­tant con­spir­a­cy mon­gers, con­fed­er­ate flag-wavers, and armed mili­tias? These are the peo­ple will­ing to defy pub­lic health reg­u­la­tions and car­ry signs that say, ​"Sac­ri­fice the Weak."
So the wel­come mat was put out for them by the Pres­i­dent himself.
Juan González drew the appro­pri­ate con­clu­sion on Democ­ra­cy Now! on April 21:
I'd like our view­ers and lis­ten­ers to ask them­selves a ques­tion: If hun­dreds of African Amer­i­cans or Lati­nos showed up in cities around the coun­try bran­dish­ing auto­mat­ic weapons, what would be the response of the coun­try to this? Why is this being almost accept­ed and nor­mal­ized now as a method of protest? …we should make no mis­take, that this coun­try is edg­ing clos­er and clos­er to neo-fas­cist authoritarianism.
Stave off rad­i­cal change
There is a deep­er lev­el as well. Unlike the nar­cis­sist in the White House, the peo­ple in the top ech­e­lon of the fos­sil fuel indus­try, the mil­i­tary-indus­tri­al com­plex and the lead­ing right-wing bil­lion­aires have big­ger con­cerns than Trump indi­vid­u­al­ly. To them, he's just the best choice for imple­ment­ing their agen­da of trans­fer­ring more wealth to the 1%, more aus­ter­i­ty for the 99%, doing noth­ing about cli­mate change and main­tain­ing U.S. glob­al hege­mo­ny through mil­i­tary might. Trump­ism is also their ide­al vehi­cle for sup­press­ing oppo­si­tion to this unpop­u­lar pro­gram by smash­ing the labor move­ment and under­min­ing the pow­er of com­mu­ni­ties of col­or through large-scale dis­en­fran­chise­ment, incar­cer­a­tion and deportation.
These par­a­sites aren't haters of Joe Biden. They could eas­i­ly live with a Pres­i­dent who car­ried out the ​"back to the old nor­mal" pro­gram that Biden often artic­u­lates. But the heavy­weights in the Trump coali­tion do not believe a Biden admin­is­tra­tion could pos­si­bly pull that off.
Those who guid­ed Trump to pow­er are close­ly attuned to the polit­i­cal winds. They can count. They see that that the pan­dem­ic is spark­ing ten­ant orga­niz­ing, rent strikes, job actions and work­er strikes that demand pro­tec­tions for renters, work­ers and the poor way beyond any­thing that exist­ed pre-Covid-19.
They know that even before the pan­dem­ic, peo­ple under 30 were like­ly the most left-wing gen­er­a­tion in decades. They see that Covid-19 fight­back efforts like Bernie Sanders' post-cam­paign stance and the Peo­ple's Bailout, and many oth­ers are push­ing demands for struc­tur­al change into the main­stream. They notice that even the major lib­er­al media are car­ry­ing cri­tiques not just of the dis­par­i­ties in the way Covid-19 is impact­ing dif­fer­ent pop­u­la­tions, but of long-stand­ing inequal­i­ties in U.S. soci­ety. They see hand­writ­ing on the wall as labor orga­ni­za­tions sup­port incar­cer­at­ed peo­ple, cli­mate jus­tice activists ral­ly for immi­grant rights and a gen­er­al spir­it of ​"social sol­i­dar­i­ty" builds among a host of vul­ner­a­ble and less vul­ner­a­ble sectors.
They observe the New York Times run­ning a major piece titled ​"The Amer­i­ca We Need" which more or less pro­mote Bernie's pro­gram with­out Bernie. They mon­i­tor demo­graph­ic change and know that their core base among old­er whites is declin­ing while the coun­try's pro­por­tion of peo­ple of col­or is growing.
Their night­mare is our dream
They add it all up and see a Biden win as a dan­ger­ous open door. They believe com­ing out of the pan­dem­ic there will be irre­sistible pres­sure on a new admin­is­tra­tion to pro­vide uni­ver­sal health and eco­nom­ic pro­tec­tion for work­ing peo­ple, tax the wealthy, tack­le cli­mate change and restore vot­ing rights.
They fear even small steps in those direc­tions would start an avalanche capa­ble of top­pling their already shaky neo-lib­er­al order.
So they go all in for Trump and the GOP, and deploy fas­cist mili­tias as the shock troops of their campaign.
His­tor­i­cal expe­ri­ence shows that when a pow­er­ful wing of a rul­ing class throws in with grass­roots fas­cists, actu­al fas­cism moves from back-draw­er pos­si­bil­i­ty to immi­nent dan­ger. We need to be as clear-eyed as our ene­mies about the stakes in the cur­rent polar­iza­tion, the pos­si­ble roads ahead, and where the piv­ot point of bat­tle lies.
They think Novem­ber will mark a choice between two roads. That's one thing they are right about.
A longer ver­sion of this arti­cle first appeared on Orga­niz­ing Upgrade.
Max Elbaum
has been active in peace, anti-racist and rad­i­cal move­ments since the
1960
s. Most recent­ly, he was part of a team that pre­pared a three-part
2016
Elec­tion Cur­ricu­lum, ​
"
The U.S. Elec­toral Sys­tem and Pro­gres­sive Elec­toral Strat­e­gy," and a fol­low-up Post-Elec­tion Dis­cus­sion Guide ​
"
Changed Ter­rain Demands a New Orientation."