The first ever joint conference between the Poor People's Economic Human Rights Campaign and the Social Welfare Action Alliance took place in Louisville, Ky., this past weekend, bringing together labor rights activists, social workers, social justice workers and others from around the country and world.
Participants in the conference, called ​"Building the Unsettling Force: A National Conference to End Poverty," organized with the aim of developing collective actions around issues faced by people in poverty, such as the need for living-wage jobs and access to education.
To wit, on the opening day of the conference, marchers took to the streets of downtown Louisville, blocking rush-hour traffic as they demonstrated for economic rights.
"Poverty can and will end in America," said Doanta Davis, president of the Louisville-based group Women in Transition. ​"Poor people have the solution."
He said government bank bailouts and many of the president's other economic policies have not addressed the problems long faced by the country's poor. ​"If that's the stimulus, it's not stimulating these people," said Davis, who helped coordinate the grassroots conference.
Workshops focusing on labor issues were integrated into sessions on housing, domestic violence, education, access to media and disability issues, among others.
Representatives from the National Jobs for All Coalition and UNITE HERE (the garment and hotel workers' union) led dialogs on the right to a living wage, while Cecilia Perry of AFSCME (the public employees' union) spoke on policy and legal issues.
The Poor People's Economic Human Rights Campaign counts a dynamic and diverse group of workers organizations among its 118 members — including the Coalition of Immokalee Workers, Louisiana Injured Workers, North Carolina Farmworkers Project, Domestic Workers of Los Angeles and Miami Valley Full Employment Council of Dayton, Ohio.
The campaign has offices in Minneapolis, Cleveland and Philadelphia, and organizes in other parts of the country, including the Mississippi Delta. Check out the campaign's website here.
The Social Welfare Action Alliance is a national organization of social service workers that works on building bridges between progressive movements.
For details on the conference's sessions and participants, go here.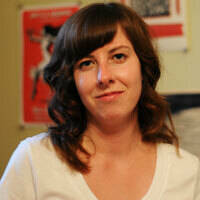 Emily Udell
is a writer for Angie's List Magazine in Indianapolis. In
2009
, she finished a stint drinking bourbon and covering breaking news for
The Courier-Journal
in Louisville, Ky. Her eclectic media career also includes time at the Associated Press,
Punk Planet
(R.I.P.),
The Daily Southtown
in southwest Chicago, and Radio Prague in the Czech Republic. She co-hosted and co-produced
In These Times
' radio show ​
"
Fire on the Prairie
" from
2003
to
2006
.