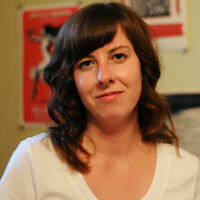 Emily Udell
is a writer for Angie's List Magazine in Indianapolis. In
2009
, she finished a stint drinking bourbon and covering breaking news for
The Courier-Journal
in Louisville, Ky. Her eclectic media career also includes time at the Associated Press,
Punk Planet
(R.I.P.),
The Daily Southtown
in southwest Chicago, and Radio Prague in the Czech Republic. She co-hosted and co-produced
In These Times
' radio show ​
"
Fire on the Prairie
" from
2003
to
2006
.
Udell was also a field researcher and organizer for the Independent Press Association of Chicago, and helped create the first guide to independent, community and ethnic press in Chicago. She worked as an editorial associate at the national news and culture magazine Punk Planet and has contributed to Free Speech Radio News and various local Chicago print and online newspapers.
Will Apple Feel Any Heat for Violations of Its Own Labor Code?
Flying the Unfriendly Skies: Lufthansa Pilots Strike
Around the Country, State Employees Rally Against Furloughs, Pay Cuts
Conn. Workers Ground Company's Plans to Fly Jobs Overseas
Calif. Mineworkers Locked Out After Contract Rejection
LA Hospital Vote Deals Blow to SEIU (Updated)
Thousands of Chilean Miners Strike for Better Wages, Benefits
Mining Programs Provide Job Training for Inmates. But Are They Worth It?
A Penny for Our Work: Florida Farmworkers Protest Grocer
Another Slaughterhouse Hazard: Pig Brain Mist
Struggling Vermont Dairies Shaken by Federal Subpoenas
Hyatt Continues Catching Flack over Fired Boston Workers
High-Class Hotels in San Fran Face Cascade of Walkouts
Stronger Workplace Democracy for Airline and Rail Industries?
Hotel Owner Bans Spanish—And Workers Fight Back
In America's 'RV Capital,' Another Blow for Workers
On Columbus Day, Workers Challenge N.H., Calif. Governors
John Deere Workers Sign Major Deal Barring Factory Closures
A Survivor's Story of Trafficking and Slavery
Maintenance Workers Fight for Lost Wages in Chicago
Carnival Guest Workers Win Back Wages, Better Living Conditions
Older Unemployed Workers Marginalized in Recession
Workers Take Fight to Wells Fargo, but Police Turn Them Away
Finally, Good News for Workers: AT&T, Unions Reach Deals
Bill Would 'Professionalize' Gang Intervention Workers
Tough Times Threaten Day Labor Centers
In the Big Easy, Workers' Advocates Fight for Wage Theft Law
Anti-Poverty Conference Works to Build 'Unsettling Force'
No Legal Relief for Coal Miner Suffering Black Lung
Hospital Flacks Spread Fake News
Journalists' groups are concerned about broadcast outlets using video news releases produced by pharmaceutical companies and healthcare providers
Your Flat Screen Has (Greenhouse) Gas
Dark Side of Russias Rainbow
Despite political, legal and religious pressures, Nikolai Alexeyev has worked to combat prejudice and secure legal and political protections for Russia's lesbian, gay, bisexual and transgender community
Putting the IRS to Political Use?
"You Know It Makes Sense"
Gannongate or Nothinggate?
U.S. Military Drops the "Gay Bomb"
What Would Jesus Broadcast?
Gore Vidal on America's current imbroglio
Healthcare Crisis, Compounded with Interest….