We Need a Strong Anti-War Movement—Yesterday
As we spiral toward a confrontation between the U.S. and Iran, it's worth reflecting on the failures to rein in U.S. aggression along the way.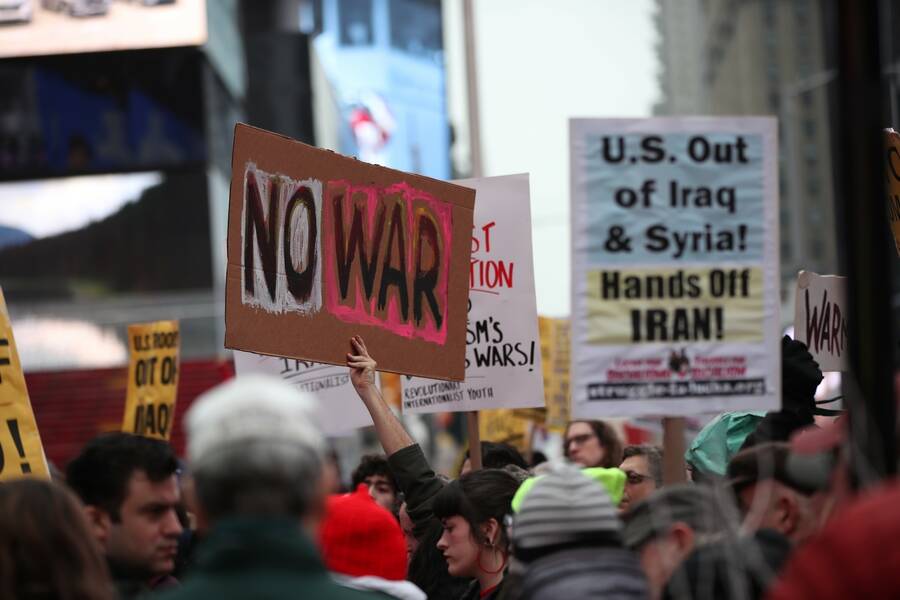 The new year opened with the Unit­ed States com­mit­ting an extra­ju­di­cial assas­si­na­tion in a for­eign coun­try by drone.
The so-called War on Terror is completely out of control.
I'm not talk­ing about the Jan­u­ary 3, 2020 rock­et attack that killed Iran­ian gen­er­al Qasem Soleimani. I'm talk­ing about the Jan­u­ary 1, 2019 drone strike that killed Jamal Al Badawi, an alleged Al Qae­da plot­ter, in Yemen.
The U.S. car­ry­ing out assas­si­na­tions from above — with­out tri­al, with­out warn­ing — is noth­ing new. What was dif­fer­ent about the killing of Al Badawi was that the U.S. mil­i­tary was pub­lic about it, announc­ing the killing via Twit­ter on Jan­u­ary 6.
For years, activists, jour­nal­ists, schol­ars, and oth­ers have been call­ing for trans­paren­cy regard­ing the noto­ri­ous­ly clan­des­tine Defense Depart­ment and CIA-run drone pro­grams. How one ends up on the lists of peo­ple tar­get­ed, to whom one appeals to get off of such a list, where the drones are based, and even when they strike are mat­ters that were shroud­ed in secre­cy dur­ing the Bush and Oba­ma administrations.
That's large­ly remained true under Trump — in fact, it's even more dif­fi­cult to get infor­ma­tion about civil­ian casu­al­ties now. But here was an exam­ple of an assas­si­na­tion by drone being done in the open.
Pre­sum­ably, the rea­son to have more infor­ma­tion about the drone war is so the peo­ple run­ning it can be held account­able for their actions. And yet, giv­en the oppor­tu­ni­ty to ask ques­tions about the New Year's Day attack, pre­cious few were asked by Con­gress or the main­stream media.
Today, as we spi­ral per­ilous­ly toward direct mil­i­tary con­fronta­tion between the U.S. and Iran, it is worth reflect­ing on the fail­ures to rein in Trump's aggres­sion along the way. Giv­en the obvi­ous signs that Trump has been keen to esca­late the Unit­ed States' many wars — and begin new ones — the com­plic­i­ty of oth­er insti­tu­tions in Trump's bel­liger­ence, par­tic­u­lar­ly Con­gress, is stunning.
Crick­ets from Congress
Trump's uni­lat­er­al with­draw­al from — and efforts to destroy — the nuclear deal sparked a pre­dictable tra­jec­to­ry of esca­lat­ing ten­sions between the U.S. and Iran. Many have point­ed that out, most recent­ly for­mer Nation­al Secu­ri­ty Advis­er Susan Rice. What we need to exam­ine more deeply are the deci­sions between then and now that enabled Trump to pur­sue such a path.
At sev­er­al key junc­tures, law­mak­ers sim­ply failed to chal­lenge acts of U.S. aggres­sion car­ried out with­out even a pre­tense of account­abil­i­ty, as when Amnesty Inter­na­tion­al doc­u­ment­ed the fact that the U.S. killed civil­ians in its esca­lat­ing air war in Soma­lia, in a report that received too lit­tle atten­tion. Or when jour­nal­ists report­ed that the U.S.-led siege against ISIS in the Syr­i­an city of Raqqa was dev­as­tat­ing for civil­ians of that city — whom the U.S. then aban­doned, after say­ing it would help rebuild.
Oth­er times, law­mak­ers and oth­er offi­cials did raise their voic­es in oppo­si­tion to Trump's for­eign pol­i­cy moves — by say­ing that he wasn't com­mit­ted enough to pur­su­ing U.S. wars. Such was the response when Trump announced that he was with­draw­ing troops from the Turk­ish bor­der with Syr­ia. Crit­ics advo­cat­ed main­tain­ing the open-end­ed mil­i­tary pres­ence through­out Syria.
But we don't even have to look back that far.
On Decem­ber 9 — bare­ly a month ago — the Wash­ing­ton Post began pub­lish­ing a series of arti­cles known as the Afghanistan Papers, which doc­u­ment­ed years of lies by U.S. offi­cials and cat­a­stro­phes caused by U.S. actions in its 18-year occu­pa­tion of that coun­try. Two weeks lat­er, the New York Times released doc­u­ments and video, prin­ci­pal­ly tes­ti­mo­ny from U.S. Navy SEALs, that con­firmed the unmis­tak­able war crimes com­mit­ted by Navy SEAL chief Eddie Gal­lagher, who had been recent­ly acquit­ted of the most seri­ous charges — and par­doned by the president.
Here were the major news­pa­pers of record run­ning front-page cov­er­age of seri­ous abus­es peo­ple should be called to account for. Yet where were the con­gres­sion­al hearings?
Instead of tak­ing steps toward that account­abil­i­ty, Con­gress did the oppo­site: It passed a new $738 bil­lion mil­i­tary spend­ing bill, effec­tive­ly approv­ing and fuel­ing the wars. Despite vocal con­dem­na­tion of the bill from Cal­i­for­nia Democ­rats Ro Khan­na and Bar­bara Lee, just 41 House Democ­rats vot­ed against it, com­pared to 188 who joined Repub­li­cans in pass­ing it.
Among the pro­vi­sions that Khan­na called atten­tion to for being stripped away from the leg­is­la­tion that passed: an amend­ment he spon­sored that denied the pres­i­dent author­i­ty to wage war on Iran.
Move­ments matter
In a nation­al address today, Trump threat­ened even more sanc­tions against Iran. As his rhetoric becomes more bel­liger­ent — and as he deploys even more troops to the Mid­dle East to set the stage for attacks on Iran — mem­bers of Con­gress' calls to bring the pres­i­dent into com­pli­ance with the War Pow­ers Act are cer­tain­ly wel­come. But the ques­tions that law­mak­ers are rais­ing now, after the U.S. has already com­mit­ted an act of war in assas­si­nat­ing Soleimani in Iraq, run con­trary to their actions up to this point.
Going into the new year, Con­gress had already sent the mes­sage that Trump and the Pen­ta­gon could do what­ev­er they please. And what­ev­er mis­giv­ings mem­bers of Con­gress have about mil­i­tary attacks on Iran, the body has sup­port­ed the sanc­tions imposed on that coun­try by the Unit­ed States — which have been dis­as­trous for the Iran­ian pop­u­la­tion, and which act as pre­cur­sors to war.
The so-called War on Ter­ror is com­plete­ly out of con­trol. What is need­ed is for the wide­spread oppo­si­tion in the U.S. to the wars waged in our names — includ­ing attack­ing Iran — to be turned into a fight­ing resistance.
We have seen mass protest under Trump — even in its brief moments — have sig­nif­i­cant impacts. The Women's March­es may not have end­ed sex­u­al vio­lence, but they, along with the #MeToo and #Time­sUp cam­paigns, opened the most wide reach­ing and seri­ous con­ver­sa­tions about gen­der-based abuse in recent mem­o­ry, and some high pro­file abusers have been made to account for their actions. (Even a UN con­ven­tion was passed, though the U.S. hasn't rat­i­fied it.) The spon­ta­neous, mass mobi­liza­tions to air­ports against Trump's Mus­lim Ban set back those plans for a time as well.
We need to extend that resis­tance to a U.S. mil­i­tary machine that's mov­ing like a run­away train, unde­terred by the human costs of its destruc­tion, or even the appar­ent lack of a strat­e­gy from a mil­i­tary perspective.
Pop­u­lar pow­er mat­ters. There was, in fact, a moment where there was a con­ver­sa­tion in Con­gress about end­ing U.S. sup­port for Sau­di Arabia's cat­a­clysmic war in Yemen — a war that has only been made pos­si­ble with U.S. weapons, intel­li­gence, and oth­er forms of sup­port. Despite votes in both hous­es to stop that assis­tance, Trump was able to veto the leg­is­la­tion, and the moment passed.
What if there had been mass actions in the streets? Could that effort have been pushed over the line?
We need to ask these ques­tions, and imag­ine the answers. In doing so, we will be join­ing in sol­i­dar­i­ty with var­i­ous efforts in the Mid­dle East to chal­lenge gov­ern­ments and the for­eign pow­ers — par­tic­u­lar­ly the Unit­ed States — back­ing them.
After all, the news that dom­i­nat­ed head­lines out of Iraq for the months pri­or to the U.S. assas­si­na­tion of Soleimani was that Iraqis were mobi­liz­ing en masse against a gov­ern­ment whose ori­gins lie in the 2003 U.S. inva­sion and sub­se­quent occu­pa­tion, and whose forces are armed and trained by bil­lions of dol­lars in U.S. aid. (There were Iraqi protests that also tar­get­ed Iran­ian influ­ence in the country.)
In fact, focus­ing on the move­ments of peo­ple through­out the Mid­dle East, Africa, and Cen­tral Asia who find them­selves in the crosshairs of the War on Ter­ror must be essen­tial to a move­ment here that chal­lenges U.S. wars. Imag­ine the pow­er, for exam­ple, of mas­sive U.S. ral­lies coin­cid­ing with the move­ment inside Iraq to remove U.S. troops from the coun­try. Imag­ine if more mem­bers of the U.S. Con­gress were com­pelled to fol­low Iraq's par­lia­ment in call­ing for those sol­diers to come home.
Behind every Bahgdadi
For the few con­ver­sa­tions that do take place about our wars, it's dis­tress­ing­ly typ­i­cal for the peo­ple hav­ing them for­get about the peo­ple bear­ing the brunt of those wars.
After the Octo­ber 26 killing of ISIS leader Abu Bakr Al Bagh­da­di, for exam­ple, Defense Depart­ment offi­cials held a press con­fer­ence at the Pen­ta­gon. You can read the tran­script. Jour­nal­ists in the room asked two ques­tions about the sto­ried dog who assist­ed in the killing oper­a­tion, and sev­er­al more about the prospect of U.S. per­son­nel secur­ing Syr­i­an oil fields.
The reporters in the room didn't ask a sin­gle ques­tion about whether oth­ers besides Al Bagh­da­di, includ­ing civil­ians, were wound­ed or killed in the mission.
Thank­ful­ly, oth­er jour­nal­ists did ask. NPR reporters learned that in the same raid where Bagh­da­di was killed, the Syr­i­an farmer Barakat Ahmad Barakat saw his two friends killed by U.S. rock­ets — and his own hand sev­ered from his body — as they were caught up in the attack while dri­ving in van.
The three farm­ers were unarmed. Aside from the trau­ma of being maimed and see­ing his friends killed, Barakat's work is impos­si­ble with­out his hand. His life as he knew it ended.
Behind every ​"bad guy" like Bagh­da­di are mass­es of ordi­nary peo­ple suf­fer­ing the end­less grind of war — a grind that this coun­try has made ever more bru­tal, with ever few­er con­straints or account­abil­i­ty from the U.S. polit­i­cal system.
It is cru­cial that we are all talk­ing about Iran now, as we stand on the verge of a new chap­ter of cat­a­stro­phes — and work to pre­vent it. But the killing and destruc­tion of the War on Ter­ror is hap­pen­ing around the world, every day. The lack of atten­tion to it is part of what keeps it going, and sets the stage for the cur­rent sit­u­a­tion involv­ing Iran, Iraq, and the Unit­ed States.
The truth is, these wars are crim­i­nal, and any con­ver­sa­tion about them that doesn't cen­ter the peo­ple most impact­ed is unac­cept­able. That con­ver­sa­tion won't start in the U.S. gov­ern­ment. Instead, it must be raised by those of us out­raged by wars that have dev­as­tat­ed gen­er­a­tions, and who believe that peo­ple from Soma­lia to Afghanistan, and now to Iran — indeed, all of us — deserve a bet­ter world.
This arti­cle was pro­duced in part­ner­ship with For­eign Pol­i­cy In Focus.
Khury Petersen-Smith
is the Michael Rat­ner Mid­dle East Fel­low at the Insti­tute for Pol­i­cy Studies.