The Left's Long History of Militant Resistance to Fascism
A conversation with historian Mark Bray about the origins of modern anti-fascist movements.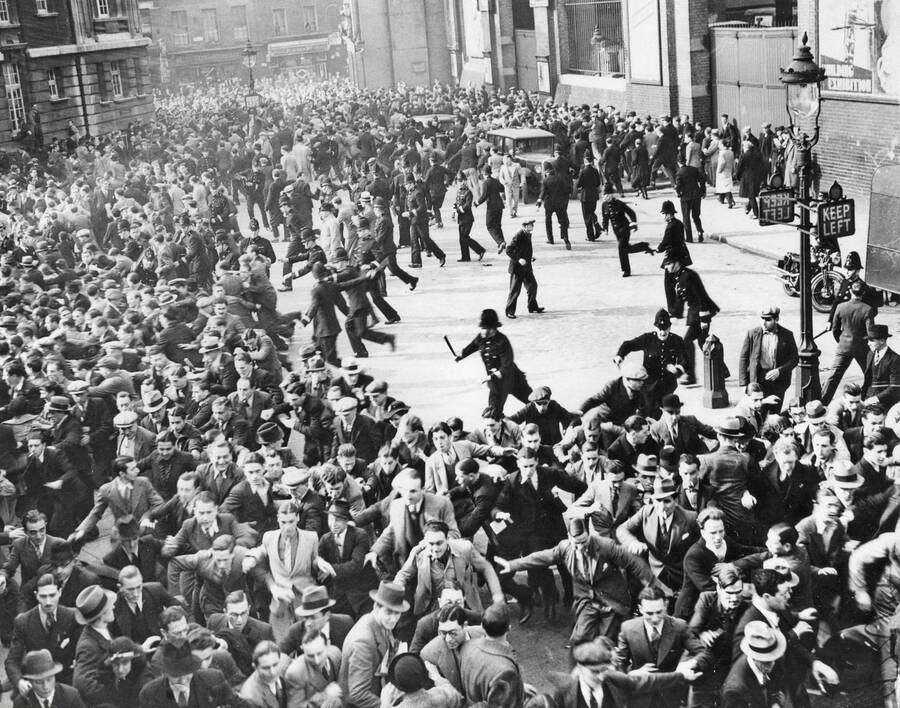 Wel­come to Inter­views for Resis­tance. We're now sev­er­al months into the Trump admin­is­tra­tion, and activists have scored some impor­tant vic­to­ries in those months. Yet there is always more to be done, and for many peo­ple, the ques­tion of where to focus and how to help remains. In this series, we talk with orga­niz­ers, agi­ta­tors and edu­ca­tors about how to wage resis­tance and build a bet­ter world.
Anti-fascism is a movement that goes back a hundred years. But when we talk about antifa today, we are talking about modern militant anti-fascism, which predominantly grew out of movements in Great Britain and Germany in the 1970s and 1980s.
Mark Bray: My name is Mark Bray. I am a his­to­ri­an and a lec­tur­er at Dart­mouth Col­lege and author of Antifa: The Anti-Fas­cist Hand­book and a polit­i­cal activist. I have been involved in a num­ber of dif­fer­ent projects over the years.
Sarah Jaffe: To start, how would you briefly describe antifa?
Mark: Antifa is an abbre­vi­a­tion for anti-fas­cist or anti-fas­cism. Anti-fas­cism is a move­ment that goes back a hun­dred years. But when we talk about antifa today, we are talk­ing about mod­ern mil­i­tant anti-fas­cism, which pre­dom­i­nant­ly grew out of move­ments in Great Britain and Ger­many in the 1970s and 1980s. These were move­ments of left­ist immi­grants, punks and all sorts of peo­ple who were tar­get­ed by a neo-Nazi back­lash, a xeno­pho­bic wave that spread over these coun­tries and oth­ers. It is essen­tial­ly a pan-social­ist rad­i­cal politic of col­lec­tive self-defense against the far right.
Sarah: I think one of the things that peo­ple don't know is that there is a very long his­to­ry of this kind of self-defense. Can you give us a cou­ple of sig­nif­i­cant moments in anti-fas­cist fight­ing history?
Mark: Going back to the begin­ning, we can cer­tain­ly look to the Ardi­ti del Popo­lo, The People's Dar­ing Ones, which was an anti-fas­cist mili­tia formed by var­i­ous dif­fer­ent kinds of left­ists in Italy in 1921 to fight back against Mussolini's Black­shirts. These were anar­chists, social­ists and com­mu­nists who took up rifles and defend­ed small vil­lages and towns from fas­cist attack. It was too late by the time they were formed, because much of the left move­ment had already been destroyed by that point. Then, the Social­ist Par­ty and then the Com­mu­nist Par­ty pulled out of it. So, it end­ed up being most­ly anar­chists and rank-and-file left­ists. It wasn't up to the task of stop­ping Mussolini.
In the 1920s and 1930s, there were sev­er­al dif­fer­ent left for­ma­tions in Ger­many. The Red Front Fight­ers' League is one of the more impor­tant ones. The Iron Front, formed by the social­ists, and Anti-Fas­cist Action, formed by the com­mu­nists, were more ori­ent­ed towards elec­toral work than anti-fas­cist con­fronta­tion, though the pop­u­lar impres­sion of them was that they were a para­mil­i­tary for­ma­tion. There was a wave of con­flict between Nazis and left forces across the spec­trum in Ger­many in the 1920s and into the 1930s. Many were killed on all sides of this.
But the Social­ist and Com­mu­nist Par­ty lead­er­ship didn't real­ly take Hitler espe­cial­ly seri­ous­ly, or at least not as seri­ous­ly as they wish they had in ret­ro­spect. This is evi­dent in the Com­mu­nist Par­ty slo­gan ​"First Hitler, Then Us," where­by they believed that Hitler would get into pow­er, do such a poor job that he would be out quick­ly, and then they would take over gov­ern­ment. Of course, that nev­er happened.
The first moment of con­flict when the Euro­pean Left real­ized that they were fac­ing an exis­ten­tial threat in the fas­cist men­ace was 1934 in Vien­na, when social­ists rose up against the right-wing gov­ern­ment. From that point onward, the anti-fas­cist strug­gle in Europe was seen as not just street fight­ing, but a war for sur­vival for the Left.
That fed into the Span­ish Civ­il War from 1936 to 1939. The Inter­na­tion­al Brigades are per­haps the most icon­ic anti-fas­cist image in his­to­ry. The Span­ish Repub­lic did fall. Then, you have World War II. In the book, I focus on anti-fas­cism when fas­cist regimes are not already in pow­er. There is plen­ty to be said about Ital­ian and Yugoslav par­ti­sans and all sorts of resis­tance in France and the Nether­lands through­out World War II. Cer­tain­ly, there was armed resis­tance to Fran­co in Spain.
But as far as a mil­i­tant antifa mod­el in the post-war peri­od, maybe the pro­to­typ­i­cal exam­ple was the 43 Group in Lon­don, that orga­nized com­man­do units to shut down fas­cist speak­ers and meet­ings on street cor­ners around Lon­don in the 1940s. Per­haps the next biggest moment is the Bat­tle of Lewisham in 1977, when the Nation­al Front orga­nized an anti-mug­ging march in an immi­grant neigh­bor­hood. All sorts of immi­grant groups, left groups and fem­i­nist groups showed up to block their path and suc­cess­ful­ly shut it down, pre­vent­ing the Nation­al Front from intim­i­dat­ing the com­mu­ni­ty. Some of the par­tic­i­pants of that action likened it to the ear­li­er Bat­tle of Cable Street.
Oth­er exam­ples include the Bat­tle of Water­loo in 1992, when Anti-Fas­cist Action in Britain con­front­ed some skin­head groups and essen­tial­ly had a bat­tle in a train sta­tion. Then, you can also look at the block­ades of dif­fer­ent white suprema­cist marches.
Sarah: I want­ed to ask specif­i­cal­ly about the con­nec­tion between antifa and fight­ing orga­nized white suprema­cy in the Unit­ed States.
Mark: Resis­tance to white suprema­cy and resis­tance to the Klan go back much fur­ther and are far broad­er than can be encom­passed under the ban­ner of anti-fas­cism. Obvi­ous­ly, resis­tance to white suprema­cy goes back to 1492. It goes back to resis­tance of slav­ery. It goes back to John Brown and Ida B. Wells, and so forth. It also has a tra­di­tion in the rad­i­cal ele­ments of the labor move­ment, the Indus­tri­al Work­ers of the World hav­ing bat­tled against the Klan in the 1920s. You can look at the Dea­cons for Defense, the Black Pan­thers and oth­er kinds of mil­i­tant oppo­si­tion to white supremacy.
We can see that, to some extent, the bound­aries get a lit­tle blur­ri­er start­ing around the 1970s, when there is more of a cross-pol­li­na­tion between the Klan and neo-Nazi groups. Dur­ing that peri­od, we saw the emer­gence of what some have called a Naz­i­fied Klan. The nexus of those two ele­ments was respon­si­ble for the Greens­boro Mas­sacre in the late 1970s. I briefly touch upon the John Brown Anti-Klan Com­mit­tee in the 1980s, which espoused an antifa per­spec­tive before that kind of pol­i­tics was ​"offi­cial­ly" brought to the Unit­ed States. They helped orga­nize con­fronta­tion­al counter-protests against Klan events and oth­er sim­i­lar for­ma­tions around the country.
So it is a broad­er lin­eage, and some­times it is not entire­ly clear where to parse the dif­fer­ences between anti-fas­cism and a broad­er anti-racist move­ment. I think it is impor­tant to think in terms of how these groups iden­ti­fy and the mes­sage they use — and to tease apart dif­fer­ences, but not get so obsessed with def­i­n­i­tions that you can't see that there is some grey area.
Sarah: One of the things you make clear in the book is that antifa orga­niz­ers see no group of fas­cists as too small. I won­der if you could talk a lit­tle bit about the his­tor­i­cal under­stand­ing that springs from.
Mark: The his­tor­i­cal lin­eage of that per­spec­tive comes from the fact that the orig­i­nal fas­cist and Nazi move­ments, par­ties and regimes grew out of very small nuclei. Exam­ples include the fact that Mussolini's ini­tial fas­cist group was 100 men. When Hitler attend­ed his first meet­ing of the Ger­man Work­ers Par­ty, before he lat­er changed it into the Nazi Par­ty, there were 54 mem­bers of that group. The Gold­en Dawn in Greece was a micro-par­ty for sev­er­al decades before the finan­cial cri­sis of 2008, and then it bal­looned into the third largest par­ty in Greece, launch­ing attacks on migrants and leftists.
The his­tor­i­cal argu­ment is that small fas­cist and white suprema­cist groups don't always stay that way. It is eas­i­er to orga­nize against them when they are small and mar­gin­al, when pop­u­lar opin­ion is clear­ly against them and when they don't have con­nec­tions to the halls of pow­er or pop­u­lar basis of sup­port. We have seen, his­tor­i­cal­ly, that some­times they do grow, even if quite often they don't.
For immi­grant com­mu­ni­ties, for left scenes, for any­one who is mar­gin­al­ized or who comes under attack by fas­cists or white suprema­cists, the pres­ence of even a small group in a neigh­bor­hood or city makes its pres­ence felt. There are plen­ty of doc­u­ment­ed cas­es where a fas­cist social cen­ter sets up in Italy, or a punk house is estab­lished for white pow­er skin­heads in Lon­don, or a Nazi house is set up in Den­mark. When these kinds of milieux are allowed to breathe easy, there is an inevitable vio­lence that comes out from that in a very imme­di­ate sense. That vio­lence often tar­gets peo­ple who are not ​"impor­tant" enough for the whole main­stream soci­ety to care about.
Hav­ing a few dozen bone­heads in your town makes a huge dif­fer­ence and is a huge strug­gle. I read one his­to­ri­an talk­ing about the threat of fas­cists in post-war 1940s Lon­don as being mar­gin­al, but there are all these cas­es of syn­a­gogues being van­dal­ized and Jews being assault­ed. For them, it wasn't mar­gin­al, even if it was mar­gin­al to soci­ety. That way of look­ing at pol­i­tics is often lost in this con­ver­sa­tion when you hear peo­ple say, ​"Well, just ignore them. They will go away." Even if they do go away in 5 years, the dam­age they have done is real­ly important.
Sarah: You point­ed out very well one of the big prob­lems with the ​"just ignore them" argu­ment. But the media has paid a lot of atten­tion to per­son­al­i­ties like Richard Spencer and Milo Yiannopou­los this year. There is a pos­si­bil­i­ty of pay­ing too much atten­tion to these peo­ple, although I think that is most­ly a ques­tion for media and not for orga­niz­ers. I won­der if you have some thoughts on how peo­ple nav­i­gate that ten­sion of not want­i­ng to make the far Right seem big and dan­ger­ous, even as they are try­ing to com­bat them with the under­stand­ing that they could be.
Mark: To some extent, you answered the ques­tion in the ques­tion. It is dif­fer­ent for media ver­sus for orga­niz­ing. But, you are also right that you can't 100 per­cent divide the two. Mean­ing, atten­tion some­times is atten­tion. So, if there is going to be a large counter-protest to a fas­cist mobi­liza­tion, that will nec­es­sar­i­ly draw media. It is not entire­ly dis­tinct, but it is some­what distinct.
Atten­tion in and of itself does note fuel the growth of polit­i­cal move­ments. One of the com­mon argu­ments is that, if fill-in-the-blank fas­cist group gets atten­tion, that is how they will grow. There­fore, by orga­niz­ing to shut them down and attract­ing media, you are help­ing them grow.
There is a ker­nel of truth, in the sense that these far-right speak­ers and groups do want atten­tion: Of course they do want peo­ple to know what they are about. But the orga­niz­ing that brings them atten­tion can also short cir­cuit their path to cap­i­tal­ize on that atten­tion — by express­ing their mes­sage, by form­ing links with com­mu­ni­ties, by being able to present them­selves as fam­i­ly-friend­ly and nor­mal­ize their pres­ence. If those avenues are shut down, but in shut­ting them down they get a lit­tle more atten­tion, I don't see evi­dence to sug­gest that that is a suc­cess­ful path for organizing.
I do think it is incum­bent upon jour­nal­ists to think about how they cov­er white-suprema­cist fig­ures and not do it just in terms of try­ing to cap­i­tal­ize on the scan­dalous nature of who they are and write puff pieces about how they are charis­mat­ic. I agree with that. But giv­ing them more atten­tion is not the entire­ty of the polit­i­cal con­ver­sa­tion, I guess you could say.
Sarah: In the Unit­ed States, we have seen the growth of antifa since Trump's elec­tion and its sub­se­quent empow­er­ing of all these white suprema­cists who are com­ing out of the wood­work. I won­der if you could talk about some of the tac­tics that folks are using, because most of the media cov­er­age focus­es on these counter-rallies.
Mark: The role of pub­lic opin­ion in this is one of the more inter­est­ing top­ics to dis­cuss. I think what bears focus­ing on here is one of the great­est weapons that anti-fas­cists and anti-racists have: at least to some extent, most of soci­ety is opposed to racism and fas­cism and overt white suprema­cist pol­i­tics. That becomes clear with doxxing, where some of the great­est suc­cess per­haps in recent anti-fas­cist orga­niz­ing have come from. For exam­ple, there is Coop­er Ward, one of the co-hosts of The Dai­ly Shoah pod­cast. He was appar­ent­ly liv­ing below the radar in Nebras­ka, and the local antifa group in Nebras­ka doxxed him and forced him to drop out of school and move and relo­cate his whole life. That is just one exam­ple of how, sim­ply by doing some research online and post­ing some fly­ers, these kinds of hubs of orga­niz­ing can be thor­ough­ly disrupted.
Activ­i­ties include inves­ti­gat­ing infor­ma­tion, research, dox­ing and form­ing coali­tions with oth­er groups. In some cas­es, there are some anti-fas­cist for­ma­tions affil­i­at­ed with unions, like the Gen­er­al Defense Com­mit­tees of the Indus­tri­al Work­ers of the World. In terms of think­ing about the rela­tion­ship between labor and cap­i­tal­ism and fas­cism, I think there is some impor­tant work done there that has been over­looked. I inter­viewed one of the founders of Red­neck Revolt about how they have had suc­cess going to gun shows and hav­ing con­ver­sa­tions with con­ser­v­a­tive white men, pre­dom­i­nant­ly in more con­ser­v­a­tive regions of the coun­try, dis­cussing how their Ital­ian-Amer­i­can ances­tors were treat­ed sim­i­lar­ly to immi­grants today and work­ing on an anti-racist angle. They are win­ning some peo­ple over to the oth­er side.
Of course, there is orga­niz­ing boy­cotts or cam­paigns of pres­sure to shut down white pow­er punk shows in Amer­i­can Legions or VFWs, con­tact­ing hotels to get meet­ings or con­fer­ences shut down that are being orga­nized by Holo­caust deniers or what have you. What you see is the great lengths that white suprema­cists and fas­cists have to go to just to do the basic polit­i­cal activ­i­ties that left­ists take for grant­ed, like hold­ing a meet­ing. Even in a pri­vate loca­tion they have to hide their iden­ti­ties. They have to come up with a fake name for the event. They have to be super secure with their means of com­mu­ni­ca­tion, oth­er­wise anti-fas­cists find out about it and shut it down. It makes pol­i­tics so hard for them.
For peo­ple who have been part of left groups, we know that it can be hard to main­tain com­mit­ment among mem­ber­ship. It can be dif­fi­cult to make sure that peo­ple fol­low through on tasks like orga­niz­ing venues and pub­li­ciz­ing events. But in sit­u­a­tions where all of these lit­tle steps become ten times hard­er, it seems evi­dent from an orga­niz­ing per­spec­tive that that just makes the whole thing harder.
Sarah: Let's talk about the ques­tion of fem­i­nist antifa. One of the cri­tiques of antifa is, ​"Oh, these are just sort of a bunch of meat­head dudes who just want to go get in fights in the street." Could you talk about some of the fem­i­nist antifa folks that you have talked to and some of the tac­tics and thoughts that they had on the role of fem­i­nism in antifa?
Mark: There have been prob­lems in anti-fas­cism with patri­ar­chal behav­ior, with machis­mo, and so forth. I asked every­one I spoke to to com­ment on those dynam­ics and most said, ​"Yes, there has been a prob­lem, but it has also been a prob­lem in the Left and in soci­ety, gen­er­al­ly speak­ing." When­ev­er con­fronta­tion is part of the reper­toire, it is an extra concern.
A lot of this orga­niz­ing in North­ern Europe, in Scan­di­navia, in Ger­many, devel­oped in the late 1980s into the ear­ly 1990s. Some of it grew out of reclaim­ing the punk scene out of cer­tain foot­ball fan cul­tures. By the mid-1990s, there was an attempt to address some of these problems.
From the 1990s, there were the Fan­tifa groups in Ger­many. There is an entire book writ­ten about that in Ger­man. In the Unit­ed States, I know that there were some very dif­fi­cult con­flicts with­in Anti-Racist Action in the 1990s around issues of gen­der. Speak­ing to some of the ear­ly orga­niz­ers, they said sim­i­lar things to the Euro­peans: ​"Yes, we had our prob­lems, but it would be mis­lead­ing to say that they were sig­nif­i­cant­ly worse than in the Left, in general."
I spoke to a num­ber of women who found anti-fas­cist con­fronta­tion to be, to some extent, lib­er­at­ing, giv­en that soci­ety doesn't con­sid­er women capa­ble of that kind of polit­i­cal activ­i­ty. Then, I spoke to some oth­er anti-fas­cists from Ore­gon. I spoke to two women — one cur­rent­ly of Rose City Antifa, one for­mer­ly — who empha­sized that a lot of the cri­tique of the machis­mo of anti-fas­cism silenced their par­tic­i­pa­tion in the move­ment and homog­e­nized what it was in a way that didn't rec­og­nize the diver­si­ty and plu­ral­i­ty of who peo­ple are and the seri­ous anti-oppres­sion work they are doing.
Sarah: Some­what con­nect­ed to that is the ques­tion of putting for­ward a pos­i­tive pro­gram, as well as shut­ting down fas­cists. I won­der if you could talk about that for a minute.
Mark: There is sort of a range of per­spec­tives on anti-fas­cism. On the one end, there is a focus on defen­sive activ­i­ty and shut­ting down fas­cist groups. And on the oth­er end, there is a focus on orga­niz­ing left move­ments. A lot of the anti-fas­cists I spoke to empha­sized that the way you stop fas­cism is bu address­ing people's needs. You make them see unions and social move­ments or polit­i­cal par­ties as being the legit­i­mate vehi­cles for address­ing their griev­ances and rep­re­sent­ing accu­rate­ly their hopes for the future.
Then, there are groups all across that spec­trum who do some vari­a­tion of both. I was espe­cial­ly struck by some of the orga­niz­ing mod­els I learned about in France and Spain, where there would be these small antifa groups doing some of the more research-focused, orga­niz­ing-focused work, often with a strong secu­ri­ty cul­ture where they didn't reveal their iden­ti­ties to soci­ety. But as indi­vid­u­als out­side of that, they also par­tic­i­pat­ed in neigh­bor­hood and region­al anti-fas­cist assem­blies and were also part of unions and oth­er polit­i­cal move­ments. In that capac­i­ty, they helped orga­nize anti-racist hip hop fes­ti­vals and inter­faced with soci­ety. One of the Spaniards I spoke to described this as the two faces of anti-fas­cism and saw them as work­ing par­al­lel to each oth­er, even if they didn't nec­es­sar­i­ly inter­sect in an explic­it sense.
It is clear that you need a range of per­spec­tives. Some of it has to be putting for­ward an alter­na­tive vision and has to be inoc­u­lat­ing soci­ety to the appeals of fas­cism. These appeals have, of course, always shined bright­est dur­ing moments of eco­nom­ic cri­sis and social turmoil
I agree with those anti-fas­cists who see antifa, super­fi­cial­ly, as kind of a fire­fight­ing oper­a­tion. That was a metaphor I heard from sev­er­al peo­ple: Antifa is fire­fight­ing. Putting out an imme­di­ate fire. But not some­thing that is capa­ble of address­ing racism in mass incar­cer­a­tion or broad­er eco­nom­ic trends. To do that, you need a broad­er social move­ment, a broad­er resistance.
Inter­views for Resis­tance is a project of Sarah Jaffe, with assis­tance from Lau­ra Feuille­bois and sup­port from the Nation Insti­tute. It is also avail­able as a pod­cast on iTunes. Not to be reprint­ed with­out permission.
Sarah Jaffe
is a for­mer staff writer at
In These Times
and author of
Nec­es­sary Trou­ble: Amer­i­cans in Revolt
, which Robin D.G. Kel­ley called ​
"
The most com­pelling social and polit­i­cal por­trait of our age." You can fol­low her on Twit­ter
@sarahljaffe
.