An Indiana court has overturned the murder convictions for three of the Elkhart Four. Without ever having killed anyone, Blake Layman, Anthony Sharp, and Levi Sparks, had previously been serving 55 years in prison under the state's felony murder law. Their case sparked renewed calls for the law to be changed.
In October 2012 five young people broke into a house in Elkhart looking for a quick way to make money. They later told police that they had believed the house was empty. It wasn't. The owner Rodney Scott, who had been sleeping upstairs, came down and opened fire hitting Layman in the leg and killing 21 year old Danzele Johnson. Despite the fact that none of the four surviving teenagers had pulled the trigger, they were all charged with murder. As the Indy Star reports, they were convicted under Indiana's Felony Murder Statute
…a person can be charged with murder if someone is killed while he or she is committing or attempting to commit another crime. That crime could be arson, burglary, robbery, carjacking, human trafficking, sexual trafficking, or sex and drug crimes — acts that the law considers inherently dangerous.

Felony murder carries the same penalty as murder, but unlike a murder charge, in which intent to kill must be proven, a person can be convicted of felony murder even if the death is accidental or unintended.

Supporters say it's a useful statute, a crime deterrent and a safeguard in the criminal justice system that holds people accountable for committing dangerous acts that result in someone's death.
The four were sentenced to 55 years in prison for murder, but the case gained widespread interest. As the Guardian reports, on Friday, the sentence was overturned for all but one of the Elkhart Four. The fourth, Jose Quiroz Jr. plead guilty to felony murder and did not file an appeal.
The highest court in the state on Friday stripped out the contentious ​"felony murder" conviction for Blake Layman, now 19, Anthony Sharp, 21, and Levi Sparks, 20, stating that none of the three had ever engaged in any ​"dangerously violent and threatening conduct".

The judges reduced the convictions to simple burglary and ordered the lower courts to resentence the prisoners accordingly. Continue reading…
For a limited time: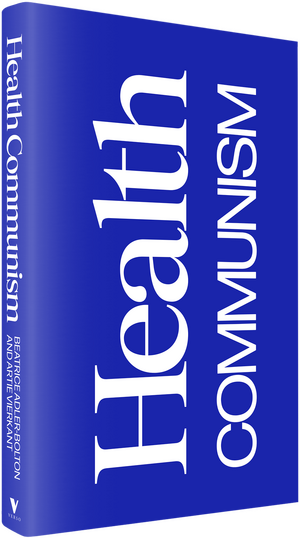 Donate $25 or more to support In These Times and we'll send you a copy of Health Communism.
A searing analysis of health and illness under capitalism from hosts of the hit podcast "Death Panel," Health Communism looks at the grave threat capitalism poses to global public health, and at the rare movements around the world that have successfully challenged the extractive economy of health.
"This is a book you should read before you die, because the ideas synthesized by Adler-Bolton and Vierkant could save our collective lives." –Jon Shaffer
George Lavender
is an award-winning radio and print journalist based in Los Angeles. Follow him on Twitter @GeorgeLavender.