Governor Restores Voting Rights To More Than 200,000 Formerly Convicted Virginians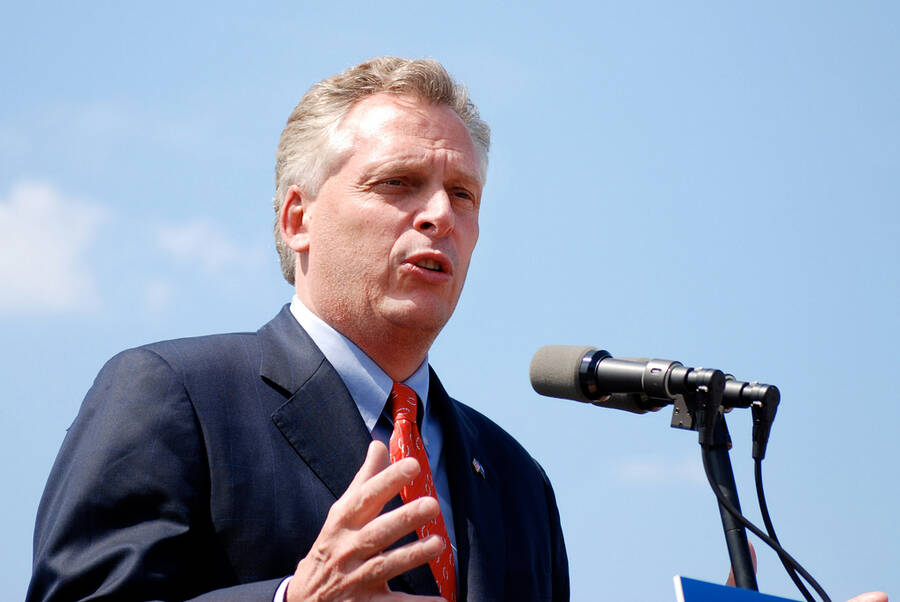 Virginia's Governor Terry McAuliffe restored the voting rights of more than 200,000 people previously convicted of felonies on Friday.
In a statement McAuliffe said: ​"Too often in both our distant and recent history, politicians have used their authority to restrict peoples' ability to participate in our democracy. Today we are reversing that disturbing trend and restoring the rights of more than 200,000 of our fellow Virginians who work, raise families and pay taxes in every corner of our Commonwealth."
According to a report by the Sentencing Project, in 2010 nearly 6 million people were unable to vote because of a felony conviction. The same report found that felony disenfranchisement disproportionately affected African Americans. Rates of disenfranchisement were four times higher amongst African Americans compared to the rest of the population. Virginia was one of three states, where more than one in five African Americans are disenfranchised because of a prior felony conviction.
McCauliffe is a prominent Clinton ally, leading some Republicans to suggest the move was motivated by electoral politics in a swing state, than about civil rights. Virginia's Republican Party Chairman John Whitbeck told Fox News voting rights should be restored to ​"those who have paid their debts to society" but ​"there are limits." He went on ​"Gov. McAuliffe could easily have excluded those who have committed heinous acts of violence … . His decision doesn't speak of mercy. Rather, it speaks of political opportunism."
As Politico reports, the Governor used an appearance on ABC to hit back at his critics.
"Well, I would tell the Republicans quit complaining and go out and earn these folks' right to vote for you. Go out and talk to them," the Democratic governor told George Stephanopoulos. ​"I find it very — and in fact, I think some of the language that has come out of the Republicans, I would tell them to be very careful at how they frame this, very careful of their rhetoric."

Republicans, he continued, ​"have an opportunity to go out and get these individual new voters to vote for them. But make your argument." Continue reading…
According to the New York Times' Nate Cohn the move could have a small but significant impact on elections in Virginia. He notes that ​"ex-felons are less likely to vote than nonfelons, even when ex-felons are eligible to vote" but that in a best-case scenario for Democrats re-enfranchised voters could add 29,400 extra votes for Democrats. ​"In the 2012 election, that would have increased Mr. Obama's margin of victory to 4.6 percentage points from 3.9" Cohn writes.
"There aren't many things that can move the results of a presidential election by a half-point. The Clinton or Sanders campaign would undoubtedly spend millions of dollars to earn that kind of extra edge. Mr. McAuliffe has given it to them." Continue reading…
Virginia follows Maryland in restoring voting rights to those convicted of felonies. The Maryland legislature passed a bill in February restoring the rights of 40,000 Marylanders, about half of whom live in Baltimore.
Support this work
Reader donations, many as small as just $5, are what fund the work of writers like this—and keep our content free and accessible to everyone. If you support this work, will chip in to help fund it?

It only takes a minute to donate. Click here to make a tax-deductible donation.
George Lavender
is an award-winning radio and print journalist based in Los Angeles. Follow him on Twitter @GeorgeLavender.
Help support this work
As a reader-supported, nonprofit publication, all of the journalism In These Times produces is made possible by readers like you. If you support this work, will you chip in $5 or more to help fund it?