Apple Store Workers Share Why They Want to 'Work Different'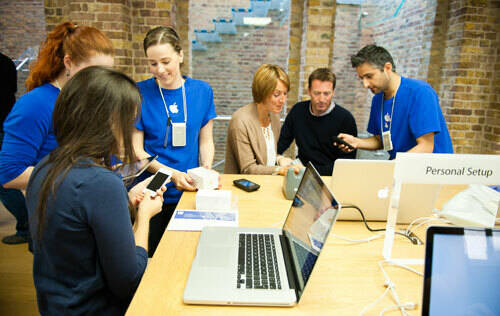 On the day Apple celebrated 10 years since opening its first Apple Store, employee Cory Moll announced a campaign to unionize the company's 30,000-plus retail employees. Moll sent an e-mail to reporters declaring that ​"the people of Apple are coming together to "'work different.'" ​"The core issues definitely involve compensation, pay, benefits," Moll said.
A Reuters reporter echoed the response of many journalists in calling the union drive ​"unusual given Apple's reputation for fierce employee loyalty." But interviews with workers in three states help explain how and why some of Apple's employees want to change the company. (All three employees interviewed for this article requested and were provided anonymity based on their fear of retaliation.)
A Bay Area employee described what happened last year when he and about a dozen co-workers realized employees with years of service were being paid less than new hires doing the same work. Agitated about the situation but concerned about retaliation, the workers committed to a plan: during the approaching round of annual one-on-one meetings between workers and managers, they would each ask about pay disparities.
Those workers who did ask received a consistent response: ​"Money shouldn't be an issue when you're employed at Apple." Instead, managers said, the chance to work at Apple ​"should be looked at as an experience." ​"You can't live off of experience," said the worker interviewed. The Wall Street Journal reported last week that Apple has outpaced Tiffany & Co. jewelers in retail sales per square foot.
Employees said that Apple keeps its healthcare costs down by defining even employees working 40 hours a week as part-time if they can't guarantee open availability (availability to be scheduled to work anytime the store is open). The three workers interviewed said that most employees at each of their stores either work second jobs or go to school, making open availability impossible.
These workers are instead offered Apple's ​"part-time" health insurance plan, which costs them much more and the company much less. The Bay Area worker, who works 32 to 40 hours a week, is currently going without medication for a serious health condition because he can't afford the $120 to $150 a month for the ​"part time" plan. "$120 a month is what I live on after rent and bills," he said. All three employees said that the majority of their co-workers were classified as part time.
A Maryland worker said that Apple's understaffing can make the workload ​"overwhelming" during high traffic periods and leaves him ​"singled out" by frustrated customers. He said it ​"adds tension and makes it a lot more difficult to be effective" as both employees and customers become increasingly stressed.
A New York State worker said that ​"our demand has outgrown our staffing tremendously," and that he is yelled at by customers at least once a week. He said the contrast between the lengths Apple goes to satisfy customers and its inflexibility in the face of employees' needs is ​"demoralizing."
The same worker said he has ideas for how to make his store run more effectively, but has no avenue to get them taken seriously given Apple's ​"very top-down corporate culture." In the past year, management made ​"a very big overhaul" of workers' schedules and responsibilities at his store. For his co-workers, it meant ​"less time doing the things they like to do both at work and outside of work": less time for repairs and more time on the floor; less consistent schedules and more times working a night shift followed by a morning shift hours later.
The change ​"wreaked havoc" on his personal life and ​"strained" his relationship with his girlfriend. He calls the new system ​"a drain emotionally and physically" and resents that he had no voice in it. Though he's undecided about unionization, he said if it happened, ​"the biggest benefit" would be ​"just having a say in these situations."
All three workers interviewed saw organizing the stores as a daunting task. The Bay Area worker said he is eager to get involved but most of his co-workers fear punishment for ​"even talking about a union." He said that Apple goes out of its way to make employees feel ​"extremely expendable." ​"For a company that has been founded on the ideas of ​'think different' and innovation," he said, ​"their labor practices are anything but."
The Maryland employee said that although he wants a union, his first reaction on hearing about Moll's e-mail was, ​"That guy is going to get fired." He said after he was hired, a trainer told him ​"casually" that Apple was against union organizing and that working nonunion was part of the job. The comment was ​"thrown in there with the sexual harassment training."
Moll told industry website Inside Apple Store that he has begun working with a ​"prominent national union" to organize his own store and that he has received e-mails from workers at 100 other stores interested in union representation.
Apple, which has more than 30,000 employees in 325 stores around the world, did not respond to a request for comment.
Josh Eidelson
is a freelance writer and a contributor at In These Times, The American Prospect, Dissent, and Alternet. After receiving his MA in Political Science, he worked as a union organizer for five years. His website is http://​www​.joshei​del​son​.com. Twitter: @josheidelson E-mail: ​
"
jeidelson" at ​
"
gmail" dot com.