After decades of bit­ter strug­gle, the Arc­tic Nation­al Wildlife Refuge (ANWR) seems on the verge of being opened to the oil indus­try. The con­sen­sus tax bill Repub­li­cans are try­ing to pass retains this mea­sure, which was added to gain the key vote of Alas­ka Sen. Lisa Murkowski ®.
This bill, how­ev­er, stands no chance of being the final word. ANWR has been called America's Serengeti and the last petro­le­um fron­tier, terms I've seen used over more than a decade study­ing this area and the pol­i­tics around it. But even these titles mere­ly hint at the mul­ti­fold con­flict ANWR rep­re­sents — span­ning pol­i­tics, eco­nom­ics, cul­ture and philosophy.
Dif­fer­ing views from the start
Lit­tle of this debate, which stretch­es back decades, makes sense with­out some back­ground. Let's begin with wildlife, the core of why the refuge exists.
With 45 species of land and marine mam­mals and over 200 species of birds from six con­ti­nents, ANWR is more bio­di­verse than almost any area in the Arc­tic. This is espe­cial­ly true of the coastal plain por­tion, or 1002 Area, the area now being opened up to explo­ration and drilling. This has the largest num­ber of polar bear dens in Alas­ka and sup­ports muskox­en, Arc­tic wolves, fox­es, hares and dozens of fish species. It also serves as tem­po­rary home for mil­lions of migrat­ing water­fowl and the Por­cu­pine Cari­bou herd which has its calv­ing ground there.
All of which mere­ly sug­gests the unique con­cen­tra­tion of life in ANWR and the oppor­tu­ni­ty it offers to sci­en­tif­ic study. One part of the debate is there­fore over how drilling might impact this diversity.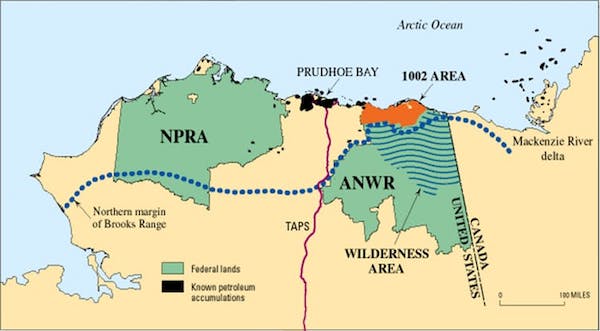 Map of north­ern Alas­ka show­ing loca­tions of the Arc­tic Nation­al Wildlife Refuge, includ­ing. the

1002

Area, which is slat­ed to be opened for oil and gas drilling, and the Nation­al Petro­le­um Reserve – Alas­ka (NPRA).
(Source:
U.S. Geo­log­i­cal Sur­vey
)
At the same time, debate over this area's min­er­al resources has exist­ed since even before Alaska's found­ing. An effort by the U.S. Fish and Wildlife Ser­vice to with­draw part of north­east Alas­ka from min­ing (lat­er drilling) was even­tu­al­ly passed by the House in 1960 but then killed in the Sen­ate, on the urg­ing of both Alas­ka sen­a­tors. It was res­ur­rect­ed by Pres­i­dent Eisen­how­er through an exec­u­tive order estab­lish­ing a wildlife range (not refuge, which requires gov­ern­ment pro­tec­tion and study).
ANWR thus began as a bat­tle­ground over state ver­sus fed­er­al con­trol of resources. Change came with the oil crises of the 1970s. After much debate, Con­gress passed and Pres­i­dent Carter signed the Alas­ka Nation­al Inter­est Lands Con­ser­va­tion Act in 1980, increas­ing the size of the area to 19.4 mil­lion acres and chang­ing it to a ​"refuge." ANIL­CA also man­dat­ed an eval­u­a­tion of wildlife, oil and nat­ur­al gas resources, and impacts if drilling occurred.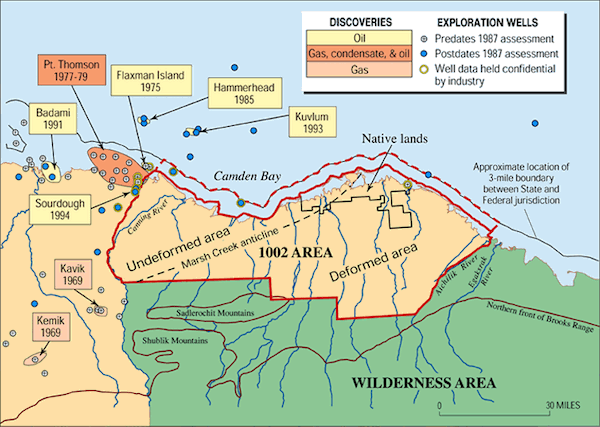 Map show­ing the

1002

Area, which will be opened up to oil and gas explo­ration, along with exist­ing drilling sites in the region.
(Source:
U.S. Geo­log­i­cal Sur­vey
)
Such eval­u­a­tion was deliv­ered to Con­gress in 1987, with three prin­ci­pal con­clu­sions. First, the 1.5 mil­lion-acre 1002 Area, had ​"out­stand­ing wilder­ness val­ues." Sec­ond, it also had large hydro­car­bon resources, like­ly tens of bil­lions of bar­rels. Third, oil devel­op­ment would bring wide­spread changes in habit, but ade­quate pro­tec­tion for wildlife was achiev­able and leas­ing should proceed.
Made pub­lic, these results ignit­ed major oppo­si­tion from envi­ron­men­tal groups. How­ev­er, low oil prices meant that no com­pa­nies would be inter­est­ed in drilling so no action toward leas­ing was tak­en. Over the next 20 years, Con­gress and pres­i­dents trad­ed blows over drilling, with Repub­li­cans pass­ing or propos­ing leg­is­la­tion in favor and Democ­rats vot­ing down or veto­ing the rel­e­vant bills.
Mat­ters of wilderness
These strug­gles added sup­port to a larg­er view: that wilder­ness is incom­pat­i­ble with any lev­el of devel­op­ment. The stance is often ref­er­enced to the 1964 Wilder­ness Act, a ven­er­a­ble law pro­tect­ing wild­lands but one whose def­i­n­i­tion of ​"wilder­ness" is ambigu­ous: ​"an area of unde­vel­oped Fed­er­al land retain­ing its primeval character…[that] gen­er­al­ly appears to have been affect­ed pri­mar­i­ly by the forces of nature, with the imprint of man's work sub­stan­tial­ly unno­tice­able." The vague­ness here allows for ANILCA's posi­tion that drilling could hap­pen so long as pro­tec­tion of wildlife and recla­ma­tion of land occurred.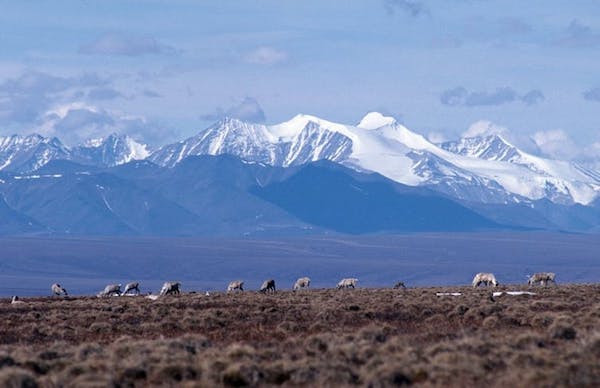 Cari­bou graz­ing on the Arc­tic Nation­al Wildlife Refuge. The area is more diverse than any area on the Arc­tic.
(Image:
U.S. Fish and Wildlife Ser­vice
)
Today, how­ev­er, no such allowance is accept­ed by pro-wilder­ness orga­ni­za­tions and the FWS. ​"You can have the oil. Or you can have this pris­tine place. You can't have both. No com­pro­mise," as put by Robert Mrazek, ex-chair of the Alas­ka Wilder­ness League.
Sav­ing ANWR has thus become an effort to save the very idea of wilder­ness, cul­tur­al­ly and philosophically.
How much oil?
The most recent com­pre­hen­sive assess­ment of oil and gas in the 1002 Area was by the U.S. Geo­log­i­cal Sur­vey (USGS) in 1998. This work shows a mean esti­mate of 10.4 bil­lion bar­rels of oil and 35 tril­lion cubic feet of nat­ur­al gas, which at today's prices ($57/​bbl oil, $3/​kcf) equals a total val­ue of about $600 bil­lion before drilling.
If well costs were $50 a bar­rel (low for onshore Arc­tic drilling today but pos­si­ble with cost reduc­tions spurred by 1002 devel­op­ment), the val­ue after extrac­tion would be $100 bil­lion, from which a fed­er­al roy­al­ty of 12.5 per­cent must be sub­tract­ed, yield­ing $87.5 bil­lion — a sig­nif­i­cant sum. Obvi­ous­ly if well costs are high­er, this fig­ure would be low­er. Note that Alas­ka gets 90 per­cent of that fed­er­al roy­al­ty and pays a year­ly div­i­dend to every state res­i­dent — one rea­son many Alaskans favor drilling and reject the uncom­pro­mis­ing wilder­ness position.
When con­sid­er­ing how oil and gas is avail­able, the USGS esti­mates should be con­sid­ered low, even min­i­mal. This is because they were made well before the cur­rent era of shale oil and gas and tight oil and gas devel­op­ment. New dis­cov­er­ies and use of frack­ing to the west of ANWR sug­gest there is more acces­si­ble petro­le­um. How much more? It's impos­si­ble to say, giv­en the many uncertainties.
Though only one well has ever been drilled in the 1002 Area, dozens have been sit­ed in sur­round­ing onshore and off­shore areas. These have result­ed in a num­ber of lim­it­ed dis­cov­er­ies and one sub­stan­tial field, Point Thom­son, which is esti­mat­ed to have recov­er­able reserves of up to 6 tril­lion cubic feet of gas and 850 mil­lion bar­rels of oil plus con­den­sate. It began pro­duc­ing in 2016, yet its reser­voir is geo­log­i­cal­ly com­plex, chal­leng­ing and insuf­fi­cient­ly under­stood, caus­ing dif­fi­cul­ties and rais­ing costs.
But Point Thomson's larg­er sig­nif­i­cance could stem from its loca­tion: Close to the north­west­ern mar­gin of 1002, it has brought a pipeline con­nec­tion to the Trans-Alas­ka Pipeline right to ANWR's doorstep.
But will they come?
Giv­en the sub­stan­tial pos­si­ble reserves and at least some pipeline access, how inter­est­ed might ener­gy com­pa­nies actu­al­ly be in ANWR? The answer for now seems to be: not very. This comes from my own dis­cus­sions with indus­try per­son­nel and from the results of a recent lease sale in NPR‑A, the Nation­al Petro­le­um Reserve in Alas­ka to the west of ANWR: Out of 900 tracts offered, only sev­en received bids (0.008 per­cent). A Decem­ber 7, 2017 lease sale on state lands did only some­what bet­ter (0.04 per­cent), with a sin­gle com­pa­ny bid­ding on tracts near the 1002 Area, adja­cent to the Point Thom­son field, and in the imme­di­ate area of two small, unde­vel­oped dis­cov­er­ies (Sour­dough and Yukon Gold) made by BP in 1994.
If this is any indi­ca­tion, anoth­er mul­ti­year peri­od of high oil prices — in a range, say, over $80 per bar­rel — needs to arrive before 1002 looks attrac­tive. Leas­ing and drilling in an area with extreme weath­er, lit­tle detailed data on the sub­sur­face geol­o­gy, no dis­cov­er­ies or pro­duc­tion, and no exist­ing infra­struc­ture is con­sid­ered high risk, all the more so in an uncer­tain price envi­ron­ment like today's.
My own guess is that the esti­mat­ed $1.1 bil­lion rev­enue from an ANWR leas­ing pro­gram has rough­ly the same prob­a­bil­i­ty of com­ing true as the dis­cov­ery that cli­mate change is indeed a Chi­nese hoax. Sim­i­lar­ly, we should prob­a­bly view with a dash of skep­ti­cism Sen. Murkowski's state­ments that open­ing ANWR will ​"cre­ate thou­sands of good jobs … keep ener­gy afford­able for fam­i­lies and busi­ness­es … reduce the fed­er­al deficit, and strength­en our nation­al secu­ri­ty" by reduc­ing for­eign oil. Regard­less of what claims are being made now, one can say the mea­sure would undoubt­ed­ly deliv­er on a long-stand­ing promise to Alaskan voters.
Mean­while, from an envi­ron­men­tal per­spec­tive, cli­mate change con­tin­ues to alter and dam­age the Arc­tic, even if no devel­op­ment hap­pens. As such, it is hard not to hope that we will nev­er need the oil that lies beneath the refuge.
In the end, whichev­er way we turn, no sta­ble com­pro­mise exists in this con­flict. Open­ing the area to leas­ing now will not pre­vent a clos­ing or ban lat­er on. Even native voic­es are divid­ed on the issue: The Inu­pi­at who live in Kak­tovik, who depend on sea life for sus­te­nance, would wel­come the work that drilling could bring, while the Gwich'in to the south, who rely on the cari­bou, see devel­op­ment as jeop­ar­diz­ing their cul­ture.
Legal chal­lenges to any lev­el of leas­ing are cer­tain, includ­ing those intend­ed to slow the process until drilling oppo­nents will win lat­er elec­tions, if they can.
The one truth all can agree on is that ANWR has nev­er been a ​"refuge" in the land­scape of Amer­i­can society.
("Why Amer­i­cans will nev­er agree on oil drilling in the Arc­tic Nation­al Wildlife Refuge" was orig­i­nal­ly pub­lished on The Con­ver­sa­tion and is repost­ed on Rur­al Amer­i­ca In These Times thanks to a Cre­ative Com­mons licens­ing agreement.)