The Changing Tide in Argentina: An Assault on the Public Sector and a Shift Towards Austerity
Argentine President Mauricio Macri seems to be intent upon implementing austerity and significantly changing the course of the previous Kirchner governments.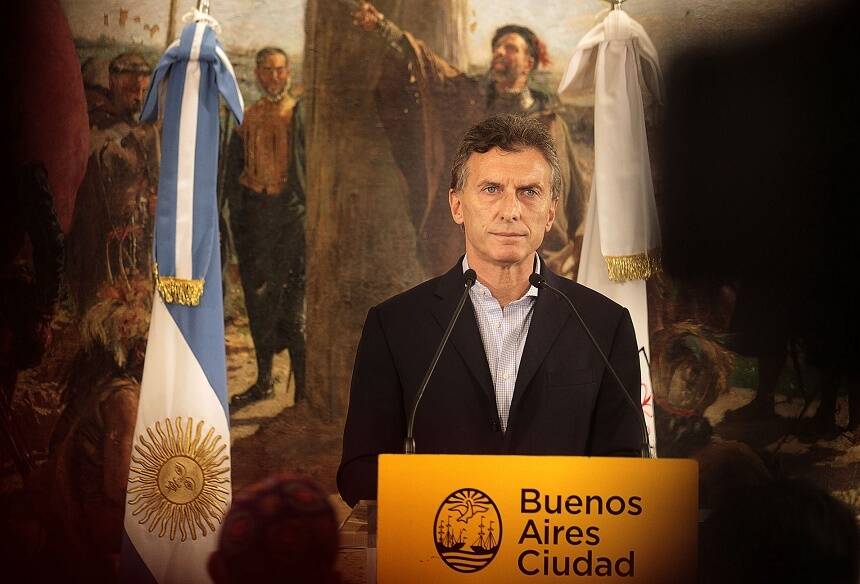 This post first appeared at NACLA​.org.
The return to a "business-oriented" economic regime under Macri will likely include returning to increased dependence on foreign creditors and the same multilateral organizations that led the country down a turbulent path to economic collapse in 2001.
Since tak­ing office on Decem­ber 10, Argentina's new pres­i­dent Mauri­cio Macri has moved at a hur­ried pace to over­haul twelve years of pro­gres­sive eco­nom­ic and social poli­cies imple­ment­ed by the suc­ces­sive Nés­tor and Cristi­na Kirch­n­er governments.
In his first two weeks, and gov­ern­ing by ​"emer­gency" decree, Macri lift­ed cur­ren­cy con­trols — devalu­ing the peso by 30 per­cent — passed a decree seek­ing approval from Con­gress to slash edu­ca­tion spend­ing by half, and attacked the hard-won Broad­cast Media Law that lim­it­ed media con­cen­tra­tion. He also elim­i­nat­ed the Kirch­n­ers' agri­cul­tur­al export tax­es, removed a series of elec­tric and gas sub­si­dies, and shut down the pop­u­lar Kirch­ner­ist tele­vi­sion talk show 678. Though many con­ser­v­a­tives her­ald­ed the changes, the country's social move­ments have respond­ed with out­cry and protest.
Back to ​

"

busi­ness"
Fol­low­ing Argentina's break with the Inter­na­tion­al Mon­e­tary Fund (IMF) in 2002 as part of its strat­e­gy to pur­sue pol­i­cy options going against the ​"Wash­ing­ton Con­sen­sus" neolib­er­al frame­work, the Kirch­n­er gov­ern­ments fol­lowed a Key­ne­sian mod­el of eco­nom­ic growth, pro­tect­ing nation­al indus­tries and boost­ing inter­nal con­sump­tion in order to stim­u­late the econ­o­my. From 2002 to 2011, Argenti­na achieved the fastest eco­nom­ic growth in the West­ern Hemisphere.
Macri's gov­ern­ment, much more allied with the busi­ness com­mu­ni­ty and a myr­i­ad of inter­na­tion­al cor­po­ra­tions, is now rac­ing back toward a free mar­ket-ori­ent­ed mod­el aimed at attract­ing for­eign invest­ment while reduc­ing state spend­ing and imple­ment­ing aus­ter­i­ty mea­sures. Such con­trac­tionary poli­cies have often slowed eco­nom­ic growth and pro­longed reces­sions in devel­op­ing economies.
Though many econ­o­mists agree a cur­ren­cy adjust­ment was nec­es­sary to cor­rect for years of the peso being held arti­fi­cial­ly strong and to curb falling reserves in the Cen­tral Bank, the sharp peso deval­u­a­tion on Macri's sec­ond day in office led to an imme­di­ate fall in pur­chas­ing pow­er for Argen­tine con­sumers. This was some­thing the Kirch­n­er eco­nom­ic mod­el had worked to pre­vent by reg­u­lar­ly increas­ing salaries and pen­sions to keep up with ris­ing prices. Ana­lysts have spec­u­lat­ed that Macri — unlike­ly to suc­cess­ful­ly curb high infla­tion rates in the com­ing months — will prob­a­bly end these pay increas­es, fur­ther erod­ing con­sumer pur­chas­ing pow­er and most direct­ly affect­ing the poor and work­ing class. Addi­tion­al­ly, the deval­u­a­tion and a hike in util­i­ty prices have led to an increase in the cost of liv­ing and a fall in dis­pos­able income, sap­ping the abil­i­ty of many to par­tic­i­pate in the econ­o­my through busi­ness ven­tures or dis­cre­tionary spending.
To the dis­may of many, Macri began the New Year by order­ing thou­sands of pub­lic sec­tor lay­offs across the coun­try — 14,000 by mid-Jan­u­ary — with any­where between 60,000 – 200,000 more pro­ject­ed for the com­ing months. His oppo­nents have protest­ed, claim­ing that the lay­offs are a form of polit­i­cal per­se­cu­tion, with Kirch­ner­ists dis­pro­por­tion­ate­ly tar­get­ed. Rem­i­nis­cent of the Argenti­na of the 1990s, those who have tak­en to the streets to oppose the lay­offs have been met with riot police, tear gas, rub­ber bul­lets and water can­nons. One wide­ly cir­cu­lat­ed pho­to­graph shows a pub­lic employee's back com­plete­ly blood­ied from rub­ber bullets.
Some ana­lysts argue that the lay­offs are being used to low­er salaries and wages over­all, with high­er unem­ploy­ment lev­els serv­ing to pres­sure wages down­ward. This would be to the ben­e­fit of the eco­nom­ic elite and cor­po­rate sup­port­ers of Macri's gov­ern­ment who fore­see greater invest­ment in Argenti­na if wages are suf­fi­cient­ly low­ered — or made ​"com­pet­i­tive." Indeed, Cristi­na Kirchner's for­mer min­is­ter of econ­o­my, Axel Kicillof, main­tains that the pol­i­cy is pur­pose­ly designed to ​"con­vert Argenti­na into a coun­try with a very cheap workforce."
Oth­ers who will suf­fer from Macri's mas­sive lay-off plan include thou­sands of women and trans­gen­der vic­tims of domes­tic vio­lence who get free pre­na­tal and infant care and oth­er impor­tant ser­vices from free com­mu­ni­ty health cen­ters. With all of their employ­ees laid off, some cen­ters have been shut down entire­ly. Mean­while, Kirch­n­er-era grain and beef export tax­es, which had fed state cof­fers and pro­vid­ed fund­ing to social pro­grams and pub­lic ser­vices, have also been cut in a lack­lus­ter attempt to appease farm­ers by trig­ger­ing a rise in grain sales while boost­ing Cen­tral Bank revenue.
Those who stand to prof­it from these new poli­cies include many in Macri's inner cir­cle. He has stacked his cab­i­net with busi­ness­men and for­mer CEOs, and at the provin­cial lev­el, the new min­is­ter of agri­cul­ture for Buenos Aires Province — now also gov­erned by Macri's par­ty — is a for­mer region­al man­ag­er for Mon­san­to. The media has report­ed that since the elec­tion, the sale of Mon­san­to prod­ucts like GMO corn seeds and her­bi­cides have jumped. Ques­tions of con­flict of inter­est, though, do not seem to con­cern Macri, who seems intent on bring­ing a new ​"man­age­r­i­al ethos" to Argenti­na. Oth­er cor­po­rate exec­u­tives whom he has appoint­ed to cab­i­net posi­tions have had close busi­ness rela­tion­ships with his fam­i­ly, who them­selves are often crit­i­cized for hav­ing great­ly prof­it­ed from ven­tures dur­ing the 1976 – 1983 dic­ta­tor­ship. If gov­ern­ment pol­i­cy is going to have the same ​"ethos" as scan­dal-plagued com­pa­nies like Mon­san­to, Shell, JP Mor­gan Chase, and Gen­er­al Motors—some of the cor­po­ra­tions that Macri's new cab­i­net mem­bers have pre­vi­ous­ly worked for— then it is no won­der that so many Argen­tines are wor­ried for their country.
The return to a ​"busi­ness-ori­ent­ed" eco­nom­ic régime under Macri will like­ly include return­ing to increased depen­dence on for­eign cred­i­tors and the same mul­ti­lat­er­al orga­ni­za­tions that led the coun­try down a tur­bu­lent path to eco­nom­ic col­lapse in 2001. An impor­tant com­po­nent of his busi­ness-friend­ly mod­el is Macri's vow to renew ties with the IMF and end the con­flict with ​"vul­ture fund" hold-out cred­i­tors. In Jan­u­ary, after thir­teen years of Argentina's absence, he attend­ed the World Eco­nom­ic Forum in Davos, as if proud­ly debut­ing the country's young, new eco­nom­ic ortho­doxy to an eager­ly await­ing busi­ness world.
The renew­al of IMF ties has sup­port­ers of Kirch­ner­ist eco­nom­ic het­ero­doxy wor­ried, and for good rea­son. From 2003 to 2011, Nés­tor and Cristi­na Kirch­n­er over­saw recov­ery from a deep reces­sion and the largest sov­er­eign debt default in his­to­ry at the time, and sub­se­quent­ly — against the pre­dic­tions of econ­o­mists and the inter­na­tion­al finance world — an impres­sive eco­nom­ic rebound. With­in three years, Argentina's GDP returned to pre-reces­sion lev­els, simul­ta­ne­ous­ly increas­ing real wages, social spend­ing, and employ­ment, while low­er­ing inequal­i­ty and reduc­ing pover­ty almost by half. A cru­cial fac­tor in this suc­cess­ful rebound was Argentina's break­ing of ties with the IMF, and its release from the dic­tates of ​"Wash­ing­ton Con­sen­sus" poli­cies that had run the econ­o­my into the ground in the first place. In 2008, counter-cycli­cal and het­ero­dox eco­nom­ic poli­cies helped Argenti­na weath­er the effects of the glob­al down­turn.
Yet there is already spec­u­la­tion that, due to the large debts accrued to the City of Buenos Aires when Macri was Chief of Gov­ern­ment, cred­i­tors will decide to issue loans to Argenti­na only if the gov­ern­ment imple­ments aus­ter­i­ty mea­sures. The return to an eco­nom­ic mod­el pred­i­cat­ed on adher­ence to the con­straints of IMF-man­dat­ed poli­cies is a wor­ry­ing prospect, as it would under­mine Argentina's eco­nom­ic sov­er­eign­ty and pos­si­bly return it to depen­den­cy on for­eign-induced growth.
The Left as oppo­si­tion, again
Argentina's Left solid­i­fied com­mit­ment to a num­ber of ideals dur­ing twelve years of work­ing with­in the frame­work of a pro­gres­sive cen­ter-left gov­ern­ment, but now it has again found itself on the out­side. Unwill­ing to accept that over a decade of progress can revert so rapid­ly, Kirch­ner­ist loy­al­ists and oth­er Macri oppo­nents have protest­ed each new blow against the pre­vi­ous government's policies.
Com­men­ta­tors point out that since 1928, no elect­ed non-Per­o­nist pres­i­dent has com­plet­ed a full term. The impli­ca­tion is that Argen­tines will not allow Macri to fin­ish his term if he con­tin­ues to pass unpop­u­lar mea­sures. Could Macri be brought down amid burn­ing tires, Molo­tov cock­tails and the clam­or­ing of pots and pans, as five oth­er pres­i­dents were dur­ing the cri­sis of 2001 – 2002? Or might he be the first non-Per­o­nist pres­i­dent to fin­ish his term in almost a century?
Despite the unpop­u­lar­i­ty of his reforms, Macri main­tains an impor­tant advan­tage: the econ­o­my he inher­its is not the dis­as­trous econ­o­my that the late Nés­tor Kirch­n­er faced in 2003. Rather, despite infla­tion and slow growth in the last four years, Argenti­na has had a rel­a­tive­ly well-func­tion­ing and inde­pen­dent econ­o­my, allow­ing many to live well and to even thrive. The gen­er­al sta­bil­i­ty that passed on to Macri allows him more flex­i­bil­i­ty to enact unfa­vor­able eco­nom­ic poli­cies. Today, the pub­lic has grow­ing con­fi­dence in insti­tu­tions that dur­ing the 2001 cri­sis were com­plete­ly delegitimized.
Sim­i­lar­ly, the dif­fer­ence between protests now and those dur­ing the reces­sion and cri­sis of 2001 – 2002 is that the lat­ter were pre­ced­ed by the com­plete dele­git­imiza­tion of insti­tu­tions and the politi­cians who ran them. The Kirch­n­er government's decline in sup­port has been nowhere near the lack of pub­lic con­fi­dence that led peo­ple to chant ​"que se vayan todos!" four­teen years ago. Instead, con­fi­dence in the state and its role in soci­ety has increased since 2001, as sup­port for the Kirch­n­ers' poli­cies — some­times even with­in macrismo—has also shown. Each of these fac­tors increas­es the like­li­hood that Macri's gov­ern­ment will main­tain stability.
If the vio­lent repres­sion of pro­tes­tors or the recent deten­tion of Tupac Amaru leader Mila­gro Sala is any indi­ca­tion of what may come, then social move­ment orga­ni­za­tions should brace them­selves. The crim­i­nal­iza­tion of protest and the per­se­cu­tion of social activism—as some describe Macri's actions — seem con­sis­tent with Macri's resolve to ​"remove ide­ol­o­gy" from gov­ern­ment pol­i­tics. Mar­garet Thatcher's neolib­er­al dic­tum that ​"there is no such thing as soci­ety" comes to mind in this con­text of renewed mass protests — and police vio­lence —on the streets of Argentina.
But the Argen­tine Left is not eas­i­ly deterred. For social move­ment orga­ni­za­tions, Kirch­ner­ist groups, labor unions and more rad­i­cal orga­ni­za­tions, the key is to con­tin­ue to orga­nize. ​"The social move­ment groups have learned a lot in the last fif­teen years," says Eze­quiel Arneo­do, a mem­ber of the social­ist-ori­ent­ed orga­ni­za­tion Patria Grande, which has roots in the social explo­sions of 2001 – 2002. ​"We gained new leg­isla­tive spaces in Con­gress and local gov­er­nance that we nev­er had before, and have learned to use them. Now it's time to build again, even if it is from the outside."
Sara Koza­meh
is a PhD Can­di­date in Latin Amer­i­can His­to­ry at New York University.