This Arizona County Already Lives Under Trumpism—But a Latino Voter Surge May Change That
7 years of organizing against anti-immigrant Sheriff Joe Arpaio has driven massive voter registration.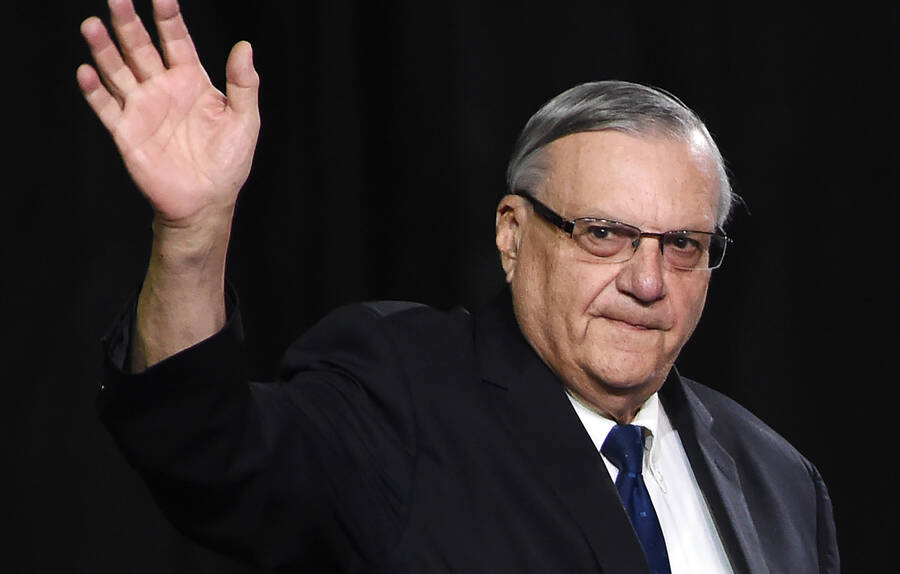 Trump­ism is noth­ing new to the peo­ple of Phoenix. Sher­iff Joe Arpaio, of Mari­co­pa Coun­ty, has been a real-life pre­view of what Don­ald Trump would mean for com­mu­ni­ties of color.
People in Maricopa don't have the luxury of being cynical about the presidential election. Trumpism is not something people here have to imagine; it is something they and their parents have lived through.
Dur­ing his 23-year stint as sher­iff, Arpaio has dep­u­tized his depart­ment as an exten­sion of fed­er­al immi­gra­tion author­i­ties: lead­ing raids in heav­i­ly Lati­no neigh­bor­hoods, engag­ing in well-doc­u­ment­ed racial pro­fil­ing of Lati­nos, and bru­tal­iz­ing the peo­ple in his charge. Arpaio also proud­ly has a tank with his name paint­ed across the side parked out­side the coun­ty jail.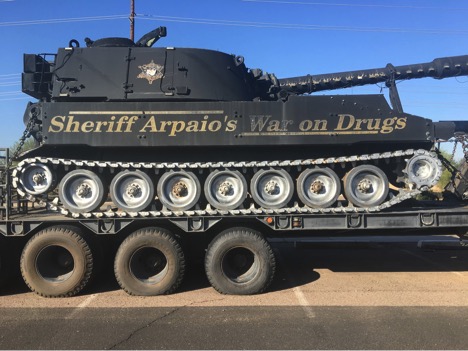 Arpaio is up for reelec­tion, and nation­al cov­er­age of the race has focused on the sheriff's self-inflict­ed legal trou­bles. What's miss­ing from that sto­ry is the orga­niz­ing that has tak­en off through­out Mari­co­pa Coun­ty over the last sev­en years — includ­ing the immi­grant-rights-based vot­er reg­is­tra­tion dri­ve that has coun­ty offi­cials pre­dict­ing record turnout.
Ari­zona made nation­al news in 2010 with the pas­sage of SB 1070, one of the harsh­est anti-immi­grant laws in the coun­try, which was embraced by Arpaio. Since then, count­less Lati­nos, many of them younger, have joined or built com­mu­ni­ty orga­ni­za­tions to move from a place of fear to one of power.
On Fri­day, Ai-jen Poo and I vis­it­ed Phoenix as part of a six-state, six-day #BestofUS2016 tour to bring voice to the unsung heroes and hero­ines of this elec­tion. Ale­jan­dra Gomez, the co-direc­tor of Liv­ing Unit­ed for Change in Ari­zona (LUCHA), a grass­roots mem­ber­ship orga­ni­za­tion, is one of those heroines.
"SB 1070 was my call to action," say Gomez. ​"It passed and I left my job and start­ed organizing."
She is now one the lead­ers of a coun­ty­wide shift from com­mu­ni­ty defense toward advanc­ing a proac­tive agenda.
Car­los Gar­cia, exec­u­tive direc­tor of Puente, a grass­roots migrant-jus­tice orga­ni­za­tion, has been going head to head with the sher­iff for near­ly a decade. As Gar­cia said in a Democ­ra­cy Now inter­view in Octo­ber, "[Arpaio] obtained the 287(g) agree­ment and decid­ed to go after our com­mu­ni­ties in a way that was nev­er seen before — what he called crime sup­pres­sion sweeps. He flood­ed immi­grant neigh­bor­hoods with his dep­u­tized posse mem­bers, plus his sher­iff deputies, and would pull over and detain any­one that looked undocumented."
The 287(g) pro­gram allows local law enforce­ment to enter into part­ner­ship with Immi­gra­tion and Cus­toms Enforce­ment and receive del­e­gat­ed immi­gra­tion enforce­ment authority.
Puente mem­bers and Gar­cia doc­u­ment­ed the Sher­if­f's abus­es and chal­lenged them with direct action, end­ing the agree­ment that enabled the Sher­iff to act as an immi­gra­tion agent. They con­tin­ue to orga­nize to sev­er the rela­tion­ship between the fed­er­al immi­gra­tion agency and the Sher­iff altogether.
"After SB 1070 became law, fear did set in," says Gomez, ​"but we didn't stay paralyzed."
In the begin­ning, orga­niz­ers focused on pres­sur­ing offi­cials on moral grounds, but that had lit­tle effect.
"Soon we found that, for them, moral­i­ty was out­side the con­ver­sa­tion," she said. ​"We quick­ly iden­ti­fied that we need­ed to build pow­er, and that we actu­al­ly already had pow­er. And that was our abil­i­ty to share our sto­ries and reg­is­ter peo­ple to vote."
So LUCHA and orga­ni­za­tions such as One Ari­zona, Ari­zona DREAM Action Coali­tion, Neigh­bor­hood Min­istries, CASE, Puente, Promise Ari­zona and Mi Famil­ia Vota reg­u­lar­ly can­vassed with clip­boards, reg­is­ter­ing voters.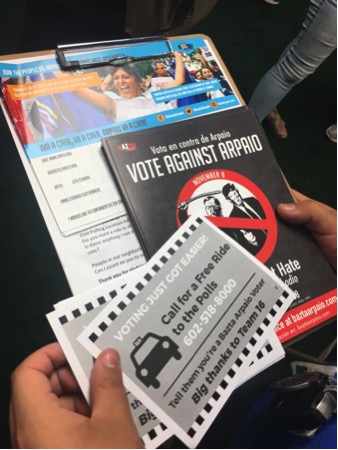 They also orga­nized march­es, from high-school walk­outs to mobi­liza­tions of 10,000 peo­ple at the State Capi­tol, cre­at­ing com­mu­ni­ty spaces where, as Gomez says, ​"we could breathe together."
Then they start­ed to win. They defeat­ed five anti-immi­grant bills in the state leg­is­la­ture in 2011, suc­cess­ful­ly orga­nized a recall of SB 1070 spon­sor — and noto­ri­ous racist — state Sen. Rus­sell Pearce and helped elect a more pro­gres­sive Phoenix City Coun­cil. Along the way, the coali­tion of grass­roots orga­ni­za­tions reg­is­tered hun­dreds of thou­sands of vot­ers. The reg­is­tra­tion cam­paign was not episod­ic, pegged to elec­tions, but ongo­ing through­out the year.
Mari­co­pa Coun­ty super­vi­sor Steve Gal­lar­do told ThinkProgress that the coun­ty has seen a record num­ber of new Lati­no vot­ers reg­is­tered for this elec­tion, and he expects the largest vot­er turnout in Ari­zona his­to­ry. There has already been heavy ear­ly vot­ing, with one mil­lion bal­lots cast.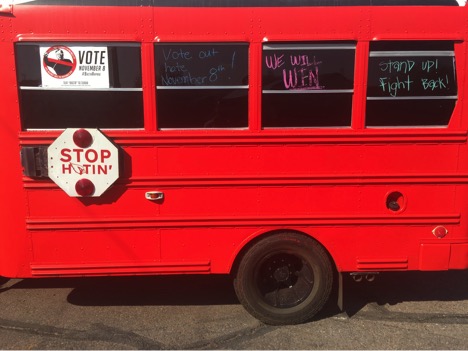 When we joined Gomez at the LUCHA office on Thurs­day after­noon, the effort was clear­ly a well-oiled machine. Crammed into the space were 40 young peo­ple who were trained, orga­nized and pre­pared to fan out into neigh­bor­hoods across the coun­ty. There was no ​"enthu­si­asm gap" in this room, but instead a sense of pow­er and possibility.
It makes sense. Peo­ple in Mari­co­pa don't have the lux­u­ry of being cyn­i­cal about the pres­i­den­tial elec­tion. Trump­ism is not some­thing peo­ple here have to imag­ine; it is some­thing they and their par­ents have lived through. So, while send­ing Arpaio into retire­ment is a pri­or­i­ty, ensur­ing Don­ald Trump is not the next pres­i­dent of the Unit­ed States is equal­ly crucial.
LUCHA mem­ber Flor Bena­vides believes a Trump pres­i­den­cy would threat­en the safe­ty and sense of com­mu­ni­ty that is being rebuilt in Mari­co­pa Coun­ty. She describes going to the mall on the week­end before SB 1070 passed. It was packed. That changed after the bill became law.
"Then we would go [to the mall] and it was so lone­ly," she recalls. ​"Where is every­one? If the wrong can­di­date becomes pres­i­dent this year, we are going to lose that fam­i­ly and closeness."
The res­i­dents of Mari­co­pa have come a long way and they are not look­ing to go back­wards. ​"I'm not scared," says Gomez. ​"We feel like we can stand up to any­one because we have a vil­lage behind us. The com­mu­ni­ty is very orga­nized and pow­er­ful. And love is at the cen­ter of all our organizing."
If love is an anti­dote for hate, then love, com­mu­ni­ty and pow­er are on the verge of trans­form­ing life for many in Arizona.