Here's Why Teachers Are Prepared to Defy Arizona's Anti-Strike Laws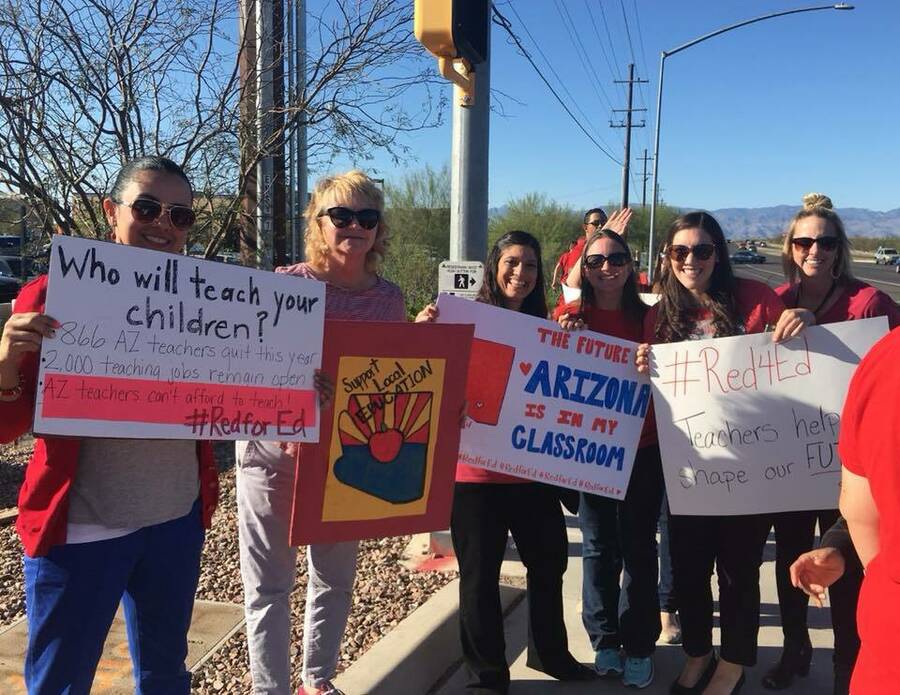 Teach­ers and school sup­port staff in Ari­zona are gear­ing up for a pos­si­ble walk­out, say­ing Repub­li­can Gov. Doug Ducey and state leg­is­la­tors are ignor­ing work­ers' demands for bet­ter con­di­tions for edu­ca­tors and stu­dents alike. The rank-and-file group Ari­zona Edu­ca­tors Unit­ed is call­ing for a 20 per­cent increase in teacher pay, a com­pet­i­tive salary for non-licensed school posi­tions and a mora­to­ri­um on tax cuts ​"until Ari­zona per-pupil fund­ing reach­es [the] nation­al average."
In a March 28 state­ment, Ducey expressed his sup­port for teach­ers but also stat­ed his pref­er­ence for a small­er increase in edu­ca­tors' salaries.
Ari­zona stu­dent fund­ing allo­ca­tions are among the low­est in the nation, accord­ing to a recent report. The nation­al aver­age is around $11,000 per pupil, Gov­ern­ing mag­a­zine deter­mines Ari­zona sits near the bot­tom of the pack, spend­ing, on aver­age, just under $7,500 per pub­lic school student.
This envi­ron­ment is cre­at­ing uncon­scionable work­ing and learn­ing con­di­tions, says Noah Karvelis, a music teacher at a high-pover­ty school in the Phoenix area and a lead orga­niz­er of the grass­roots group, Ari­zona Edu­ca­tors Unit­ed. He tells In These Times that Ari­zona has ​"gut­ted its pub­lic infra­struc­ture, includ­ing pub­lic schools," thanks to ongo­ing tax cuts for wealthy indi­vid­u­als and corporations.
"It's depress­ing," Karvelis acknowl­edged in a phone inter­view. ​"I work with the kids most in need of a shot at get­ting a great pub­lic edu­ca­tion, and they deserve bet­ter than this. Bet­ter than a per-pupil fund­ing lev­el that's 49th in the nation. Bet­ter than hav­ing to share six text­books with a room full of class­mates or put up with leaky pipes and crum­bling schools."
On April 11, thou­sands of teach­ers across the state are expect­ed to host walk-in ral­lies at their school sites as a way to build momen­tum and gain com­mu­ni­ty sup­port. Teach­ers will gath­er out­side their build­ings and then head inside, ide­al­ly wear­ing red (the campaign's cho­sen col­or of protest). The next step, orga­niz­ers say, will be a walk out, par­tic­u­lar­ly if they can't get a request­ed sit-down meet­ing with Gov­er­nor Ducey. So far, Karvelis says, Ducey has ignored his group's push to talk in person.
Arizona's grow­ing teacher unrest comes amid a rolling wave of col­lec­tive action in oth­er Repub­li­can-heavy states, includ­ing Okla­homa, West Vir­ginia and Ken­tucky. And, across the board, the issues agi­tat­ing teach­ers and their sup­port­ers often boil down to a painful­ly clear point: Pub­lic schools and the teach­ers work­ing in them are being starved of resources as the threat of pri­va­ti­za­tion grows.
Here's what that looks like in Ari­zona: Mid­dle school Eng­lish teacher Jen Samuels has two master's degrees and is work­ing on a third one. She has five years of teach­ing expe­ri­ence in Ari­zona, includ­ing time spent as a spe­cial edu­ca­tion teacher for ele­men­tary school students.
Samuels says she makes just over $40,000 per year, thanks to the sup­ple­men­tal income she receives by serv­ing as her school's ath­let­ic director.
"My pay­check is so low that I don't even know exact­ly what it is," Samuels admit­ted to In These Times. ​"It is just too demean­ing and demor­al­iz­ing to look at it in print."
Samuels says she has 100 stu­dents this year. Usu­al­ly, she brings her stu­dents' writ­ing work home with her so that she can pro­vide the feed­back she says they need and deserve. Last week­end, she refused to take work home and instead spent extra time with her three young daugh­ters. As a con­se­quence, Samuels woke up at 3:00 a.m. on Mon­day morn­ing, brewed a pot of cof­fee, and got to work, catch­ing up on the grad­ing she had put off. Next year, her work­load is bound to increase due to anoth­er aspect of Arizona's teacher cri­sis: Teach­ers are leav­ing the pro­fes­sion or the state in droves, seek­ing high­er pay in oth­er fields or in neigh­bor­ing states.
"Two teach­ers in our Eng­lish depart­ment are leav­ing," Samuels says, ​"and they are not going to be replaced. We know, 100 per­cent, our class sizes are going to increase."
Samuels large­ly blames the low pay and increase in class sizes on Arizona's cor­po­rate-friend­ly tax cuts, which keep mon­ey out of the state's cof­fers. In recent years, the state gov­ern­ment slashed the cor­po­rate tax rate, cut­ting it from 7 per­cent to just under 5 per­cent. This drop has wreaked hav­oc on the state's bud­get, some sources say. Even Jan Brew­er, who was gov­er­nor when the lat­est round of tax cuts were enact­ed, has since admit­ted the cuts were ​"too much."
Mean­while, school pri­va­ti­za­tion schemes, such as the unreg­u­lat­ed spread of char­ters and school vouch­ers, have grown expo­nen­tial­ly in Ari­zona. This is prob­lem­at­ic, Samuels con­tends, because pri­vate schools and char­ter schools have a poor track record when it comes to serv­ing stu­dents who are spe­cial needs or low-income. That leaves the high­est needs stu­dents clus­tered in the state's tra­di­tion­al pub­lic schools, with­out the nec­es­sary resources.
This is why Samuels says she is will­ing to walk off the job, even though she could get fired for doing so. In March, Samuels' union, the statewide Ari­zona Edu­ca­tion Asso­ci­a­tion, sent out an email to mem­bers, remind­ing them that they have ​"no right to strike." Thanks to Arizona's right-to-work sta­tus, employ­ees have no real union pro­tec­tions and can be fired for engag­ing in col­lec­tive action.
Cur­tis Ayl­ward is anoth­er teacher and orga­niz­er with Ari­zona Edu­ca­tors Unit­ed, and he shares Samuels' will­ing­ness to walk out in defi­ance of the state's anti-union laws. ​"I would be very sur­prised if there isn't a walk­out by the end of the school year," Ayl­ward insist­ed. He then ref­er­enced what activists say is Ducey's unwill­ing­ness to sit down with teach­ers: ​"Our gov­er­nor and leg­is­la­ture don't seem to want any­thing but a fight."
Sarah Lahm is a Min­neapo­lis-based writer and for­mer Eng­lish Instruc­tor. She writes the Mid­west Dis­patch col­umn for the Pro­gres­sive mag­a­zine, and her work has appeared in oth­er local and nation­al outlets.