Here's Why Teachers Are Prepared to Defy Arizona's Anti-Strike Laws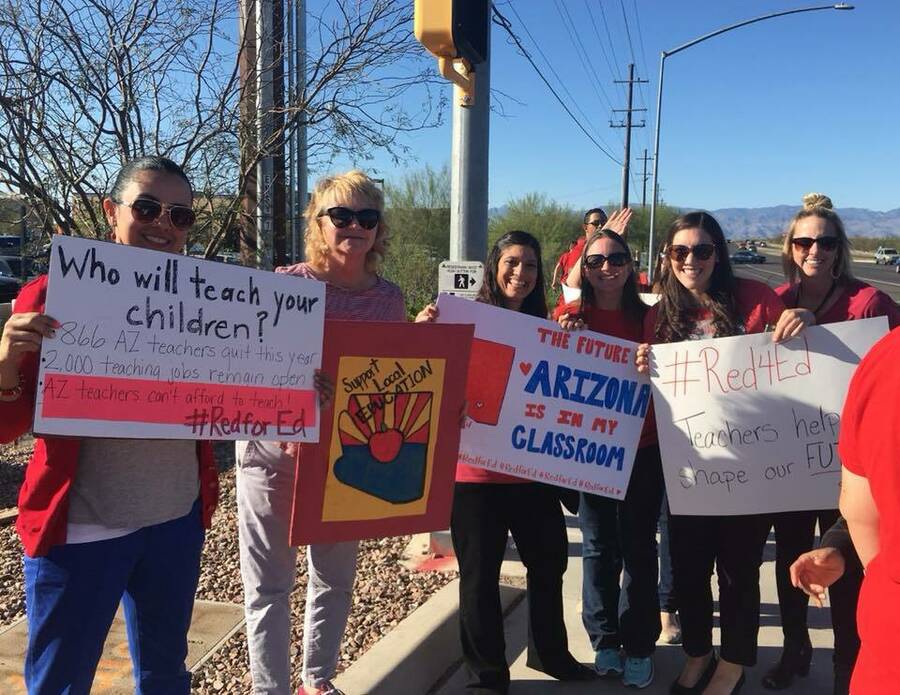 Teachers and school support staff in Arizona are gearing up for a possible walkout, saying Republican Gov. Doug Ducey and state legislators are ignoring workers' demands for better conditions for educators and students alike. The rank-and-file group Arizona Educators United is calling for a 20 percent increase in teacher pay, a competitive salary for non-licensed school positions and a moratorium on tax cuts ​"until Arizona per-pupil funding reaches [the] national average."
In a March 28 statement, Ducey expressed his support for teachers but also stated his preference for a smaller increase in educators' salaries.
Arizona student funding allocations are among the lowest in the nation, according to a recent report. The national average is around $11,000 per pupil, Governing magazine determines Arizona sits near the bottom of the pack, spending, on average, just under $7,500 per public school student.
This environment is creating unconscionable working and learning conditions, says Noah Karvelis, a music teacher at a high-poverty school in the Phoenix area and a lead organizer of the grassroots group, Arizona Educators United. He tells In These Times that Arizona has ​"gutted its public infrastructure, including public schools," thanks to ongoing tax cuts for wealthy individuals and corporations.
"It's depressing," Karvelis acknowledged in a phone interview. ​"I work with the kids most in need of a shot at getting a great public education, and they deserve better than this. Better than a per-pupil funding level that's 49th in the nation. Better than having to share six textbooks with a room full of classmates or put up with leaky pipes and crumbling schools."
On April 11, thousands of teachers across the state are expected to host walk-in rallies at their school sites as a way to build momentum and gain community support. Teachers will gather outside their buildings and then head inside, ideally wearing red (the campaign's chosen color of protest). The next step, organizers say, will be a walk out, particularly if they can't get a requested sit-down meeting with Governor Ducey. So far, Karvelis says, Ducey has ignored his group's push to talk in person.
Arizona's growing teacher unrest comes amid a rolling wave of collective action in other Republican-heavy states, including Oklahoma, West Virginia and Kentucky. And, across the board, the issues agitating teachers and their supporters often boil down to a painfully clear point: Public schools and the teachers working in them are being starved of resources as the threat of privatization grows.
Here's what that looks like in Arizona: Middle school English teacher Jen Samuels has two master's degrees and is working on a third one. She has five years of teaching experience in Arizona, including time spent as a special education teacher for elementary school students.
Samuels says she makes just over $40,000 per year, thanks to the supplemental income she receives by serving as her school's athletic director.
"My paycheck is so low that I don't even know exactly what it is," Samuels admitted to In These Times. ​"It is just too demeaning and demoralizing to look at it in print."
Samuels says she has 100 students this year. Usually, she brings her students' writing work home with her so that she can provide the feedback she says they need and deserve. Last weekend, she refused to take work home and instead spent extra time with her three young daughters. As a consequence, Samuels woke up at 3:00 a.m. on Monday morning, brewed a pot of coffee, and got to work, catching up on the grading she had put off. Next year, her workload is bound to increase due to another aspect of Arizona's teacher crisis: Teachers are leaving the profession or the state in droves, seeking higher pay in other fields or in neighboring states.
"Two teachers in our English department are leaving," Samuels says, ​"and they are not going to be replaced. We know, 100 percent, our class sizes are going to increase."
Samuels largely blames the low pay and increase in class sizes on Arizona's corporate-friendly tax cuts, which keep money out of the state's coffers. In recent years, the state government slashed the corporate tax rate, cutting it from 7 percent to just under 5 percent. This drop has wreaked havoc on the state's budget, some sources say. Even Jan Brewer, who was governor when the latest round of tax cuts were enacted, has since admitted the cuts were ​"too much."
Meanwhile, school privatization schemes, such as the unregulated spread of charters and school vouchers, have grown exponentially in Arizona. This is problematic, Samuels contends, because private schools and charter schools have a poor track record when it comes to serving students who are special needs or low-income. That leaves the highest needs students clustered in the state's traditional public schools, without the necessary resources.
This is why Samuels says she is willing to walk off the job, even though she could get fired for doing so. In March, Samuels' union, the statewide Arizona Education Association, sent out an email to members, reminding them that they have ​"no right to strike." Thanks to Arizona's right-to-work status, employees have no real union protections and can be fired for engaging in collective action.
Curtis Aylward is another teacher and organizer with Arizona Educators United, and he shares Samuels' willingness to walk out in defiance of the state's anti-union laws. ​"I would be very surprised if there isn't a walkout by the end of the school year," Aylward insisted. He then referenced what activists say is Ducey's unwillingness to sit down with teachers: ​"Our governor and legislature don't seem to want anything but a fight."
Sarah Lahm is a Min­neapo­lis-based writer and for­mer Eng­lish Instruc­tor. She writes the Midwest Dispatch column for the Progressive magazine, and her work has appeared in other local and national outlets.