The Movement That Ousted Arpaio Is Setting Its Sights State-Wide
A conversation with Alejandra Gomez, the co-director of Living United for Change in Arizona.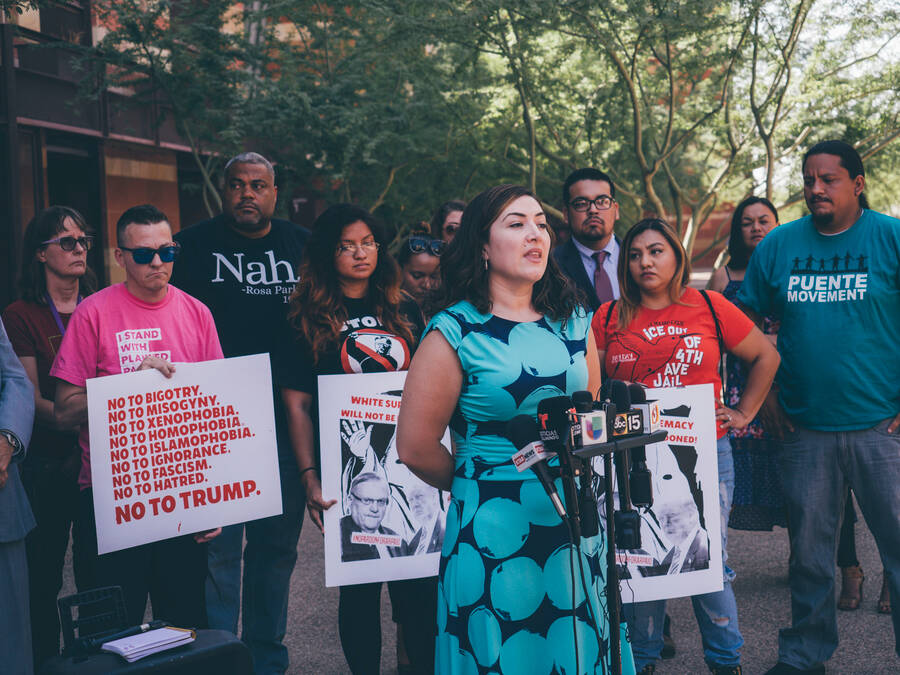 Wel­come to Inter­views for Resis­tance. Since elec­tion night of 2016, the streets of the Unit­ed States have rung with resis­tance. Peo­ple all over the coun­try have wok­en up with the con­vic­tion that they must do some­thing to fight inequal­i­ty in all its forms. But many are won­der­ing what it is they can do. In this series, we'll be talk­ing with expe­ri­enced orga­niz­ers, trou­ble­mak­ers, and thinkers who have been doing the hard work of fight­ing for a long time. They'll be shar­ing their insights on what works, what does­n't, what has changed and what is still the same.
Arizona is very much in flux. There are a lot of changes happening.
Ale­jan­dra Gomez: I am Ale­jan­dra Gomez. I am co-direc­tor at Liv­ing Unit­ed for Change (LUCHA) in Arizona.
Sarah Jaffe: You were at the ral­ly and counter-ral­ly out­side of Trump's infa­mous talk last Tues­day night in Phoenix, right? Tell us how it went from where you were.
Ale­jan­dra: I will actu­al­ly start from when we heard about the par­don. We heard that 45 was com­ing, and we heard very quick­ly after that he was think­ing of par­don­ing Arpaio. We had a cou­ple of our young lead­ers with us dur­ing the staff meet­ing, and imme­di­ate­ly there were reac­tions to that, because a lot of those young peo­ple worked in the coali­tion dur­ing the Baz­ta Arpaio cam­paign to get him out of office.
Through that work, we demon­strat­ed that we no longer want­ed a crim­i­nal in office. After the elec­tion, final­ly the judges ruled that Arpaio was found in con­tempt of court. He was defy­ing the judge's orders to stop pro­fil­ing and tar­get­ing com­mu­ni­ties of col­or. Final­ly Arpaio was deemed a crim­i­nal and was tak­en out of office.
To hear that the pres­i­dent of the Unit­ed States was going to come and par­don Arpaio rein­forced what we already know and what we felt dur­ing the cam­paign trail: This pres­i­dent has been ignit­ing divi­sion and hate and embold­en­ing racism, big­otry and white suprema­cy in his administration.
There was a lot of ner­vous­ness going into the Trump ral­ly. One of our young peo­ple, when we were hud­dling before going to the ral­ly, said: ​"I am scared to go to this ral­ly because of every­thing I have been see­ing, because of what hap­pened in Char­lottesville. It feels ter­ri­ble to be scared of the pres­i­dent of the Unit­ed States." That was a very sober­ing comment.
We said, ​"Well, we have been doing demon­stra­tions for a real­ly long time and our com­mu­ni­ty is resilient, our com­mu­ni­ty knows how to fight back, and we are going there today because we need to show this admin­is­tra­tion that we are stand­ing in sol­i­dar­i­ty and we are against this agenda."
We went, and it was a won­der­ful cel­e­bra­tion of all of the var­i­ous com­mu­ni­ties com­ing togeth­er to demon­strate and push back on this pres­i­dent. It is a very ter­ri­ble and back­wards time when we are hav­ing to tell the pres­i­dent to fol­low the rule of law and lis­ten to the judi­cial sys­tem, because he has gone com­plete­ly rogue.
We were at the ral­ly and folks were real­ly chant­i­ng and cel­e­brat­ing. It was a dis­play of all of the won­der­ful things that our com­mu­ni­ty has been fight­ing for, which are equal­i­ty and jus­tice. Toward the end of the night, police offi­cers were in full riot gear. It was com­plete­ly unnec­es­sary, because we were peace­ful pro­test­ers. We built a rela­tion­ship with the police depart­ment. We have had sev­er­al actions and have shown that we know how to run respect­ful, strate­gic demon­stra­tions. The police were out in their full riot gear with the masks, shields, lay­ers of vests on, guns and rub­ber bul­lets — and cop cars everywhere.
I think that was more men­ac­ing than the Trump sup­port­ers. Toward the end of the night, there were still dif­fer­ent parts of the com­mu­ni­ty there: There were still women with their chil­dren, fathers with their chil­dren and fam­i­ly mem­bers togeth­er. The police deployed tear gas into the mid­dle of the streets, because they want­ed to keep the crowd con­tained. We start­ed to see com­mu­ni­ties run every­where. There was no warning.
It was a war zone that was ini­ti­at­ed by the Phoenix Police Depart­ment. Increas­ing­ly, we are see­ing this mil­i­ta­riza­tion of the police depart­ment. We have seen it in oth­er states, and we expe­ri­enced it here in Ari­zona where we have march­es with thou­sands of people.
Our state is no stranger to the tar­get­ing of our com­mu­ni­ties for raids. And this was the first time that I had seen such a vio­lent and aggres­sive dis­play towards peace­ful demonstrators.
Sarah: Give us a lit­tle back­ground on Arpaio and the things that made him require a par­don in the first place.
Ale­jan­dra: Arpaio is the type of per­son who always want­ed to be in the media and was will­ing to do any­thing that got him atten­tion. So, Tent City was one of the worst ideas that could pos­si­bly hap­pen. It was a com­plete vio­la­tion of human rights and pris­on­ers' rights. What would hap­pen in Tent City was, in Ari­zona, the tem­per­a­tures reach about 120 degrees Fahren­heit at any giv­en time in the sum­mer. You have pris­on­ers out­side with no air con­di­tion­ing. There were out­hous­es for bath­rooms. So, all of the feces and urine have stag­nat­ed, and you have that smell. You also have every­thing that is accu­mu­lat­ing in terms of bac­te­ria, and all of that among the peo­ple who are incarcerated.
On top of that, Arpaio would make it known that he felt peo­ple that were in jail should not receive what he would con­sid­er food as a lux­u­ry. So, he would often give moldy bread and green mac­a­roni to peo­ple who were in custody.
Under his juris­dic­tion, there were small­er cities — these areas where you have large­ly Native Amer­i­can and Lati­no pop­u­la­tions. In Sur­prise, Ari­zona there were a num­ber of report­ed cas­es of rape tar­get­ing young women and girls, and the sher­iff was fail­ing to inves­ti­gate those rape cas­es. Mil­lions of dol­lars were misappropriated.
This was all before SB 1070. Then, the raids start­ed to hap­pen, and Arpaio com­plete­ly revamped all his vans. Basi­cal­ly, it looked worse than bor­der patrol. They would have signs, ​"If you see an ille­gal per­son, report them." They had pic­tures of peo­ple. It was a ter­ri­ble sight to see these vans. Out­side of his office, he had a big mil­i­tary tank. Why does a sher­iff need a mil­i­tary tank?
Arpaio would go into peo­ples' homes, neigh­bor­hoods, super­mar­kets, the flea mar­ket, the shop­ping malls — any­where where there were com­mu­ni­ties of col­or and mem­bers of the Lati­no com­mu­ni­ty in par­tic­u­lar. He would go in and con­duct raids to do roundups and detain and deport peo­ple. This sep­a­rat­ed count­less fam­i­lies in Ari­zona. Dur­ing SB 1070, which was the ​"show me your papers" law, you saw this mass exo­dus of peo­ple mov­ing to oth­er states or going back to Mexico.
So, not only was there a mis­ap­pro­pri­a­tion of funds, the ter­ri­ble dehu­man­iza­tion of peo­ple who were in jail, and the charges of child rape, but there was also this con­stant dehu­man­iza­tion and tar­get­ing of one community.
Sarah: Peo­ple have been talk­ing about Trump's slid­ing poll num­bers and why he would want to par­don Arpaio. I won­der what the reac­tion has been from your orga­ni­za­tion and oth­ers who spent all this time orga­niz­ing against Arpaio to this idea that Trump can just par­don him to win points with his base.
Ale­jan­dra: Our reac­tion is that he needs to par­don the vic­tims of Arpaio. We are not shocked that this admin­is­tra­tion and this pres­i­dent would con­tin­ue doing the things that he promised on his cam­paign trail. It was very clear that he had a white suprema­cist agen­da and that he was going to do every­thing in his pow­er to embold­en white suprema­cy in this coun­try. He is stick­ing to those promises.
Sarah: Ari­zona is an inter­est­ing state for a lot of rea­sons. You guys played a piv­otal role in the health­care fight, with John McCain final­ly cast­ing the decid­ing vote to not repeal the Afford­able Care Act. You are going to have an upcom­ing messy Sen­ate race, I assume in 2018. Give us a brief run­down of the over­all polit­i­cal scene in Ari­zona right now. What is giv­ing you hope for the future?
Ale­jan­dra: Ari­zona is very much in flux. There are a lot of changes hap­pen­ing. We are in a red state that has been anti-immi­grant for years, and no one was pay­ing atten­tion to com­mu­ni­ties of col­or and build­ing polit­i­cal pow­er with­in undoc­u­ment­ed com­mu­ni­ties. As a coali­tion of orga­ni­za­tions, we said: ​"Well, we are going to do that work ourselves."
Along­side of the mass mobi­liza­tion and the pow­er­ful march­es and dis­plays from the com­mu­ni­ty, there was vot­er reg­is­tra­tion dri­ve that start­ed to take place with­in our neigh­bor­hoods. Before, nobody was going and talk­ing to our fam­i­lies about reg­is­ter­ing to vote and why their voice mat­tered and why they need­ed to cast their bal­lots. So, we start­ed that work in 2010.
That work has con­tin­ued until today. So, where we saw 4 per­cent turnout rates in 2010, we saw 22 per­cent turnout rates this last elec­tion. We moved from being Mari­co­pa-cen­tered to work­ing in oth­er coun­ties, like the Pima Coun­ty area, and think­ing state-wide.
In Ari­zona, there had not been a sen­ate pres­i­dent at the state leg­isla­tive lev­el that had ever been recalled, and we were told not to do it, because Lati­nos didn't have enough pow­er. We were told we weren't going to be able to recall the sen­ate pres­i­dent that was a co-author on SB 1070, the ​"Show me your papers" law. But we were able to do it in 2011.
So, with that vot­er reg­is­tra­tion, with those demon­stra­tions, with our fam­i­lies learn­ing the impor­tance of show­ing up in the state capi­tol and going and demand­ing jus­tice from their local and fed­er­al rep­re­sen­ta­tives, we now have a city coun­cil that is large­ly Lati­no and progressive.
We have a vul­ner­a­ble seat which is the Martha McSal­ly race. She is some­body who real­ly be care­ful with how she votes, because her dis­trict can eas­i­ly flip. We are pay­ing atten­tion to that race. Depend­ing on when John McCain con­tin­ues because of his health, this could be the first time in his­to­ry where one state has two Sen­ate seats open at the same time. There are a lot of folks who are think­ing of those seats right now.
But, Jeff Flake has real­ly turned a cor­ner because of all of that polit­i­cal pow­er that we are start­ing to build. He under­stands that he is deal­ing with an extrem­ist par­ty that is no longer the ​"good olé boy" Repub­li­can pol­i­tics of the past. This is an extreme white suprema­cist agen­da, and he just released an arti­cle where he real­ly called out his par­ty for not hav­ing a spine and back­bone. That pres­sure only hap­pened because we have been in his office, doing the vot­er reg­is­tra­tions, telling the sto­ries of the com­mu­ni­ty and real­ly push­ing him. He under­stands that he is vul­ner­a­ble now.
Ari­zona passed a min­i­mum wage bal­lot ini­tia­tive with paid sick days. In a right-to-work state, that is very pow­er­ful. That impact­ed close to a mil­lion peo­ple in the same year that we were also able to take out Arpaio. So, this state is def­i­nite­ly changing.
Inter­views for Resis­tance is a project of Sarah Jaffe, with assis­tance from Lau­ra Feuille­bois and sup­port from the Nation Insti­tute. It is also avail­able as a pod­cast on iTunes. Not to be reprint­ed with­out per­mis­sion.
Sarah Jaffe
is a for­mer staff writer at
In These Times
and author of
Nec­es­sary Trou­ble: Amer­i­cans in Revolt
, which Robin D.G. Kel­ley called ​
"
The most com­pelling social and polit­i­cal por­trait of our age." You can fol­low her on Twit­ter
@sarahljaffe
.