Arrest the Messenger
The government of Niger imprisons anti-slavery activist Ilguilas Weila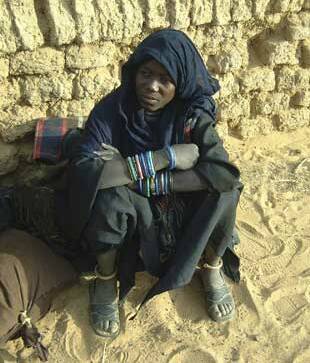 On April 28, the Nigerien government arrested Ilguilas Weila, president of Niger's premier anti-slavery organization, Timidria. Weila, recipient of the international Anti-Slavery Award in 2004, was seized after organizing a public ceremony to free 7,000 slaves in the country's western In Ates region. The ceremony was cancelled and officials charged Weila with spreading false information about slavery in Niger and eliciting illegal funds for Timidria.
The first charge was almost immediately dropped, and according to Anti-Slavery International, the London-based organization from which Weila obtained the funds he was alledgedly planning to use illegally, the second charge should soon follow. ​"We have absolutely no evidence to suggest that Timidria acted illegally when it sought to raise funds," says Romana Cacchioli, Anti-Slavery's Africa program officer. ​"We believe [the] arrest is politically motivated and follows a pattern of government clamp-downs on human rights and civil society organizations."
In 2002, Weila conducted a first-of-its-kind national survey on slavery in Niger, a practice that affects an estimated 43,000 people. The survey, along with years of lobbying, persuaded the government in May 2004 to make slavery a punishable offense. Weila thanked Nigerien government officials for their cooperation during his acceptance of the Anti-Slavery Award, acknowledging that due to ​"their willingness, we have been able to make such significant progress in terms of restoring human dignity to Niger."
But it now appears the Nigerien government views slavery as a solved problem. BBC News reported that when the release of the 7,000 slaves was to occur, the ceremony was abruptly called off because the government denied slavery's existence in Niger. Anti-Slavery International, however, received reports that senior government authorities were ​"warning slave masters not to release their slaves officially," and Timidria reported that the government intimidated slaves in the In Ates region to dissuade them from attending the ceremony.
Weila was arrested with five of his colleagues and held at a police station in Niamey, Niger's capital, until May 5, when four were released. He and Alassane Biga were then transferred to a civilian prison where they remain today, having twice been denied bail.
Many believe the arrests stem from the government's fear of attracting negative attention to Niger. According to Anti-Slavery International, Niger's President Mamadou Tandja is ​"embarrassed by any talk of slavery," especially now that he heads the Economic Community of West African States. ​"It would seem, however," says Cacchioli, ​"that this has seriously backfired, as civil society has unified in support of Timidria and slavery has now become a national issue." On May 19, approximately 2,000 people marched through Niamey to demand the release of Weila and Biga.
Niger is the second poorest nation in the world, with two-thirds of its population living below the poverty line. This destitution, coupled with the political instability experienced by Niger since it secured independence from France in 1960, has allowed slavery to survive in many parts of the country.
Many Nigeriens remain unaware that slavery has been officially abolished, largely because 82 percent of its population lives in impoverished rural areas. A lack of roads, the nomadic practices of many tribes and a cultural acceptance of the tradition of slavery also prevent slaves from realizing that they are legally entitled to freedom.
Timidria helps slaves by informing them of the new anti-slavery law, providing resources for them upon escape and slowly rehabilitating them back into society. The organization also initiates community development projects. In 2003, for example, the group established a school in the small village of Gounti Koira, whose 400 inhabitants were formerly excluded from any state-sponsored assistance because they are slaves and descendents of slaves.
Incensed by the government's attempt to hinder the work of Timidria, more than 30 local groups and international human rights organizations, including Anti-Slavery International and Global Rights, Partners for Justice, have called for the immediate release of Weila and Biga.
These groups are further alarmed because this kind of repression is increasingly common. In 2004, Hina Jilani, the U.N. Spec. Rep. of the Sec. General on Human Rights Defenders, issued 316 communications to governments across the globe, alerting them about specific infringements on the rights of activists and organizations. In her Fifth Annual Report to the U.N. Commission on Human Rights, Jilani expressed concern over ​"the continued increase in reports of serious violations of … human rights defenders throughout the world."