Arrest the Messenger
The government of Niger imprisons anti-slavery activist Ilguilas Weila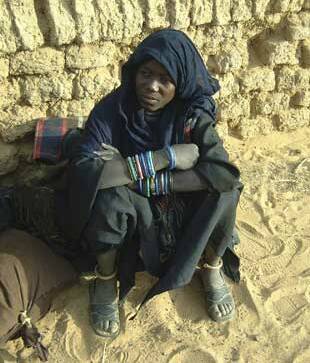 On April 28, the Nige­rien gov­ern­ment arrest­ed Ilguilas Weila, pres­i­dent of Niger's pre­mier anti-slav­ery orga­ni­za­tion, Timidria. Weila, recip­i­ent of the inter­na­tion­al Anti-Slav­ery Award in 2004, was seized after orga­niz­ing a pub­lic cer­e­mo­ny to free 7,000 slaves in the country's west­ern In Ates region. The cer­e­mo­ny was can­celled and offi­cials charged Weila with spread­ing false infor­ma­tion about slav­ery in Niger and elic­it­ing ille­gal funds for Timidria.
The first charge was almost imme­di­ate­ly dropped, and accord­ing to Anti-Slav­ery Inter­na­tion­al, the Lon­don-based orga­ni­za­tion from which Weila obtained the funds he was alledged­ly plan­ning to use ille­gal­ly, the sec­ond charge should soon fol­low. ​"We have absolute­ly no evi­dence to sug­gest that Timidria act­ed ille­gal­ly when it sought to raise funds," says Romana Cac­chi­oli, Anti-Slavery's Africa pro­gram offi­cer. ​"We believe [the] arrest is polit­i­cal­ly moti­vat­ed and fol­lows a pat­tern of gov­ern­ment clamp-downs on human rights and civ­il soci­ety organizations."
In 2002, Weila con­duct­ed a first-of-its-kind nation­al sur­vey on slav­ery in Niger, a prac­tice that affects an esti­mat­ed 43,000 peo­ple. The sur­vey, along with years of lob­by­ing, per­suad­ed the gov­ern­ment in May 2004 to make slav­ery a pun­ish­able offense. Weila thanked Nige­rien gov­ern­ment offi­cials for their coop­er­a­tion dur­ing his accep­tance of the Anti-Slav­ery Award, acknowl­edg­ing that due to ​"their will­ing­ness, we have been able to make such sig­nif­i­cant progress in terms of restor­ing human dig­ni­ty to Niger."
But it now appears the Nige­rien gov­ern­ment views slav­ery as a solved prob­lem. BBC News report­ed that when the release of the 7,000 slaves was to occur, the cer­e­mo­ny was abrupt­ly called off because the gov­ern­ment denied slavery's exis­tence in Niger. Anti-Slav­ery Inter­na­tion­al, how­ev­er, received reports that senior gov­ern­ment author­i­ties were ​"warn­ing slave mas­ters not to release their slaves offi­cial­ly," and Timidria report­ed that the gov­ern­ment intim­i­dat­ed slaves in the In Ates region to dis­suade them from attend­ing the ceremony.
Weila was arrest­ed with five of his col­leagues and held at a police sta­tion in Niamey, Niger's cap­i­tal, until May 5, when four were released. He and Alas­sane Biga were then trans­ferred to a civil­ian prison where they remain today, hav­ing twice been denied bail.
Many believe the arrests stem from the government's fear of attract­ing neg­a­tive atten­tion to Niger. Accord­ing to Anti-Slav­ery Inter­na­tion­al, Niger's Pres­i­dent Mamadou Tand­ja is ​"embar­rassed by any talk of slav­ery," espe­cial­ly now that he heads the Eco­nom­ic Com­mu­ni­ty of West African States. ​"It would seem, how­ev­er," says Cac­chi­oli, ​"that this has seri­ous­ly back­fired, as civ­il soci­ety has uni­fied in sup­port of Timidria and slav­ery has now become a nation­al issue." On May 19, approx­i­mate­ly 2,000 peo­ple marched through Niamey to demand the release of Weila and Biga.
Niger is the sec­ond poor­est nation in the world, with two-thirds of its pop­u­la­tion liv­ing below the pover­ty line. This des­ti­tu­tion, cou­pled with the polit­i­cal insta­bil­i­ty expe­ri­enced by Niger since it secured inde­pen­dence from France in 1960, has allowed slav­ery to sur­vive in many parts of the country.
Many Nige­riens remain unaware that slav­ery has been offi­cial­ly abol­ished, large­ly because 82 per­cent of its pop­u­la­tion lives in impov­er­ished rur­al areas. A lack of roads, the nomadic prac­tices of many tribes and a cul­tur­al accep­tance of the tra­di­tion of slav­ery also pre­vent slaves from real­iz­ing that they are legal­ly enti­tled to freedom.
Timidria helps slaves by inform­ing them of the new anti-slav­ery law, pro­vid­ing resources for them upon escape and slow­ly reha­bil­i­tat­ing them back into soci­ety. The orga­ni­za­tion also ini­ti­ates com­mu­ni­ty devel­op­ment projects. In 2003, for exam­ple, the group estab­lished a school in the small vil­lage of Goun­ti Koira, whose 400 inhab­i­tants were for­mer­ly exclud­ed from any state-spon­sored assis­tance because they are slaves and descen­dents of slaves.
Incensed by the government's attempt to hin­der the work of Timidria, more than 30 local groups and inter­na­tion­al human rights orga­ni­za­tions, includ­ing Anti-Slav­ery Inter­na­tion­al and Glob­al Rights, Part­ners for Jus­tice, have called for the imme­di­ate release of Weila and Biga.
These groups are fur­ther alarmed because this kind of repres­sion is increas­ing­ly com­mon. In 2004, Hina Jilani, the U.N. Spec. Rep. of the Sec. Gen­er­al on Human Rights Defend­ers, issued 316 com­mu­ni­ca­tions to gov­ern­ments across the globe, alert­ing them about spe­cif­ic infringe­ments on the rights of activists and orga­ni­za­tions. In her Fifth Annu­al Report to the U.N. Com­mis­sion on Human Rights, Jilani expressed con­cern over ​"the con­tin­ued increase in reports of seri­ous vio­la­tions of … human rights defend­ers through­out the world."