As One Wal-Mart Warehouse Strike Ends, Another Snowballs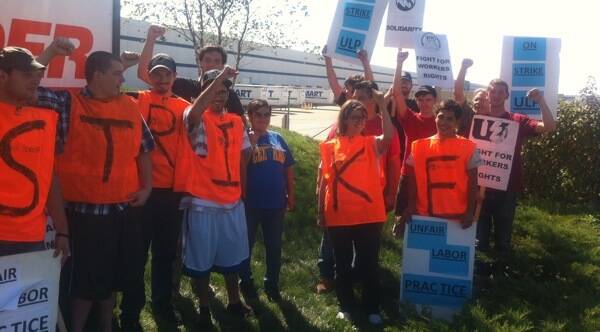 Ear­ly on Fri­day, three dozen non-union work­ers at a large Wal­mart ware­house near River­side, Calif., end­ed a 15-day walk­out protest­ing poor work­ing con­di­tions. But out­side of Chica­go, anoth­er group of Wal-Mart ware­house work­ers con­tin­ue to strike and have called for hun­dreds of sup­port­ers to join them in non-vio­lent civ­il dis­obe­di­ence at a ral­ly at the huge facil­i­ty on Monday.

The south­ern Cal­i­for­nia work­ers, most of whom earn min­i­mum wage, cit­ed fam­i­ly finan­cial prob­lems as one rea­son for dis­con­tin­u­ing the strike. The deci­sion was made upon their return from a six-day, 50-mile ​"Wal­March" to down­town Los Ange­les to call atten­tion to appalling safe­ty prob­lems and work­ing con­di­tions in the vast Inland Empire ware­house industry.
The spon­ta­neous Cal­i­for­nia work stop­page helped inspire the Sept. 15 walk­out by 30-plus work­ers at Wal-Mart's huge Elwood, Ill. ware­house. The Illi­nois work­ers were angry about poor work­ing con­di­tions and appar­ent retal­i­a­tion by their employ­er, a Wal-Mart con­trac­tor, against four work­ers who filed a law­suit over sub­min­i­mum wages.

The law­suit is the sixth filed by Elwood work­ers in three years. Three pri­or suits have result­ed in set­tle­ment pay­ments to work­ers. The lat­est claims that Road­link Work­force Solu­tions – one of four sub­con­trac­tors pro­vid­ing long-term ​"tem­po­rary" work­ers to Schnei­der Logis­tics, which oper­ates the ware­house for Wal-Mart–fre­quent­ly failed to pay over­time and min­i­mum wage, in vio­la­tion of fed­er­al, state and local laws.

Work­ers at both the Illi­nois and Cal­i­for­nia ware­hous­es have sim­i­lar com­plaints: wage theft, harass­ment, safe­ty haz­ards, being denied breaks, and work­ing in extreme tem­per­a­tures with inad­e­quate water. Cal­i­for­ni­a's work­place safe­ty agency, CalOSHA, is inves­ti­gat­ing the South­ern Cal­i­for­nia ware­house in response to a com­plaint filed by work­ers about work­ing con­di­tions and exces­sive heat. It may soon pur­sue an addi­tion­al com­plaint about repet­i­tive motion injuries.
Work­ers have been less suc­cess­ful in get­ting their com­plaints heard direct­ly by Wal-Mart. They face a com­plex struc­ture of author­i­ty and respon­si­bil­i­ty cre­at­ed by the com­pa­ny, with lay­ers of con­trac­tors between work­ers and Wal-Mart man­age­ment. In response, work­ers have filed numer­ous requests with Wal-Mart to enforce its code of con­duct through­out its sup­ply chain.

About ten days ago Wal­mart told some news out­lets, includ­ing Huff­in­g­ton Post, that it would review con­tracts and look into third-par­ty mon­i­tor­ing of all con­trac­tors, a small step towards tak­ing respon­si­bil­i­ty. But it did not sign any agree­ment with either group of strikers.
And when the South­ern Cal­i­for­nia work­ers returned to the job Fri­day – receiv­ing high-fives from non-strik­ing work­ers – they found that some of the safe­ty prob­lems remained. The work­ers alert­ed man­age­ment, which shut down the unsafe areas of the warehouse.

​"They feel they have a stronger voice now over work­ing con­di­tions," says Eliz­a­beth Bren­nan, spokesper­son for Ware­house Work­ers Unit­ed, a project of Change To Win, a union fed­er­a­tion try­ing to improve work for the 85,000 peo­ple employed at ware­hous­es in south­ern Cal­i­for­nia. While they feel they've won a big vic­to­ry – ​"a step for­ward, not an end-all solu­tion," Bren­nan says – they also antic­i­pate pos­si­ble retal­i­a­tion, even though it would be illegal.

That's what the Illi­nois work­ers say hap­pened after they filed a wage theft suit on Sept. 13 against Wal-Mart with the assis­tance of Ware­house Work­ers for Jus­tice, a project of the Unit­ed Elec­tri­cal Work­ers (UE). Plain­tiff Philip Bai­ley says that man­age­ment fired him and the oth­er named plain­tiffs the next day, then changed its mind and sus­pend­ed them with­out pay.

After los­ing his job in Detroit last year, Bai­ley came to the Chica­go area to seek work because there were jobs avail­able in the ware­hous­es. This is part­ly due to very high turnover rates, which can pose a bar­ri­er to orga­niz­ing. In the end, he says, it was a group of work­ers who had man­aged to last a half year or more who formed the core of the protest action.

​"What we have in com­mon is we're pret­ty mar­gin­al­ized and des­per­ate," Bai­ley says. ​"Peo­ple are fed up in there and not will­ing to give up with­out a fight. The prospect of work­ing these low-pay­ing jobs for long hours became scari­er than risk­ing los­ing the job to improve it. Peo­ple real­ized we won't get any­thing until we stand together."

In Sep­tem­ber, about 40 work­ers signed a peti­tion ​"about unsafe equip­ment, extreme heat, and tak­ing away breaks, mak­ing [shifts last] 6 or 7 hours," says vet­er­an ware­house work­er Ted Led­wa. On Sat­ur­day, after Bai­ley and some oth­er work­ers were fired and then sus­pend­ed, a group of the peti­tion­ers tried to take their demands to management.

​"We had to walk around the entire ware­house to col­lect every­one," Led­wa says, ​"and all the time man­age­ment was say­ing we were tres­pass­ing and had to leave. All we want­ed to do was present the peti­tion to man­age­ment. As we came around the cor­ner, man­agers with these rid­ing fork­lifts cut our group in half, but we con­tin­ued to walk. They told us we were going to be escort­ed out of the build­ing by the police. They refused to take the peti­tion. My man­ag­er said that we don't want to mess with him. We said we did­n't want to mess with any­body. We just want­ed some­one to take the peti­tion and hear our griev­ances. Their answer is the police are on their way. You're going to be arrested."

Man­agers were report­ed­ly errat­ic in their response. Ini­tial­ly, Led­wa says, the peti­tion­ers were also fired, but man­agers lat­er called to say they had been sus­pend­ed. Now, both the sus­pend­ed plain­tiffs and the sus­pend­ed peti­tion­ers, joined by a few oth­er work­ers, are strik­ing togeth­er over unfair labor prac­tices, includ­ing dis­charge for law­ful col­lec­tive action. Led­wa believes those who kept work­ing were sym­pa­thet­ic but afraid of los­ing their $10-an-hour jobs.

​"Man­age­ment uses threats and intim­i­da­tion as part of their dai­ly rou­tine," he says. ​"I've worked at sev­er­al ware­hous­es, and I've nev­er seen it so bad. They have no respect for the peo­ple. They say if you can't do the job, we'll get some­one else. There's a con­stant threat. They're always try­ing to pit peo­ple against each oth­er, to cre­ate ani­mos­i­ty among their work­ers. I'm tired of it."

So for now the strike con­tin­ues, pick­ing up sup­port, such as from Chica­go teach­ers, recent­ly on strike them­selves. Many pub­lic-school teach­ers see a com­mon ene­my in the Wal­ton Fam­i­ly Foun­da­tion, the char­i­ta­ble group run by Wal-Mart's found­ing fam­i­ly, which pro­motes school privatization.

And the ware­house strike is a wor­ri­some devel­op­ment for Wal-Mart, a com­pa­ny that ​"has made dis­tri­b­u­tion the heart of its busi­ness," as Nel­son Licht­en­stein writes in The Retail Rev­o­lu­tion: How Wal-Mart Cre­at­ed a Brave New World of Busi­ness. Wal-Mart's super-effi­cient sys­tem of deliv­er­ing goods only as need­ed, while stores car­ry min­i­mal inven­to­ry, keeps costs low. It relies on sophis­ti­cat­ed man­age­ment and tech­nol­o­gy but also on brute, crude exploita­tion of work­ers. But this sys­tem is vul­ner­a­ble to dis­rup­tion, a threat espe­cial­ly potent now as big retail­ers pre­pare for the lucra­tive Christ­mas sell­ing season.

Strik­ers at these two ware­hous­es face both a big antag­o­nist and big bar­ri­ers to union­iz­ing: Under cur­rent labor law, it's per­fect­ly legal for Wal-Mart to sim­ply stop using any con­trac­tor whose employ­ees join a union. As a result, work­ers have instead focused on get­ting Wal-Mart to enforce its own stan­dards upon its con­trac­tors. But the strik­ers' exam­ple could plant the idea in the minds of oth­er ware­house work­ers that col­lec­tive action can bring pow­er and improve­ments at work. And that seed could grow into a move­ment for change among work­ers who need it badly.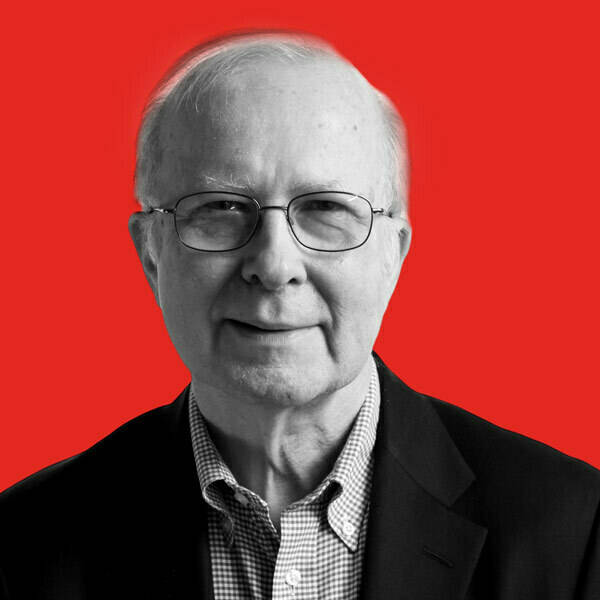 David Moberg, a senior edi­tor of In These Times, has been on the staff of the mag­a­zine since it began pub­lish­ing in 1976. Before join­ing In These Times, he com­plet­ed his work for a Ph.D. in anthro­pol­o­gy at the Uni­ver­si­ty of Chica­go and worked for Newsweek. He has received fel­low­ships from the John D. and Cather­ine T. MacArthur Foun­da­tion and the Nation Insti­tute for research on the new glob­al economy.