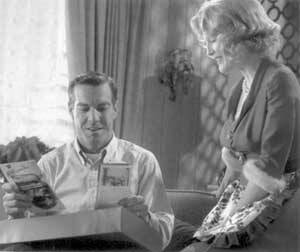 When a movie gets it all impeccably, heartbreakingly right, as does Todd Haynes' stunning Far from Heaven, some critics are tempted to gush deepest purple. While such valentine hues wouldn't necessarily clash with the plush high-Eisenhower decor on display here, I'll try to stay anchored to more sensible levels of bliss. Like The Ice Storm, this is a fall story set in a well-liquored, clannish Connecticut enclave. (Disconnecticut would be more appropriate.) But whereas Rick Moody's swingers flirted vacantly to the low-level hum of Watergate, Haynes aims one generation earlier—at their chrome-plated but equally dysfunctional parents.

Far from Heaven is autumnal in the larger sense too, a fall from late-'50s marital grace into gorgeously intense despair. (Elmer Bernstein's luxurious piano cascades are only the first hints of ripeness.) There's a word for such movies, a dirty word which I'm inclined not to use for obvious reasons: Is there anything more tragic than the modern discrediting of the melodrama? Cacklers invade today's screenings of Lon Chaney and Joan Crawford, but to deny the melodrama's power is to ignore cinema's rawest intimacies and fears. And if Titanic's billion-dollar haul wasn't evidence enough, here's Haynes to show us that melodrama can still devastate audiences willing to check their irony at the door.

————–

As his title implies, the picture is a riff on Douglas Sirk's All That Heaven Allows, in which a proper upper-middle-class widow falls scandalously for her sweetly attentive young gardener. (Shouldn't we be kinder to the legacy of Rock Hudson?) Sirk's Heaven was further complexified by Rainer Werner Fassbinder's powderkeg 1974 remake, Ali: Fear Eats the Soul, which made over the gardener into an Arab émigré. Now Haynes trumps them both, adding available integrationist anxieties (his gardener is black) and reviving the widow's dead husband. Here he's very much alive, pursuing closeted impulses of his own in private clubs off the beaten path. If movies like this were made back then, we'd be a happier species; luckily, it's never too late to evolve.

Of course, the movie belongs to Julianne Moore, luminous in period chiffon and a strawberry-blond halo. She seems wrest from a different Hollywood altogether—the one that used to know what to do with feminine poise and the dignified balancing acts of Hepburns and Stanwycks. Moore has been excellent before, particularly with Haynes in his chilly Safe, but never this physically attuned: She knows just how to lean back in sunny oblivion for a society columnist's photoessay on "Mr. and Mrs. Magnatech," basking in the life and lie. But it's also in the way she tenses at her first sight of the negro in her bushes (the superb Dennis Haysbert), and retenses even after getting to know him when NAACP recruiters surprise her on her doorstep.

But Haynes' real coup might be his expansion of the drama to a trio and the agonized confusion he solicits from Dennis Quaid, in a magnificent career revision, as the husband. It's top-notch support, all the more tender for balancing jealousy with unexplainable passions that demand reckoning. Consider the other great performance from Haynes' young body of work, Christian Bale's vulnerable journalist in the glam rock elegy Velvet Goldmine, and you'll recognize his key theme is revolution. His characters are radicals five minutes ahead of the curve; they alone see the possibility of a bolder happiness and leap for it. That they always fall doesn't diminish Far from Heaven as the American picture of the year.

————–

Imagine my surprise to discover the yearning soul of a melodramatist in, of all people, Eminem. 8 Mile will make him an even bigger star—which is fine by me if it means more vehicles as classically structured as this hip-hop variant on the Saturday Night Fever dream-your-way-to-the-top formula. Actually, the model may be closer to Rocky, with down-and-out street poets seething to life in ferocious battles of rapping skill, captured by cinematographer Rodrigo Prieto like the frenetic dogfights of his work on Amores Perros.

To answer the question on everyone's lips: Yes, the guy can act. (What exactly has Eminem been doing over these last few provocative years, if not acting?) There is a certain hollowness to his gaze, scanning over Detroit's ruined squalor, that the less charitable might call stagefright, though even this has been cleverly integrated into the role. I'd sooner call him courageous than savvy. Curtis Hanson, a fine director of blocked characters, turns it all around to a point where you might actually be wondering if Eminem can, in fact, rap. When he ultimately does, the movie explodes.
Joshua Rothkopf
has been covering cinema for
In These Times
since
1999
. His work has appeared in
The Village Voice, The Chicago Reader, Isthmus
and
City Pages,
among other publications.