Union Democracy Pioneer Herman Benson, Defender of Rank-and-File Labor Reformers, Turns 100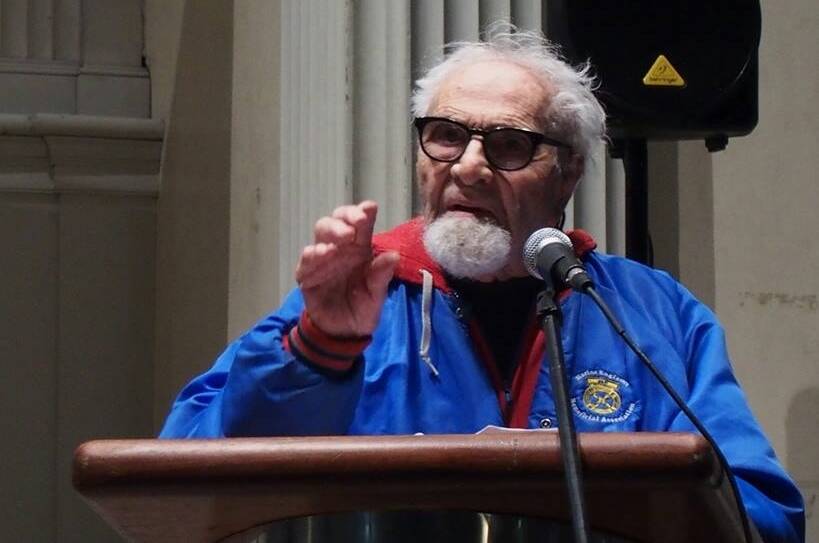 This post first appeared at Labor Notes.
Labor activists from around the coun­try gath­ered Octo­ber 3 to cel­e­brate Her­man Benson's 100th birth­day and pay trib­ute to the orga­ni­za­tion he found­ed, the Asso­ci­a­tion for Union Democ­ra­cy, which has been advanc­ing the cause of ​"lone­ly union reform­ers" for more than half a century.
From com­bat­ing cor­rup­tion and mob influ­ence to mak­ing sure rank-and-file mem­bers could get an hon­est union elec­tion, AUD has helped thou­sands of union­ists over the years — offer­ing orga­niz­ing, edu­ca­tion, and legal assis­tance in per­son, over the phone, and through its books, pam­phlets, and newsletters.
Ben­son described it as ​"essen­tial­ly a civ­il lib­er­ties orga­ni­za­tion that focus­es on the rights of mem­bers in their unions to free speech, fair elec­tions, due process in tri­als, and fair hiring."
Although it's rarely grabbed head­lines, AUD's push for union democ­ra­cy has helped shape today's labor movement.
Lar­ry Han­ley offered one of many exam­ples. In the 1980s, when he was a young bus dri­ver on Stat­en Island, his local's mem­ber­ship meet­ings were known as the ​"Fri­day night fights." He was assault­ed and brought up on inter­nal charges for speak­ing out.
That's when Han­ley first climbed the stairs to Benson's tiny office. With AUD's help, he beat the slan­der charges lev­eled against him.
But when he men­tioned his plans to move up and become a super­vi­sor, Ben­son cursed him out: ​"You s.o.b.! You've told me the lead­er­ship is lousy, the mem­bers don't know what to do, you just took up two hours of my time help­ing you, and now you're telling me you're going to leave the union?"
So Han­ley decid­ed to stick with it. ​"I prob­a­bly would have left if it wasn't for you, Her­man. So I've got one thing to say to you — you s.o.b.!" said Han­ley, now the inter­na­tion­al pres­i­dent of the Amal­ga­mat­ed Tran­sit Union.
"Keep it up, buddy"
Dan Boswell, a for­mer exec­u­tive board mem­ber in Elec­tri­cal Work­ers (IBEW) Local 164, shared a sim­i­lar sto­ry. With AUD's assis­tance, he defend­ed his free speech rights and in 1981 forced changes to the inter­na­tion­al union's con­sti­tu­tion to give mem­bers the right to crit­i­cize their offi­cers, meet in cau­cus­es, run for office, and not be dis­ci­plined and fined for exer­cis­ing their rights.
How do you clean up cor­rup­tion in the labor move­ment? One approach might be top-down over­sight. But as Team­sters for a Demo­c­ra­t­ic Union Orga­niz­er Ken Paff not­ed, AUD pro­mot­ed a bet­ter way: democracy.
That per­spec­tive helped shape the 1989 fed­er­al con­sent decree that intro­duced one-mem­ber, one-vote for top Team­sters offices, pro­vid­ed fed­er­al over­sight of nation­al elec­tions, paving the way for reformer Ron Carey to become the union's first direct­ly elect­ed president.
AUD influ­enced sev­er­al defin­ing moments in labor his­to­ry, includ­ing the Min­ers for Democ­ra­cy move­ment of the ear­ly 1970s and reform efforts inside the Steel­work­ers lat­er that decade.
When Cal­i­for­nia health care work­ers were fight­ing off trustee­ship, and recent­ly when bed­side nurs­es in New York were push­ing to shed a cen­tu­ry of union dom­i­na­tion by nurse man­agers, AUD backed them up. Today it defends free speech on social media too.
Above all, Ben­son said he told each reformer, ​"You're doing the right thing. Keep it up, bud­dy." Some­times this encour­age­ment was the best thing AUD could offer: ​"There was often very lit­tle we could do for them. But that lit­tle loomed as an enor­mous moun­tain in their lives."
In his clos­ing remarks, Ben­son summed up the endur­ing need for union democracy.
In a half-cen­tu­ry, he said, ​"the labor move­ment has become weak­er, there's no ques­tion about that. But it's vast­ly improved in many ways, and it's more pre­pared for the years to come—in its atti­tude toward immi­grants, toward the low­er-paid, toward ral­ly­ing sup­port from the public.
"Issues of union democ­ra­cy are posed in a much dif­fer­ent way — but there's still a need for the defense of civ­il lib­er­ties and democ­ra­cy with­in our unions. So I'm hop­ing that some of you will be inspired by what you heard today to join this great cause."
Mark Bren­ner
is the Direc­tor of Labor Notes. He can be reached at mark@​labornotes.​org.