New York City Nurses May Vote to Strike This Month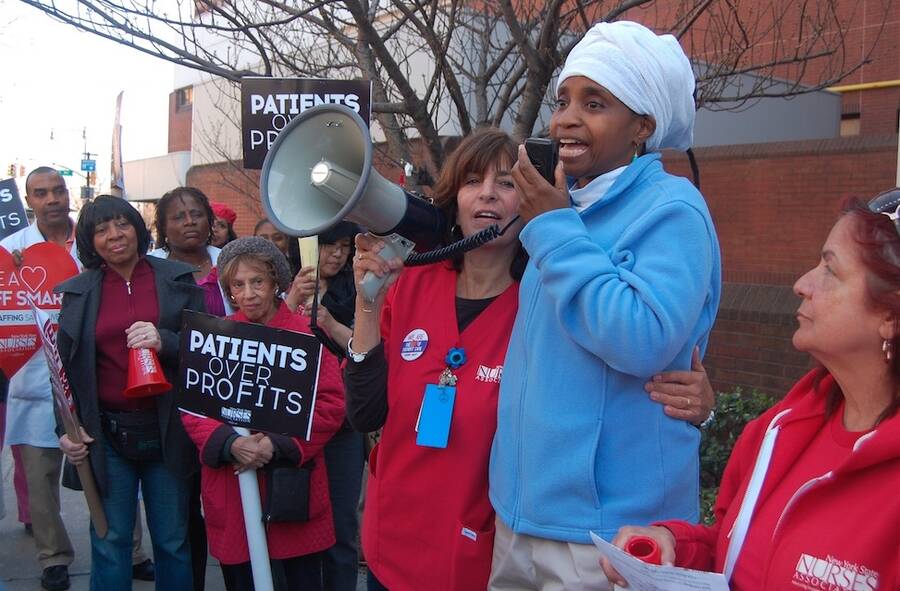 This post first appeared at Labor Notes.
Thou­sands of nurs­es at 12 hos­pi­tals poured into the streets of New York City April 16 to protest staffing short­ages they say put patients at risk.
"We used to see 250 patients a day in our E.R.," said Nan­cy Hagans, a nurse at Mai­monides Med­ical Cen­ter. ​"But then two hos­pi­tals in Brook­lyn closed and now we're see­ing 400 a day, with the same num­ber of nurs­es. How can we be the advo­cates we took an oath to be?"
The infor­ma­tion­al pick­ets were the lat­est sal­vo in nego­ti­a­tions with the city's largest pri­vate hos­pi­tals. Next the New York State Nurs­es Asso­ci­a­tion entered a month of intense fed­er­al medi­a­tion with three hos­pi­tal systems.
Vot­ing for strike autho­riza­tion could begin as soon as mid-May.
The goal is not to strike, said Antho­ny Ciampa, a teleme­try nurse at New York Pres­by­ter­ian Hos­pi­tal and mem­ber of NYSNA's exec­u­tive board.
"But we won't be ignored," he said. ​"If it comes down to it, we'll strike to pro­tect our patients and our communities."
New lead­ers, new strategy
The union's year-old coor­di­nat­ed con­tract cam­paign at 17 hos­pi­tals rep­re­sents a sharp shift in strategy.
Till now, NYS­NA has nego­ti­at­ed sep­a­rate hos­pi­tal-by-hos­pi­tal con­tracts for its entire his­to­ry — while Ser­vice Employ­ees (SEIU) mega-local 1199 was win­ning high stan­dards and indus­try-shap­ing polit­i­cal pow­er through mas­ter con­tracts with the same facilities.
Now the nurs­es union is putting com­mon demands on every table. At most hos­pi­tals it's con­duct­ing open bar­gain­ing, with as many as 200 mem­bers show­ing up to par­tic­i­pate in negotiations.
The new approach stems from a lead­er­ship change inside NYS­NA three years ago, after a slate of bed­side nurs­es wrest­ed con­trol of the exec­u­tive board away from the nurse man­agers who had his­tor­i­cal­ly dom­i­nat­ed the organization.
"We're try­ing to build a real union," said Pres­i­dent Judy Sheri­dan-Gon­za­lez. ​"But there are no short­cuts. Mem­bers have to do the work."
She stressed the union's push to con­nect with com­mu­ni­ty mem­bers and co-work­ers in oth­er unions, espe­cial­ly 1199. At her hos­pi­tal, Mon­te­fiore Med­ical Cen­ter, nurs­es have been par­tic­i­pat­ing in local meet­ings of the city's com­mu­ni­ty board, where they've got­ten to know activist res­i­dents and high­light­ed prob­lems like emer­gency room overcrowding.
Rank-and-file 1199ers, along with oth­er hos­pi­tal work­ers, were enthu­si­as­tic par­tic­i­pants in NYSNA's pick­et lines.
Ambi­tious agenda
On their key issue, staffing, the nurs­es have a dou­ble-bar­reled strat­e­gy — stronger con­tract stan­dards and statewide leg­is­la­tion to guar­an­tee min­i­mum nurse-patient ratios.
On the heels of the infor­ma­tion­al pick­ets, a thou­sand nurs­es flood­ed the state capi­tol April 21 to press for safe staffing legislation.
If New York adopts a staffing ratio law, it will be the sec­ond in the nation. Cal­i­for­nia got a sim­i­lar mea­sure in 2004 after a major push by the Cal­i­for­nia Nurs­es Association.
NYSNA's con­tract cam­paign bore its first fruit late last year, when the CEOs of three of the city's biggest health care sys­tems — cov­er­ing 10,000 of the 18,000 nurs­es now in nego­ti­a­tions — agreed to mul­ti-employ­er bargaining.
This could be the first step towards an 1199-style mas­ter con­tract. But hos­pi­tal admin­is­tra­tors have shown lit­tle appetite for the nurs­es' top demand, enforce­able staffing stan­dards — much less their non-tra­di­tion­al proposals.
In an inter­est­ing twist, the nurs­es have pro­posed elim­i­nat­ing the man­age­ment rights clause from their con­tracts. They would replace it with a ​"com­mu­ni­ty rights" clause that would sanc­tion nurs­es to eval­u­ate local pub­lic health needs and review their find­ings in reg­u­lar meet­ings with the CEO.
Fol­low the work
Nurs­es are also push­ing for stronger guar­an­tees that they won't lose their jobs when hos­pi­tals close, merge, or are tak­en over.
This issue has tak­en on a new urgency in New York after a wave of merg­ers and a high-pro­file NYS­NA fight to keep two Brook­lyn hos­pi­tals from clos­ing. Hos­pi­tals are plan­ning even more sweep­ing changes as they vie for $6 bil­lion in one-time fed­er­al funding.
NYS­NA is also push­ing union-build­ing mea­sures: a job secu­ri­ty fund, new funds for child­care and elder care, and release time for union leaders.
While bar­gain­ing at the ​"big table" has slowed nego­ti­a­tions every­where else, NYS­NA is in a strong posi­tion. Some of its demands, like ful­ly paid retiree health care, have been long­stand­ing ben­e­fits for co-work­ers in 1199.
And 1199's lat­est con­tract, final­ized last sum­mer, set the prece­dent that union work­ers had the right to fol­low the work out­side the hos­pi­tal into clin­ics and doc­tors' practices.
Mark Bren­ner
is the Direc­tor of Labor Notes. He can be reached at mark@​labornotes.​org.