The Underground Migrant Support Network
Meet the Chicago chapter of the "aboveground railroad" providing assistance to asylum seekers.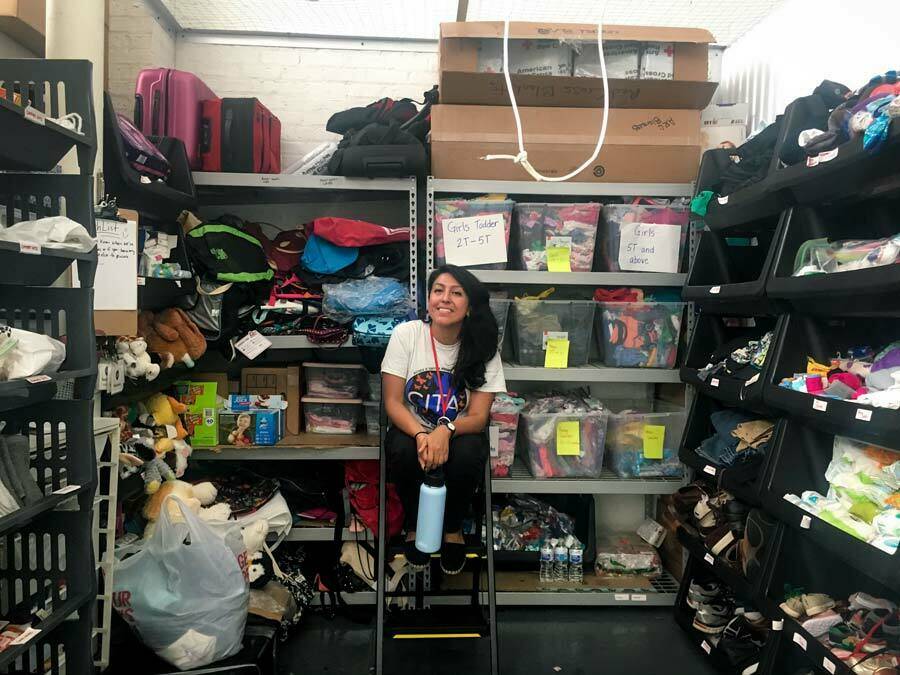 CHICA­GO — One ear­ly morn­ing this Sep­tem­ber, orga­niz­er Sendy Soto, 38, asked Manuel (a pseu­do­nym), in line at the busy Chica­go Grey­hound bus sta­tion, if he want­ed a cup of tea. (Soto request­ed a pseu­do­nym for Manuel to pro­tect him from ICE.)
"If I just teach somebody how to read the bus schedule, I'm sure they're not gonna need somebody at the next stop," Soto says. "They have all the abilities in the world to care for themselves. They just need the resources."
"In Guatemala, where I'm from, there is some­thing called los nervios, and they'll diag­nose you for it," Soto said. ​"When­ev­er there's some­thing trag­ic in our town or some­thing dif­fi­cult, peo­ple come with tea to calm you down for los nervios."
Manuel, 26, was wear­ing a thin white shirt and hold­ing a plas­tic bag with all his belong­ings. He nod­ded and Soto poured warm chamomile tea into a paper cup.
Soto is the founder of Chica­go Immi­grant Tran­sit Assis­tance (CITA), an orga­ni­za­tion that serves peo­ple seek­ing asy­lum in the midst of legal pro­cess­ing as they pass through the Chica­go Grey­hound sta­tion. Thou­sands of fam­i­lies and indi­vid­u­als released from ICE deten­tion cen­ters are sent on Grey­hound bus­es across the Unit­ed States each year, forced to nav­i­gate the ardu­ous tran­sit sys­tem with­out assis­tance on their way to reach their spon­sors and await their hearings.
"We don't know if there is any­one on the bus who can use our help," Soto says. ​"The best thing for us is to just be present and watch out for those who didn't get assis­tance on the way."
CITA is entire­ly vol­un­teerled, fund­ed through a GoFundMe cam­paign and dona­tions from the Amer­i­can Red Cross and com­mu­ni­ty groups. Vol­un­teers wait at the bus sta­tion in two-hour shifts, day and night, for peo­ple like Manuel, who had walked from the ICE pro­cess­ing cen­ter a few blocks away, as well as asy­lum seek­ers pass­ing through from deten­tion cen­ters around the coun­try. Around 30 vol­un­teers have helped dis­trib­ute food and clothes, call fam­i­ly mem­bers and offer trans­la­tion ser­vices to more than 1,000 asy­lum seek­ers since the group's found­ing last year.
CITA is one of sev­er­al vol­un­teer-led groups doing sim­i­lar work around the coun­try, includ­ing the Mari­posas Col­lec­tive in Ten­nessee, Angry Tias and Abue­las in Texas and Cincin­nati Immi­grant Tran­sit Assis­tance. These groups form what Soto calls an ​"above­ground railroad."
The Chica­go Grey­hound sta­tion is not easy for asy­lum seek­ers to nav­i­gate. Infor­ma­tion is post­ed almost exclu­sive­ly in Eng­lish, and there is just one part-time Span­ish-speak­ing staff mem­ber. Fam­i­lies or spon­sors pay for migrants' tick­ets, and a last-minute change costs $20 in cash.
Yet, many Grey­hound staff mem­bers work with CITA to help sup­port these migrants. The same day Manuel passed through, anoth­er young man arrived from the Chica­go ICE office. Staff and vol­un­teers bought him a tick­et, pro­vid­ed him with food and helped him call his fam­i­ly, all with­in 10 min­utes, so he could board the noon bus to New York.
When Soto offered to help Manuel call his wife and young daugh­ter, he was brim­ming with excite­ment. His fam­i­ly had been liv­ing in Iowa since Jan­u­ary, seek­ing asy­lum from vio­lence in Guatemala. When Manuel legal­ly crossed the bor­der to join them in June, he was first detained in Texas, then trans­ferred to the Kenosha Coun­ty Deten­tion Cen­ter in Wis­con­sin for three months, then ordered to post a $7,500 bond for release. Not all asy­lum seek­ers are afford­ed this option — in 2018, the Amer­i­can Civ­il Lib­er­ties Union filed a law­suit against the Trump admin­is­tra­tion for ille­gal­ly detain­ing asy­lum seek­ers with cred­i­ble cas­es for exten­sive periods.
Manuel's fam­i­ly was able to pay his bond, and he was trans­ferred to the ICE pro­cess­ing cen­ter in Chica­go in Sep­tem­ber, where he stood hand­cuffed until his release hours lat­er. ICE offi­cials gave him a paper map to the Grey­hound sta­tion, in Eng­lish, pho­to­copied so many times the streets were indiscernible.
This expe­ri­ence of being moved across the coun­try, pay­ing thou­sands of dol­lars in bonds and then being released with lit­tle more than a paper map is typ­i­cal of how asy­lum seek­ers are treat­ed in the Unit­ed States.
Although Soto and anoth­er vol­un­teer were able to assist, Manuel still has a long jour­ney ahead as he awaits the out­come of his asy­lum case, which could take years. As of Sep­tem­ber, courts were back­logged with over a mil­lion pend­ing immi­gra­tion cases.
"It's kind of like a Band-Aid," says Jeanie Von­driska, anoth­er CITA vol­un­teer. ​"Everything's bro­ken, you're trau­ma­tized, and I'm giv­ing you a cup of ramen?"
Still, CITA's goal is to help migrants become self-suf­fi­cient. ​"If I just teach some­body how to read the bus sched­ule, I'm sure they're not gonna need some­body at the next stop," Soto says. ​"They have all the abil­i­ties in the world to care for them­selves. They just need the resources."
In the short term, Soto would like to see a more sus­tain­able sys­tem at the bus sta­tion, sim­i­lar to Trav­el­ers Aid at Chicago's O'Hare Inter­na­tion­al Air­port. Trav­el­ers Aid has a per­ma­nent desk and paid staff mem­bers who pro­vide guid­ance and sup­port for those in need, includ­ing refugees. Longer term, the solu­tion lies in com­pre­hen­sive immi­gra­tion reform.
"It is real­ly won­der­ful that so many kind peo­ple can come togeth­er and fill the gaps [left] by our gov­ern­ment," Soto says. ​"But the best way to solve this is to change those poli­cies so that peo­ple are treat­ed just­ly, fair­ly and have an oppor­tu­ni­ty to seek safe­ty in this country."