With 19 Arrests and More Planned, Students Just Upped the Ante for Fossil Fuel Divestment
The new round of demands for divestment have taken place at nine universities, and more are coming.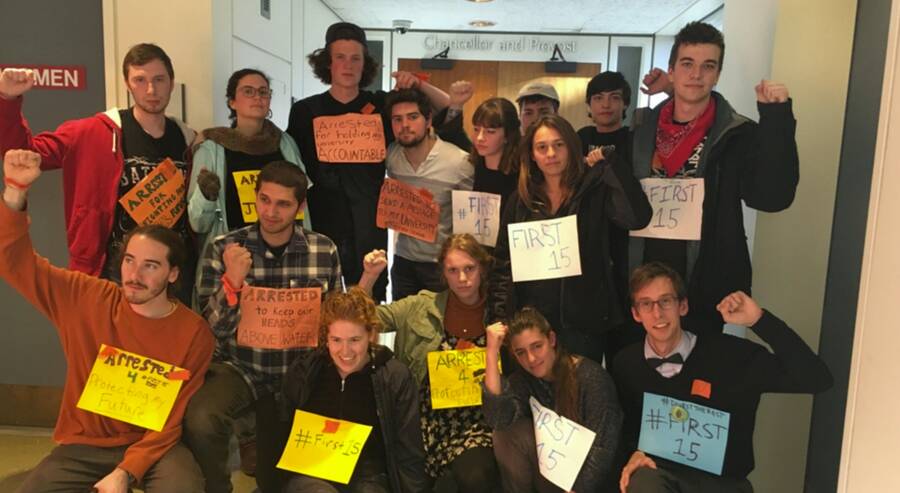 Stand­ing behind sev­er­al feet of cau­tion tape, a few hun­dred stu­dents at the Uni­ver­si­ty of Mass­a­chu­setts-Amherst last night shot out a warn­ing: ​"First 15, we've got more!"
"Even the pizza guy was in solidarity with us, texting us support."
The call was a ref­er­ence to the 15 stu­dents being led out by police in clumps from the Whit­more Admin­is­tra­tion Build­ing in front of them, wrap­ping up a 2‑day, 120-per­son sit-in for fos­sil fuel divest­ment. Ear­li­er, four mem­bers of Divest Har­vard were arrest­ed on sim­i­lar terms at the Boston Fed­er­al Reserve build­ing, home to the Har­vard Man­age­ment Com­pa­ny that over­sees the college's invest­ment. Hours lat­er, Yale's Chief Invest­ment Offi­cer David Swen­son announced the uni­ver­si­ty would begin tak­ing steps to divest the school's endow­ment from fos­sil fuels, start­ing with $10 mil­lion of hold­ings in coal and tar sands.
"We aren't here to nego­ti­ate any­more. We're here for them to pledge full divest­ment," UMass sopho­more Mica Reel told me over the phone. Divest UMass expects to hear a deci­sion from their admin­is­tra­tion by the end of the day today. And, as the chant last night promised, the cam­paign has more stu­dents ready to go to jail in the event of a ​"no," along with rings of sup­port beyond the campus.
​"Even the piz­za guy was in sol­i­dar­i­ty with us, tex­ting us sup­port," she says.
Yesterday's arrests were part of a wave of nine divest­ment actions tak­ing place over the next few weeks, coor­di­nat­ed by orga­niz­ers with the Fos­sil Fuel Divest­ment Stu­dent Net­work (DSN) and 350​.org. It's the sec­ond such spate of protests for divest­ment, the first hav­ing hap­pened last spring at the Uni­ver­si­ty of Col­orado-Boul­der, the Uni­ver­si­ty of Mary Wash­ing­ton, Bow­doin Col­lege and oth­er cam­pus­es around the coun­try. (Nine­teen stu­dents, inci­den­tal­ly, were arrest­ed at Yale a year and a day before Swenson's announcement.)
Spawned near­ly six years ago, the fos­sil fuel divest­ment move­ment has enjoyed its share of suc­cess­es—61 cam­pus­es have adopt­ed the demand, and $3.4 tril­lion have been com­mit­ted to going fos­sil free world­wide. That total includes oth­er sec­tors, as well, like reli­gious insti­tu­tions, pen­sions funds and philanthropies.
Some have expand­ed the divest­ment call even far­ther. Tate Britain, one of the UK's most esteemed gal­leries, had its spon­sor­ship from BP dropped recent­ly after years of pres­sure from Lib­er­ate Tate, part of the now-inter­na­tion­al push for ​"Fos­sil Free Cul­ture" that thrust David Koch from the board of the Muse­um of Nat­ur­al His­to­ry. As the sci­ence on glob­al warm­ing grows bleak­er, the move­ment to stop it grows.
Dubbed ​"Youth > Fos­sil Fuels," this year's esca­la­tion is hap­pen­ing in an elec­tion year where fos­sil fuel mon­ey has become a cen­tral point of debate — the Clin­ton camp's $4.5 mil­lion of indus­try-linked funds, in par­tic­u­lar. It's a fact not lost on the movement's orga­niz­ers, who are draw­ing out a con­flict of inter­ests between their uni­ver­si­ty trustees' fos­sil fuel ties and their invest­ment decisions.
Vic­to­ria Fer­nan­dez, 23, is an orga­niz­er with the DSN who got her start work­ing on her cam­pus cam­paign at UC Berke­ley, where she grad­u­at­ed from last year. ​"With all the momen­tum Bernie Sanders has cre­at­ed," she told In These Times, ​"stu­dents are feel­ing real­ly excit­ed and empow­ered." Fer­nan­dez also point­ed out that stu­dents trained in the divest­ment move­ment were ​"those that final­ly got Hillary to take a stance against the Key­stone XL pipeline," have dri­ven Demo­c­ra­t­ic can­di­dates to sup­port a fed­er­al inves­ti­ga­tion of Exxon­Mo­bil, and bird-dogged both par­ties' White House hope­fuls over their cozy rela­tion­ships with coal, oil and nat­ur­al gas companies.
In a sim­i­lar vein, UMass stu­dents high­light the $320 mil­lion invest­ed in Exxon by Put­nam Invest­ments, a firm where two of the school's lead­ing invest­ment offi­cers have held top posi­tions. They also note that the university's biggest donor, Jack Welch, is a for­mer Gen­er­al Elec­tric CEO and vocal cli­mate denier, who has called glob­al warm­ing both a ​"social­ist plot" and a form of ​"mass neu­ro­sis." Just as cor­po­rate cam­paign funds lim­it can­di­dates' abil­i­ty to do right by the cli­mate, stu­dents argue, trustees' and admin­is­tra­tors' fos­sil fuel links cre­ate an uneven play­ing field for progress on campus.
"The stu­dents that are lead­ing this move­ment and actions today have been lead­ing in the elec­tion as well," Fer­nan­dez adds.
At a cam­paign stop in Pur­chase, New York ear­li­er this month, Green­peace orga­niz­er Eva Resnick-Day prompt­ed Hillary Clin­ton to break her cool, ask­ing if she would reject dona­tions from the fos­sil fuel industry.
"I do not have — I have mon­ey from peo­ple who work for fos­sil fuel com­pa­nies," Clin­ton scold­ed. ​"I am so sick of the Sanders cam­paign lying about me." Resnick-Day is not affil­i­at­ed with Bernie's cam­paign, but with the fos­sil fuel divest­ment move­ment. She took a pledge cir­cu­lat­ed by the DSN to orga­nize on cli­mate jus­tice ​"for the long haul" last year, stat­ing, ​"I don't want cor­po­ra­tions and oil hun­gry gov­ern­ments to get to decide whether our cli­mate sur­vives or crumbles."
For Fer­nan­dez, the crossover from divest­ment cam­paigns like UMass's to the cam­paign trail seems almost natural.
"Stu­dents are cre­at­ing ten­sion and points of con­flict where they see incon­sis­ten­cies in the way that things are going and the way that they want them to be," she says. ​"Those orga­niz­ing skills — mov­ing and build­ing pub­lic sup­port to pres­sure folks to answer to pub­lic opin­ion — those are the media and strat­e­gy skills of many polit­i­cal staffers."
Along­side the front­line activists stop­ping fos­sil fuels at their source, divest­ment stu­dents are chris­ten­ing a more con­fronta­tion­al and polit­i­cal breed of envi­ron­men­tal­ism. Rather than blam­ing waste­ful con­sumer habits or wax­ing poet­ic about the end of days, orga­niz­ers are set­ting their sites on a clear tar­get: the fos­sil fuel indus­try and the 1 per­centers back­ing it up.
With more sit-ins planned before the end of the semes­ter, stu­dents may also be more like­ly to see announce­ments like Yale's yes­ter­day — all upping the ante, direct­ly or indi­rect­ly, for schools and politi­cians alike to leave fos­sil fuels behind.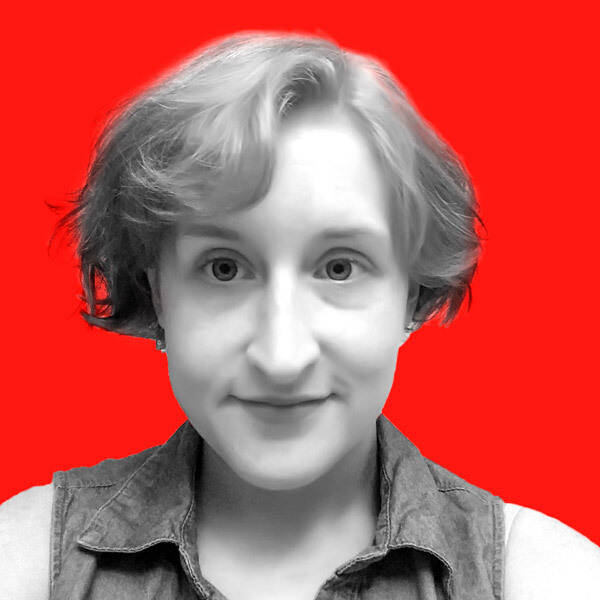 Kate Aronoff
is a Brook­lyn-based jour­nal­ist cov­er­ing cli­mate and U.S. pol­i­tics, and a con­tribut­ing writer at The Inter­cept. Fol­low her on Twit­ter @katearonoff.