Autopsy of an Auto Plant
The new book Punching Out is brilliant Detroit-style immersion journalism.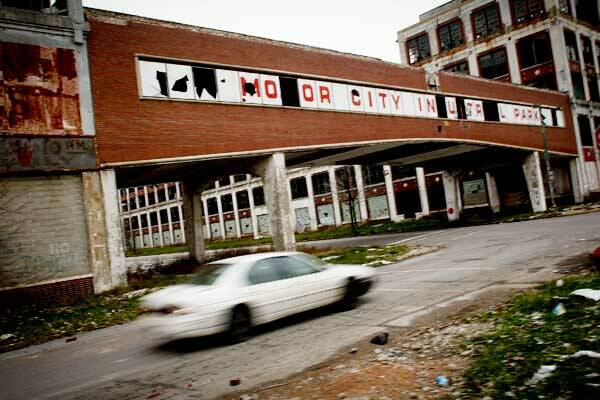 Anoth­er Amer­i­can fac­to­ry clos­es. Thou­sands of union labor­ers lose their jobs. The host city, in this case Detroit, spi­rals fur­ther into debt. The auto­mo­bile parts will be com­ing from an obscure Mex­i­can town, shipped into the Unit­ed States across a nation­al border.
The sce­nario is a cliché by now, and hyper-aware read­ers might be for­giv­en for groan­ing at the thought of yet anoth­er jour­nal­is­tic account. But trust me, Punch­ing Out: One Year in a Clos­ing Auto Plant is a jour­nal­is­tic account worth read­ing – for its unique­ness and its humanity.
When free­lance jour­nal­ist Paul Clemens decid­ed to doc­u­ment the clos­ing of an auto­mo­bile indus­try fac­to­ry in his native city of Detroit, he did not ini­tial­ly grasp the inter­na­tion­al impli­ca­tions of the sto­ry. After a year of immer­sion report­ing, Clemens not only grasped the impli­ca­tions, he lived them as he crossed nation­al bor­ders in pur­suit of the big picture.
Punch­ing Out is an excel­lent exam­ple of how time equals truth in jour­nal­ism. Spend­ing almost every day for a year observ­ing any sto­ry up close is bound to yield famil­iar­i­ty with sources (includ­ing the main char­ac­ters) and process­es unknown to jour­nal­ists ham­pered by deadlines.
Born in 1973, Clemens watched the city of Detroit decline in con­junc­tion with the Amer­i­can auto­mo­bile indus­try. The sites of auto­mo­bile parts plants that used to employ thou­sands of proud, well-com­pen­sat­ed labor­ers now sit emp­ty. After the Budd Com­pa­ny auto­mo­bile parts stamp­ing fac­to­ry closed dur­ing 2006, Clemens decid­ed to inves­ti­gate the rea­sons for the clos­ing and observe what would become of the gigan­tic build­ing in its aban­doned state. (Stamp­ing plants man­u­fac­ture spe­cif­ic parts, such as doors. Engine plants man­u­fac­ture, nat­u­ral­ly, engines. Assem­bly plants put the parts and engines togeth­er until a fin­ished vehi­cle emerges.)
He learned that heavy machin­ery from the closed fac­to­ry would be trans­port­ed to Mex­i­co by truck to per­form the same func­tions as before, while Detroit work­ers drew unem­ploy­ment checks from the state of Michi­gan and per­haps the fed­er­al gov­ern­ment. Even­tu­al­ly, Clemens made the jour­ney to Aguas­calientes, Mex­i­co, to view for him­self the bit­ter irony of machin­ery from the Budd plant – which had been sit­u­at­ed between two Chrysler-owned fac­to­ries in Detroit – stamp­ing parts for none oth­er than Chrysler's Dodge Jour­ney line.
To edu­cate him­self in the ear­ly stages of the project, Clemens stud­ied the biweek­ly pub­li­ca­tion Plant Clos­ing News, found­ed by Jon Clark dur­ing 2003. Suc­cess­ful jour­nal­ists under­stand that every sto­ry can be enhanced by spe­cial­ized pub­li­ca­tions such as Clark's newslet­ter. The first year of pub­li­ca­tion, Clark report­ed on 983 plants clos­ings in the Unit­ed States and Cana­da. The num­ber rose every year after that.
Clemens also draws on first-hand knowl­edge from an open stamp­ing plant. The result is vivid prose. Here is an example:
Like the liftoff of an air­lin­er, the stamp­ing of auto body parts requires inhu­man force, pro­duc­ing deci­bels reg­is­tered by your inter­nal organs. The press­es sound, unmis­tak­ably, as if they could kill you, which they could, with­out much inter­rupt­ing their nor­mal func­tion­ing. You'd notice the col­li­sion more than they would…It would be dif­fi­cult to find a stamp­ing plant of long stand­ing with­out a his­to­ry of tragedy. In recent decades, the Occu­pa­tion­al Safe­ty and Health Admin­is­tra­tion and automa­tion have helped to reduce the human loss – the lat­ter, in large part, by reduc­ing the need for humans altogether….Compared with a state-of-the-art assem­bly plant such as Ford's Dear­born Truck Plant, the scene in an old, closed stamp­ing plant such as Budd is hell­ish, back­lit by Goya. (There were in fact foam fin­gers in the Budd plant that said GOYA. It stood for Get Off Your Ass.)
To find sources in the ear­ly stages of his research, Clemens print­ed the online com­ments con­nect­ed to a Detroit News fea­ture about the Budd plant clos­ing. One mar­ried cou­ple men­tioned she had worked at the plant for 30 years, he for near­ly 33 years, and her father for 36 years. Nat­u­ral­ly, Clemens inter­viewed them, and they led him to oth­er out-of-work labor­ers. Clemens also con­tact­ed the rep­re­sen­ta­tive of Unit­ed Auto Work­ers Local 306 to gain access to doc­u­ments and the phys­i­cal plant itself. Through his con­tact with the union rep­re­sen­ta­tive, Clemens received an intro­duc­tion to Eddie San­ford, a for­mer Budd fac­to­ry secu­ri­ty guard recent­ly employed by the rig­ging com­pa­ny dis­man­tling the gigan­tic press­es. San­ford pro­vid­ed entry into the plant for Clemens, mak­ing the immer­sion report­ing possible.
Here is a sam­pling of the remark­able scenes and facts through­out Punch­ing Out:
The elec­toral impli­ca­tions of fac­to­ry clos­ings and lay­offs should be obvi­ous, but some­times are not. Clark, the pub­lish­er of Plant Clos­ing News, heard from Demo­c­ra­t­ic Par­ty lead­ers as ear­ly as 2004; they want­ed his help in cal­cu­lat­ing the num­ber of Amer­i­can jobs export­ed dur­ing the pres­i­den­cy of George W. Bush. ​"I tell you what," he told the Democ­rats, ​"if you can get every­body to vote for you that's lost their job in this coun­try, you can eas­i­ly be elect­ed. And that was four years ago. And that's 5,000 plant clo­sures ago." Well, Oba­ma got elect­ed. But what is his admin­is­tra­tion doing about the pace of plant clos­ings, and how many votes of dis­placed labor­ers might depart the Democ­rats in 2012?
Fac­to­ry clos­ings are immense­ly com­plex, with huge rip­ple effects. But Amer­i­can cor­po­rate exec­u­tives and labor union lead­ers gen­er­al­ly fail to con­vey their sig­nif­i­cance. As Clemens notes, "…a car requires thou­sands of parts; these parts are pro­vid­ed by count­less sup­pli­ers who, in turn, are sup­plied by count­less sup­pli­ers; all of these sup­pli­ers employ hun­dreds of thousands…with the whole indus­tri­al sup­ply chain stretch­ing back as far as the eye can see. This mes­sage, bun­gled how­ev­er bad­ly, remains absolute­ly sound."
Trust of cor­po­rate man­age­ment by work­ers must be re-estab­lished, even if by gov­ern­ment sanc­tion. It is heart-rend­ing to over­hear a con­ver­sa­tion between the Unit­ed Auto Work­ers coun­selor and a ter­mi­nat­ed employ­ee who won­ders about sell­ing his life­time health insur­ance guar­an­tee back to Budd for $75,000 in quick cash. It sounds like a bad bar­gain, the coun­selor says. He then hedges while talk­ing to Clemens lat­er: ​"The com­pa­ny, more than like­ly, even­tu­al­ly, down the road, a num­ber of years from now – somebody'll say ​'No, no, that ain't what we meant.' "
Superb prac­ti­tion­ers of immer­sion jour­nal­ism old­er than Clemens include John McPhee, Gay Talese, Madeleine Blais, Susan Orlean, Walt Har­ring­ton, Mike Sager, Adri­an Nicole LeBlanc and Tra­cy Kid­der. Based on Punch­ing Out, Clemens is a wor­thy addi­tion to the list and an exam­ple for jour­nal­ists not just in the Unit­ed States, but around the globe. His sto­ry of anoth­er closed auto fac­to­ry is sad­ly famil­iar. But it has nev­er been told this well.
Steve Wein­berg
is an inves­tiga­tive reporter in Colum­bia, Mo. His lat­est book is
Tak­ing on the Trust: The Epic Bat­tle of Ida Tar­bell and John D. Rock­e­feller
.