Axle of Evil
Drastic wage cuts drive UAW members to picket American Axle & Manufacturing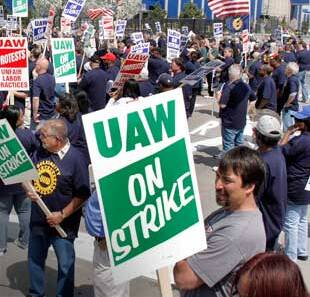 For more than two months, 3,600 Unit­ed Auto Work­ers (UAW) mem­bers have walked pick­et lines in Detroit, Three Rivers, Mich., and upstate New York. The strike at Amer­i­can Axle & Man­u­fac­tur­ing (AAM), a major sup­pli­er of truck and sport-util­i­ty axles for Gen­er­al Motors (GM), is shap­ing up as a line-in-the-sand cam­paign for the embat­tled union.
The strike began Feb. 26, when AAM demand­ed steep wage con­ces­sions, from $27 per hour to $14 per hour. In order to stay in busi­ness, AAM says, it must secure ​"com­pet­i­tive" labor costs. ​"AAM is sim­ply ask­ing for the same changes the UAW has already agreed to with our U.S. com­peti­tors," reads the com­pa­ny web­site, refer­ring to recent UAW deals with com­pa­nies like Del­phi – GM's bank­rupt auto-parts divi­sion – which slashed wages and ben­e­fits two years ago. AAM has said it may move pro­duc­tion to its Gua­na­ju­a­to, Mex­i­co, plant if its demands are not met.
How­ev­er, Rob Segu­ra, a machin­ist at AAM's Detroit plant, points out that the com­pa­ny is in much bet­ter finan­cial shape than the rest of the auto indus­try. The com­pa­ny turned a $37 mil­lion prof­it last year, while its main com­peti­tor, the Dana Cor­po­ra­tion, only recent­ly emerged from bank­rupt­cy protection.
Segu­ra says that giv­en the size of the pro­posed wage cuts, ​"You're ask­ing the aver­age work­er to vote on los­ing your home." Work­ers also point to Axle Chief Exec­u­tive Offi­cer Dick Dauch's salary, which totaled $10.2 mil­lion in 2007.
AAM spokes­woman Renee Rogers says that Axle had a 1 per­cent prof­it mar­gin in 2007. She adds that Dauch has no rea­son to apol­o­gize for his salary: ​"He's the founder of the com­pa­ny, he invest­ed his own mon­ey, and now he's able to reap the rewards of that."
Dauch has head­ed AAM since 1994, when GM sold its for­mer axle divi­sion. In 2005, AAM opened its world head­quar­ters next to its main plant after receiv­ing a spe­cial 12-year tax abate­ment from Detroit, which exempts AAM from most state and local tax­es on the prop­er­ty, and $4.4 mil­lion in addi­tion­al state tax cred­its. (The exemp­tions result­ed from AAM's threats to build its head­quar­ters in Buffalo.)
Dianne Fee­ley, a retired AAM employ­ee and co-edi­tor of a rank-and-file Amer­i­can Axle newslet­ter, Shift­ing Gears, says the C.E.O. is a shrewd nego­tia­tor. ​"Dauch is a great pok­er play­er," she says.
AAM head­quar­ters – a struc­ture of white stone and mir­rored glass, known to work­ers as ​"the Glass House" – ris­es high above Detroit's Chrysler Free­way. There, late-mod­el Amer­i­can sedans and SUVs fer­ry salaried employ­ees through a pick­et line of a dozen work­ers, such as repair­man Mike Pockey.
"They're in there, breath­ing fresh air like a freak­ing casi­no," Pock­ey says, ges­tur­ing to the glass build­ing, ​"while we're breath­ing this filthy air" inside the factory.
The union says five work­ers have died in indus­tri­al acci­dents at the plant since 1994. Rogers would not address that charge, but says, ​"safe­ty is a top pri­or­i­ty for Amer­i­can Axle."
Assem­bly-line work, strik­ers say, is a weari­some job. ​"You wear your body down for eight hours straight, every day," says one strik­er, who, like many oth­er pick­eters, wished to remain anony­mous. ​"Sure it's easy for five min­utes, but do it eight hours."
Anoth­er work­er, Rob, who declined to give his last name, says of the pro­posed $14 hourly wage, ​"I can hon­est­ly tell you that no one would go back for that. The plant life is such that you don't know what it's like unless you work there."
Work­ers say they have received lit­tle infor­ma­tion from the UAW Inter­na­tion­al, which over­sees nego­ti­a­tions and strike pay. ​"If you watch the news," Rob says, ​"you know about as much as we do." (The Inter­na­tion­al did not respond to In These Times' repeat­ed requests for comment.)
UAW lead­er­ship abrupt­ly post­poned an April 16 ral­ly in Detroit because of ​"some progress" in nego­ti­a­tions, accord­ing to a terse fax dis­trib­uted to Detroit's two strik­ing locals. Yet three days lat­er, union Pres­i­dent Ron Get­telfin­ger announced that Axle was not negotiating.
Bill Alford Jr., pres­i­dent of UAW Local 235, char­ac­ter­izes the strike as a major bat­tle. ​"We're at war defend­ing the mid­dle class and its wage," he says. ​"If we lose here, then every oth­er mid­dle-class work­er will be next."
John Patrick Leary
is a Ph.D. can­di­date at New York Uni­ver­si­ty and an instruc­tor in the Depart­ment of Eng­lish at Wayne State Uni­ver­si­ty in Detroit.