Back for the Future
Progressives at the Democratic National Convention look to FDR as a model for an Obama presidency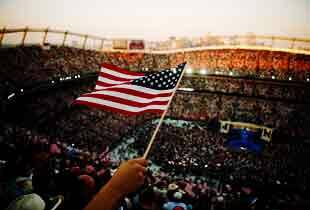 We wanted to make sure you didn't miss the announcement of our new Sustainer program. Once you've finished reading, take a moment to check out the new program, as well as all the benefits of becoming a Sustainer.

DENVER – In politics, time is complicated. It's a mix of clinging to the past (often more imagined than real), fulfilling the demands of the present and looking to the hopes of the future. Sen. Barack Obama (D‑Ill.), having learned the lesson from former President Bill Clinton, focused on the future as he accepted the Democratic presidential nomination in Denver.
A strong whiff of economic populism was present in Obama's acceptance speech, but it might not be enough—nor early enough in the campaign—to attract key voters.
Yet the discussions on the fringes of the convention often returned to another era: the 1930s. Progressives pointed to a panoply of problems facing the country: deepening economic downturn, environmental and economic crises based on our dependence on oil, record economic inequality, a broken healthcare system, and inadequate public investment in education and infrastructure.
Redressing these failings will require a ​"transformational presidency," like that of Franklin D. Roosevelt, as journalist Robert Kuttner argues in his new book, Obama's Challenge. They will require the ​"next New Deal," according to U.S. Action, a coalition of statewide citizen organizations.
But it's not just the Democratic left that sees the present through the prism of a New Deal past. According to pollster Anna Greenberg, more voters see the present as a moment comparable to the ​'30s than as a time comparable to the ​'70s or ​'90s.
Obama addressed that hunger for dramatic change. ​"America," he said in accepting the nomination, ​"now is not the time for small plans."
Obama's plans are large, though perhaps not large enough to deal with the challenges facing the next president. But, as Kuttner argues, Obama has an ability to build alliances and to inspire the public that could enable him to take bolder steps once in office. That is, if the depth of crisis and pressure from progressives push him toward transformational reform.
But conventional wisdom, often even among Democrats, denies the possibility of grand government action that makes most people's lives better. That wisdom, according to Kuttner, says: There's no money. Government doesn't work, except to cut taxes. It must bow before private markets.
Obstacles to dramatic action apparent at the convention included corporate influence and political ​"smallism" – what AFL-CIO Secretary-Treasurer Richard Trumka calls the tendency to tinker rather than transform. At a Rocky Mountain Roundtable forum on infrastructure needs, even sympathetic Democratic leaders such as Connecticut Rep. Rosa DeLauro lamented that they couldn't possibly pass a new gasoline tax or establish a capital budget to fund public works investment, let alone to develop new energy, transportation and communications systems.
Another forum on healthcare, sponsored by Families USA, a health reform group, and the Service Employees union (SEIU), presented advocates of universal health insurance. But one critic contended that the forum reflected reformers who were willing to let insurance and medical corporations dictate what sort of ​"universal" insurance would be acceptable.
And at a party thrown by trade groups, such as the Business Software Alliance, and high-tech companies such as Google – which see potential profits in the Democrats' energy and education reforms – lobbyists insisted that the federal government would have to keep taxes low, permit more temporary work visas for tech workers, and should not expect much high-tech manufacturing to occur in the United States.
Jumping the first hurdle
Despite such barriers to bold action, they will be moot if Obama doesn't jump the first hurdle: getting elected. And that's far from certain. But Obama and his campaign began doing several things around the time of the convention that both the campaign and supporters will have to escalate before the election.
First, taking on Sen. John McCain more aggressively, tying him to President Bush, discrediting his maverick claims and, most of all, making clear how his policies will hurt most Americans. Second, responding more vigorously to attacks, such as the effective, if silly, attempt to portray Obama as an empty celebrity. Third, and most importantly, taking on the corporate and political powers that have enriched the few at the expense of the many, and spelling out how an Obama administration could transform the daily lives of average Americans.
A strong whiff of economic populism was present in Obama's acceptance speech, but it was not enough – nor early enough in the campaign – to attract key voters.
Then there are white, mainly male, working-class or ​"middle-class" voters with little or no college education. These voters have an economic interest in voting Democratic. Yet in recent presidential elections, Democrats have not won majorities of the white working class, as typically defined. But some recent polls suggest signs of hope.
Pollster Stan Greenberg recently returned to Macomb County, Mich., an ardently Democratic, working-class, white suburb of Detroit in the ​'60s that turned into the archetypal home of Reagan Democrats in the ​'80s, then swung back to being a virtual draw between the parties in the last two presidential elections.
Greenberg found Obama trailing McCain by 7 percentage points in Macomb (though leading statewide and among all voters under 40 in Michigan, including Macomb). Race plays a role with older Reagan Democrats not supporting Obama, but not as strongly as it did in decades past.
Greenberg thinks that Obama could win more than a third of these wayward Democrats if he makes it clear he wants to be president for all the country (not mainly African-Americans), connects better with middle-class anger about economic conditions, and allays their doubts about his national security credentials.
According to Greenberg, these voters ​"remain open to Obama because they are desperate for change and a middle-class America where the American worker is center stage again." Their biggest economic concern, more than high gas, food and healthcare costs, is outsourced jobs. But, Greenberg writes, ​"These voters are finding his project disconnected from their central struggle."
McCain has a perhaps insurmountable edge with these voters on national security, but Obama has not yet taken advantage of McCain's ardent support for NAFTA-style agreements to make the case that he will push new rules for the global economy.
Looking only at non-supervisory actively employed workers, pollster Celinda Lake, in a survey for the Change to Win labor federation, found that in August, Obama led 53 percent to 34 percent, but was in a virtual tie with McCain among white workers. Yet she found that 79 percent of Reagan Democrats – identified broadly as Democratic voters sympathetic to the view that ​"government is the problem, not the solution" – favored Obama to only 6 percent for McCain.
The testimonials from white workers that preceded Obama's acceptance speech addressed their economic anxieties. The campaign should run ads non-stop of Indiana factory worker Barney Smith, laid off when his job was shipped overseas, telling the final night's crowd, ​"America can't afford more of the same. We need a president who puts the Barney Smiths before the Smith Barneys."
'

The urgency of now'

Much of the work of reaching workers – white and non-white alike – will fall to the labor movement, which still reaches roughly a quarter of all voting households. Unions have geared up for a more ambitious campaign than ever, intensifying their efforts at workplaces, in walks through working-class neighborhoods, and with targeted phone, mail and Internet messages.

In this election, unions can also mobilize the votes of the 2.5 million members of Working America, the community affiliate of the AFL-CIO that signs up support for labor's agenda among working-class families that do not include members of unions. Working America can double the number of union households that canvassers can contact in many neighborhoods. And despite divisions in the national labor movement, unions at the local level still largely cooperate on those labor walks.

For Obama to win in November, he and his supporters must clearly draw the lines: McCain represents the continuation of policies that favor the rich and powerful at the expense of the country and the vast majority; Obama offers hope for a ​"new new Deal" for America's working families in the midst of a crisis much different from, but in many ways just as serious, as Americans faced in the ​'30s.

That brings past, present and future together in what Obama, quoting the Rev. Martin Luther King Jr., often describes as ​"the fierce urgency of now."
Be a Sustainer
We surveyed thousands of readers and asked what they would like to see in a monthly giving program. Now, for the first time, we're offering three different levels of support, with rewards at each level, including a magazine subscription, books, tote bags, events and more—all starting at less than 17 cents a day. Check out the new Sustainer program.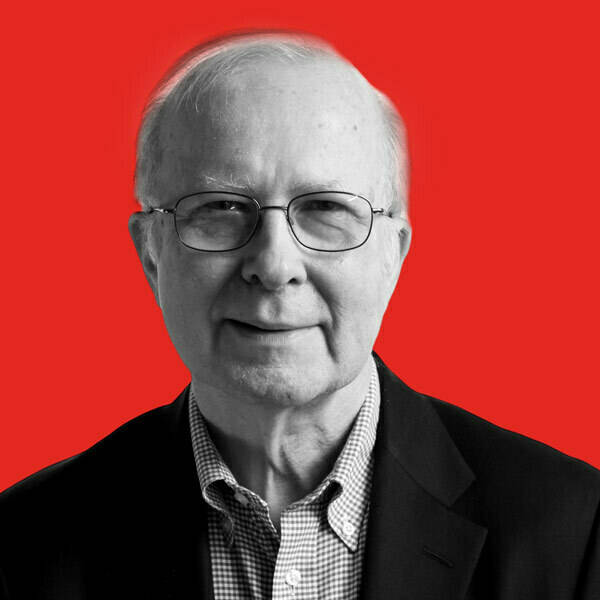 David Moberg, a senior editor of In These Times, has been on the staff of the magazine since it began publishing in 1976. Before joining In These Times, he completed his work for a Ph.D. in anthropology at the University of Chicago and worked for Newsweek. He has received fellowships from the John D. and Catherine T. MacArthur Foundation and the Nation Institute for research on the new global economy.