Bad Cop, Badder Cop in Brazil
Does the new shoot-'em-up film Tropa de Elite bring out the country's inner fascist?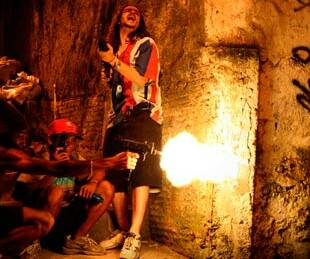 Does every Brazil­ian love a fas­cist? That's the ques­tion raised by the new film Tropa de Elite, which is on its way to becom­ing one of the country's most pop­u­lar movies of all time. The pro­tag­o­nist in Tropa de Elite, or ​"elite squad," is a cop who kills for revenge, exe­cutes cor­rupt cops and tor­tures sus­pects – includ­ing chil­dren – for infor­ma­tion. And the film's phe­nom­e­nal suc­cess is frightening.
The film mirrors the emotional and political reflex--as common in the United States as it is in Brazil--that police should be strong, and bleeding hearts should stay out of the way.
In a coun­try where frus­tra­tion about street crime and the police's inabil­i­ty to stop it run deep, direc­tor and co-writer José Padil­ha has cre­at­ed a new nation­al super­hero: the black-clad, above-the-law uber­cop. But this may be a case where the cre­ation has turned against its creator.
Padil­ha oppos­es torture,is an out­spo­ken pro­gres­sive and favors decrim­i­nal­iza­tion. In 2002, he direct­ed Bus 174, a doc­u­men­tary about a young, impov­er­ished man who took a bus full of pas­sen­gers hostage in Rio de Janeiro and end­ed up vio­lent­ly killed by police.
Tropa de Elite, by con­trast, fol­lows the sto­ry of Cap­tain Nasci­men­to, a fic­tion­al offi­cer in the elite branch of Rio's police known as BOPE (Spe­cial Oper­a­tions Battalion).
BOPE, we're told, exists because the city's drug gangs and police are at war, and con­ven­tion­al police are too cor­rupt, out-gunned and ill-trained to fight it. Nascimento's team invades gang-con­trolled fave­las (shan­ty towns) in silence. They shoot first and inter­ro­gate lat­er. The image of a blood­ied face strug­gling to breathe under a plas­tic bag becomes mun­dane in the film's two hours.
Weeks before its offi­cial Oct. 12 release, Tropa de Elite had already become a block­buster. A workprint was leaked from a sub­ti­tling shop prepar­ing the Eng­lish ver­sion, hit­ting the Inter­net and, more sig­nif­i­cant­ly, Brazil's vast net­work of street DVD sell­ers (came­los), who sold it under the slo­gan ​"get it now before the police ban it." (A group of BOPE offi­cers had asked a judge to block com­mer­cial­iza­tion of the film, on the grounds that it ​"attacks the cor­po­ra­tion [the mil­i­tary police] and vio­lates the hon­or, dig­ni­ty and even the phys­i­cal integri­ty of police officers.")
An esti­mat­ed 11 mil­lion Brazil­ians watched the movie on DVD, and more than 2 mil­lion saw it in the­aters, accord­ing to the polling and rat­ings orga­ni­za­tion Ibope. In São Pao­lo, a sur­vey by the dai­ly Fol­ha de São Pao­lo found that 19 per­cent of city res­i­dents over age 16 had seen the film.
I watched a burned copy at my home in Belem, Brazil one Sun­day morn­ing with a polit­i­cal­ly aware musi­cian and a media activist. They loved it. In fact, they saw its grue­some vio­lence as a sear­ing indict­ment of the real meth­ods of Brazil­ian police, and as a nec­es­sary artic­u­la­tion of the grim real­i­ty of the favelas.
Lat­er that day, how­ev­er, I serendip­i­tous­ly end­ed up at a fam­i­ly bar­be­cue, drink­ing beer and eat­ing grilled meat with sev­er­al mil­i­tary police offi­cers. When Tropa de Elite was men­tioned, the eyes of these burly men lit up and sud­den­ly it was like lis­ten­ing to geeks talk about Star Wars. Most had seen it more than once, some a ridicu­lous num­ber of times. One said it was the best movie he had ever seen.
If the film­mak­ers had pur­pose­ly set out to weave Rio vio­lence into a fas­cist pro­pa­gan­da piece, it's impos­si­ble to imag­ine them doing a bet­ter job.
In the movie, tor­ture works and threats of bru­tal­i­ty are effec­tive (such as when police threat­en to rape a teenage boy with a broom­stick). A group of priv­i­leged stu­dent activists are some of the film's least lik­able fig­ures. Women are por­trayed as naïve, and the men are shown as only want­i­ng to get laid or deal drugs. We even see a cop walk into a peace march and punch a paci­fist in the face. (The ​"paci­fist" is actu­al­ly a drug deal­er who got a cop killed.) The viewer's per­son­al iden­ti­fi­ca­tion with police pro­tag­o­nists – and against every­body else – is clear and unbroken.
Tropa de Elite was filmed in five fave­las, which lends it an unset­tling real­ism. Like par­tic­i­pants in the infa­mous Stan­ford Prison Exper­i­ment, the actors seem to absorb their roles from their uni­forms and sur­round­ings. On the inter­view pro­gram ​"Roda Viva," Padil­ha said that many onlook­ers assumed they were watch­ing the mak­ing of a doc­u­men­tary, and that actu­al, on-duty BOPE offi­cers (who were often near­by) once inter­rupt­ed the film­ing of a tor­ture scene to tell actors they were hold­ing the plas­tic bag wrong. Lines between police mythol­o­gy and real­i­ty blur, and the film asserts itself as incontrovertible.
When asked if a solu­tion exists to the vio­lence, Padil­ha has been cir­cum­spect: ​"A solu­tion can hap­pen through sus­tained eco­nom­ic growth, with good dis­tri­b­u­tion of income, through invest­ment in edu­ca­tion and improve­ments in the judi­cial sys­tem," he said. ​"It will also hap­pen through bet­ter salaries, train­ing and edu­ca­tion of police."
At times Padil­ha may seem to be bob­bing and weav­ing, but he's no fas­cist. He says that con­di­tions in Brazil's pris­ons amount to tor­ture. When defend­ing the film, Padil­ha has said it holds a mir­ror up to society.
"After I made Bus 174, there was a series of films about urban vio­lence focused on the mar­gin­al­ized, and not one that spoke to the police's point of view," he said in an inter­view with Brazil­ian news site UOL. ​"In Amer­i­can cin­e­ma, there are many focused on the police. So I decid­ed to make a film about this point of view."
But BOPE's con­tempt for con­ven­tion­al law is far more dis­tilled than that shown in Hol­ly­wood police films, and the tor­ture por­trayed here doesn't even enjoy the philo­soph­i­cal ambi­gu­i­ty of the ​"tick­ing time-bomb" sce­nar­ios rou­tine­ly offered on the tele­vi­sion show ​"24."
Yet Tropa de Elite mir­rors the same emo­tion­al and polit­i­cal reflex – as com­mon in the Unit­ed States as it is in Brazil – that police should be strong, crim­i­nals should be shot and bleed­ing hearts should stay out of the way.
Where I live, in Belem,about 1,800 miles from Rio's fave­las, songs from Tropa de Elite​'s sound­track have entered heavy rota­tion in our neigh­bors' playlist – includ­ing ​"Rap das Armas," a bailé funk paean to guns. It's a poor neigh­bor­hood, and these same neigh­bors have been roughed up by police for infor­ma­tion in ways that approach tor­ture. I know because the sounds filled my house.
Like­wise, unli­censed BOPE dolls were for sale in the same Rio neigh­bor­hoods that the real BOPE offi­cers shoot their way through. Kids have reen­act­ed tor­ture scenes and uploaded them to YouTube, where police sub­se­quent­ly took them down because they claimed the videos would incite vio­lence. And when vari­ety show host Luciano Huck was held up at gun­point for his Rolex watch, he wrote an op-ed for Fol­ha de São Pao­lo titled ​"Call Cap­tain Nascimento!"
Though numer­ous crit­ics have decried its pol­i­tics, the film's explo­sive pop­u­lar­i­ty over­shad­owed them. The con­ser­v­a­tive week­ly Veja declared on its cov­er: ​"Tropa de Elite is the biggest suc­cess of Brazil­ian cin­e­ma because it treats ban­dits as ban­dits and shows drug users as the part­ners of traf­fick­ers." This dec­la­ra­tion was pub­lished along­side a pho­to of a masked BOPE offi­cer bran­dish­ing a machine gun.
The film may raise impor­tant issues,but its pop­u­lar­iza­tion of a right-wing per­spec­tive seems like­ly to make things worse. Tropa de Elite took a fic­tion­al officer's strug­gle and has end­ed up doc­u­ment­ing, artic­u­lat­ing and for­ti­fy­ing, how­ev­er inad­ver­tent­ly, a dan­ger­ous fas­cist myth.