Bangladesh Factory Fire: Workers Burn, Walmart Ducks Responsibility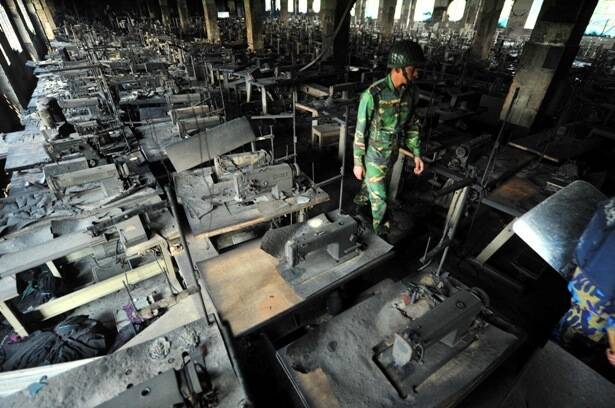 Per­haps the images no longer have the pow­er to shock. Charred bod­ies and wail­ing fam­i­lies appear in the news with grim fre­quen­cy, giv­ing the numb­ing impres­sion that indus­tri­al fires are sim­ply a nec­es­sary toll for poor nations on the road to ​"devel­op­ment." The lat­est fac­to­ry infer­no in South Asia should prompt us to ask why this keeps hap­pen­ing, but once again, chal­lenges from local and inter­na­tion­al labor advo­cates are being dodged by the glob­al appar­el-man­u­fac­tur­ing machine.
The fire this week­end at the Tazreen fac­to­ry out­side Dha­ka, Bangladesh, which killed more than 110 of the 1,000-plus work­ers, bears the stamp of some of the world's most icon­ic fash­ion labels. Accord­ing to labor advo­cates, the West­ern brands linked to the fac­to­ry includ­ed Dis­ney, Sears, Dick­ies, Sean Comb­s's Enyce and Wal­mart's Fad­ed Glory.
Accord­ing to ini­tial reports, the work­place was fraught with fire-safe­ty issues, includ­ing the lack of a viable road for res­cue work­ers to approach the facil­i­ty and a lack of safe­ty exits. Before work­ers could flee, some man­agers report­ed­ly ​"stopped them run­ning to safe­ty after the fire alarm had gone off."
Just about every­one who could be held respon­si­ble has a sto­ry to deflect the blame, and some are even impli­cat­ing workers.
Amid inter­na­tion­al out­cry and local street protests in response to the fire, Bangladeshi author­i­ties sug­gest­ed that the inci­dent was not a prod­uct of an indus­tri­al acci­dent such as faulty wiring, but sab­o­tage, point­ing to anoth­er inves­ti­ga­tion of fires report­ed­ly start­ed by work­ers in a near­by fac­to­ry. (Notably, Bangladesh's gar­ment indus­try is a bul­wark of the country's low-wage econ­o­my, employ­ing about 3 mil­lion peo­ple.) Prime Min­is­ter Sheikh Hasi­na argued the Tazreen fire also appears to be the result of arson, per­haps tied to local polit­i­cal con­flicts — a claim echoed by the Bangladesh Gar­ment Man­u­fac­tur­ers and Exporters Asso­ci­a­tion. Accord­ing to Hasi­na, the dis­as­ter ​"was not an acci­dent, (it was) planned. The inci­dent takes place when it is the time for buy­ers to come and sign contracts."
Activists are wary that author­i­ties are seek­ing a smoke­screen to con­ceal deep­er safe­ty issues. Scott Nova of the anti-sweat­shop group Work­er Rights Con­sor­tium tells Work­ing In These Times that the inves­ti­ga­tions should focus on ​"unsafe build­ings" and work­place haz­ards under­ly­ing the tragedy:
This is a kind of polit­i­cal mis­di­rec­tion that we've seen before from the indus­try in Ban­galdesh and its polit­i­cal allies. … But because the Bangladesh gov­ern­ment and indus­try can­not admit that work­ers are dying because of lax reg­u­la­tion and unsafe work­ing con­di­tions in the indus­try in Bangladesh, they need some kind of scape­goat. And so they make up sto­ries about sabo­teurs and arson­ists whose goal some­how is to destroy the Bangladesh appar­el industry.
The debate over the ori­gins of the fire miss­es sys­temic issues that were an open secret long before Tazreen burst into flames, accord­ing to the Asso­ci­at­ed Press: an egre­gious lack of pro­tec­tions that left work­ers unable to use fire extin­guish­ers; work­ers locked tight­ly inside so that win­dows had to dou­ble as fire exits, with cell phone lights point­ing the way. Nor does it account for why man­agers ordered work­ers to return to their work sta­tions as the build­ing blazed.
The web­site of the factory's par­ent com­pa­ny sug­gests that it has been approved by the cer­ti­fi­ca­tion body World­wide Respon­si­ble Accred­it­ed Pro­duc­tion, but the orga­ni­za­tion insists it did not inspect the fac­to­ry.
Liana Foxvog of the Inter­na­tion­al Labor Rights Forum (ILRF) tells Work­ing ITT via email that a full inves­ti­ga­tion should be con­duct­ed, but that some facts are already certain:
Putting aside the ques­tion of the cause of the fire, it is evi­dent from work­er reports that Tazreen Fash­ions failed to uphold fire safe­ty pre­cau­tions and the mag­ni­tude of the tragedy would have been far less would have been far less had the brands paid fair prices to help ensure build­ing com­pli­ance with fire-safe­ty code and required suf­fi­cient, acces­si­ble exits and ade­quate emer­gency evac­u­a­tion train­ing. … All told, the sit­u­a­tion amount­ed to a death trap when fire erupted.
Yet the safe­ty vio­la­tions are mere symp­toms of the deep lack of account­abil­i­ty ingrained in the struc­ture of the glob­al appar­el sup­ply chain. The inci­dent has shed light on the murky con­nec­tions among var­i­ous buy­ers and brands from Hong Kong to the Unit­ed States, and it expos­es the ease with which multi­na­tion­als have been able to duck respon­si­bil­i­ty for labor- and human-rights vio­la­tions by dif­fus­ing the man­u­fac­tur­ing process across var­i­ous countries.
Wal­mart claims to have been unaware that its clothes were still pro­duced in Tazreen, say­ing that it had pre­vi­ous­ly cut off busi­ness with the fac­to­ry and it was not an unau­tho­rized pro­duc­er. But the main evi­dence that has emerged to sup­port this claim is an inter­nal ​"eth­i­cal sourc­ing" audit from mid-2011, post­ed online, which indi­cates that ​"high risk" con­di­tions or vio­la­tions had earned the fac­to­ry a pro­ba­tion­ary ​"orange" assess­ment. The fac­to­ry was warned it could be dropped if it got three such rat­ings over a two-year peri­od. The ulti­mate out­come of Tazreen audit is unclear, but in any case, the stan­dard pro­ce­dure for drop­ping an unscrupu­lous sup­pli­er might appar­ent­ly last as long as two years — far too long for work­ers who risk their lives every workday.
In response to Walmart's claim that Tazreen was dropped before the fire, Nova of the Work­er Rights Con­sor­tium says, ​"Unless Wal­mart is will­ing to sup­ply proof of that, I don't see why any­one should believe it. And even if they can prove it, it doesn't change the fact that they allowed their stuff to be made there, whether by omis­sion or com­mis­sion, and are respon­si­ble for pro­tect­ing those workers."
The deaths of the gar­ment work­ers are the by-prod­ucts of a rapid-fire man­u­fac­tur­ing sys­tem that dri­ves the fash­ion cycle and mass-pro­duced inven­to­ries of Wal­mart and oth­er chains. The pro­duc­tion pat­terns that run on pover­ty wages and bru­tal work con­di­tions in the Glob­al South par­al­lel exploita­tion at the upper end of the sup­ply chain, result­ing in low wages and pre­car­i­ous tem­po­rary work in West­ern ware­hous­es and retail stores. In this way, the Black Fri­day Wal­mart protests through­out the U.S. and the Tazreen fire protests in the streets of Bangladesh are con­verg­ing in a sin­gle labor strug­gle to hold glob­al brands accountable.
Labor activists in Bangladesh have rou­tine­ly been attacked and sup­pressed for chal­leng­ing exploita­tive employ­ers and call­ing atten­tion to the country's fatal depen­dence on cheap gar­ment exports. Ear­li­er this year, labor orga­niz­er Amin­ul Islam was found tor­tured and killed, and the case remains unresolved.
In the wake of indus­tri­al dis­as­ters, advo­ca­cy groups like the ILRF have made some strides in sham­ing com­pa­nies into tight­en­ing stan­dards. Uproar over a recent high-pro­file fac­to­ry fire in Ashu­lia, Bangladesh spurred Tom­my Hil­figer to ini­ti­ate a safe­ty reform pro­gram. But despite defi­ant grass­roots protests, work­ers in Bangladesh lack a strong labor move­ment that could mobi­lize to pro­tect them and advo­cate for bet­ter con­di­tions before, not after, the next tragedy.
Inci­dents such as the Tazreen fire and an even more dead­ly blaze in Pak­istan this Sep­tem­ber draw com­par­isons to the Tri­an­gle fire of the ear­ly 20th cen­tu­ry in Man­hat­tan, which led to pub­lic hor­ror at the bru­tal deaths of young work­ers. But while the Tri­an­gle Fire lit the spark for sig­nif­i­cant labor reforms in the Unit­ed States, no one knows how many more South Asian work­ers will per­ish until the lessons are learned. Of course, cor­po­ra­tions have learned care­ful­ly over the years how to atom­ize the sup­ply chain to min­i­mize lia­bil­i­ty. They're work­ing hard to ensure that Triangle's lessons for the labor strug­gle, of the need to empow­er work­ers to pro­tect them­selves, are qui­et­ly forgotten.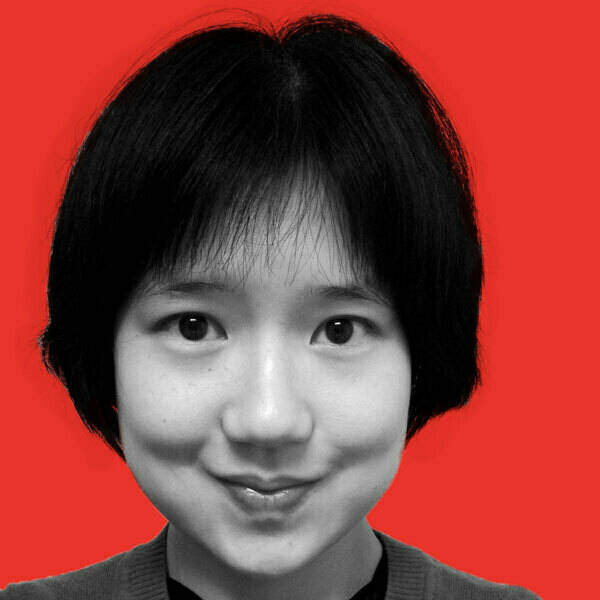 Michelle Chen is a con­tribut­ing writer at In These Times and The Nation, a con­tribut­ing edi­tor at Dis­sent and a co-pro­duc­er of the ​"Bela­bored" pod­cast. She stud­ies his­to­ry at the CUNY Grad­u­ate Cen­ter. She tweets at @meeshellchen.