Banking Goes Postal
Sixty-four unions and community groups are demanding a banking public option—at the post office.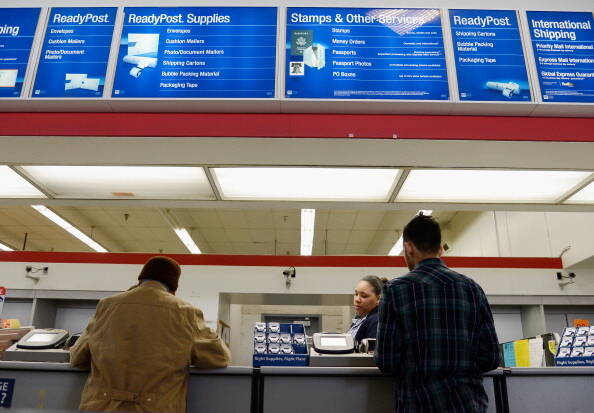 Amer­i­can Postal Work­ers Union (APWU) pres­i­dent Mark Dimond­stein has an offer that should be hard to refuse, espe­cial­ly for the 10 mil­lion Amer­i­can house­holds, most­ly low-income, that do not have a check­ing account or oth­er basic bank­ing services.
In one year, the underbanked and unbanked pay out more in financial service charges than the federal government spends on all domestic food aid.
Through its net­work of 30,000 post offices and oth­er out­lets, the Unit­ed States Postal Ser­vice (USPS) could read­i­ly and cheap­ly pro­vide many bank­ing ser­vices (just as it now pro­vides mon­ey orders), no mat­ter where you live or what you earn. This could save peo­ple with­out bank access from pay­ing the exor­bi­tant inter­est and fees at cur­ren­cy exchanges, pay­day lenders, rent-to-own deal­ers, pawn shops and oth­er sub­prime finan­cial institutions.
Postal work­ers would also win: Expand­ing postal ser­vices would cre­ate more jobs. More­over, the addi­tion­al rev­enue would strength­en USPS's finances, bol­ster­ing the four major postal unions' ongo­ing fight against management's aus­ter­i­ty mea­sures. Although the postal ser­vice earned a sur­plus on oper­a­tions in 2014, it ran a deficit over­all because of per­verse require­ments Con­gress imposed in 2006 that retiree health­care ben­e­fits for the next 75 years be ful­ly pre-fund­ed with­in a decade, a stan­dard far more demand­ing than those required by any oth­er retire­ment sys­tems. Much more than the decline in first class mail, that man­u­fac­tured bud­get cri­sis has fueled USPS management's cam­paign of job cuts. The postal work­force dropped from about 700,000 in 2006 to less than 500,000 last year, and man­age­ment hopes to reduce it by as many as 15,000 more this year. USPS management's cam­paign of job cuts also involves ser­vice degra­da­tion, post office clos­ings and pri­va­ti­za­tion — such as deliv­er­ing postal ser­vices at the office-sup­ply store Sta­ples, where jobs are low-wage and non-union. If postal unions can imple­ment bank­ing and roll back the retiree pre-pay require­ment, they will return the postal ser­vice to sol­ven­cy while expand­ing the pub­lic sec­tor to address pri­vate mar­ket shortcomings.
When talks for a new APWU con­tract start in Feb­ru­ary, Dimond­stein intends to make estab­lish­ing postal bank­ing a major demand, even though it falls out­side the bread-and-but­ter issues unions typ­i­cal­ly bring up in bar­gain­ing. He plans to argue that cre­ation of the bank would pro­found­ly affect the manda­to­ry bar­gain­ing issues of wages, hours and work­ing conditions.
The nego­ti­a­tions come on the heels of a new cam­paign, launched this week by the postal unions — in part­ner­ship with com­mu­ni­ty groups such as Nation­al People's Action, Pub­lic Cit­i­zen, USAc­tion and Inter­faith Work­er Jus­tice — to mobi­lize the pub­lic in favor of a postal bank.
Twen­ty-eight per­cent of U.S. house­holds either have no check­ing account or rely heav­i­ly on non-bank ser­vices such as cur­ren­cy exchanges. In many cas­es, pover­ty, high bank fees (espe­cial­ly for small-scale cus­tomers), cred­it prob­lems and dis­trust keep peo­ple from open­ing bank accounts. But anoth­er major rea­son is lack of access.
Unit­ed for a Fair Econ­o­my (UFE), a finan­cial reform group and coali­tion mem­ber, reports that the num­ber of fed­er­al­ly insured finan­cial insti­tu­tions fell last year to the low­est lev­el since 1934. This loss of banks is turn­ing many dis­tressed inner city and rur­al com­mu­ni­ties into ​"bank­ing deserts" espe­cial­ly for peo­ple of col­or. The more than one quar­ter of Amer­i­cans with lit­tle or no con­ven­tion­al bank­ing ser­vices encom­pass­es 53.6 per­cent of black house­holds and 46.8 per­cent of Lati­no house­holds, but only 19.5 per­cent of non-Lati­no white households.
These house­holds are dis­pro­por­tion­ate­ly poor; the aver­age ​"under­served or unserved" house­hold in 2012 made $25,500 a year. And, stag­ger­ing­ly, they paid an aver­age of $2,412 for fees and inter­est to bank­ing alter­na­tives, accord­ing to a 2014 white paper pre­pared by the Postal Service's Office of Inspec­tor Gen­er­al in sup­port of a postal bank­ing ser­vice. That added up to $89 bil­lion in price-goug­ing rev­enue for the sub­prime finance indus­try in just one year. (And that's the con­ser­v­a­tive esti­mate; UFE cal­cu­lat­ed the aver­age fees and inter­est at $3,029 per house­hold in 2013, for a total of $103 bil­lion.) In one year, the under­banked and unbanked pay out more in finan­cial ser­vice charges than the fed­er­al gov­ern­ment spends on all domes­tic food aid, includ­ing food stamps — much of it going to the same peo­ple who fre­quent pay­day lenders.
Sub­prime finan­cial pre­da­tion seri­ous­ly desta­bi­lizes work­ing-class fam­i­lies. Peo­ple who filed for bank­rupt­cy in 2012 fell short on their bills by an aver­age of just $26 a month. Giv­en that under­served house­holds pay out about $46 a week to the rip-off bank alter­na­tives, these high-priced debt ser­vice prod­ucts may be a major fac­tor dri­ving many of the work­ing poor into bank­rupt­cy. Mean­while, much of that preda­to­ry income ulti­mate­ly finds its way into the cof­fers of Wall Street, the big banks and the super-rich who own and finance the alter­na­tive, high-cost operations.
Most poor peo­ple dis­trust both banks and the alter­na­tives, such as pawn shops, but they do trust the post office, accord­ing to the UFE's research. Also, unlike banks, post offices are in every neigh­bor­hood. Near­ly 60 per­cent are in zip codes with one or no banks.
Postal bank­ing has plen­ty of prece­dents. From 1911 to 1966, the Unit­ed States Postal Sav­ings Sys­tem offered finan­cial­ly secure but low-inter­est sav­ings accounts for small depos­i­tors. Many oth­er coun­tries, start­ing with Britain in 1861, have had postal banks, often quite large: Japan's Post Bank was the world's biggest sav­ings bank in 2006.
A new postal bank­ing sys­tem could be a ful­ly pub­lic insti­tu­tion or an alliance with oth­er parts of the bank­ing sys­tem, such as com­mu­ni­ty banks or cred­it unions. But in the end, ​"there's this pub­lic option if [peo­ple] want to put their mon­ey where their mouth is," says Dimondstein.
A win-win
A postal bank is an exam­ple of the ​"Grand Alliance" between postal unions and the pub­lic that Dimond­stein sees as essen­tial for sav­ing the postal ser­vice from dis­man­tling. For this polit­i­cal strat­e­gy to suc­ceed, the postal bank will have to pro­vide its cus­tomers with a low-cost alter­na­tive to the preda­tors, not just a means of mak­ing more mon­ey for the postal service.
The USPS should be able to dra­mat­i­cal­ly reduce charges for ser­vices like check cash­ing, mon­ey trans­fer and bill pay­ing, while still earn­ing enough to make the postal ser­vice more finan­cial­ly sound. As the postal ser­vice already has a huge infra­struc­ture and work­force, it would require rel­a­tive­ly lit­tle start-up cap­i­tal and could quick­ly oper­ate on a very large scale, open­ing up poten­tial efficiencies.
The coali­tion for a U.S. postal bank is part of a small but grow­ing move­ment to democ­ra­tize finance through insti­tu­tions such as state banks. Postal bank­ing has already won sup­port from con­sumer finan­cial pro­tec­tion advo­cate Sen. Eliz­a­beth War­ren (D.-Mass.). In July 2014, Rep. Cedric L. Rich­mond (D‑La.) intro­duced a bill that would estab­lish a postal bank, but it died in com­mit­tee.
Because postal bank­ing has exist­ed pre­vi­ous­ly in the U.S., the APWU believes that new leg­is­la­tion may not be nec­es­sary for USPS to offer expand­ed finan­cial ser­vices. Instead, says Dimond­stein, ​"We want the post­mas­ter gen­er­al and postal man­age­ment to take this up. … Here's a nat­ur­al postal solu­tion to their problems."
But out­go­ing post­mas­ter gen­er­al Patrick Donahoe's strat­e­gy has been the polar oppo­site. He explained in his farewell speech in ear­ly Jan­u­ary that USPS man­age­ment wants more flex­i­bil­i­ty to cut jobs, ben­e­fits, ser­vices and facil­i­ties, and to shift work into Sta­ples stores. The new post­mas­ter gen­er­al, Megan J. Bren­nan, comes from his team; she served as chief of postal oper­a­tions. But the com­bined pres­sure of union nego­ti­a­tions and pub­lic demand could inspire a new post­mas­ter gen­er­al to change course.
Dimond­stein and the coali­tion believe the ven­er­a­ble post offices of Amer­i­ca can play a new role in stop­ping the fleec­ing of a quar­ter of Amer­i­can fam­i­lies by pirat­i­cal sub­prime financiers. And they believe that this old stand­by could demon­strate how gov­ern­ment can fix a seri­ous short­com­ing of the pri­vate mar­kets and avoid the result­ing wreck­age to many already hard-pressed Amer­i­can fam­i­lies. The oppor­tu­ni­ty for more democ­ra­cy, equal­i­ty and finan­cial secu­ri­ty, espe­cial­ly for the most vul­ner­a­ble Amer­i­cans, is huge. The cost of fail­ure could be just as large.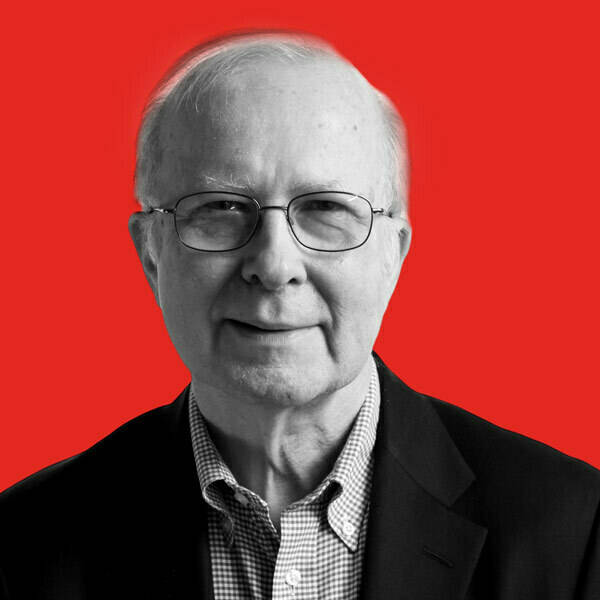 David Moberg, a senior edi­tor of In These Times, has been on the staff of the mag­a­zine since it began pub­lish­ing in 1976. Before join­ing In These Times, he com­plet­ed his work for a Ph.D. in anthro­pol­o­gy at the Uni­ver­si­ty of Chica­go and worked for Newsweek. He has received fel­low­ships from the John D. and Cather­ine T. MacArthur Foun­da­tion and the Nation Insti­tute for research on the new glob­al economy.