Barbara Ehrenreich on Her Endorsement of Bernie Sanders and Why Socialism Should Be Fun
In a sprawling interview, Ehrenreich explains why Sanders is her choice for 2020, the joys of radical politics and why there's no time to wait on capitalism to solve the climate crisis.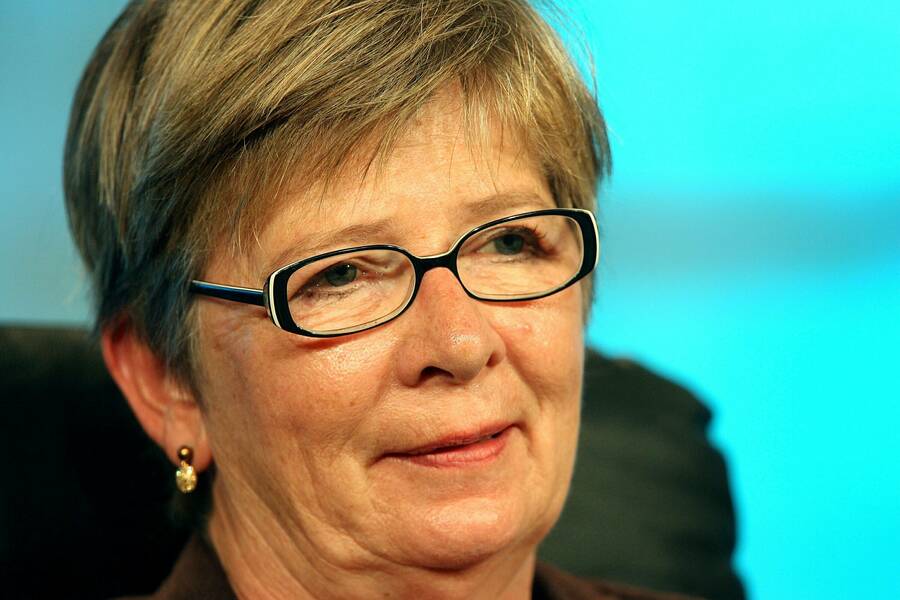 Bar­bara Ehren­re­ich is an activist, jour­nal­ist and author of over 20 books, includ­ing her clas­sic 2001 title Nick­el and Dimed: On (Not) Get­ting by in Amer­i­ca. Ehren­re­ich is a con­tribut­ing edi­tor to In These Times where her work first appeared in 1977.
"We need to offer a vision of the joy of collective accomplishment, the joy of working together."
She, along with John Ehren­re­ich, coined the term ​"pro­fes­sion­al-man­age­r­i­al class" (PMC) in a famous 1977 essay to describe a class of ​"salaried men­tal work­ers" sep­a­rate from the work­ing class, whose main func­tion is to repro­duce cap­i­tal­ist cul­ture and class relations.
Ehren­re­ich recent­ly endorsed Sen. Bernie Sanders in the 2020 Demo­c­ra­t­ic race. She spoke with In These Times about the upcom­ing elec­tions, social­ism and the cli­mate crisis.
IO: You recent­ly endorsed Sen. Bernie Sanders in the 2020 race. What made you decide to do so?
BE: The same rea­son I endorsed him the first time around. He's the can­di­date that most rep­re­sents me.
IO: How so?
BE: Well, he's a demo­c­ra­t­ic social­ist. There's nobody clos­er to me that's running.
IO: Do you think we'll see a rise in union mem­ber­ship or union mil­i­tan­cy if Bernie Sanders wins the election?
BE: I think so. I don't think that'll be a com­plete­ly direct effect, but it will be an indi­rect effect where peo­ple begin to see that a rad­i­cal­ly dif­fer­ent direc­tion is pos­si­ble, and begin to feel their own agency, their own power.
IO: What's your response to Hillary Clinton's recent com­ments that ​"nobody likes Bernie," that he's a ​"career politi­cian," and open­ing the door to not back­ing him if he's the Demo­c­ra­t­ic nominee?
BE: I wor­ry about Hillary. I can't under­stand why she would be doing this. And I don't want to spec­u­late. It's just sheer meanness.
IO: Why do you think she lost in 2016?
BE: It's attrib­ut­able to her. Spe­cif­ic things about her. A kind of vis­i­ble elit­ism best rep­re­sent­ed with that state­ment about ​"deplorables." But the deep­er rea­son is that the Democ­rats have, in recent years, betrayed the work­ing class. They have not fought strong­ly for issues that are impor­tant to peo­ple who are not upper-mid­dle class or rich­er, and there's a sense of betrayal.
IO: Pres­i­dent Trump, even if he didn't win the pop­u­lar vote, still has some pret­ty com­mit­ted sup­port­ers. What do you think is ener­giz­ing his base?
BE: Well, what I just said. This sense that Democ­rats real­ly have noth­ing to offer. And lib­er­al­ism comes across to many peo­ple as a kind of elit­ist stance. It's not ​"here are the peo­ple who are going to join with me in improv­ing con­di­tions," but rather, ​"here are the peo­ple who are going to crit­i­cize us for being polit­i­cal­ly incor­rect." And it's just heartbreaking.
IO: What do you make of the recent New York Times endorse­ment of Eliz­a­beth War­ren and Amy Klobuchar, whom the edi­to­r­i­al board described as the ​"rad­i­cal" and ​"real­ist" models?
BE: You know, I don't know. I have no idea what went on with that. What goes through their minds? Who knows. Klobuchar is kind of a mys­tery to me. I'm will­ing to learn a lot more. She's cer­tain­ly been gal­va­niz­ing and she is def­i­nite­ly to the right of War­ren and Sanders.
IO: A lot of the rhetoric around the elec­tion has been framed as ​'can a woman beat Trump' and not ​'what kind of woman can­di­date can beat Trump.' What do you attribute that to?
BE: Sex­ism for one thing. I mean, you just put it very well, but main­ly we have to beat Trump, and I would love to see a woman do it and I don't see a rea­son why a woman couldn't do it. I real­ly think we have moved on quite a bit. I can remem­ber when Geral­dine Fer­raro was run­ning for vice pres­i­dent with Wal­ter Mon­dale and the crit­i­cism that was raised was that she was of a menopausal age and ​"could a menopausal per­son make deci­sions?" That was the lev­el of dis­course. I think we have moved on from there. Don't you?
IO: I do. My con­cern is that, even on the Left, peo­ple want a woman to be pres­i­dent but some are more con­cerned about a can­di­date being a woman and less con­cerned about what kind of woman she is — like whether she's a Hillary Clin­ton type, for exam­ple. They want to see a woman rep­re­sent­ed, and they care a lit­tle bit less about the plat­form she's bring­ing because she's a woman.
BE: I'm obvi­ous­ly not in that camp. In 2016, I vot­ed for Hillary in the end, but there were so many rea­sons to dis­trust her. For me, it all start­ed in the 1990s with wel­fare reform which Bill Clin­ton gets cred­it for — and Hillary enthu­si­as­ti­cal­ly sup­port­ed. It plunged a lot of peo­ple liv­ing in pover­ty into extreme pover­ty. It was just very dis­taste­ful to me that she was, with her pol­i­tics, the Demo­c­ra­t­ic can­di­date. Also, her stance on bank­rupt­cy, which I guess she mod­i­fied over time. The Iraq war. On and on and on. So I did not see her as the right can­di­date of either sex, that I would be inter­est­ed in.
IO: Lib­er­al pun­dits, when they're speak­ing about the can­di­dates, often lump War­ren and Sanders into the same camp. How would you describe their dif­fer­ences and the dif­fer­ences between their supporters?
BE: *laughs* I don't know. I haven't done a study of this. I under­stand that there has been some talk on the left that War­ren is the can­di­date of what John Ehren­re­ich and I describe as the PMC, where­as Sanders is poten­tial­ly more the can­di­date of the work­ing class. But, you know, I think that's get­ting a lit­tle bit sil­ly. Peo­ple can come from dif­fer­ent class­es and change their class alle­giances. So I'm not inter­est­ed in that kind of essen­tial­ist think­ing. Somebody's from a wealthy back­ground or white so that deter­mines every­thing about their pol­i­tics? I don't think so.
IO: Would you note any dif­fer­ences between the PMC from when you wrote that essay in 1977 ver­sus today?
BE: Oh, for sure. And I've writ­ten about those dif­fer­ences and so has John Ehren­re­ich. We have seen vast swaths of the pro­fes­sion­al man­age­r­i­al class dumped down to the lev­el of the work­ing class. This is the big les­son of Occu­py. There were home­less blue col­lar work­ers with grad­u­ate stu­dents who knew they were going nowhere or who had PhDs even and were going nowhere. So there's been a huge demo­tion for tra­di­tion­al PMC pro­fes­sions such as col­lege teach­ing, which is over 70% adjunct now. Oppor­tu­ni­ties have just shrunk in so many areas. I feel it par­tic­u­lar­ly as a jour­nal­ist and writer. You must feel it, too, I should think. At one point, a long time ago, when I was start­ing out and my kids were small, I could pret­ty much sup­port us — with child sup­port — but as a free­lance writer. Now, could you do that today?
IO: *laughs* No, I bartend.
BE: That's one of the things I actu­al­ly thought of at times, but in those days, this would be in the ​'80s, I could still get jobs, not decent-pay­ing jobs, but I could get out­side jobs and I could patch those things togeth­er with the free­lance assign­ments and the free­lance assign­ments paid at least a dol­lar a word. And as my name became bet­ter known, it went up to like $3 a word.
You can't get that now. This is why I insti­gat­ed the Eco­nom­ic Hard­ship Report­ing Project, which is a lit­tle group that encour­ages low-income peo­ple to write and we will work with them from the ini­tial idea and fram­ing it into a pitch and find­ing a place to get it pub­lished. And then we also raise mon­ey so that we can pay the writer and make sure the writer gets $1 a word.
IO: That's incredible.
BE: You know, we've been doing things for In These Times, recent­ly. And we're always look­ing for peo­ple who have a great sto­ry to tell and hope­ful­ly an orig­i­nal way of telling it and get­ting them into both main­stream media like the New York Times, for exam­ple, and in local news­pa­pers. The path that exist­ed for me — the upward path — is gone. The fact that I could make a thou­sand dol­lars for a thou­sand-word piece was deci­sive in allow­ing me to also be an activist and also write about things that I didn't care if I got paid for.
IO: How would you explain this rise in pre­car­i­ty, not even just among peo­ple who for­mer­ly had union jobs or indus­tri­al jobs that were shipped over­seas, but in gen­er­al, for things like journalism?
BE: The big media out­lets are owned by bil­lion­aires who, in most cas­es, have no real inter­est in the con­tent of the jour­nal­ism or the qual­i­ty of the jour­nal­ism that they are help­ing man­age. If you elim­i­nate half the peo­ple in the news­room of a news­pa­per, they don't care. To them, it's just anoth­er prof­it source. That's what hap­pened — cap­i­tal­ism ate it up.
IO: Even out­side of media, for exam­ple, teach­ers' jobs are under attack. It feels like the econ­o­my keeps grow­ing but there is still less and less work for all of us.
BE: Well, teach­ers are actu­al­ly a very hope­ful side. In the last cou­ple of years, the num­ber of teacher strikes, includ­ing with rad­i­cal demands like for afford­able hous­ing for the fam­i­lies of the stu­dents they teach — this is unprece­dent­ed. It's amaz­ing. I feel very hope­ful about them. I think that they're a great exam­ple of some sort of resis­tance. But you know, it's been relentless.
And I don't have to tell some­body at In These Times that huge vol­umes of mon­ey and man­age­r­i­al effort go into pre­vent­ing union­iza­tion or col­lec­tive action of any kind by work­ers. I don't want to lim­it the forms that that action could take to offi­cial unions. There are oth­er ways peo­ple can resist, oth­er forms of orga­ni­za­tion peo­ple have been cre­at­ing, like the Nation­al Domes­tic Work­ers Alliance—there's just a lot of things going on and exper­i­ment­ing, which is exciting.
IO: What do you think we need to stop this upsurge in right-wing pop­ulism? Is it a left-wing pop­ulism or is it some­thing else?
BE: Well, yes of course. The short answer is a left-wing pop­ulism. But some­thing I would want to add to that is, and this may sound a lit­tle weird to say in a straight­for­ward polit­i­cal inter­view, but we need to offer a vision of the joy of col­lec­tive accom­plish­ment, the joy of work­ing togeth­er. The joy of work­ing togeth­er across lines of race or oth­er things that sep­a­rate peo­ple. We have to be not just the side that's about gloom, which is what I feel, but about pos­si­bil­i­ty and good feelings.
My favorite orga­niz­ing project in this coun­try is the Work­ers' Project of Fort Wayne, Indi­ana. They orga­nize work­ers and com­mu­ni­ty, too. They do a lot of their orga­niz­ing through fun things: Pic­nics and par­ties that draw hun­dreds and thou­sands of peo­ple. Peo­ple love it because we don't have that kind of thing in our lives.
IO: I think the best vision of a future with any kind of joy in it is being pro­vid­ed by the Green New Deal. Peo­ple are start­ing to talk about a short­er work­week, leisure time, a jobs guar­an­tee, pub­licly fund­ing the arts.
BE: There are just so many things that could be done. We could be increas­ing pub­lic spaces where peo­ple gath­er for fes­tiv­i­ties and enter­tain­ment. We're instead lim­it­ing pub­lic spaces more and more and seg­re­gat­ing more and more by class and race. We could be hav­ing a good time togeth­er. And we need to radi­ate that a lit­tle bit.
Social­ism, to afflu­ent peo­ple, often sounds like pri­va­tion. Oh, they're going to take stuff from me and give it to some­body else. Sup­pose what you got in exchange is just a more joy­ous and con­vivial world. Where you talk to peo­ple on the street, where maybe peo­ple start danc­ing in the street — whatever!
And I'm seri­ous about this. I wrote a book called Danc­ing in the Streets: A His­to­ry of Col­lec­tive Joy, about the inter­twin­ing of fes­tiv­i­ties, his­tor­i­cal­ly, with polit­i­cal move­ments. One of the great­est exam­ples would be the slave upris­ings in the Caribbean in the 19th cen­tu­ry. They would use the occa­sion of Car­ni­val for the upris­ing for some prac­ti­cal rea­sons: there's a lot of noise going on and peo­ple can be masked. But also, what makes peo­ple want to do things? It's not just all antag­o­nism and anger — there's a lot of that. It's also the joy of doing it.
IO: What do you think it will take to get to that joy­ous world?
BE: Prac­tice. I just want to see that become part of what the Left does. Every­thing we do should have some thought for the plea­sure of doing it.
IO. The Demo­c­ra­t­ic Social­ists of Amer­i­ca (DSA) went from around 6,000 mem­bers in 2015 to almost 60,000 today. What do you make of DSA's recent growth?
BE: Oh! It's won­der­ful. It was the most heart­en­ing thing that hap­pened after the elec­tion in 2016. I feel great about it.
IO: Could you speak a lit­tle bit about your time in DSA? What was it like when it was first found­ed? How has it changed?
BE: There was a lot of dis­cord from the begin­ning. And I am, I guess, a good exam­ple of it because I was part of the NAM con­tin­gent, New Amer­i­can Move­ment, that merged with DSOC, the Demo­c­ra­t­ic Social­ist Orga­niz­ing Com­mit­tee. And I had not been enthu­si­as­tic about the merg­er. What hap­pened was they said, ​'would you like to be the co-chair of this orga­ni­za­tion?' I said okay not real­iz­ing how much I was putting myself in a very dif­fi­cult sit­u­a­tion polit­i­cal­ly because there were such big dif­fer­ences between me, for exam­ple, and Michael Har­ring­ton. And I came to feel some­thing like a token, which I was.
In those days it was total­ly dif­fer­ent. You could not bring up the ques­tion of Pales­tine. You'd be quick­ly silenced. Cer­tain things were just off lim­its. You could not crit­i­cize union lead­er­ship. We were sup­posed to always iden­ti­fy with union lead­er­ship which was, at the time, often quite pro­gres­sive, like Bill Win­pisinger of the Machin­ists' Union, but we were very lim­it­ed in what we could talk about. DSOC came from a tra­di­tion in the Amer­i­can left where pol­i­tics was all about class and class was rep­re­sent­ed by the Demo­c­ra­t­ic Par­ty and the unions. And so, things like women's rights, LGBTQ rights, were just seen as dis­trac­tions. You must run into that some­times, still.
IO: Def­i­nite­ly. With­in the Left there are peo­ple who view class too nar­row­ly, in the way you were just describ­ing, and are crit­i­cized heav­i­ly for it and go back and forth with oth­ers between ​'your under­stand­ing of the world isn't inter­sec­tion­al' and ​'you're focus­ing on iden­ti­ty politics.'
BE: It's kind of crazy. So-called iden­ti­ty pol­i­tics, like the fem­i­nist move­ment, grew out of larg­er move­ments — how much larg­er can you get than women? We came into fem­i­nism with anger about racism, about the war in Viet­nam, about all these oth­er things. It was nev­er, ​'Hey, look at us. We're women.' I mean, yeah there was some of that. That was impor­tant, but to nar­row it down is to mis­un­der­stand. We had a much more inclu­sive notion of what we were going about. It's always been true.
IO: I think a lot of the lib­er­al left miss­es that when they say I want a woman pres­i­dent and don't fac­tor in what mate­r­i­al inter­ests that can­di­date has in mind. Alexan­dria Oca­sio-Cortez was recent­ly dis­par­aged for point­ing out that in any oth­er coun­try she and Joe Biden would not be in the same par­ty. She lat­er added that the Unit­ed States does not have a left par­ty and, at best, the Demo­c­ra­t­ic Par­ty is a cen­ter or cen­ter-con­ser­v­a­tive par­ty. What do you make of this cleav­age between estab­lish­ment Democ­rats on the one hand and the pro­gres­sive wave push­ing the par­ty towards the left on the oth­er? Do you think the left will be able to cap­ture the Demo­c­ra­t­ic Party?
BE: Oh, god. We used to debate this so much in the old DSA! I nev­er had a strong feel­ing. I'm sort of an oppor­tunis­tic per­son when it comes to this kind of thing. If you have a local Demo­c­ra­t­ic Par­ty that is very pro­gres­sive, then go with that. I don't know, I'm not a strate­gic per­son in that sense.
IO. Could you imag­ine a future where cap­i­tal­ism can some­how adapt to the cli­mate cri­sis, but we still all survive?
BE: There's no time to wait and see. There isn't enough time. I would have to say social­ism takes a lot of defin­ing. And I think peo­ple will be going about it all kinds of dif­fer­ent ways. So it's not like Oh, here's what you do. Here's the starter kit for soci­ety.
IO: How would you define socialism?
BE: Well, it has to start with the knowl­edge and the faith that we can solve prob­lems when we work togeth­er. Which means it has to start with some sort of work as well as an under­stand­ing of how total­ly mutu­al­ly depen­dent we are. The issue is no longer the Left ver­sus the Right. It's those who want as many peo­ple as pos­si­ble to sur­vive this cri­sis and those who will be sat­is­fied to get a few bil­lion­aires safe­ly tucked away in their mis­sile silos turned into mansions.
That's one out­come, is that you do have some sur­vivors but the great major­i­ty of peo­ple die off. That's the right wing. And the out­look, judg­ing from the Trumps and Bol­sonaros of the world, seems to be grab what you can while the grab­bing is good. Let's burn the Ama­zon. Let's get every­thing we can out of this sit­u­a­tion and those of us that are very, very super rich will sur­vive, per­haps, in lunar colonies or in old mis­sile silos.
IO: What do you think it will take to avert the cli­mate cri­sis? To a place where we live in an inhab­it­able society?
BE: Well, we have to have less reliance on things, objects, fos­sil fuels and more reliance on each oth­er. For exam­ple, in grow­ing food, in enter­tain­ing our­selves, all sorts of things. We have to see our­selves as each other's resources. In the frame of mind I'm in today, what­ev­er I think about polit­i­cal­ly, whether it's Demo­c­ra­t­ic pri­ma­ry can­di­dates or any­thing, has to be in the con­text of the com­ing apoc­a­lypse — no, real­ly. This is no time to fool around. I will keep try­ing. That's all. Until the last gasp.