Working-Class Journalism in the Age of Oligarchs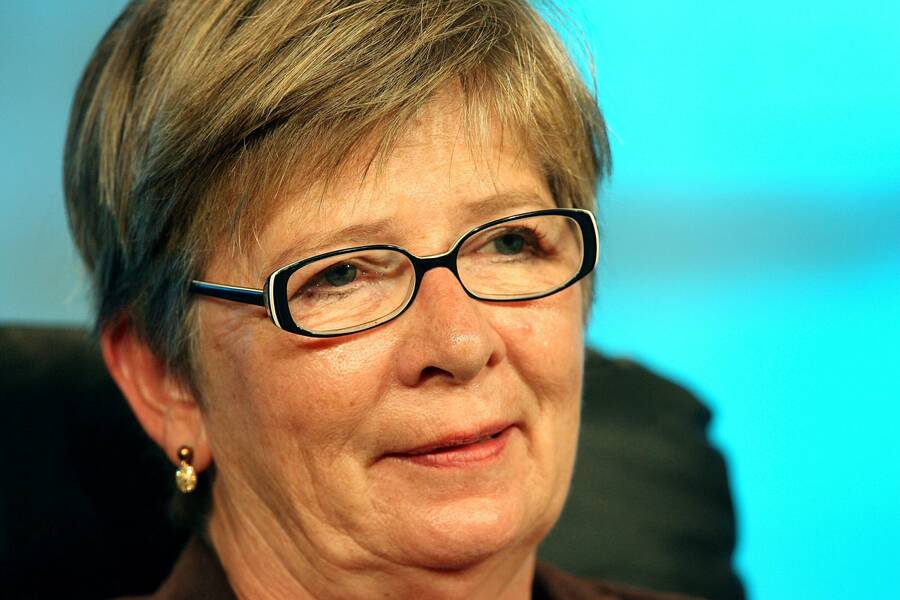 Bar­bara Ehren­re­ich is a jour­nal­ist and author known for her illu­mi­nat­ing—and often sear­ing—writ­ing about pover­ty in Amer­i­ca. On Novem­ber 27, King Willem-Alexan­der of the Nether­lands gave her the 2018 Eras­mus Prize in the Roy­al Palace in Ams­ter­dam. Here are her remarks.
Wow. Ams­ter­dam is com­plete­ly dis­ori­ent­ing to an Amer­i­can. I've been here for more than a week and haven't heard a sin­gle gun­shot. Even the dig­ni­taries, like the king and queen, are warm, kind peo­ple. When I met the Dutch ambas­sador to the Unit­ed States last spring, in con­nec­tion with this prize, he was so pleas­ant and jol­ly that I had to ques­tion his credentials.
And now this: For me, this is like a fairy tale come true. We're in the roy­al palace! With the king and queen! And I'm here with every­one I love includ­ing all the peo­ple who have enabled me and inspired me for so many years! Thank you so much to all the Dutch peo­ple not only for the Eras­mus Prize but for this unfor­get­table moment!
Well of course I'm say­ing all these nice things about The Nether­lands in the hope that you will, when nec­es­sary, grant me refugee sta­tus. Me, my fam­i­ly and friends, that is.
One thing about this coun­try that is strange, even exot­ic, to an Amer­i­can is that you seem to lack the steep class divi­sions that are so vis­i­ble almost every­where in my coun­try. You may even­tu­al­ly get to the same divid­ed con­di­tion as my coun­try – this is the way most indus­tri­al­ized coun­tries are trend­ing – but at least for now, the Dutch wel­fare state remains strong enough to pre­vent that from hap­pen­ing. In the US, by con­trast, we have vir­tu­al­ly no wel­fare state to pro­tect the poor and down­ward­ly mobile, and the results are vis­i­ble even to tourists.
Take Man­hat­tan, that once-beau­ti­ful island that, accord­ing to leg­end, the Dutch bought from the Indi­ans for $24 — and that's a real estate deal that even Trump would have to admire. Today, Man­hat­tan land sells for up to $10,000 a square foot, so $24 would get you next to nothing.
One sad con­se­quence of the cur­rent prices is that only the super-rich can afford to live in the upper sto­ry apart­ments where the sun still shines. Walk around on the side­walks of Man­hat­tan today and you will be in the per­pet­u­al shade of the sky-scrap­ers hous­ing Amer­i­can — and Russ­ian and Chi­nese — bil­lion­aires. Actu­al­ly, you'll be in the shade of the emp­ty apart­ments of the super-rich, because when you have six or sev­en homes you can't be in any one of them much of the time.
I have spent a lot of time in that shade. I was born into the rel­a­tive pover­ty of a work­ing-class fam­i­ly in Mon­tana and spent a good por­tion of my adult life strug­gling eco­nom­i­cal­ly — part­ly because I chose to be a writer and a jour­nal­ist. This seemed like a good fit for me because I'd been edu­cat­ed as a sci­en­tist, and jour­nal­ists have the same goal — find­ing the truth and get­ting peo­ple to pay atten­tion to it.
At the begin­ning of my career, I could earn enough to sup­port my fam­i­ly, at how­ev­er min­i­mal a lev­el. But start­ing in the 1990s that began to change. News­pa­pers and oth­er news out­lets were tak­en over by large cor­po­ra­tions that were con­cerned only about the bot­tom line. They cut their staffs, includ­ing jour­nal­ists, and closed those mag­a­zines and news­pa­pers that weren't mak­ing enough mon­ey, at least by the stan­dards of their new own­ers, with the result that, today, writ­ers aren't paid well when they're paid at all.
To make things worse, I often chose to write about pover­ty — about all the peo­ple who are left out of America's fab­u­lous wealth, who try to get by on about $10 and hour while rais­ing chil­dren and pay­ing exor­bi­tant prices for rent and med­ical care. This seems so unfair to me, so eas­i­ly fix­able. Why not, for exam­ple, open up the emp­ty sky-high apart­ments of the super-rich as squats for the home­less while their super-rich own­ers are off in Lon­don or the Caribbean?
But this, of course, is not the kind of thing that the new super-rich own­ers of the media busi­ness want to hear. I found the demand for my kinds of sto­ries dimin­ish­ing. Edi­tors urged me to write less about eco­nom­ic inequal­i­ty and more about ​"fem­i­nine" top­ics like the first lady's fash­ion choic­es and the secrets of suc­cess of female CEOs. I could no longer make a liv­ing in jour­nal­ism, and had to find oth­er ways to sup­port myself.
What is worse, I could not be sure I was actu­al­ly mak­ing a dif­fer­ence. I had start­ed in the 1980s doing the con­ven­tion­al type of jour­nal­ism: inter­view­ing peo­ple and get­ting their sto­ries pub­lished. This was my way of debunk­ing the com­mon prej­u­dice that the poor are only poor because they want to be – because they don't make an effort, or because some­where along the way they for­got to get an edu­ca­tion for a high-pay­ing career.
I got some praise for ​"giv­ing a voice to the voice­less" but noth­ing changed. In fact, things were only get­ting worse: Wages start­ed going down rel­a­tive to the cost of liv­ing, the wel­fare state began to dis­ap­pear and unions were becom­ing weaker.
So I decid­ed to turn things up a notch, to try ​"immer­sion jour­nal­ism," in the style of the Ger­man journalist
Gunter Wall­raff who went under­cov­er to report on the lives of Turk­ish guest work­ers (I had not heard of him at the time). I left home, found the cheap­est hous­ing I could, and took the best pay­ing jobs I could find — as a wait­ress, a hotel house­keep­er, a clean­ing lady, a nurs­ing home aide and a Wal­Mart employ­ee. I didn't delib­er­ate­ly select these jobs: They select­ed me. These are the only kinds of jobs I could get with­out using my actu­al cre­den­tials. (Not that my cre­den­tials would have helped, since I nev­er did see a job adver­tise­ment for a polit­i­cal essay­ist, espe­cial­ly not a sar­cas­tic fem­i­nist polit­i­cal essayist.)
To my utter sur­prise, the book that I wrote about my expe­ri­ences became a best­seller, and helped rein­force the ongo­ing move­ment for high­er wages. To my even greater sur­prise, many peo­ple praised me for my brav­ery for hav­ing done this – to which I could only say: Mil­lions of peo­ple do this kind of work every day for their entire lives — haven't you noticed them?
And I learned a very impor­tant les­son: I nev­er use the word ​"unskilled" any­more to refer to anyone's work. I learned the hard way that every job takes skill, intel­li­gence and con­cen­tra­tion — and should be paid accordingly.
Now I'm in my third and final phase of my per­son­al cam­paign for social jus­tice. Six years ago, it struck me that peo­ple liv­ing in pover­ty — or near pover­ty — don't need some­one to ​"give them a voice." They have voic­es and they know what they want to say. They just need some help, some sup­port to allow them to write and help them get published.
So I cre­at­ed some­thing called the Eco­nom­ic Hard­ship Report­ing Project for exact­ly that pur­pose. In our 6 years of exis­tence, we have raised mon­ey from phil­an­thropists to help sup­port over 100 peo­ple: fac­to­ry work­ers, house clean­ers and many pro­fes­sion­al jour­nal­ists who have fall­en on hard times.
We've turned some lives around. We've called atten­tion to issues no one was think­ing about, like the plas­ma busi­ness, which pays poor peo­ple for their vital blood pro­teins, at con­sid­er­able cost to their health. Or the grow­ing num­ber of child­care cen­ters that oper­ate 24 hours a day, because their par­ents have to work pret­ty much around the clock. We've called atten­tion to home­less Amer­i­cans who live year-round in tents, and the epi­dem­ic of sui­cides among Amer­i­can farmers.
We are very proud of what we do. Some of our peo­ple have won prizes and awards. All of them have had their work pub­lished in wide­ly read media out­lets. A few have got­ten book con­tracts or actu­al pay­ing jobs. We like to think that we're mak­ing a difference.
And maybe we are. But it's a tiny dif­fer­ence com­pared to what needs to hap­pen. And I guess that's the sto­ry of my life as a jour­nal­ist: You try and try to bring atten­tion to what is real­ly hap­pen­ing and to all the unnec­es­sary pain in the world. Most of the time you fail. You don't change the world. You may not even get paid for your work.
But once in a while, very rarely, you are rec­og­nized and applaud­ed for what you are try­ing to do. This is one of those moments — and not only for me. I am encour­aged and embold­ened to work even hard­er for a just and equi­table soci­ety, as are my many friends and col­leagues and loved ones. I thank you on behalf of all of them.
Bar­bara Ehren­re­ich
, a jour­nal­ist and author, first wrote for
In These Times
in
1977
. Her recent books include
Bright-sided: How Pos­i­tive Think­ing is Under­min­ing Amer­i­ca
,
Nick­el and Dimed: On (Not) Get­ting by in Amer­i­ca
, and
Blood Rites: Ori­gins and His­to­ry of the Pas­sions of War.
She has been a reg­u­lar con­trib­u­tor to
The Pro­gres­sive, Harpers, Time
and
In These Times,
where she is a con­tribut­ing editor.