In Upset, Reform Candidate Wins Massachusetts Teachers Association Presidency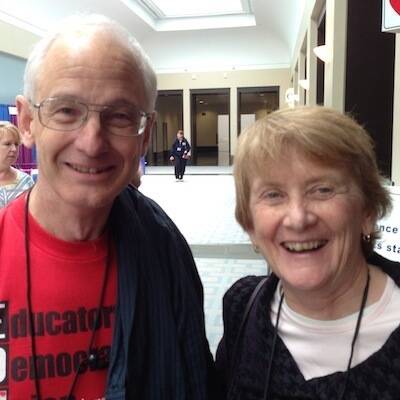 On Fri­day, May 9, Bar­bara Made­loni stood onstage at the Mass­a­chu­setts Teach­ers Asso­ci­a­tion con­ven­tion in Boston and made her case to some 1,450 assem­bled del­e­gates as to why they should elect her pres­i­dent of the union.
Call­ing for a union that active­ly fights for its mem­bers and that chal­lenges the cor­po­rate-backed edu­ca­tion reform machine, she told the crowd: ​"What would a union built on the expe­ri­ence of sol­i­dar­i­ty look like? A call for a mora­to­ri­um on high-stakes test­ing, field test­ing, and teacher evaluations!"
Over riotous applause, she con­tin­ued, ​"Tak­ing the lead in the fight for a tru­ly pro­gres­sive income tax … and orga­niz­ing across locals and with­in com­mu­ni­ties to name and fight for a rich­er, more humane and demo­c­ra­t­ic régime of pub­lic edu­ca­tion than that being foist­ed on us!"
By the end of Madeloni's speech, Eugene Stein, a del­e­gate at the meet­ing and a teacher at South High School in New­ton, Mass­a­chu­setts, told In These Times that he knew she'd win. ​"There was a pal­pa­ble buzz as many peo­ple in the MTA were look­ing for a new voice," he said. ​"The sen­ti­ment in the room was too strong in favor of change."
Mass­a­chu­setts teach­ers, like teach­ers around the coun­try, have faced increased pres­sure from high-stakes stan­dard­ized test­ing, char­ter schools, and often arbi­trary stan­dards imposed from above. ​"Many peo­ple seemed to have some form of frus­tra­tion about the attack we have all been under for the past sev­er­al years, even if some peo­ple could not quite name what that frus­tra­tion was," Stein said.
Sure enough, the fol­low­ing day, Made­loni received 681 votes to become the new pres­i­dent of the union, which rep­re­sents 113,000 teach­ers in Mass­a­chu­setts pub­lic schools. Her oppo­nent, the cur­rent vice pres­i­dent, received 584 votes. The upset shows the degree to which her mes­sage has res­onat­ed with the union's mem­bers — includ­ing her crit­i­cisms of an old guard lead­er­ship that she said was too close to ​"polit­i­cal elites" and not inter­est­ed in mobi­liz­ing mem­bers to take action.
Made­loni ran as the can­di­date of Edu­ca­tors for a Demo­c­ra­t­ic Union (EDU), a reform cau­cus with­in the Nation­al Edu­ca­tion Asso­ci­a­tion-affil­i­at­ed union. A for­mer Eng­lish teacher and teacher edu­ca­tor, she was recruit­ed by EDU to run for pres­i­dent last fall as a chal­lenge to the incum­bent lead­er­ship. She came to nation­al promi­nence in 2012 when her class of stu­dent teach­ers at the Uni­ver­si­ty of Mass­a­chu­setts-Amherst refused to take part in a pilot teacher assess­ment and licen­sure pro­gram devel­oped by Pear­son, the test­ing and edu­ca­tion reform behe­moth. Chal­leng­ing the idea that they could be assessed prop­er­ly from a 20-minute video of their class­room teach­ing, the stu­dent teach­ers refused to send the videos to the com­pa­ny. (Pear­son was pay­ing eval­u­a­tors $75 per assess­ment, adver­tis­ing the work as avail­able for cur­rent or retired licensed teach­ers or admin­is­tra­tors; mean­while, in states that choose to use its pro­gram, stu­dent teach­ers would have to pay up to $300 for the priv­i­lege of being evaluated.)
​"The sol­i­dar­i­ty that we felt [when we decid­ed to refuse] was just amaz­ing," Made­loni told In These Times a few months into her cam­paign for MTA pres­i­dent. ​"The day that they were giv­en the papers to sign to par­tic­i­pate or not, that room was one of the most beau­ti­ful places I've ever been. What I want to say to teach­ers, is ​'We need to cre­ate oppor­tu­ni­ties so that you can feel that.' Teach­ing's already a lone­ly busi­ness. So how to break through the time issue, the fear issue, the lack of expe­ri­ence in what it feels like to be part of an activist group, in a way that you get through the fear to the courage that comes with solidarity."
She con­tin­ued, ​"My mis­sion in terms of my cam­paign — and cer­tain­ly my mis­sion when I win — is to begin to go into those locals and say, ​'What are those issues around which we can start to orga­nize some suc­cess­es here, so we can know our pow­er and our strength?'"
Back in Feb­ru­ary, Made­loni and EDU demon­strat­ed just how effec­tive that strength can be. In the west­ern Mass­a­chu­setts city of Holyoke, EDU-affil­i­at­ed teach­ers led a protest against ​"data walls". They'd been told to post stu­dents' names and test scores in the class­room as a moti­va­tion­al tool, but, as teacher and EDU mem­ber Agustin Morales told In These Times at the time, instead the walls made his stu­dents feel ​"worth­less." The teach­ers con­front­ed the super­in­ten­dent at a school com­mit­tee (the equiv­a­lent of a school board) meet­ing, even­tu­al­ly forc­ing him to backpedal with sup­port from angry par­ents who protest­ed the humil­i­a­tion of their children.
After that momen­tum, EDU mem­ber and Uni­ver­si­ty of Mass­a­chu­setts-Amherst soci­ol­o­gy pro­fes­sor Dan Claw­son told In These Times, teach­ers in Holyoke, as well as near­by Northamp­ton, vot­ed out the long­time lead­er­ship of their local unions and brought in new leaders.
​"Teach­ers every­where are under attack, and are ready to fight back when­ev­er they get the oppor­tu­ni­ty to do so," Claw­son, the author of The Next Upsurge: Labor and the New Social Move­ments, said of the elec­tion results. ​"Bar­bara Made­loni and Edu­ca­tors for a Demo­c­ra­t­ic Union gave [MTA mem­bers] a chance to stand up for a new voice, a chance to put for­ward our vision, instead of always respond­ing to the lat­est attempt to mon­i­tor and demean us. Teach­ers in Mass­a­chu­setts seized the oppor­tu­ni­ty and teach­ers else­where are eager to do so."
Despite her vic­to­ry last week, like oth­er union reform­ers around the Unit­ed States, Made­loni and EDU will still face a long strug­gle. Even the famous­ly mil­i­tant Chica­go Teach­ers Union had give­backs in its con­tract, and it has faced school clo­sures and lay­offs since its 2012 strike. Across the coun­try, Jesse Hagopi­an, a leader in 2013's famous test boy­cott at Seat­tle's Garfield High School, lost his bid to become pres­i­dent of the Seat­tle Edu­ca­tion Asso­ci­a­tion by just a few votes.
Nev­er­the­less, Made­loni's vic­to­ry is just the lat­est sign that teach­ers are increas­ing­ly tired of with­stand­ing attacks on their com­mit­ment to their jobs, and of suf­fer­ing through high-stakes tests and assess­ments devel­oped by cor­po­ra­tions and imposed from above. Though EDU focused most of its atten­tion on win­ning the pres­i­den­cy and did not bring an entire slate of reform­ers, Made­loni's unex­pect­ed win gives her a chance to try and har­ness the anger and frus­tra­tion Mass­a­chu­setts teach­ers feel into cre­at­ing a more orga­nized, proac­tive union — one that incor­po­rates broad social jus­tice prin­ci­ples into its work.
​"It was a true exer­cise in democ­ra­cy," said Stein about Madeloni's tri­umph. ​"I wish my his­to­ry stu­dents could have wit­nessed it."
Sarah Jaffe
is a for­mer staff writer at
In These Times
and author of
Nec­es­sary Trou­ble: Amer­i­cans in Revolt
, which Robin D.G. Kel­ley called ​
"
The most com­pelling social and polit­i­cal por­trait of our age." You can fol­low her on Twit­ter
@sarahljaffe
.