As Development Destroys Habitat, Wildlife Finds Refuge on Battlefields
The hor­rors of war are all too famil­iar: lives lost, homes destroyed, entire com­mu­ni­ties forced to flee. Yet as time pass­es, places that once were sites of death and destruc­tion can become peace­ful nat­ur­al refuges.
One of the dead­liest bat­tles fought on U.S. soil, for exam­ple, was the Bat­tle of Get­tys­burg. Tens of thou­sands of men were killed or wound­ed in three days of fight­ing. Over 150 years lat­er, mil­lions of vis­i­tors have toured Get­tys­burg Battlefield.
Across the U.S., 25 nation­al bat­tle­field and mil­i­tary parks have been estab­lished to pro­tect bat­tle­field land­scapes and memo­ri­al­ize the past. Increas­ing­ly, vis­i­tors to these sites are attract­ed as much by their nat­ur­al beau­ty as their his­tor­i­cal legacy.
Our new book, ​"Col­lat­er­al Val­ues: The Nat­ur­al Cap­i­tal Cre­at­ed by Land­scapes of War," describes the ben­e­fits to soci­ety when healthy nat­ur­al habi­tats devel­op on for­mer bat­tle­fields and oth­er mil­i­tary land­scapes, such as bases and secu­ri­ty zones. Envi­ron­men­tal sci­en­tist Gary Mach­lis coined the phrase ​"col­lat­er­al val­ues" – a spin on the mil­i­tary expres­sion ​"col­lat­er­al dam­age" – to describe the large­ly unin­tend­ed and pos­i­tive con­se­quences of pro­tect­ing these lands.
These ben­e­fits include oppor­tu­ni­ties for pic­nick­ing, hik­ing and bird watch­ing. More impor­tant­ly, for­mer mil­i­tary lands can sup­port wildlife con­ser­va­tion, reduce water and air pol­lu­tion, enhance pol­li­na­tion of nat­ur­al and agri­cul­tur­al areas and help reg­u­late a warm­ing climate.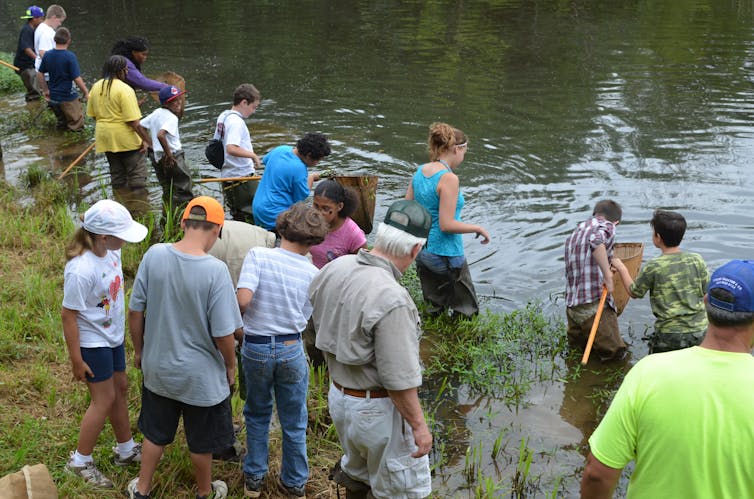 This pho­to shows a water­shed adven­ture camp at Staunton Riv­er Bat­tle­field State Park, Vir­ginia. (Pho­to cour­testy of Vir­ginia State Parks)
From bat­tle­fields to parks
In addi­tion to fed­er­al­ly pro­tect­ed sites, hun­dreds of bat­tle­fields in the U.S. are pre­served by states, local gov­ern­ments and non­prof­its like the Amer­i­can Bat­tle­field Trust. Col­lec­tive­ly, these sites rep­re­sent an impor­tant con­tri­bu­tion to the nation's pub­lic lands.
Pre­served bat­tle­fields include old fort sites, like the 33 that have been des­ig­nat­ed pub­lic lands in Okla­homa and Texas, mark­ing wars fought between Euro­pean set­tlers and Native Amer­i­cans. They also include coastal defense forts built in the first half of the 1800s along the Atlantic and Pacif­ic seaboards. While some bat­tle­field parks are quite large, oth­ers are small sites in urban set­tings.
Inter­na­tion­al­ly, the Unit­ed King­dom has an active pro­gram to pre­serve its bat­tle­fields, some cen­turies old. Oth­er West­ern Euro­pean coun­tries have pre­served World War I and World War II battlefields.
For exam­ple, one of the most bru­tal bat­tles of WWI was fought in Ver­dun, France. That trench war­fare site is now 25,000 acres of regen­er­at­ed for­est that attracts more than a quar­ter-mil­lion vis­i­tors annu­al­ly. It pro­tects a bio­log­i­cal­ly rich land­scape, includ­ing wet­lands, orchids, birds, bats, newts, frogs, toads, insects, mush­rooms and ​"sur­vivor trees" that still bear scars of war.
Bor­ders: The Iron Curtain
The largest, most ambi­tious plan in Europe for trans­form­ing a mil­i­tary bor­der cen­ters on the Iron Cur­tain – a line of guard tow­ers, walls, mine­fields and fences that stretched for thou­sands of miles, from Norway's bor­der with the Sovi­et Union above the Arc­tic Cir­cle down to the Mediter­ranean coastal bor­der between Greece and Albania.
Com­mu­nist Rus­sia and its allies claimed they had to build a sys­tem of mil­i­tary bar­ri­ers to defend against the NATO alliance of West­ern Euro­pean coun­tries and the U.S. But keep­ing their own cit­i­zens in was equal­ly as impor­tant. Hun­dreds died try­ing to escape.
The col­lapse of the USSR in 1991 end­ed the Cold War, and the util­i­ty of the Iron Cur­tain and asso­ci­at­ed mil­i­tary facil­i­ties. With the fall of the Berlin Wall that divid­ed the city into halves, a reuni­fied Ger­many began to devel­op its sec­tion of the Iron Cur­tain into a sys­tem of con­ser­va­tion areas and nature trails, known as the Euro­pean Green Belt ini­tia­tive.
One great chal­lenge of this project was bal­anc­ing the val­ues of con­serv­ing nature while pre­serv­ing the trag­ic his­tor­i­cal lega­cy of con­flict. Most efforts to build col­lat­er­al val­ues on for­mer land­scapes must grap­ple with this trade-off.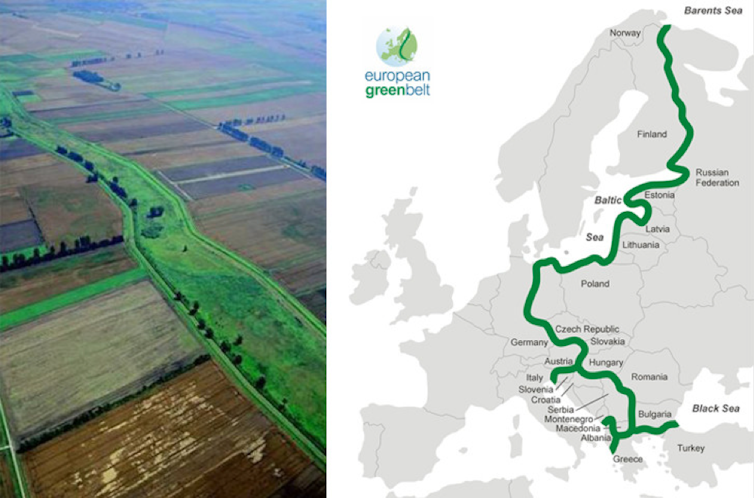 With the Iron Cur­tain Green­way, Euro­peans are cre­at­ing a sys­tem of parks and nat­ur­al areas stretch­ing across the con­ti­nent, all con­nect­ed by the greenswards that have grown along the for­mer Iron Cur­tain. (Pho­to cour­tesy of the Euro­pean Green Belt Association)
Oth­er mil­i­ta­rized bor­ders around the globe are also becom­ing con­ser­va­tion sites. For exam­ple, the Demil­i­ta­rized Zone between North and South Korea has been strict­ly off-lim­its for peo­ple for decades, allow­ing it to grow into the most impor­tant, albeit unof­fi­cial, bio­di­ver­si­ty reserve on the Kore­an peninsula.
Sim­i­lar­ly, forests have grown up in the exten­sive mine­field cre­at­ed along the Iran-Iraq bor­der dur­ing those nations' war in the 1980s. These forests sup­port Asian leop­ards and oth­er rare wildlife species. There are pro­pos­als to for­mal­ly pro­tect them as nature reserves.
Hope after tragedy
As open space becomes scarce in many parts of the U.S., Civ­il War bat­tle­field parks have become havens for grass­land birds like this grasshop­per spar­row. (Pho­to by Sasha Robin­son / Nation­al Park Service)
The ecosys­tems of pro­tect­ed areas, such as parks and pre­serves, pro­vide vital ben­e­fits for humans and nature. Unfor­tu­nate­ly, the world is in dan­ger of los­ing at least one-third of its pro­tect­ed areas to devel­op­ment and oth­er threats. Rec­og­niz­ing the col­lat­er­al val­ues that have devel­oped on pro­tect­ed for­mer bat­tle­fields and bor­der zones may help reduce degra­da­tion and loss of these lands.
One recent study esti­mates that near­ly 1 mil­lion square miles – 5% of the Earth's dry land sur­face – is cur­rent­ly des­ig­nat­ed as mil­i­tary train­ing areas. These zones could be pro­tect­ed with rel­a­tive­ly lit­tle invest­ment when com­bined with social, cul­tur­al and polit­i­cal goals, such as memo­ri­al­iz­ing his­tor­i­cal events, and could become eco­log­i­cal­ly valu­able places.
No one should for­get the bru­tal­i­ty of the con­flicts that gave rise to these land­scapes. How­ev­er, giv­en the scale of threats to nat­ur­al habi­tats around the world, con­ser­va­tion­ists can­not ignore oppor­tu­ni­ties to cul­ti­vate and pre­serve nat­ur­al places – even those that arise from the hor­rors of war.
Edi­tor's Note: Todd Look­ing­bill is a mem­ber of the Amer­i­can Asso­ci­a­tion of Geo­g­ra­phers. The asso­ci­a­tion is a fund­ing part­ner of The Con­ver­sa­tion US. This arti­cle is repub­lished from The Con­ver­sa­tion under a Cre­ative Com­mons license. Read the orig­i­nal arti­cle.
Todd Look­ing­bill is Asso­ciate Pro­fes­sor of Geog­ra­phy and the Envi­ron­ment at the Uni­ver­si­ty of Rich­mond. Peter Small­wood is Asso­ciate Pro­fes­sor of Biol­o­gy at the Uni­ver­si­ty of Richmond.