How Bernie Beat Polling and a Smear Campaign To Win His First National Office
Sanders faced personal attacks and was down 10 points against a moderate Republican. He won.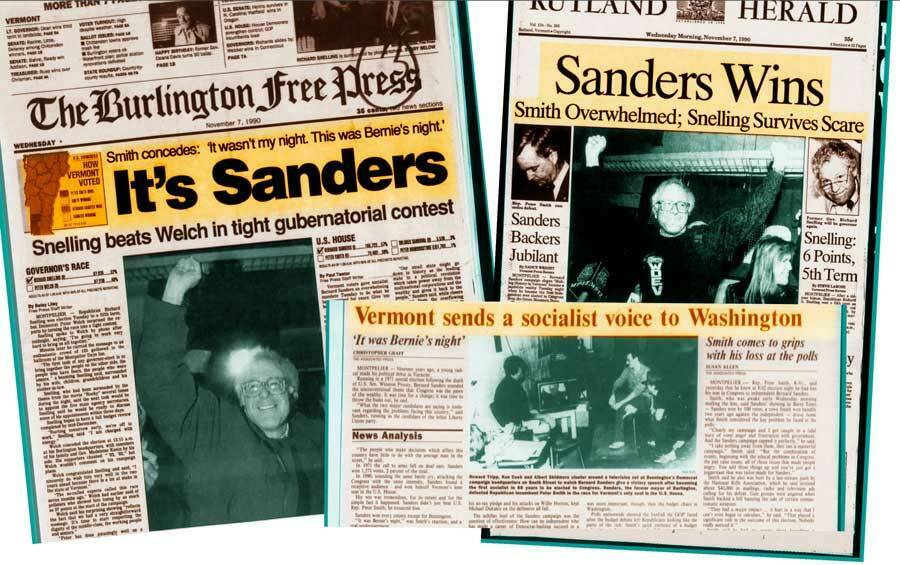 As soon as Ver­mont Inde­pen­dent Sen. Bernie Sanders became a lead­ing con­tender for the Demo­c­ra­t­ic pres­i­den­tial nom­i­na­tion, ques­tions began to swirl around his can­di­da­cy — and per­haps none looms larg­er than whether a demo­c­ra­t­ic social­ist can beat a Republican.
While Sanders didn't have the poll numbers, he did have his relentless, issues-focused rhetoric, his opponent's miscalculations and his vast door-to-door campaign operation.
Before he exit­ed the pres­i­den­tial race, Pete Buttigieg, for­mer may­or of South Bend, Ind., charged that Sanders ​"believes in an inflex­i­ble ide­o­log­i­cal rev­o­lu­tion that leaves out most Democ­rats, not to men­tion most Amer­i­cans." At January's pres­i­den­tial debate in Iowa, then-can­di­date Sen. Eliz­a­beth War­ren (Mass.) claimed she was ​"the only per­son [on the stage] who has beat­en an incum­bent Repub­li­can any time in the last 30 years."
The pun­dit class has piled on, too. David Frum, a speech­writer for Pres­i­dent George W. Bush, charged that Sanders ​"has nev­er fought a race in which he had to face seri­ous per­son­al scruti­ny." Fel­low Iraq War sup­port­er Jonathan Chait writes that Sanders' ​"vul­ner­a­bil­i­ties are enor­mous and untest­ed," adding that he ​"has nev­er faced an elec­torate where these vul­ner­a­bil­i­ties could be used against him."
In truth, how­ev­er, Sanders has faced ​"seri­ous per­son­al scruti­ny" against an incum­bent Repub­li­can — and won. His 1990 elec­tion to Vermont's sin­gle House seat (29 years and 5 months ago, but who's count­ing) marked the first time in 82 years that a GOP con­gress­mem­ber in the his­tor­i­cal­ly Repub­li­can state had been oust­ed. Sanders went on to 30 years of elec­toral suc­cess as a self-described demo­c­ra­t­ic socialist.
Sanders' 1990 oppo­nent, a mod­er­ate Repub­li­can in the era of Pres­i­dent George H.W. Bush, was no Don­ald Trump, a far-right xeno­phobe. Yet Sanders faced sim­i­lar chal­lenges then as now: a vast­ly bet­ter fund­ed oppo­nent with the advan­tage of incum­ben­cy; a media land­scape and Demo­c­ra­t­ic Par­ty estab­lish­ment that ranged from skep­ti­cal to active­ly hos­tile; a reluc­tance from major unions to back him; accu­sa­tions that his plans didn't add up; and attacks that cast him as a hyp­ocrite, com­plete with red­bait­ing and char­ac­ter assassination.
How Sanders won that House seat in 1990 is telling — and may offer a glimpse of how Sanders, the cam­paign­er, would fare in Novem­ber 2020.
The House Divided
In 1990, Sanders was an eight-year may­or of Burling­ton who had suf­fered two defeats for high­er office. He lost his bid for gov­er­nor, to Demo­c­rat Madeleine Kunin, in 1986, and his first House race, to Repub­li­can Peter Plymp­ton Smith, in 1988. Labelled a ​"spoil­er" can­di­date ("a dis­gust­ing word," Sanders lat­er said) for much of 1988, he was pro­ject­ed to win on elec­tion night — before being over­tak­en by Smith. (Sanders would quip to Rachel Mad­dow decades lat­er, ​"The Demo­c­rat was the spoil­er, not me.")
"[Sanders] was emo­tion­al­ly crushed by that [loss]," John Fran­co, a Sanders staffer in Burling­ton, told the Rut­land Dai­ly Her­ald.
After Sanders' fourth term as Burling­ton may­or end­ed in April 1989, he took a sab­bat­i­cal from pol­i­tics, trav­el­ing to Cuba and Nicaragua and tak­ing up a vis­it­ing pro­fes­sor­ship at Hamil­ton College.
But mem­bers of the Burling­ton-based Pro­gres­sive Coali­tion, a group of Sanders sup­port­ers work­ing to become a third force in Ver­mont pol­i­tics, urged him to run for gov­er­nor again in 1990. A ner­vous Kunin report­ed­ly direct­ed allies to push Sanders toward the House race instead, and Vermont's Demo­c­ra­t­ic speak­er of the House, Ralph G. Wright, warned he would oppose Sanders' guber­na­to­r­i­al bid. Sanders weighed his options. In March 1990, with inter­nal polls report­ed­ly show­ing Sanders with­in strik­ing dis­tance of incum­bent Smith, he announced his House campaign.
"The stakes were high," says Steven Rosen­feld, Sanders' press sec­re­tary for that cam­paign and now a nation­al polit­i­cal reporter at the Inde­pen­dent Media Insti­tute​'s Vot­ing Rights Project. ​"He felt if he didn't win that race, he wasn't sure what his polit­i­cal future might be."
A nation­wide right turn had just seen Pres­i­dent Ronald Rea­gan pull off two his­toric land­slides, and Ver­mont was still large­ly GOP ter­ri­to­ry. Between 1854 and 1988, it had vot­ed for a Demo­c­ra­t­ic pres­i­den­tial can­di­date just once, for Pres­i­dent Lyn­don John­son in 1964.
With a 98% re-elec­tion rate in the House, incum­bents, as always, had the advan­tage. An incum­bent con­gress­mem­ber hadn't been beat­en in Ver­mont since 1960. A GOP con­gress­mem­ber hadn't been boot­ed from office in the state since 1908.
Sanders didn't do him­self any addi­tion­al favors by run­ning as an Inde­pen­dent. An Inde­pen­dent hadn't sat in Con­gress since Vir­ginia Sen. Har­ry Byrd left office in 1983.
Char­ac­ter­is­ti­cal­ly, Sanders swore off fund­ing from cor­po­rate polit­i­cal action com­mit­tees (PACs), choos­ing small-dol­lar dona­tions from sup­port­ers instead. He acknowl­edged Smith would ​"be very dif­fi­cult to beat" with access not only to his per­son­al wealth but ​"to all the cor­po­rate mon­ey in America."
Sure enough, Smith reject­ed a pro­pos­al from both Sanders and the Free Press for a cam­paign spend­ing lim­it and raised tens of thou­sands of dol­lars from cor­po­rate PACs, includ­ing those of Philip Mor­ris, Amo­co and Unit­ed Tech­nolo­gies. Sanders, who in 10 elec­tion cam­paigns over 18 years had only tak­en one PAC con­tri­bu­tion (worth $300), called Smith's PAC mon­ey ​"an out­rage" and ​"an insult to democ­ra­cy." With­out a cam­paign spend­ing lim­it in place, Sanders ulti­mate­ly vowed only to take PAC mon­ey from orga­ni­za­tions like unions and groups agi­tat­ing for peace, health­care reform and the environment.
As a GOP House mem­ber, Smith had spent two years posi­tion­ing him­self as a ​"Ver­mont mod­er­ate," rack­ing up pro­gres­sive votes on gun con­trol, the envi­ron­ment and oth­er issues, which earned him the endorse­ment of the League of Con­ser­va­tion Vot­ers before Sanders even announced. Lat­er, the Sier­ra Club and abor­tion rights group NAR­AL backed Smith.
Most of Vermont's promi­nent Democ­rats swung their sup­port behind Sanders, but some pow­er­ful Democ­rats (just as today) saw him as dan­ger­ous and out of step. Sanders' years of rail­ing against the Demo­c­ra­t­ic Par­ty, along with Smith's vot­ing record, prompt­ed a string of defec­tions. For­mer Gov. Thomas Salmon asked Democ­rats to join in a ​"one-time exo­dus from the Demo­c­ra­t­ic Par­ty" to vote for the Repub­li­can, in order to send Sanders ​"a mes­sage from Democ­rats that he will not soon for­get." Oth­ers urged sup­port for nei­ther, such as 1988 Demo­c­ra­t­ic Sen­ate can­di­date Bill Gray, who feared Sanders' vic­to­ry would help ignite a third par­ty to chal­lenge Democrats.
Fur­ther com­pli­cat­ing the race was the deci­sion of Dolores San­doval, a pro­fes­sor at the Uni­ver­si­ty of Ver­mont, to enter as a Demo­c­rat, much to Sanders' cha­grin. San­doval quick­ly began attack­ing Sanders, claim­ing his ​"Inde­pen­dent" label would be a lia­bil­i­ty in Wash­ing­ton and call­ing him a hyp­ocrite for seek­ing Demo­c­ra­t­ic Par­ty support.
From All Sides
For much of 1990, the Sanders cam­paign faced a series of neg­a­tive stories.
"Bernie nev­er had a friend­ly rela­tion­ship with the biggest media out­lets at the time," Rosen­feld says. ​"He had a very testy rela­tion­ship with the Asso­ci­at­ed Press, because he felt they were biased against him."
But true to style, Sanders fre­quent­ly hit back at crit­ics. When news­pa­pers and oppo­nents accused him of hypocrisy for solic­it­ing mon­ey from pro­gres­sive PACs— ​"It's get­ting hard to dis­tin­guish between Sanders and the bad guys," wrote the Brat­tle­boro Reformer—Sanders con­tin­ued to con­trast his dona­tions from ​"peo­ple whom I philo­soph­i­cal­ly agree with" against Smith's fund­ing from cor­po­ra­tions who ​"have wrought hav­oc on the envi­ron­ment, [dodge tax­es] … and have treat­ed their work­ers with contempt."
When a Reformer op-ed hit Sanders for not vot­ing in the Sep­tem­ber Demo­c­ra­t­ic pri­ma­ry, he coun­tered that, had he vot­ed, ​"I would have been called a hyp­ocrite for vot­ing in a par­ty pri­ma­ry in which I don't belong."
When the AP cal­cu­lat­ed Sanders had over­es­ti­mat­ed how much mon­ey a 10% tax hike on the wealth­i­est Amer­i­cans would raise, Sanders acknowl­edged the error and com­plained they were miss­ing the larg­er imper­a­tive, the need to raise tax­es on the rich.
When news­pa­pers report­ed on Sanders' tax returns, which showed he and his wife, Jane, had made more than $85,000 in 1989 (around $180,000 today), Smith sug­gest­ed Sanders was among the wealth­i­est 10% and not seri­ous about his tax plan. Sanders com­plained about Smith's lack of sim­i­lar trans­paren­cy and respond­ed, ​"We own one house. My wife and I took out a loan to send our chil­dren to college."
One ker­fuf­fle con­cerned how the Sanders cam­paign clas­si­fied some staff mem­bers as inde­pen­dent con­sul­tants rather than employ­ees, in an alleged attempt to avoid state and fed­er­al tax­es. The staffers insist­ed they had sought the sta­tus them­selves and paid their own tax­es, and it soon emerged that every­one — even then Lt. Gov. Howard Dean and long­time Sen. Patrick Leahy — had engaged in the prac­tice. That includ­ed Smith, who had paid a sin­gle employ­ee under this arrange­ment almost as much as Sanders had paid his entire 1988 staff. Even so, Smith and his cam­paign wast­ed no time in paint­ing Sanders as a tax-the-rich hyp­ocrite who want­ed to avoid tax­es him­self. In response, Sanders accused Smith of ​"gut­ter pol­i­tics" and called on him to ​"come back to the high road of Ver­mont pol­i­tics that you and I have shared for many years."
After Sanders won the June 1990 endorse­ment of Vermont's largest union, the 7,800-strong chap­ter of the Nation­al Edu­ca­tion Asso­ci­a­tion (NEA), news cov­er­age instead focused on its top-down endorse­ment process. Rather than polling its mem­bers, the union's board of direc­tors chose Sanders through the same (unde­mo­c­ra­t­ic) method it had always used.
This time, how­ev­er, the media exten­sive­ly cov­ered the dis­gruntle­ment of the rank-and-file teach­ers. The Reformer quot­ed one Smith-sup­port­ing teacher say­ing that, ​"even if they endorsed Peter Smith, I real­ly, hon­est­ly, would tell you that it was unfair." San­doval decried it as ​"sneaky, pow­er play pol­i­tics" and likened it to ​"a coup attempt."
As in 2020, Sanders got more trac­tion in 1990 with local unions than with wary nation­al labor orga­ni­za­tions. The nation­al NEA reject­ed the Ver­mont chapter's endorse­ment, elect­ing to stay neu­tral because of Smith's decent vot­ing record. In response, over 10 days, teach­ers around the coun­try raised $3,001 for the Sanders cam­paign, help­ing to off­set the $5,000 Sanders lost out on through the rever­sal, hand­ing the mon­ey over in a stack of bills and checks held togeth­er with a rub­ber band.
Sanders suf­fered anoth­er nation­al union-relat­ed set­back after a labor PAC fund­ing com­pet­i­tive House races declined to endorse him. Even so, Sanders won the sup­port of many Ver­mont unions. As his cam­paign gained momen­tum, the AFL-CIO came on board.
Per­haps the campaign's biggest obsta­cle, how­ev­er, was the out­break of the Gulf War in August 1990, with Sad­dam Hussein's Iraq invad­ing neigh­bor­ing Kuwait. The con­flict scram­bled the Ver­mont House race, shift­ing the dis­cus­sion away from Sanders' favored ter­rain of eco­nom­ic inequal­i­ty and toward for­eign policy.
Sanders, who had spent months call­ing for a five-year 50% cut to mil­i­tary spend­ing ("We don't need to spend $140 bil­lion a year to defend West­ern Europe"), tri­an­gu­lat­ed a response to the war, applaud­ing Bush's deci­sion to send troops and jet fight­ers to the Gulf as ​"quite ratio­nal, quite intel­li­gent" and ​"very rea­son­able." Stress­ing he was ​"not a paci­fist," Sanders held to a care­ful­ly cal­i­brat­ed posi­tion for the rest of the cam­paign: He urged a ​"defen­sive" buildup of troops and eco­nom­ic and diplo­mat­ic pres­sure on Iraq, prefer­ably with UN back­ing and inter­na­tion­al coop­er­a­tion, but argued an inva­sion or ​"fight­ing a ground war in the Mid­dle East would be a dis­as­ter." Pro­gres­sive activists were dis­mayed and San­doval attacked Sanders as a ​"hawk" whose ​"polit­i­cal ambi­tion has over­come his com­mon sense." When Sanders lat­er called Bush's troop build-up ​"overkill," Smith accused him of flip-flopping.
With June's poll num­bers show­ing Sanders 10 points behind Smith and the late-sum­mer sit­u­a­tion in the Mid­dle East, a Sanders vic­to­ry was far from assured.
Com­ing Up Bernie
While Sanders didn't have the poll num­bers, he did have his relent­less, issues-focused rhetoric, his opponent's mis­cal­cu­la­tions and his vast door-to-door cam­paign operation.
With the Bush administration's regres­sive poli­cies com­ing on the heels of the greed of the Rea­gan era, the Sanders cam­paign chan­neled a pop­ulist back­lash against the finance indus­try. Much as the 2008 crash and bank bailout would lat­er become grist for his 2016 cam­paign, Sanders cen­tered his 1990 cam­paign on the pre­vi­ous year's bailout of the sav­ings and loan indus­try. The S&L cri­sis marked the worst bank col­lapse since the Great Depres­sion, borne of waves of dereg­u­la­tion and star­tling cor­rup­tion. The bailout cost tax­pay­ers near­ly $500 bil­lion and Smith had vot­ed for it, giv­ing Sanders an opening.
Sanders ham­mered Smith on a ​"dead wrong" vote for the bailout, call­ing it ​"the great­est finan­cial rip-off in the his­to­ry of the Unit­ed States." Sanders instead pro­posed mak­ing the rich­est 5% foot the bill. He point­ed to an ​"epi­dem­ic of crim­i­nal­i­ty" in U.S. insti­tu­tions and promised to ​"stand up against the sharks and swindlers." Between March and July 1990, Sanders called four press con­fer­ences on the topic.
After the Iraq deba­cle that August, Sanders' cam­paign was gift­ed an Octo­ber sur­prise of its own: an unpop­u­lar deficit-cut­ting pack­age pushed by Bush and sup­port­ed by Smith, which pulled back Medicare and hiked regres­sive sales tax­es on cig­a­rettes, beer and gas. Sanders spent the month lead­ing up to elec­tion day sav­aging the ​"fraud­u­lent" bipar­ti­san pack­age and its equal­ly unsuc­cess­ful sequel, demand­ing Smith apol­o­gize for back­ing it. In a tele­vised debate, Sanders held up the infa­mous Octo­ber 22 cov­er of the con­ser­v­a­tive U.S. News and World Report mag­a­zine that labelled the plan a ​"fraud." The head­line screamed, ​"Throw the Bums Out."
Smith was forced onto the defen­sive, belat­ed­ly call­ing for a ​"more pro­gres­sive plan," crit­i­ciz­ing Bush and call­ing for tax increas­es on high earn­ers. After ini­tial­ly telling Sanders his only regret about vot­ing for the plan was ​"it didn't win," he reversed course under Sanders' con­stant crit­i­cism and sud­den­ly devel­oped ​"severe reser­va­tions." Sanders ben­e­fit­ted from a rep­u­ta­tion for con­sis­ten­cy that Smith lacked. As Elec­tion Day approached, Smith had to face the wrath of Vermont's gun own­ers, who were incensed that he had pledged to oppose new gun restric­tions only to co-spon­sor a ban on 11 semi­au­to­mat­ic weapons once in office. The NRA — which had helped put Smith over the top in 1988 — launched a neg­a­tive ad cam­paign against Smith and dis­trib­uted ​"Dump Peter Smith" bumper stick­ers through­out Ver­mont, with a young Wayne LaPierre (who has head­ed the NRA since 1991) urg­ing the state's 12,000 NRA mem­bers to cast a ​"protest vote for Bernie Sanders."
Though Sanders repeat­ed­ly and pub­licly dis­avowed the NRA's sup­port — and made clear, some­times to gun own­ers' faces, he sup­port­ed the same gun con­trol mea­sures as Smith — the mat­ter became a ques­tion of trust and credibility.
"Smith was hurt by that notion of him as waf­fler," says Den­nis Gilbert, who met Sanders at Hamil­ton Col­lege and worked as a poll­ster and issue researcher on the cam­paign. Ver­mon­ters polled, Gilbert says, thought Smith was ​"incon­sis­tent," ​"broke promis­es" and was ​"a typ­i­cal Wash­ing­ton politi­cian." It worked in Sanders' favor. ​"At least he's con­sis­tent and tells the truth," one gun store own­er said about Sanders.
A del­e­gate to the Ver­mont Fed­er­a­tion of Sportsmen's Clubs, who switched alle­giances to Sanders, explained:"We vote for peo­ple because we don't want to wor­ry what they'll do after we elect them. If you can't count on their word, by gol­ly, they're not even worth the spit."
Mean­while, Sanders trans­plant­ed the door-to-door, boots-on-the-ground cam­paign­ing of his may­oral days. While Smith relied pri­mar­i­ly on mail­ings, media cov­er­age and press releas­es, hun­dreds of Sanders vol­un­teers trav­eled across Ver­mont to reg­is­ter thou­sands of vot­ers, a vol­un­teer army of which the NEA and its teach­ers formed a cru­cial part.
"They worked like crazy in the 1990 elec­tion," recalls Jim Schu­mach­er, who direct­ed the campaign's field orga­ni­za­tion. ​"They were one of the most reli­able sets of vol­un­teers I ever worked with."
While Smith opened only one cam­paign office, Sanders opened five — three of them in south­ern Ver­mont, where Smith had won 92% of his win­ning mar­gin in 1988 and where Sanders now spent days cam­paign­ing. With his may­oral days behind him, and with Smith holed up in Wash­ing­ton, Sanders matched his vol­un­teers' inten­si­ty, criss­cross­ing the state.
"He want­ed to shake as many hands, meet as many Ver­mon­ters, as human­ly pos­si­ble," Gilbert says. ​"And he went out and did it."
"What Bernie would do, he would get in a car with [cur­rent senior advi­sor Jeff] Weaver dri­ving, and they would go from one end of the state to anoth­er over the course of the day," Rosen­feld says. ​"They'd make sure he would get inter­viewed on a hand­ful of media markets."
And despite Sanders' ini­tial dif­fi­cul­ties with dis­grun­tled local Democ­rats and nation­al unions, the major­i­ty of the state's promi­nent par­ty mem­bers (includ­ing, cru­cial­ly, those from the south) swung their sup­port behind Sanders.
By Octo­ber 1990, Sanders and Smith were tied in the polls.
But the fatal mis­take that final­ly put Sanders over the top was Smith's deci­sion to launch a neg­a­tive cam­paign. Like Sanders' oppo­nents today, Smith cher­ryp­icked quotes to make him seem anti-Demo­c­rat and sym­pa­thet­ic to author­i­tar­i­an, Com­mu­nist regimes. An attack ad Smith ran on Ver­mont TV mis­lead­ing­ly quot­ed Sanders say­ing he had been ​"nau­se­at­ed" by Pres­i­dent John F. Kennedy's inau­gu­ra­tion speech — though the com­ment had actu­al­ly been about Kennedy and Richard Nixon's Cold War one-upman­ship. The ad also hit Sanders for prais­ing Cuba, leav­ing out his crit­i­cism of the author­i­tar­i­an government.
In inter­views, Smith demand­ed Sanders reveal the iden­ti­ty of his small donors and began assail­ing ​"Swedish-style social­ism" for its high tax­es and cost of bread.
The peo­ple of Ver­mont, how­ev­er, were not sur­prised to hear that Sanders was a social­ist. ​"At first, we were wary of Bernie Sanders," one con­ser­v­a­tive police offi­cer told the press. ​"The social­ism stuff. … But after eight years with him, I can tell you that he's played fair."
The Sanders cam­paign debat­ed how to respond and, accord­ing to accounts by Gilbert and Rosen­feld, split along gen­der lines. The men argued for Sanders to hit back with his own attack ad. The women, includ­ing Jane Sanders and cam­paign man­ag­er Rachel Levin, staunch­ly urged Sanders to keep the high ground. Ulti­mate­ly, Sanders refused to launch a neg­a­tive cam­paign ("It's some­thing I nev­er have done, nev­er will do") but did hit back with a new ad: It fea­tured him speak­ing direct­ly to the cam­era, regret­ting ​"that my oppo­nent, find­ing him­self behind in the polls, is now resort­ing to the most neg­a­tive and dis­hon­est adver­tis­ing this state has ever seen."
The back­lash was swift. Ver­mon­ters across the polit­i­cal spec­trum made their dis­gust known. ​"I can't believe that Smith is red­bait­ing," one vot­er told the Ben­ning­ton Ban­ner. ​"It's McCarthy­ism. Red­bait­ing is a thing of the past."
Even Smith back­ers like the Burling­ton Free Press and for­mer Gov. Thomas Salmon crit­i­cized the ads. Furi­ous Smith sup­port­ers told him he had lost their vote. His neigh­bor of 20 years refused to shake his hand.
With­out a word, Smith abrupt­ly can­celled a five minute attack ad meant to run three times in a week.
Though Sanders remained uneasy, with mem­o­ries of the 1988 campaign's final hours haunt­ing him, Smith's mis­cal­cu­la­tion spelled the end. Accord­ing to the Sanders campaign's inter­nal polling, Smith's num­bers plum­met­ed after the neg­a­tive ads.
When the polls closed, Sanders had beat­en Smith 56% to 40%, win­ning every sin­gle coun­ty but one — even Repub­li­can strong­holds. The south­ern strat­e­gy paid off, pro­vid­ing Sanders with Vermont's two biggest cities in a com­plete rever­sal, while the anger of gun own­ers had deliv­ered the over­whelm­ing­ly red west­ern part of Rut­land county.
Long-time Sanders ally Ter­ry Bouri­cius says the 1988 and 1990 House races fol­lowed a famil­iar pat­tern, one he sees in Sanders' deci­sion to run again after 2016: ​"You run, you do bet­ter than peo­ple expect, you posi­tion your­self to be the seri­ous can­di­date next time, and then you win."
"This is the third time the same log­i­cal sequence occurred," Bouri­cius says of 2020.
Run­ning Ahead
Ver­mont 1990 is not Amer­i­ca 2020. Con­sid­er­ing today's bit­ter nation­al are­na, it is unclear whether new attacks against Sanders as a per­son or as a social­ist would pro­voke the same bipar­ti­san back­lash they did in Ver­mont or suc­ceed in turn­ing out the Repub­li­can vote.
Bernie Sanders 2020, how­ev­er, is a near fac­sim­i­le of his 1990 self. He still relies on his huge­ly enthu­si­as­tic grass­roots vol­un­teer base. He still puts great stock in door-to-door cam­paign­ing. He still eschews per­son­al attacks against his oppo­nents (while close­ly exam­in­ing their records). He still runs on dona­tions from small­dol­lar donors and like-mind­ed groups (includ­ing, for 2020, the left-lean­ing Nation­al Nurs­es Unit­ed union, the youth-led cli­mate group Sun­rise Move­ment, the racial-jus­tice youth group Dream Defend­ers and the com­mu­ni­ty-orga­niz­ing net­work People's Action).
His oppo­nents still find seem­ing vul­ner­a­bil­i­ties in his staunch iden­ti­ty as a demo­c­ra­t­ic social­ist, his ten­u­ous iden­ti­ty as a Demo­c­rat, and his past vis­its to (and mea­sured praise of) Cuba, Nicaragua and the Sovi­et Union.
While the media may find Sanders' con­sis­ten­cy bor­ing, it still appears to engen­der trust at lev­els rare for a politi­cian, even from those who dis­agree with him.
And he still weath­ers attacks by reit­er­at­ing a stub­born mes­sage that res­onates deeply with work­ing peo­ple: The nation's cor­po­rate and polit­i­cal estab­lish­ment is cater­ing to the wealthy over any­one and any­thing else — and we don't have to take it.
"I feel, as I sit here in the cool light of day, that what hap­pened yes­ter­day was far beyond Peter Smith," a deject­ed Smith said after his 1990 loss. ​"It had a lot to do with Bernie Sanders — his abil­i­ty to tap into people's anger. It was tai­lor-made for him."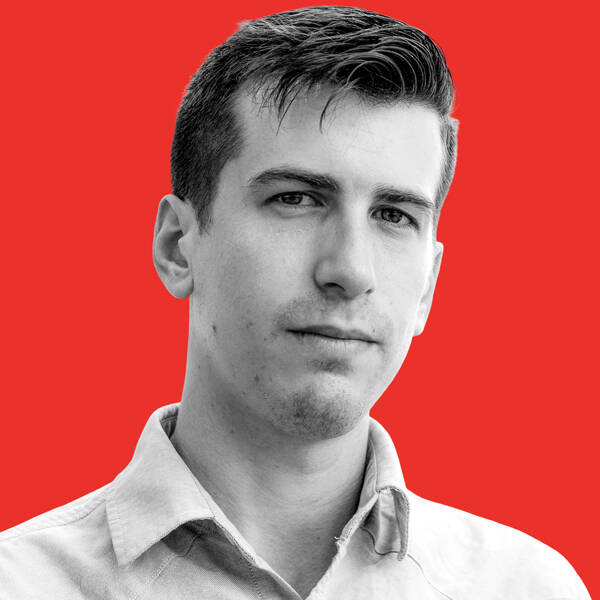 Branko Marcetic
is a staff writer at Jacobin mag­a­zine and a
2019
 – 
2020
Leonard C. Good­man Insti­tute for Inves­tiga­tive Report­ing fel­low. He is work­ing on a forth­com­ing book about Joe Biden.