Bernie Sanders: A Candidate Worth Voting For
'I have decided to be a candidate for the Democratic nomination for president,' Sanders announced this morning.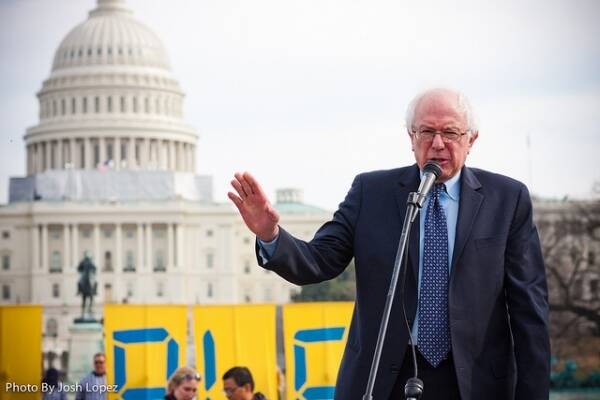 The announce­ment by Sen. Bernie Sanders (I‑Vt.), a long-time sup­port­er of In These Times, that he will seek the Demo­c­ra­t­ic Party's pres­i­den­tial nom­i­na­tion is a his­toric event.
"We're in this race to win," said Bernie Sanders: "If you raise the issues that are on the hearts an minds of the American people. If you try to put together a movement which says, 'We have got to stand together as a people and say that this Capitol, this beautiful Capitol, our county belong to all of us and not the billionaire class' —that is not raising an issue, that is winning elections."
Sanders, a demo­c­ra­t­ic social­ist, has no prob­lem brush­ing off his red-bait­ing crit­ics. ​"I think this coun­try," he wrote in 2009, ​"could use a good debate about what goes on here com­pared to places with a long social-demo­c­ra­t­ic tra­di­tion like Swe­den, Nor­way and Fin­land, where, by and large, the mid­dle class has a far high­er stan­dard of liv­ing than we do." Despite run­ning as an Inde­pen­dent, he cau­cus­es with the Democ­rats. In Jan­u­ary, asked if he would mount a third par­ty cam­paign for pres­i­dent, Sanders replied, ​"I will not play that role in help­ing to elect some right-wing Repub­li­can as pres­i­dent of the Unit­ed States."
A Sanders can­di­da­cy offers Amer­i­can pro­gres­sives the chance to build the infra­struc­ture for future pro­gres­sive elec­toral cam­paigns. Carl David­son, co-chair of Com­mit­tees of Cor­re­spon­dence for Democ­ra­cy and Social­ism (a New Left orga­ni­za­tion), puts it this way: ​"Bernie's can­di­da­cy sep­a­rates out the ​'pol­i­tics-as-a-horse-race' crowd from the ​'pol­i­tics-as-an-orga­niz­ing-oppor­tu­ni­ty' gang."
As Matt Taib­bi observed in Rolling Stone, the fact that super-rich donors have no inter­est in Sanders' pol­i­tics requires the sen­a­tor to tai­lor his polit­i­cal pro­gram to the inter­ests of reg­u­lar peo­ple. The Sanders cam­paign, as a grass­roots project, will be backed by groups such as Pro­gres­sive Democ­rats of Amer­i­ca, which advo­cates what is known as the ​"inside-out­side strat­e­gy." This entails work­ing with social move­ments on the out­side and express­ing the demands and con­cerns of those move­ments on the inside, in the inter­nal bat­tles of both Con­gress and the Demo­c­ra­t­ic Party.
Unlike the 1988 Demo­c­ra­t­ic pri­ma­ry, in which Jesse Jack­son car­ried 11 states only to have his cam­paign orga­ni­za­tion dis­ap­pear into the polit­i­cal ether, a Sanders cam­paign is set to build a move­ment with future elec­toral capac­i­ty. Sanders under­stands that the orga­ni­za­tion that coa­lesces behind him must sur­vive the cam­paign itself and endure as a demo­c­ra­t­ic coun­ter­weight to the pow­er of big cap­i­tal. ​"No pres­i­dent," Sanders told MSNBC, ​"not Bernie Sanders, not any­body, will suc­ceed [in tak­ing on the oli­garchs] unless there is a mass mobi­liza­tion of mil­lions of peo­ple who stand up and say, ​'Enough is enough. Koch broth­ers and bil­lion­aires can't have it all.' "
Nowhere is the Demo­c­ra­t­ic Par­ty divide more pro­nounced than over the Trans-Pacif­ic Part­ner­ship (TPP), the opaque trade deal the Oba­ma admin­is­tra­tion is nego­ti­at­ing in secret with 11 oth­er coun­tries and for which it has request­ed ​"fast-track" author­i­ty from Con­gress. Pro­gres­sive Democ­rats on Capi­tol Hill have balked at the plan, where­as cor­po­rate-friend­ly Oba­ma allies, such as Sen. Ron Wyden (D‑Ore.), are labor­ing might­i­ly to pass it.
On April 17, giv­ing a taste of the cam­paign to come, Sanders chal­lenged Clin­ton to ​"make it clear that the Trans-Pacif­ic Part­ner­ship should be reject­ed and that we must devel­op trade poli­cies that ben­e­fit work­ing fam­i­lies, not just Wall Street and multi­na­tion­al corporations."
Sanders' pres­ence on the nation­al stage will intro­duce mil­lions of our fel­low cit­i­zens to a coher­ent­ly argued case for social democ­ra­cy. We count on him to expand the para­me­ters of America's polit­i­cal imagination.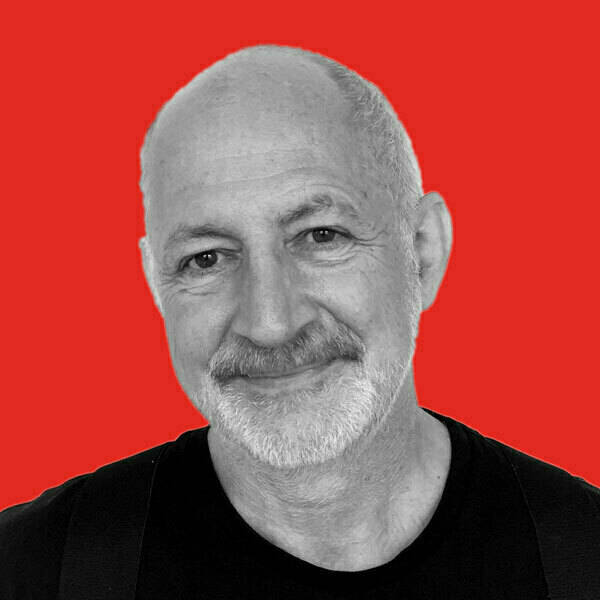 Joel Blei­fuss, a for­mer direc­tor of the Peace Stud­ies Pro­gram at the Uni­ver­si­ty of Mis­souri-Colum­bia, is the edi­tor & pub­lish­er of In These Times, where he has worked since Octo­ber 1986.