Bernie Sanders and Kamala Harris Both Fall Short on Abolishing Money Bail
Each of their bills is weak, although Harris' is more dangerously flawed.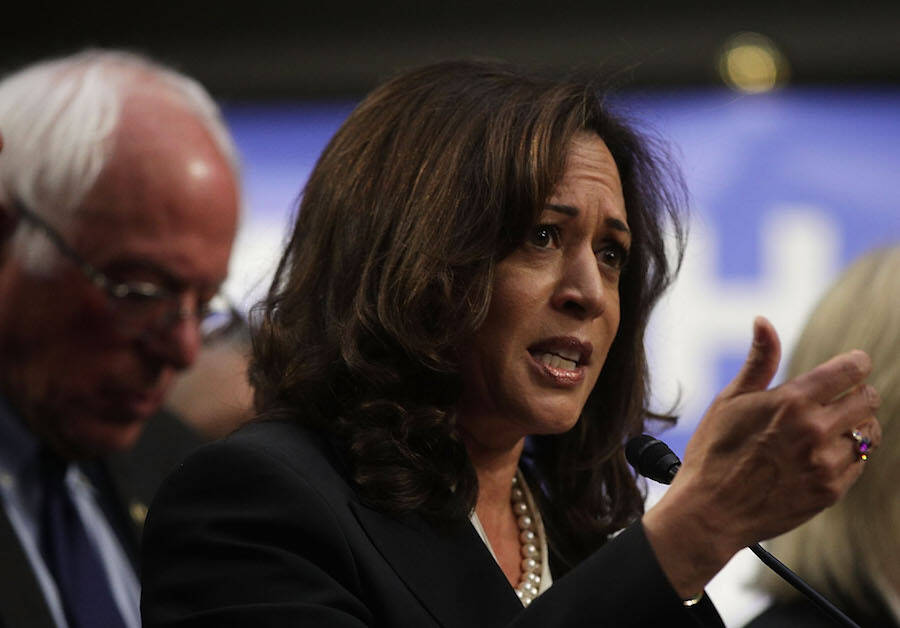 A grow­ing move­ment across the coun­try is expos­ing the injus­tices of our mon­ey bail and bond sys­tems, which lock up as many as 400,000 peo­ple on any giv­en day sim­ply because they are too poor to pur­chase their free­dom. This large-scale orga­niz­ing, which includes com­mu­ni­ty bond funds that direct­ly pay people's bail in more than 40 juris­dic­tions, has thrust the demand for the abo­li­tion of mon­ey bail into the main­stream. Now, a mul­ti-mil­lion dol­lar orga­ni­za­tion fund­ed by the likes of busi­ness mogul Richard Bran­son is financ­ing mass bailouts nation­wide, and promi­nent Democ­rats are talk­ing about the need to end mon­ey bail. This high pro­file brings incred­i­ble poten­tial — but also a host of dangers.
"We are at a very dangerous time in the bail reform movement, because the forces that created the money bail system are aligning to determine what replaces it, and it's in their interest to maintain a system with high rates of pretrial detention where humans are put in cages."
Bail reforms are only as good as the decarcer­a­tion strate­gies under­pin­ning them. If bail is replaced with a sys­tem that gives the state the pow­er to hold more peo­ple pre­tri­al, or expands elec­tron­ic mon­i­tor­ing and sur­veil­lance, the reforms could deprive even more peo­ple of their free­dom. Giv­en this risk, now is an impor­tant time to be vig­i­lant against disin­gen­u­ous — or well-mean­ing, but mis­guid­ed — reforms, includ­ing those pre­sent­ed by 2020 pres­i­den­tial hope­fuls Bernie Sanders and Kamala Har­ris. These fed­er­al bills are impor­tant even if they have no chance of pass­ing, because they send a mes­sage to the states and juris­dic­tions that are mulling bail reform — and they influ­ence pro­gres­sive demands at a time of left resurgence.
In July, Sen. Bernie Sanders intro­duced the No Mon­ey Bail Act, cit­ing the hard­ships faced by peo­ple forced to sit inside local jails, some­times for years, while con­sti­tu­tion­al­ly pre­sumed inno­cent. The demo­c­ra­t­ic social­ist from Ver­mont force­ful­ly used the movement's lan­guage of end­ing mon­ey bail alto­geth­er, declar­ing in a press state­ment, ​"In the year 2018, in the Unit­ed States, we should not con­tin­ue hav­ing a ​'debtor prison' sys­tem. Our destruc­tive and unjust cash bail process is part of our bro­ken crim­i­nal jus­tice sys­tem – and must be end­ed." In 2017, Sen. Kamala Har­ris, a for­mer pub­lic pros­e­cu­tor, part­nered with Sen. Rand Paul on the Pre­tri­al Integri­ty and Safe­ty Act, which encour­ages states to ​"reform or replace" the mon­ey bail sys­tem. While Har­ris' rhetoric is more sub­dued, both bills are remark­ably sim­i­lar and — if you look at the nit­ty grit­ty — deeply flawed.
The bill put for­ward by Har­ris is the worse of the two, because it calls for increased state reliance on dis­crim­i­na­to­ry algo­rithms and ​"pre­dic­tive" tools to deter­mine whether an indi­vid­ual must stay in jail. But both pieces of leg­is­la­tion fail to present a force­ful plan to reduce pre­tri­al deten­tion, rest on fun­nel­ing more mon­ey into the very crim­i­nal pun­ish­ment sys­tems that are unjust­ly jail­ing peo­ple, and omit some of the best decarcer­a­tion strate­gies the bail reform move­ment has to offer.
More mon­ey for jailers
Nei­ther bill direct­ly bans mon­e­tary bail at the state or local lev­el. Instead they rest on an incen­tive pro­gram of fun­nel­ing fed­er­al funds to state-lev­el crim­i­nal pun­ish­ment sys­tems to reward reform — a tac­tic that, unfor­tu­nate­ly, invests in the very carcer­al insti­tu­tions respon­si­ble for per­pe­trat­ing large-scale harm. ​"The Assis­tant Attor­ney Gen­er­al may make grants to State and trib­al court sys­tems and eli­gi­ble enti­ties for the replace­ment of the use of pay­ment of mon­ey bail as a con­di­tion of pre­tri­al release with respect to crim­i­nal cas­es," reads the key pro­vi­sion of the Harris/​Paul leg­is­la­tion. This sen­tence appears near­ly ver­ba­tim in Sanders' bill.
Sanders' ver­sion goes on to include two con­di­tions that make it some­what stronger. One is that, to be eli­gi­ble for funds, states must show ​"annu­al sta­tis­ti­cal­ly sig­nif­i­cant decreas­es in the pre­tri­al deten­tion pop­u­la­tions of States and units of local gov­ern­ment." In con­trast, Har­ris does not tie funds incen­tives to reduc­tions in incar­cer­a­tion, mak­ing her bill weaker.
Sec­ond, Sanders' bill fol­lows Rep. Ted Lieu (D‑Calif.)'s No Mon­ey Bail Act of 2017 in call­ing for the Attor­ney Gen­er­al to with­hold fed­er­al funds from states that don't pur­sue reform with­in three years of enact­ment. Such mea­sures are more ben­e­fi­cial because they do not involve invest­ments in the very insti­tu­tions doing harm.
How­ev­er, both Har­ris' and Sanders' bills include incen­tives that reward reforms with invest­ments in the crim­i­nal legal sys­tem, run­ning counter to the demands of the Black Lives Mat­ter and abo­li­tion­ist move­ments that have so deeply informed the move­ment to end mon­ey bail. Their aim is to reduce the infra­struc­ture of carcer­al insti­tu­tions, with the goal of reduc­ing incar­cer­a­tion over­all. This prin­ci­ple is cod­i­fied in the divest/​invest pol­i­cy plat­form of the Move­ment for Black Lives, issued in 2016:
We demand invest­ments in the edu­ca­tion, health and safe­ty of Black peo­ple, instead of invest­ments in the crim­i­nal­iz­ing, caging, and harm­ing of Black peo­ple. We want invest­ments in Black com­mu­ni­ties, deter­mined by Black com­mu­ni­ties, and divest­ment from exploita­tive forces includ­ing pris­ons, fos­sil fuels, police, sur­veil­lance and exploita­tive corporations.
Along these lines, com­mu­ni­ties across the coun­try are fight­ing to divest funds from polic­ing and impris­on­ment — and invest them in schools, health clin­ics and oth­er vital goods. They are up against a neolib­er­al approach to reforms, which holds that if jail­ers or police abuse peo­ple, the prob­lem can be solved by throw­ing more mon­ey at the insti­tu­tions to make them bet­ter. This log­ic has, for decades, led to bloat­ed bud­gets for the carcer­al insti­tu­tions inflict­ing large-scale violence.
Joshua Glenn, a mem­ber of the Philadel­phia-based #No215Jail coali­tion, was incar­cer­at­ed for 18 months when he was just 16 years old because he was too poor to afford bond. ​"We have a sys­tem that sys­tem­at­i­cal­ly under­funds and over-polices black and brown com­mu­ni­ties," he tells In These Times. ​"Those com­mu­ni­ties need to be made whole through fund­ing and resources."
If the fed­er­al law­mak­ers are intent on using pay­ments as incen­tives, they could reward reforms with funds for health­care, school sys­tems and oth­er pub­lic ser­vices — rather than jail systems.
Thea Sebas­t­ian, pol­i­cy coun­cil for non­prof­it Civ­il Rights Corps, says her group has con­sid­ered advo­cat­ing such incen­tive struc­tures, but believes that fed­er­al law­mak­ers can sim­ply exer­cise the law to get states to stop unjust mon­ey bail prac­tices. Bail sys­tems, she argues, are uncon­sti­tu­tion­al because they vio­late equal pro­tec­tion and due process claus­es. Civ­il Rights Corps has used this argu­ment in ongo­ing law­suits against jail sys­tems around the coun­try, and won a vic­to­ry in April 2017 when a Hous­ton judge ruled that the Har­ris Coun­ty, Texas, cash bail sys­tem was uncon­sti­tu­tion­al, result­ing in the release of 11,500 peo­ple. (The case is now on appeal.)
Sebas­t­ian believes that the same log­ic could be used by fed­er­al law­mak­ers. ​"Sec­tion 5 of the 14th Amend­ment says the fed­er­al gov­ern­ment can enforce the rights in the 14th Amend­ment through appro­pri­ate leg­is­la­tion," she argues. ​"Con­gress could pass leg­is­la­tion that tells states to stop vio­lat­ing the constitution."
Missed oppor­tu­ni­ties
Unlike Har­ris, who doesn't touch the fed­er­al crim­i­nal pun­ish­ment sys­tem, Sanders calls to pro­hib­it ​"the use of pay­ment of mon­ey as a con­di­tion of pre­tri­al release in Fed­er­al crim­i­nal cas­es." On its face, this mea­sure sounds like a bold move to abol­ish mon­ey bail, but in real­i­ty it would have a min­i­mal impact. Sebas­t­ian tells In These Times: ​"Mon­ey bail is not the pri­ma­ry issue in the fed­er­al sys­tem." Sebas­t­ian argues that a more effec­tive bill to curb pre­tri­al deten­tion at the fed­er­al lev­el ​"would increase the cat­e­go­ry of peo­ple who are imme­di­ate­ly released and increase the pre­sump­tions against oner­ous con­di­tions, while — cru­cial­ly — reduc­ing the [total num­ber] of peo­ple who may be ordered detained."
Saki­ra Cook, senior coun­sel at The Lead­er­ship Con­fer­ence on Civ­il and Human Rights, agrees, say­ing that Sanders' leg­is­la­tion ​"miss­es an oppor­tu­ni­ty" for full reform.
Anoth­er missed oppor­tu­ni­ty is the are­na of immi­grant deten­tion, men­tioned by nei­ther Sanders nor Har­ris, where fed­er­al law­mak­ers could imme­di­ate­ly free thou­sands of peo­ple. Although ICE does not pub­licly release nation­wide bond data, mul­ti­ple inves­ti­ga­tions have found that bonds in immi­gra­tion cas­es are rou­tine­ly set far high­er than $1,500 min­i­mum, and under Trump, they're increas­ing­ly above $10,000. Bonds are imposed despite the fact that immi­gra­tion ​"vio­la­tions" are civ­il — not crim­i­nal — infrac­tions. The Immi­grant Bail Fund reports that one in five peo­ple locked in immi­grant deten­tion are there because they can­not afford their bond. If fed­er­al law­mak­ers moved to abol­ish bond in immi­gra­tion courts, and ensure it was not replaced with some­thing more puni­tive, this reform would have a tremen­dous impact.
Racist ​
"

pre­dic­tive" tools

The Harris/​Paul bill con­tains a trou­bling com­po­nent not found in Sanders': increased reliance on pre­dic­tive tools and algo­rithms to sup­pos­ed­ly deter­mine whether an incar­cer­at­ed per­son will fail to appear for court dates or be rear­rest­ed if released before tri­al. The leg­is­la­tion calls for ​"replac­ing mon­ey bail sys­tems with indi­vid­u­al­ized, pre­tri­al assess­ments" that ​"mea­sure the risk of flight and risk of antic­i­pat­ed crim­i­nal con­duct posed by a defen­dant while on pre­tri­al release."

The out­comes of such assess­ments can be the dif­fer­ence between fight­ing one's case from a jail cell or free­dom. Yet they are wide­ly assailed as crude and non-trans­par­ent instru­ments, often based on dehu­man­iz­ing algo­rithms that are more like­ly than not to com­pound the racial injus­tices of pris­ons and polic­ing. On July 30 of this year, 119 promi­nent social jus­tice and civ­il rights orga­ni­za­tions, includ­ing many of those lead­ing the move­ment to reform or abol­ish cash bail sys­tems, released a state­ment con­demn­ing such tools:
Our sys­tem of jus­tice is pro­found­ly flawed: It is sys­tem­at­i­cal­ly biased against and dis­pro­por­tion­ate­ly impacts com­mu­ni­ties of col­or and allows for fre­quent vio­la­tions of the right to due process. As such, the data dri­ving many pre­dic­tive algo­rithms — such as pri­or fail­ures to appear and arrest-rates — reflects those flaws and bias­es and, as a result, are pro­found­ly lim­it­ed. Decades of research have shown that such data pri­mar­i­ly doc­u­ment the behav­ior and deci­sions of police offi­cers and pros­e­cu­tors, rather than the indi­vid­u­als or groups that the data are claim­ing to describe.
Glenn, too, argues that such assess­ment tools are inher­ent­ly racist. ​"There is no way that from a com­put­er, you can fig­ure out the risks of releas­ing a per­son into the com­mu­ni­ty," he says. ​"These risk assess­ments are sort of like a fac­to­ry machine that fun­nels peo­ple. It does­n't address the root cause of an issue. They are dehu­man­iz­ing our communities."
Glenn's con­cerns are backed up by empir­i­cal evi­dence. A May 2016 ProP­ub­li­ca inves­ti­ga­tion found that a pre­tri­al risk assess­ment soft­ware devel­oped by the com­pa­ny North­pointe results in bias against Black defen­dants. Look­ing at the records of more than 7,000 peo­ple arrest­ed in Broward Coun­ty, Flori­da, in 2013 and 2014, jour­nal­ists Julia Angwin, Jeff Lar­son, Surya Mat­tu and Lau­ren Kirch­n­er deter­mined, ​"The for­mu­la was par­tic­u­lar­ly like­ly to false­ly flag black defen­dants as future crim­i­nals, wrong­ly label­ing them this way at almost twice the rate as white defendants."
Not every orga­ni­za­tion that claims to sup­port bail reform is in agree­ment: The Pre­tri­al Jus­tice Insti­tute, whose sec­ond biggest fun­der is the U.S. government's Bureau of Jus­tice Assis­tance, sup­ports pre­tri­al risk assess­ment tools. The organization's CEO, Cherise Fan­no Bur­deen, recent­ly told Vox, ​"It's inap­pro­pri­ate not to use the data that's avail­able to us to improve our decision-making."
California's recent­ly passed bail reform leg­is­la­tion, SB10, lost the sup­port of many bail reform­ers due its replace­ment of mon­ey bail with a risk assess­ment algo­rithm to deter­mine who should be detained before tri­al. Under the bill, such tools will be used to give peo­ple risk scores of high, medi­um or low. Activists are wor­ried these scores will be used to jus­ti­fy lock­ing more peo­ple in jail. The leg­is­la­tion also expands the pow­er of judges to order pre­tri­al deten­tion, even if it means over­rid­ing these assess­ments. The net effect may be to detain sig­nif­i­cant­ly more peo­ple while they await tri­al — a wait that can take years.
As a result of these mea­sures, bail reform orga­ni­za­tions large­ly pulled their endorse­ments — and many even lob­bied against the bill. Essie Jus­tice Group, an orga­ni­za­tion of women with incar­cer­at­ed loved ones, wrote in mid-August, ​"Unfor­tu­nate­ly, SB 10 has devi­at­ed so sub­stan­tial­ly from its intro­duc­to­ry lan­guage that it now turns its back on Cal­i­for­nia com­mu­ni­ties — par­tic­u­lar­ly Black, Brown and low-income — who have been most harmed by the bail indus­try and system."
Many of those who came out against the bill had ini­tial­ly mobi­lized to advance it. ​"The more time pass­es, the angri­er peo­ple are going to get when they think about what hap­pened," Raj Jayadev, the coor­di­na­tor of a Sil­i­con Val­ley De-Bug, told Politi­co. ​"They co-opt­ed the bail reform move­ment to test out a new pre­ven­tive deten­tion system."
Har­ris is enter­ing con­test­ed ter­rain, and weigh­ing heav­i­ly on the wrong side.
Time for bold and deep changes
The case of Cal­i­for­nia under­scores a risk of call­ing for an alter­na­tive to cash bail: The sys­tem could be replaced with some­thing equal­ly — or more — sin­is­ter. As Civ­il Rights Corps founder and exec­u­tive direc­tor Alec Karakat­sa­nis puts it, ​"We are at a very dan­ger­ous time in the bail reform move­ment, because the forces that cre­at­ed the mon­ey bail sys­tem are align­ing to deter­mine what replaces it, and it's in their inter­est to main­tain a sys­tem with high rates of pre­tri­al deten­tion where humans are put in cages."
Accord­ing to James Kil­go­re, direc­tor of the Chal­leng­ing E‑Carceration project, ​"Ulti­mate­ly, unless we change under­ly­ing struc­tur­al dynam­ics, reform may grow new modes of incar­cer­a­tion, like elec­tron­ic mon­i­tors where the ​'user' pays to be tech­no­log­i­cal­ly caged. This has very lit­tle to do with free­dom or alternatives."
"End­ing cash bail is but one step along the road to decarcer­a­tion," adds Kil­go­re, who was incar­cer­at­ed for more than six years in the Cal­i­for­nia prison sys­tem. ​"Those push­ing for an end to cash bail must also think about what hap­pens to peo­ple when they are released."
But this moment is also full of pos­si­bil­i­ty, and in order to seize on the poten­tial, we must demand mean­ing­ful changes that dis­man­tle the machin­ery of incar­cer­a­tion. The bills of both 2020 hope­fuls may have no chance of pass­ing any­time soon — and could be designed to sig­nal the val­ues of Sanders and Har­ris as they gear up for the pres­i­den­tial pri­ma­ry. If this is the case, why not devel­op the ide­al leg­is­la­tion, and take the oppor­tu­ni­ty to show­case what a true decarcer­a­tion strat­e­gy could look like for the states and juris­dic­tions mulling bail reform or abo­li­tion, not just a pre­emp­tive­ly limp proposal?
As some­one who rep­re­sents the left flank of the Demo­c­ra­t­ic par­ty, Sanders has an oppor­tu­ni­ty to seize the moral high ground with poli­cies that mean­ing­ful­ly chip away at carcer­al insti­tu­tions and improve lives on a mas­sive scale. He's pushed for bold and deep changes on oth­er fronts — includ­ing his call for uni­ver­sal, sin­gle-pay­er health­care, which is not swayed by the false solu­tions of the pri­vate indus­try or astro­turf orga­ni­za­tions. He can take a firm stand on incar­cer­a­tion as well, and he must. The hun­dreds of thou­sands of peo­ple trapped in pre­tri­al deten­tion don't need more nice-sound­ing rhetoric, cam­paign stump­ing, or piece­meal, racist tech­no solu­tions: They deserve mate­r­i­al relief, and a seri­ous plan to get there.
Full dis­clo­sure: Sarah Lazare vol­un­teers for the Chica­go Com­mu­ni­ty Bond Fund, which works to end mon­ey bail and pre­tri­al deten­tion, but is not writ­ing on behalf of the organization.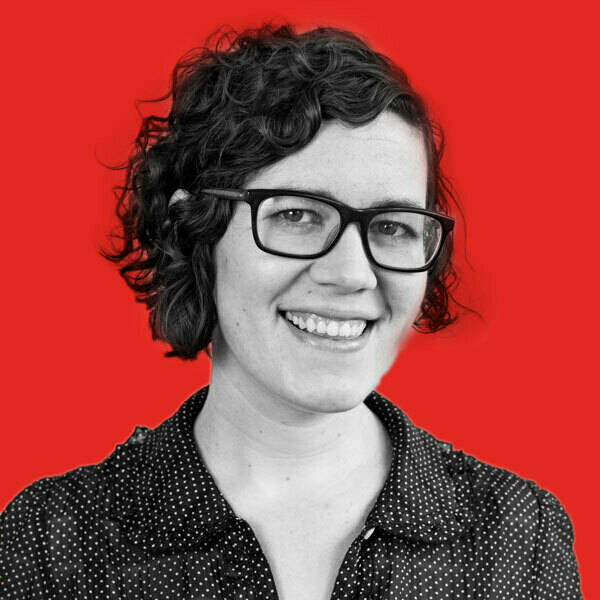 Sarah Lazare is web edi­tor at In These Times. She comes from a back­ground in inde­pen­dent jour­nal­ism for pub­li­ca­tions includ­ing The Inter­cept, The Nation, and Tom Dis­patch. She tweets at @sarahlazare.