Why Bernie Can't Be Organizer-In-Chief
Movements, not candidates, should drive progressive agendas.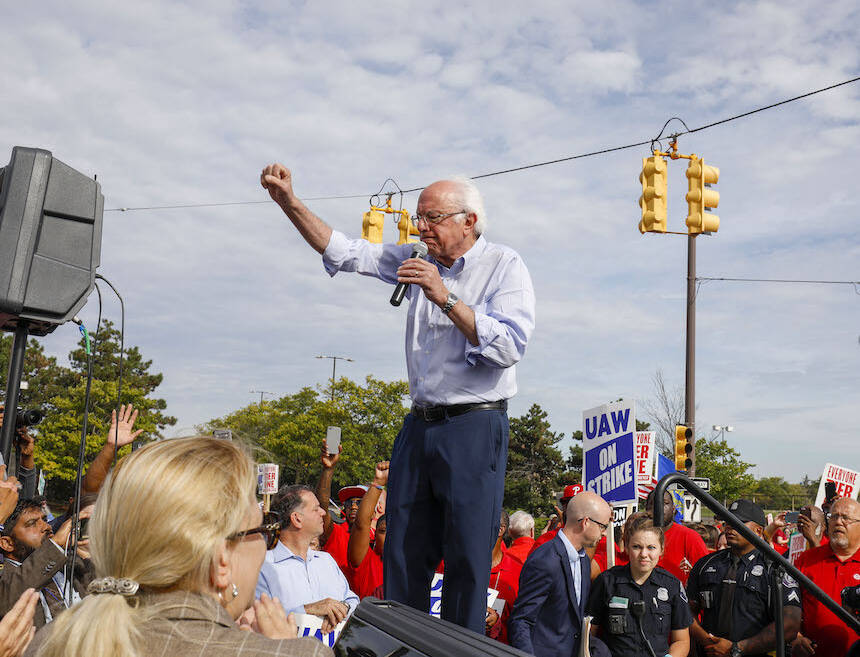 In ​"What a Bernie Sanders Pres­i­den­cy Would Look Like," Daniel Den­vir presents a com­pre­hen­sive and upbeat appraisal of Bernie Sanders' plat­form and its res­o­nance with a vari­ety of social move­ments, echo­ing the campaign's rhetoric about the cen­tral role of pop­u­lar move­ments and tout­ing Sanders' pur­port­ed cre­den­tials as an orga­niz­er, not just a politi­cian. Sanders' 2020 cam­paign, like his effort four years ago, has had an unde­ni­ably gal­va­niz­ing effect on the Demo­c­ra­t­ic pri­maries and trans­formed the pol­i­cy agen­da — and the accept­able lim­its of polit­i­cal dis­cus­sion — while ener­giz­ing peo­ple young and old to work for pos­i­tive change. But the cam­paign has also served to rein­vig­o­rate the per­sis­tent and dan­ger­ous myth that activists for social change should spend every fourth year sub­or­di­nat­ed to the demands of pres­i­den­tial elec­tions. This myth ulti­mate­ly pre­serves the polit­i­cal sta­tus quo.
Den­vir points out the cen­tral role of the mil­i­tant labor move­ment of the 1930s in win­ning union pro­tec­tions, but it was the rel­a­tive inde­pen­dence of that move­ment from par­ty pol­i­tics that made this lever­age pos­si­ble. Frances Fox-Piv­en may be cor­rect that ​"elec­toral res­o­nance" can dri­ve move­ments for­ward, but the U.S. elec­toral cul­ture demands that move­ments sub­or­di­nate our strate­gies, our goals and our lan­guage to elec­toral con­straints, often at the expense of our move­ments' integri­ty and militancy.
My first direct expe­ri­ence with this phe­nom­e­non was dur­ing the ear­ly years of U.S. Green pol­i­tics. For near­ly a decade before we had a nation­al Green Par­ty, grass­roots Green activists were on the fore­front of many social and envi­ron­men­tal issues, fre­quent­ly run­ning can­di­dates for local offices. But once pres­i­den­tial pol­i­tics became its pri­ma­ry focus, the fledg­ling party's move­ment base vir­tu­al­ly evap­o­rat­ed as state-lev­el Greens became more focused on the rules of bal­lot access and advanc­ing elec­toral ambi­tions, rather than pro­tect­ing air and water, chal­leng­ing the spread of GMOs and defend­ing Indige­nous rights, among oth­er issues where the Greens had made their mark. Ralph Nader's 1996 and 2000 pres­i­den­tial cam­paigns raised a host of neglect­ed issues, but by con­tin­u­ing to empha­size their qua­dren­ni­al pres­i­den­tial cam­paigns, the Greens have ceased to be a viable polit­i­cal force.
Even should Sanders win, it is a mis­take to assume Sanders' goals line up exact­ly with move­ment demands. In Ver­mont, over the past four decades, Sanders has played a sup­port­ive and some­times inspi­ra­tional role in left move­ments, but he has rarely been a mem­ber of the orga­ni­za­tions he pub­licly sup­ports, and he has some­times been dis­con­nect­ed from their demands. As may­or of Burling­ton, Sanders pushed for com­mer­cial water­front devel­op­ment over the wish­es of com­mu­ni­ty mem­bers. In Con­gress in the 1990s, he led a con­tro­ver­sial plan to ship radioac­tive waste from Ver­mont to a remote site in Texas, win­ning the enmi­ty of both anti­nu­clear Ver­mont activists and Tex­an envi­ron­men­tal­ists. (He has been far more com­mit­ted to envi­ron­men­tal issues as a sen­a­tor.) Sanders fre­quent­ly clashed with anti­war activists over his sup­port for Pres­i­dent Bill Clinton's bomb­ing cam­paign in Ser­bia. More recent­ly, Sanders joined with Sen. Pat Leahy (D‑Vt.) to bring the cost­ly and trou­ble­some F‑35 fight­er plane to the Nation­al Guard air­field on the edge of Burlington.
Still, sup­port­ers point out, Sanders' posi­tions on most issues are far bet­ter than the alter­na­tives, and even since 2016, Sanders has moved left on for­eign pol­i­cy, crim­i­nal jus­tice, immi­gra­tion and cli­mate change. But these shifts came in large part from pres­sure out­side the cam­paign. Sanders was dis­rupt­ed by Black Lives Mat­ter pro­test­ers on the cam­paign trail in 2016; his pledge for a mora­to­ri­um on depor­ta­tions was a demand from the immi­grant rights group Mijente; and his Green New Deal, far more ambi­tious than any­thing he pro­posed in 2016, would nev­er exist with­out grass­roots cli­mate actions around the globe.
These move­ments are not shap­ing their demands around anyone's elec­toral strat­e­gy, but around society's most press­ing needs. We need strong inde­pen­dent advo­ca­cy around those issues rather than an ​"orga­niz­er-in-chief" set­ting the agen­da in the White House. Even a suc­cess­ful politi­cian can only push the pol­i­cy enve­lope so far and still win a major­i­ty. The prospect of a gen­uine­ly pro­gres­sive — or even social­ist — pres­i­dent should not lull us into the com­pla­cent belief that some­one on top can make change for us.
Here in Ver­mont, count­less pro­gres­sive ini­tia­tives — even those sup­port­ed by Demo­c­ra­t­ic gov­er­nors, such as the push for uni­ver­sal health­care in the ear­ly 2010s — have been sab­o­taged by Repub­li­cans and con­ser­v­a­tive Democ­rats alike, even in a leg­is­la­ture fair­ly respon­sive to pub­lic pres­sure. An entrenched polit­i­cal sta­tus quo will only suc­cumb to pro­gres­sive demands when the pres­sure becomes over­whelm­ing, when elites are divid­ed, and when social and polit­i­cal sta­bil­i­ty are seri­ous­ly threatened.
It is inevitable (per­haps nec­es­sary) that a core of ded­i­cat­ed left orga­niz­ers and strate­gists will devote their ener­gy to pres­i­den­tial pol­i­tics, espe­cial­ly for cam­paigns like Jesse Jackson's in the 1980s, Nader's in the 1990s and 2000s, and Sanders' today. But it is more essen­tial, for those ded­i­cat­ed to racial jus­tice, cli­mate jus­tice, gen­der equi­ty, immi­grant rights and com­bat­ing cor­po­rate abuse, to sus­tain our focus on those strug­gles, on grow­ing alliances among them, and on build­ing pow­er­ful and stead­fast­ly inde­pen­dent move­ments. If it is indeed a ​"polit­i­cal rev­o­lu­tion" we seek, it will be dri­ven pri­mar­i­ly by those move­ments, not by even the most remark­able pres­i­den­tial cam­paign. Elect­ed offi­cials can and should sup­port move­ments, but they can­not just­ly claim to lead them.
This is a response to Daniel Den­vir's cov­er sto­ry in the Jan­u­ary 2020 issue, ​"What a Bernie Sanders Pres­i­den­cy Would Look Like." Read it here.
The views expressed in this piece are the author's own. As a 501©3 non­prof­it, In These Times does not oppose or endorse can­di­dates for polit­i­cal office.
Bri­an Tokar
is an edu­ca­tor and activist based in Ver­mont. He is the author of Toward Cli­mate Jus­tice and edi­tor of the forth­com­ing inter­na­tion­al col­lec­tion Cli­mate Jus­tice and Com­mu­ni­ty Renew­al (Rout­ledge).