Bernie Sanders to Chicago Teachers: Worker Militancy Is Key to Fighting the Corporate Elite
At a raucous rally on Tuesday, Sanders stood with Chicago teachers who are on the verge of another citywide strike.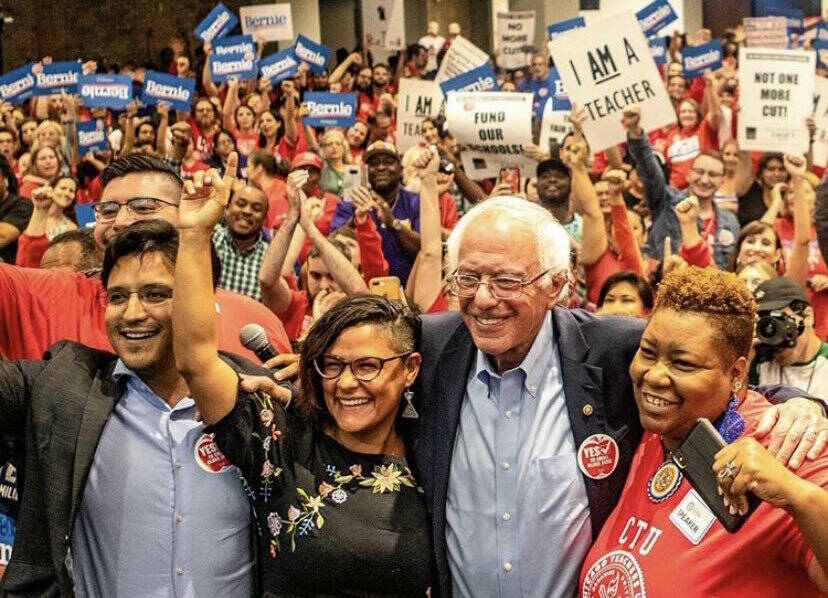 When Chica­go teach­ers led a his­toric strike in 2012, they boast­ed the crit­i­cal back­ing of the pub­lic — but high-pro­file polit­i­cal allies were hard to come by. With then-May­or Rahm Emanuel as the teach­ers' neme­sis, nation­al Democ­rats stayed far away from the fight, and even a num­ber of so-called ​"pro­gres­sive" city coun­cil mem­bers opposed the walk­out, includ­ing the now-dis­graced for­mer 1st Ward Alder­man Pro­co ​'Joe' Moreno who referred to the strike as ​"self­ish."
To Sanders, an invigorated movement of the working class is the only way to achieve the type of bold redistributive policies that are central to his campaign.
On Tues­day night, a very dif­fer­ent scene was on dis­play inside the head­quar­ters of the Chica­go Teach­ers Union (CTU). Sen. Bernie Sanders (I‑Vt.) — one of the lead­ing con­tenders for the Demo­c­ra­t­ic nom­i­na­tion in 2020 — head­lined a rau­cous ral­ly to sup­port the teach­ers in their ongo­ing con­tract fight with new May­or Lori Lightfoot's admin­is­tra­tion. Sanders was flanked by union lead­ers, com­mu­ni­ty activists and a num­ber of the city's new­ly-elect­ed demo­c­ra­t­ic social­ist alder­men, all of whom pledged to back the teach­ers. As Sanders stat­ed as he took the stage, ​"I think that the Chica­go school board should be very nervous."
The Chica­go vis­it marked a con­tin­u­a­tion of Sanders' unique approach to his sec­ond pres­i­den­tial cam­paign, in which he's not just sup­port­ed labor bat­tles, but posi­tioned them front and cen­ter — man­i­fes­ta­tions of the polit­i­cal rev­o­lu­tion he aims to foment. He has uti­lized his vast email and phone lists to turn sup­port­ers out to pick­et lines, and direct­ly tar­get­ed boss­es such as Amazon's Jeff Bezos in order to raise work­ers' wages. He has joined ral­lies of strik­ing work­ers — as he plans to do Wednes­day in Detroit to back the UAW's ongo­ing strike. And, fun­da­men­tal­ly, he has used his cam­paign as a vehi­cle to pro­pel the revi­tal­iza­tion of a mil­i­tant U.S. labor movement.
But these aren't acts of benef­i­cence. To Sanders, an invig­o­rat­ed move­ment of the work­ing class is the only way to achieve the type of bold redis­trib­u­tive poli­cies that are cen­tral to his cam­paign, from Medicare for All to the can­cel­la­tion of all stu­dent debt.
As Sanders stat­ed at the teach­ers' ral­ly Tues­day, ​"For the last 45 years there has been a war in this coun­try by the cor­po­rate elite against the work­ing class of our nation." And, he con­tin­ued, ​"the only way to win pros­per­i­ty for work­ing peo­ple is when we sig­nif­i­cant­ly increase mem­ber­ship in trade unions all across America."
"It's about dignity"
Tues­day marked the first day of vot­ing among CTU mem­bers on whether to autho­rize a strike, which could begin as soon as Octo­ber 7. The union, which claims over 25,000 mem­bers, must reach a thresh­old of 75% of ​'yes' votes to rat­i­fy a walk­out. If recent his­to­ry is any indi­ca­tion, that won't be a her­culean task. Ahead of the 2012 strike, near­ly 90% of all CTU mem­bers who cast a bal­lot vot­ed to walk out. In 2016, the fig­ure was even high­er—close to 96% — though that action was ulti­mate­ly nar­row­ly avoided.
Con­tract nego­ti­a­tions have reached an impasse over demands by teach­ers for more wrap­around ser­vices and class­room resources at city schools. The union claims that there remain far too few librar­i­ans, social work­ers, coun­selors, nurs­es and para­pro­fes­sion­als to ade­quate­ly staff the district's 514 schools, and that the Light­foot admin­is­tra­tion is refus­ing to address these short­ages in firm con­tract lan­guage. Teach­ers are also call­ing for small­er class sizes, invest­ments in spe­cial edu­ca­tion, and sup­port for undoc­u­ment­ed stu­dents through a ​"sanc­tu­ary school" program.
"This is about way more than just pay," said CTU Pres­i­dent Jesse Sharkey to the bois­ter­ous crowd of teach­ers and sup­port­ers Tues­day night. ​"It's about dig­ni­ty, and the fact that our schools suf­fer from crit­i­cal staffing shortages…It's about the schools that Chicago's chil­dren deserve."
The ral­ly also fea­tured teach­ers giv­ing first-hand tes­ti­mo­ni­als of why they are vot­ing to autho­rize a strike. Jamie Schnall, an edu­ca­tor at Beu­lah Shoe­smith Ele­men­tary on Chicago's South Side, echoed Sharkey's claims, say­ing: ​"Large class sizes aren't just in my kinder­garten class­es, it's the entire build­ing. They take more time to plan, to incor­po­rate into lessons, and more time to get indi­vid­u­al­ized atten­tion. We need class size limits."
And Adlai E. Steven­son Ele­men­tary teacher Nor­ma Nor­ie­ga high­light­ed the need for strong con­tract lan­guage guar­an­tee­ing safe­ty for undoc­u­ment­ed youth. ​"Our stu­dents are ter­ri­fied of ICE," she said. ​"We're demand­ing sanc­tu­ary for all of our stu­dents. We fight for sanc­tu­ary because our stu­dents deserve to feel — and be — safe in their schools."
"Every­body is going on strike"
But CTU mem­bers aren't the only school work­ers on the verge of strik­ing. Tuesday's ral­ly was also orga­nized along­side SEIU Local 73, a union rep­re­sent­ing more than 29,000 work­ers, over 7,000 of whom who work in edu­ca­tion-relat­ed posi­tions such as cus­to­di­ans, spe­cial edu­ca­tion assis­tants and secu­ri­ty guards.
Local 73 mem­bers are demand­ing high­er pay, increased staffing and an end to pri­va­ti­za­tion deals that purge their ranks — such as the city's agree­ment with con­trac­tor Ara­mark that brought pri­vate cus­to­di­ans into pub­lic schools, and left them in hor­ren­dous con­di­tions. The union's mem­ber­ship has already vot­ed over­whelm­ing­ly to go out on strike, which could begin as soon as next month — poten­tial­ly coin­cid­ing with that of the CTU.
Already in Chica­go, thou­sands of nurs­es have gone out on strike in the past week at the Uni­ver­si­ty of Chica­go Med­ical Cen­ter. On Mon­day, teach­ers at Pas­sages char­ter school, who are mem­bers of the CTU, vot­ed unan­i­mous­ly to autho­rize a walk­out. And Chica­go Park Dis­trict employ­ees announced at Tuesday's ral­ly that more than 94% of their mem­bers have vot­ed to strike.
These actions come on the heels of recent strikes by Chica­go hotel work­ers and orches­tra musi­cians, as well as the first char­ter schools strikes in the coun­try. Tak­en togeth­er, these dis­plays of col­lec­tive and con­cert­ed work­er action rep­re­sent a new approach for the city's labor move­ment, mov­ing into offense after years of being on its heels.
Jeanette Tay­lor, new­ly-elect­ed alder­woman of the 20th Ward, summed up the new­found state of affairs at Tuesday's ral­ly, say­ing: ​"Every­body is going on strike in this city, and this is the right thing to do. We're at a time in our lives when we can't be silent anymore…we've got to stand and fight for each other."
Dur­ing his speech, Sen. Sanders urged the Chica­go school board to ​"Sign a con­tract that deals with the des­per­ate short­age of school nurs­es, of social work­ers, of librar­i­ans and of oth­er crit­i­cal staff that keep our schools going."
"When we talk about valu­ing work, it's not the hedge fund man­agers on Wall Street that we should val­ue," he con­tin­ued. ​"It's the teach­ers of this coun­try, it's the staffing, it's the school nurs­es and the librarians."
Sup­port­ing unions from the cam­paign trail
This isn't the first time Sanders has used his 2020 cam­paign to lend sup­port to Chica­go work­ers in the midst of a labor dis­pute. In June, the cam­paign used its con­tact lists to call on sup­port­ers to join grad­u­ate stu­dent work­ers at the Uni­ver­si­ty of Chica­go on their pick­et line. The cam­paign had pre­vi­ous­ly done sim­i­lar out­reach to sup­port strik­ing work­ers at McDonald's, Uni­ver­si­ty of Pitts­burgh Med­ical Cen­ter, and Mer­cy Health-St. Vin­cent Med­ical Cen­ter in Tole­do, Ohio. This mobi­liza­tion, con­duct­ed through texts and emails, stands as an appar­ent first in mod­ern pres­i­den­tial politics.
Direct­ly pres­sur­ing employ­ers to raise wages has been anoth­er strat­e­gy employed by Sanders' cam­paign. The senator's ​"Stop BEZOS Act," intro­duced last fall, aimed to rein in cor­po­rate wel­fare and force large com­pa­nies like Ama­zon to pay their work­ers a liv­ing wage. Weeks after the leg­is­la­tion was released, Bezos — the rich­est man in the world and a long­time tar­get of Sanders'—raised his employ­ees' start­ing wages across the board to $15 an hour.
In each of these instances, Sanders did not sin­gle-hand­ed­ly advo­cate for work­ers' rights — he fol­lowed the lead of grass­roots move­ments that were already putting for­ward bold demands. Whether it was grad stu­dent union mem­bers or the Fight for $15 move­ment, Sanders mere­ly lent his sup­port and voice to the labor strug­gles already under­way. And the vic­to­ries, such as Amazon's wage raise, were made pos­si­ble by orga­niz­ers and rank-and-file activists — not sim­ply a pres­i­den­tial can­di­date. Still, this type of overt work­er sol­i­dar­i­ty has become a trade­mark of Sanders' 2020 run.
The appear­ance in Chica­go came the same day Sanders rolled out his wealth tax pro­pos­al, which would hit the top 0.1% of house­holds and raise up to $4.35 tril­lion over the next ten years. Sanders has said that this mon­ey could be direct­ed toward ear­ly child­hood edu­ca­tion, his ambi­tious hous­ing plan and fund­ing a Medicare for All sys­tem. Under the pro­pos­al, Jeff Bezos would be forced to pay $9 bil­lion a year in tax­es. As Sanders told the New York Times of his plan to tar­get the super-rich, ​"I don't think bil­lion­aires should exist."
Sanders isn't the only major pres­i­den­tial can­di­date to voice sup­port for the Chica­go teach­ers. On Sun­day, Sen. Eliz­a­beth War­ren (D‑Mass.) tweet­ed, ​"I stand shoul­der to shoul­der with the Chica­go teach­ers mak­ing their voic­es heard to demand liv­ing wages, small­er class sizes, and all the things teach­ers need to do their jobs well." The fol­low­ing day, for­mer Vice Pres­i­dent Joe Biden fol­lowed suit, tweet­ing, ​"I'm proud to sup­port Chicago's edu­ca­tors as they fight for fair wages, full staffing, and small­er class sizes."
Sev­en years ago, Chica­go teach­ers were able to emerge vic­to­ri­ous in their strike even with­out help from the main­stream polit­i­cal class — local­ly or nation­al­ly. But today, fol­low­ing a wave of teacher strikes across the coun­try which has shift­ed the polit­i­cal ter­rain decid­ed­ly in the direc­tion of rebelling work­ers, and with all of the top Demo­c­ra­t­ic can­di­dates and an array of left-wing city coun­cil mem­bers in its cor­ner, the CTU is poised to car­ry for­ward what the union ini­ti­at­ed in 2012.
As Sanders said Tues­day night of the new­found labor insur­gency, ​"What we are see­ing is teach­ers stand­ing up and fight­ing for justice."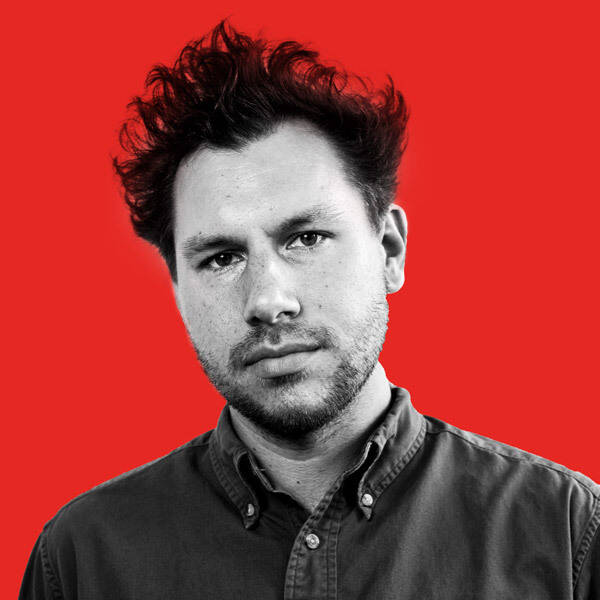 Miles Kampf-Lassin, a grad­u­ate of New York Uni­ver­si­ty's Gal­latin School in Delib­er­a­tive Democ­ra­cy and Glob­al­iza­tion, is a Web Edi­tor at In These Times. Fol­low him on Twit­ter @MilesKLassin