Bernie Sanders' Delegates Speak Out About Convention: "They Painted Us As Crazy"
Will the Democratic Party embrace its insurgent wing?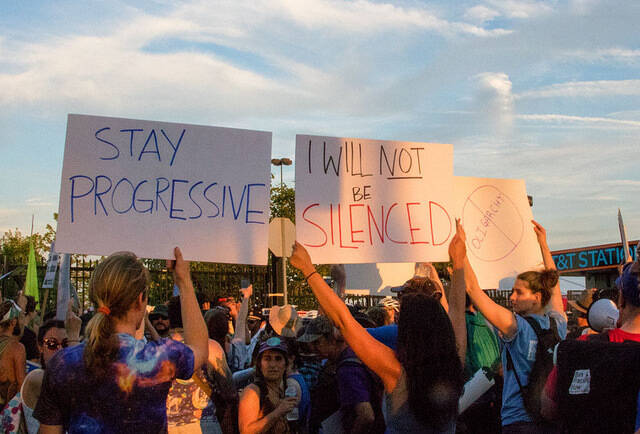 Since the Demo­c­ra­t­ic Nation­al Con­ven­tion last week, there's been a lot of ink spilled about Bernie Sanders' del­e­gates — the row­dy, dis­rup­tive group of 1,900 that could be heard on tele­vi­sion and in the Wells Far­go Cen­ter boo­ing Don­ald Trump and Hillary Clin­ton alike.
'Bernie's not the ceiling of what we can achieve in the Democratic Party. He's the floor.'
Sanders' army was among the convention's most active par­tic­i­pants, lead­ing chants against par­ty elites and stag­ing protests from the floor. Annoyed, more than a few pun­dits took swings at those del­e­gates, chid­ing them as every­thing from ​"sui­ci­dal Marx­ists who work at TGI Fri­day's" to ​"a fanat­i­cal, dis­rup­tive minor­i­ty." And, though a recent poll from the Pew Research Cen­ter found that some 90 per­cent of Sanders' sup­port­ers will back Clin­ton come Novem­ber, reporters swarmed the Bernie-or-Bust crowd.
The ques­tion now — for those inter­est­ed in car­ry­ing on the polit­i­cal rev­o­lu­tion Sanders sparked — is not what will become of votes for Sanders, but what will become of the man­pow­er and cam­paign infra­struc­ture that recruit­ed them? Can the Demo­c­ra­t­ic Par­ty embrace its insur­gent wing, or will it close ranks and steel itself against pres­sure from below?
In These Times recent­ly sat down with three Sanders del­e­gates to hear their reflec­tions on the con­ven­tion and their thoughts on the future of the Demo­c­ra­t­ic Par­ty. Like many oth­ers, each knocked on doors and planned out efforts to elect Sanders at the state and nation­al lev­el. Waleed Shahid, a del­e­gate from Penn­syl­va­nia, is deputy direc­tor of mem­ber­ship for the Work­ing Fam­i­lies Par­ty. Charles Lench­n­er, from the New York del­e­ga­tion, is co-founder of Peo­ple for Bernie, a project on which Moumi­ta Ahmed — also from New York — orga­nized with as founder of Mil­len­ni­als for Bernie.
Their com­ments have been edit­ed and condensed.
Was being a del­e­gate what you expect­ed? What was the scene like on the floor?
Waleed Shahid: I think the del­e­gates who are the most diehard Bernie sup­port­ers came in expect­ing some sort of con­tes­ta­tion or floor fight even though Sen­a­tor Sanders said that wasn't going to hap­pen. All the speech­es made it seems like Hillary was already the can­di­date, and that rubbed the Bernie del­e­gates the wrong way. I went in know­ing she'd be the nom­i­nee, but I think oth­er del­e­gates maybe didn't under­stand the process as thoroughly.
It was weird. You're there sit­ting next to may­ors and gov­er­nors, and, for a lot of the Bernie del­e­gates, it's their first time being involved in the polit­i­cal process. Now they're sit­ting next to the polit­i­cal elite. Hillary del­e­gates seemed con­fused and annoyed with the Bernie del­e­gates. The body lan­guage and the way we were being treat­ed didn't speak to what they were say­ing on stage about open­ing the par­ty up to peo­ple like us. They were look­ing around at each oth­er ask­ing, ​'Why are all these young peo­ple excit­ed by a social­ist 74-year-old from Ver­mont?' If they don't under­stand that, they're in for a surprise.
Moumi­ta Ahmed: I didn't know that we were there as almost a show rather than peo­ple with actu­al minds who were there to express what they saw through the elec­tion. Most peo­ple expect­ed del­e­gates to show up, cheer and have a great time nom­i­nat­ing Clin­ton. We did have a great time in the Bernie del­e­ga­tion, but we made sure we expressed our­selves. We came out and held signs and things, not nec­es­sar­i­ly bash­ing Hillary but show­ing that we want to ban frack­ing and stop the TPP, and that we sup­port Pales­tin­ian human rights. These aren't issues that are ​'anti-Hillary Clin­ton,' just poli­cies she hasn't ful­ly adopt­ed. We were try­ing to rep­re­sent the peo­ple we were there for.
Par­ty offi­cials did every­thing they could to take our signs and cre­den­tials away, and not let the issues be at the front of the DNC. I was told to hush and not boo New York Gov. Andrew Cuo­mo, which — I think — shows a dif­fer­ence in the way each side han­dles cor­rupt politi­cians. I ques­tioned what real­ly is the role of a del­e­gate. To a cer­tain degree, we may have changed the rules there a lit­tle bit.
Charles Lench­n­er: I didn't real­ly have expec­ta­tions. The state del­e­ga­tions didn't feel like a wel­com­ing place for Bernie del­e­gates. Every morn­ing we showed up at break­fast where the speak­ers were almost all either union offi­cials or elect­ed offi­cials, and basi­cal­ly none of them sup­port­ed Sanders. It's almost like par­ty lead­ers hadn't fig­ured out that they need to cul­ti­vate these peo­ple, and don't want us around for the future. They assume that we're irrel­e­vant for the long term.
The front rows on the con­ven­tion floor all had reserved signs on them for elect­ed offi­cials, some of whom were del­e­gates and superdel­e­gates. Some were nei­ther. Those were also being held for VIP guest pass­es, issued nine to one in favor of Hillary to Bernie peo­ple. It was a phys­i­cal reminder that we were seen as less than the oth­er team. The Demo­c­ra­t­ic Nation­al Committee's goal was explic­it­ly to hide us and cov­er up any signs we had. They got what they want­ed, but they also cre­at­ed a lot of ill will from hun­dreds of thou­sands of Bernie peo­ple who vis­cer­al­ly expe­ri­enced how the par­ty estab­lish­ment doesn't want them around.
Do you think what you saw came across in how the media was cov­er­ing the convention?
MA: I don't think they accu­rate­ly rep­re­sent­ed how peo­ple felt. They cred­it­ed every­thing we did to Bernie-or-Bust or Jill Stein and the Green Par­ty. Most del­e­gates weren't Bernie-or-Bust. We all under­stand that, ulti­mate­ly, Trump needs to be defeat­ed, and that — espe­cial­ly in swing states — you need to sup­port Clin­ton. They paint­ed us as crazy.
CL: The com­mon wis­dom about polit­i­cal con­ven­tions today — and it's not wrong — is that the pur­pose of the con­ven­tion is to be a tele­vi­sion ad for your can­di­date. So the mass media and DNC work togeth­er to have a fine show. What's lost in that is that a con­ven­tion could be, or should be, about actu­al democ­ra­cy — peo­ple hav­ing dis­agree­ments, form­ing new coali­tions. The work of pol­i­tics isn't always pret­ty. Why don't we reserve the uni­ty cel­e­bra­tion for days three and four? Bernie del­e­gates who don't have a lot of mon­ey raised mon­ey to par­tic­i­pate in the con­ven­tion, only to find out that par­tic­i­pa­tion involves free break­fasts and par­ties, and cheer­ing on demand.
What was the most sur­pris­ing thing about the convention?
WS: I wasn't expect­ing to feel as sad as I did to see Sanders on stage. It was a real­ly bit­ter­sweet moment. The media cov­ered the walk­out, which was a small per­cent­age of del­e­gates. But a much larg­er per­cent­age of del­e­gates left the con­ven­tion floor and either went to the lob­by or went to a bar down­town. They weren't protest­ing. They were sad. There's a real fear that a lot of the rela­tion­ships and infra­struc­ture peo­ple built through the Bernie cam­paign is going to dis­ap­pear overnight.
MA: I was real­ly sur­prised at how ide­o­log­i­cal some of these par­ty peo­ple are. They're mad that Bernie is an inde­pen­dent who ran in the Demo­c­ra­t­ic Par­ty. Some of us were talk­ing about open pri­maries, and they just hat­ed that.
I gave one woman, a Clin­ton del­e­gate, a sign that said ​'I Sup­port Pales­tin­ian Human Rights.' She want­ed to wear it, but her friend said, ​'We can't do that, we're not allowed to.' They don't want to ques­tion par­ty lead­er­ship on any lev­el. Even the sim­ple thing of tak­ing a but­ton and putting it on your body is a big no-no for them. I didn't think the par­ty was this authoritarian.
Will Sanders' sup­port­ers back Clin­ton in the fall? What do you think are the main chal­lenges to par­ty unity?
WS: The vast major­i­ty of Sanders' sup­port­ers are going to be vot­ing for Clin­ton in 2016. But peo­ple are upset at the sta­tus quo, and unfor­tu­nate­ly Hillary rep­re­sents that. When the Demo­c­ra­t­ic Par­ty lead­ers and Clin­ton say that Amer­i­ca is already great, it doesn't sit well. America's only great when peo­ple come togeth­er to make that so. Young peo­ple are look­ing for a way to par­tic­i­pate that acknowl­edges that our sys­tem is bro­ken. That's a huge vac­u­um right now, and pro­gres­sive lead­ers and orga­ni­za­tions need to step up into it.
MA: I think the vast major­i­ty of peo­ple are going to sup­port Clin­ton. It's in the par­ty establishment's inter­est just as much as ours to work togeth­er, but I don't see them doing their part. Their focus is too much on fear-mon­ger­ing and all of this anti-Trump rhetoric. They're not tap­ping into the source of the suf­fer­ing that most peo­ple are feel­ing, and why they got involved in this polit­i­cal rev­o­lu­tion in the first place. I don't see them both­er­ing with that, and it real­ly wor­ries me.
CL: In swing states, par­tic­u­lar­ly, the vast major­i­ty of Bernie sup­port­ers are going to vote for Hillary. The appear­ance of their being mas­sive dis­sent from Bernie peo­ple was an opti­cal illu­sion. If you're on team Bernie but are resigned to team Hillary, you're not going to rush to get press.
Do you think the Demo­c­ra­t­ic Par­ty is worth fight­ing for? Why? Did you leave the con­ven­tion pes­simistic or opti­mistic about its future?
WS: I left feel­ing very opti­mistic about the party's future, and hope­ful about hav­ing low­er-case ​"d" democ­rats over­take it. Bernie's not the ceil­ing of what we can achieve in the Demo­c­ra­t­ic Par­ty. He's the floor. I'm hope­ful we can learn from what went well and what didn't this cycle with the Sanders move­ment. In the com­ing years there's a lot of space for us to fight, both with­in and out­side the Demo­c­ra­t­ic Par­ty. I don't think all polit­i­cal change is going to hap­pen in the Demo­c­ra­t­ic Par­ty. It's just one field of battle.
MA: There is a divide with­in the par­ty, and a ris­ing pro­gres­sive wing that I want to help suc­ceed. The way the DNC act­ed at this con­ven­tion doesn't give me hope. What gives me hope is all the peo­ple who sup­port­ed Bernie, and who are now try­ing to fight with­in the sys­tem to start orga­ni­za­tions and elect peo­ple like Bernie.
CL: It's pos­si­ble to win pow­er out­side of the two-par­ty sys­tem, but what you'll find is that one of them will swal­low your issue. The GOP became the par­ty of abo­li­tion­ists because there were too many abo­li­tion­ists that vot­ed. I think the Demo­c­ra­t­ic Par­ty is a bat­tle­ground. You can either play on it to win, or you can aban­don it to the ene­my. And I would rather play on it to win.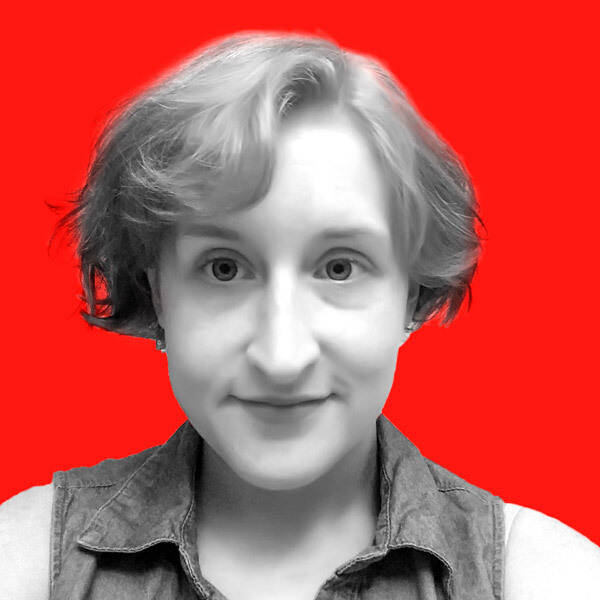 Kate Aronoff
is a Brook­lyn-based jour­nal­ist cov­er­ing cli­mate and U.S. pol­i­tics, and a con­tribut­ing writer at The Inter­cept. Fol­low her on Twit­ter @katearonoff.