Bernie Sanders: My Vision For Democratic Socialism in America
In order to create a more egalitarian society, we must take back the reins of our government from the billionaire class and provide democratic socialism for working families—not just Wall Street and giant corporations.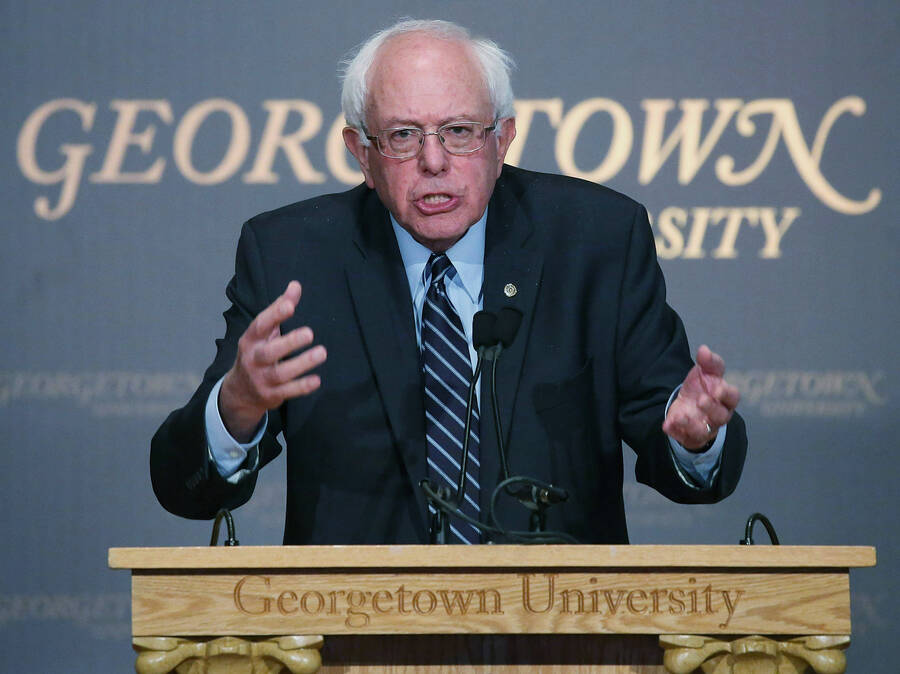 The fol­low­ing is the tran­script of a speech Sen. Bernie Sanders deliv­ered at George­town Uni­ver­si­ty on Novem­ber 19th out­lin­ing what the term demo­c­ra­t­ic social­ism means to him, as well as his plans to deal with the nation­al secu­ri­ty threat posed by ISIS.
The billionaire class cannot have it all. Our government belongs to all of us, and not just the one percent.
In his inau­gur­al remarks in Jan­u­ary 1937, in the midst of the Great Depres­sion, Pres­i­dent Franklin Delano Roo­sevelt looked out at the nation and this is what he saw.
He saw tens of mil­lions of its cit­i­zens denied the basic neces­si­ties of life.
He saw mil­lions of fam­i­lies try­ing to live on incomes so mea­ger that the pall of fam­i­ly dis­as­ter hung over them day by day.
He saw mil­lions denied edu­ca­tion, recre­ation, and the oppor­tu­ni­ty to bet­ter their lot and the lot of their children.
He saw mil­lions lack­ing the means to buy the prod­ucts they need­ed and by their pover­ty and lack of dis­pos­able income deny­ing employ­ment to many oth­er millions.
He saw one-third of a nation ill-housed, ill-clad, ill-nourished.
And he act­ed. Against the fero­cious oppo­si­tion of the rul­ing class of his day, peo­ple he called eco­nom­ic roy­al­ists, Roo­sevelt imple­ment­ed a series of pro­grams that put mil­lions of peo­ple back to work, took them out of pover­ty and restored their faith in gov­ern­ment. He rede­fined the rela­tion­ship of the fed­er­al gov­ern­ment to the peo­ple of our coun­try. He com­bat­ted cyn­i­cism, fear and despair. He rein­vig­o­rat­ed democ­ra­cy. He trans­formed the country.
And that is what we have to do today.
And, by the way, almost every­thing he pro­posed was called ​"social­ist." Social Secu­ri­ty, which trans­formed life for the elder­ly in this coun­try was ​"social­ist." The con­cept of the ​"min­i­mum wage" was seen as a rad­i­cal intru­sion into the mar­ket­place and was described as ​"social­ist." Unem­ploy­ment insur­ance, abol­ish­ing child labor, the 40-hour work week, col­lec­tive bar­gain­ing, strong bank­ing reg­u­la­tions, deposit insur­ance, and job pro­grams that put mil­lions of peo­ple to work were all described, in one way or anoth­er, as ​"social­ist." Yet, these pro­grams have become the fab­ric of our nation and the foun­da­tion of the mid­dle class.
Thir­ty years lat­er, in the 1960s, Pres­i­dent John­son passed Medicare and Med­ic­aid to pro­vide health care to mil­lions of senior cit­i­zens and fam­i­lies with chil­dren, per­sons with dis­abil­i­ties and some of the most vul­ner­a­ble peo­ple in this coun­ty. Once again these vital­ly impor­tant pro­grams were derid­ed by the right wing as social­ist pro­grams that were a threat to our Amer­i­can way of life.
That was then. Now is now.
Today, in 2015, despite the Wall Street crash of 2008, which drove this coun­try into the worst eco­nom­ic down­turn since the Depres­sion, the Amer­i­can peo­ple are clear­ly bet­ter off eco­nom­i­cal­ly than we were in 1937.
But, here is a very hard truth that we must acknowl­edge and address. Despite a huge increase in tech­nol­o­gy and pro­duc­tiv­i­ty, despite major growth in the U.S. and glob­al econ­o­my, tens of mil­lions of Amer­i­can fam­i­lies con­tin­ue to lack the basic neces­si­ties of life, while mil­lions more strug­gle every day to pro­vide a min­i­mal stan­dard of liv­ing for their fam­i­lies. The real­i­ty is that for the last 40 years the great mid­dle class of this coun­try has been in decline and faith in our polit­i­cal sys­tem is now extreme­ly low.
The rich get much rich­er. Almost every­one else gets poor­er. Super PACs fund­ed by bil­lion­aires buy elec­tions. Ordi­nary peo­ple don't vote. We have an eco­nom­ic and polit­i­cal cri­sis in this coun­try and the same old, same old estab­lish­ment pol­i­tics and eco­nom­ics will not effec­tive­ly address it.
If we are seri­ous about trans­form­ing our coun­try, if we are seri­ous about rebuild­ing the mid­dle class, if we are seri­ous about rein­vig­o­rat­ing our democ­ra­cy, we need to devel­op a polit­i­cal move­ment which, once again, is pre­pared to take on and defeat a rul­ing class whose greed is destroy­ing our nation. The bil­lion­aire class can­not have it all. Our gov­ern­ment belongs to all of us, and not just the one percent.
We need to cre­ate a cul­ture which, as Pope Fran­cis reminds us, can­not just be based on the wor­ship of mon­ey. We must not accept a nation in which bil­lion­aires com­pete as to the size of their super-yachts, while chil­dren in Amer­i­ca go hun­gry and vet­er­ans sleep out on the streets.
Today, in Amer­i­ca, we are the wealth­i­est nation in the his­to­ry of the world, but few Amer­i­cans know that because so much of the new income and wealth goes to the peo­ple on top. In fact, over the last 30 years, there has been a mas­sive trans­fer of wealth — tril­lions of wealth — going from the mid­dle class to the top one-tenth of 1 per­cent — a hand­ful of peo­ple who have seen a dou­bling of the per­cent­age of the wealth they own over that period.
Unbe­liev­ably, and grotesque­ly, the top one-tenth of 1 per­cent owns near­ly as much wealth as the bot­tom 90 percent.
Today, in Amer­i­ca, mil­lions of our peo­ple are work­ing two or three jobs just to sur­vive. In fact, Amer­i­cans work longer hours than do the peo­ple of any indus­tri­al­ized coun­try. Despite the incred­i­bly hard work and long hours of the Amer­i­can mid­dle class, 58 per­cent of all new income gen­er­at­ed today is going to the top one percent.
Today, in Amer­i­ca, as the mid­dle class con­tin­ues to dis­ap­pear, medi­an fam­i­ly income, is $4,100 less than it was in 1999. The medi­an male work­er made over $700 less than he did 42 years ago, after adjust­ing for infla­tion. Last year, the medi­an female work­er earned more than $1,000 less than she did in 2007.
Today, in Amer­i­ca, the wealth­i­est coun­try in the his­to­ry of the world, more than half of old­er work­ers have no retire­ment sav­ings — zero — while mil­lions of elder­ly and peo­ple with dis­abil­i­ties are try­ing to sur­vive on $12,000 or $13,000 a year. From Ver­mont to Cal­i­for­nia, old­er work­ers are scared to death. ​"How will I retire with dig­ni­ty?," they ask?
Today, in Amer­i­ca, near­ly 47 mil­lion Amer­i­cans are liv­ing in pover­ty and over 20 per­cent of our chil­dren, includ­ing 36 per­cent of African Amer­i­can chil­dren, are liv­ing in pover­ty — the high­est rate of child­hood pover­ty of near­ly any major coun­try on earth.
Today, in Amer­i­ca, 29 mil­lion Amer­i­cans have no health insur­ance and even more are under­in­sured with out­ra­geous­ly high co-pay­ments and deductibles. Fur­ther, with the Unit­ed States pay­ing the high­est prices in the world for pre­scrip­tion drugs, 1 out of 5 patients can­not afford to fill the pre­scrip­tions their doc­tors write.
Today, in Amer­i­ca, youth unem­ploy­ment and under­em­ploy­ment is over 35 per­cent. Mean­while, we have more peo­ple in jail than any oth­er coun­try and count­less lives are being destroyed as we spend $80 bil­lion a year lock­ing up fel­low Americans.
The bot­tom line is that today in Amer­i­ca we not only have mas­sive wealth and income inequal­i­ty, but a pow­er struc­ture which pro­tects that inequal­i­ty. A hand­ful of super-wealthy cam­paign con­trib­u­tors have enor­mous influ­ence over the polit­i­cal process, while their lob­by­ists deter­mine much of what goes on in Congress.
In 1944, in his State of the Union speech, Pres­i­dent Roo­sevelt out­lined what he called a sec­ond Bill of Rights. This is one of the most impor­tant speech­es ever made by a pres­i­dent but, unfor­tu­nate­ly, it has not got­ten the atten­tion that it deserves.
In that remark­able speech this is what Roo­sevelt stat­ed, and I quote: ​"We have come to a clear real­iza­tion of the fact that true indi­vid­ual free­dom can­not exist with­out eco­nom­ic secu­ri­ty and inde­pen­dence. Neces­si­tous men are not free men." End of quote. In oth­er words, real free­dom must include eco­nom­ic secu­ri­ty. That was Roosevelt's vision 70 years ago. It is my vision today. It is a vision that we have not yet achieved. It is time that we did.
In that speech, Roo­sevelt described the eco­nom­ic rights that he believed every Amer­i­can was enti­tled to: The right to a decent job at decent pay, the right to ade­quate food, cloth­ing, and time off from work, the right for every busi­ness, large and small, to func­tion in an atmos­phere free from unfair com­pe­ti­tion and dom­i­na­tion by monop­o­lies. The right of all Amer­i­cans to have a decent home and decent health care.
What Roo­sevelt was stat­ing in 1944, what Mar­tin Luther King, Jr. stat­ed in sim­i­lar terms 20 years lat­er and what I believe today, is that true free­dom does not occur with­out eco­nom­ic security.
Peo­ple are not tru­ly free when they are unable to feed their fam­i­ly. Peo­ple are not tru­ly free when they are unable to retire with dig­ni­ty. Peo­ple are not tru­ly free when they are unem­ployed or under­paid or when they are exhaust­ed by work­ing long hours. Peo­ple are not tru­ly free when they have no health care.
So let me define for you, sim­ply and straight­for­ward­ly, what demo­c­ra­t­ic social­ism means to me. It builds on what Franklin Delano Roo­sevelt said when he fought for guar­an­teed eco­nom­ic rights for all Amer­i­cans. And it builds on what Mar­tin Luther King, Jr. said in 1968 when he stat­ed that; ​"This coun­try has social­ism for the rich, and rugged indi­vid­u­al­ism for the poor." It builds on the suc­cess of many oth­er coun­tries around the world that have done a far bet­ter job than we have in pro­tect­ing the needs of their work­ing fam­i­lies, the elder­ly, the chil­dren, the sick and the poor.
Demo­c­ra­t­ic social­ism means that we must cre­ate an econ­o­my that works for all, not just the very wealthy.
Demo­c­ra­t­ic social­ism means that we must reform a polit­i­cal sys­tem in Amer­i­ca today which is not only gross­ly unfair but, in many respects, corrupt.
It is a sys­tem, for exam­ple, which dur­ing the 1990s allowed Wall Street to spend $5 bil­lion in lob­by­ing and cam­paign con­tri­bu­tions to get dereg­u­lat­ed. Then, ten years lat­er, after the greed, reck­less­ness, and ille­gal behav­ior of Wall Street led to their col­lapse, it is a sys­tem which pro­vid­ed tril­lions in gov­ern­ment aid to bail them out. Wall Street used their wealth and pow­er to get Con­gress to do their bid­ding for dereg­u­la­tion and then, when their greed caused their col­lapse, they used their wealth and pow­er to get Con­gress to bail them out. Quite a system!
And, then, to add insult to injury, we were told that not only were the banks too big to fail, the bankers were too big to jail. Kids who get caught pos­sess­ing mar­i­jua­na get police records. Wall Street CEOs who help destroy the econ­o­my get rais­es in their salaries. This is what Mar­tin Luther King, Jr. meant by social­ism for the rich and rugged indi­vid­u­al­ism for every­one else.
In my view, it's time we had demo­c­ra­t­ic social­ism for work­ing fam­i­lies, not just Wall Street, bil­lion­aires and large cor­po­ra­tions. It means that we should not be pro­vid­ing wel­fare for cor­po­ra­tions, huge tax breaks for the very rich, or trade poli­cies which boost cor­po­rate prof­its as work­ers lose their jobs. It means that we cre­ate a gov­ern­ment that works for works for all of us, not just pow­er­ful spe­cial inter­ests. It means that eco­nom­ic rights must be an essen­tial part of what Amer­i­ca stands for.
It means that health care should be a right of all peo­ple, not a priv­i­lege. This is not a rad­i­cal idea. It exists in every oth­er major coun­try on earth. Not just Den­mark, Swe­den or Fin­land. It exists in Cana­da, France, Ger­many and Tai­wan. That is why I believe in a Medicare-for-all sin­gle pay­er health care sys­tem. Yes. The Afford­able Care Act, which I helped write and vot­ed for, is a step for­ward for this coun­try. But we must build on it and go further.
Medicare for all would not only guar­an­tee health care for all peo­ple, not only save mid­dle class fam­i­lies and our entire nation sig­nif­i­cant sums of mon­ey, it would rad­i­cal­ly improve the lives of all Amer­i­cans and bring about sig­nif­i­cant improve­ments in our economy.
Peo­ple who get sick will not have to wor­ry about pay­ing a deductible or mak­ing a co-pay­ment. They could go to the doc­tor when they should, and not end up in the emer­gency room. Busi­ness own­ers will not have to spend enor­mous amounts of time wor­ry­ing about how they are going to pro­vide health care for their employ­ees. Work­ers will not have to be trapped in jobs they do not like sim­ply because their employ­ers are offer­ing them decent health insur­ance plans. Instead, they will be able to pur­sue the jobs and work they love, which could be an enor­mous boon for the econ­o­my. And by the way, mov­ing to a Medicare for all pro­gram will end the dis­grace of Amer­i­cans pay­ing, by far, the high­est prices in the world for pre­scrip­tion drugs.
Demo­c­ra­t­ic social­ism means that, in the year 2015, a col­lege degree is equiv­a­lent to what a high school degree was 50 years ago — and that pub­lic edu­ca­tion must allow every per­son in this coun­try, who has the abil­i­ty, the qual­i­fi­ca­tions and the desire, the right to go to a pub­lic col­leges or uni­ver­si­ty tuition free. This is also not a rad­i­cal idea. It exists today in many coun­tries around the world. In fact, it used to exist in the Unit­ed States.
Demo­c­ra­t­ic social­ism means that our gov­ern­ment does every­thing it can to cre­ate a full employ­ment econ­o­my. It makes far more sense to put mil­lions of peo­ple back to work rebuild­ing our crum­bling infra­struc­ture, than to have a real unem­ploy­ment rate of almost 10 per­cent. It is far smarter to invest in jobs and edu­ca­tion­al oppor­tu­ni­ties for unem­ployed young peo­ple, than to lock them up and spend $80 bil­lion a year through mass incarceration.
Demo­c­ra­t­ic social­ism means that if some­one works forty hours a week, that per­son should not be liv­ing in pover­ty: that we must raise the min­i­mum wage to a liv­ing wage — $15 an hour over the next few years. It means that we join the rest of the world and pass the very strong Paid Fam­i­ly and Med­ical Leave leg­is­la­tion now in Con­gress. How can it pos­si­bly be that the Unit­ed States, today, is vir­tu­al­ly the only nation on earth, large or small, which does not guar­an­tee that a work­ing class woman can stay home for a rea­son­able peri­od of time with her new-born baby? How absurd is that?
Demo­c­ra­t­ic social­ism means that we have gov­ern­ment pol­i­cy which does not allow the greed and prof­i­teer­ing of the fos­sil fuel indus­try to destroy our envi­ron­ment and our plan­et, and that we have a moral respon­si­bil­i­ty to com­bat cli­mate change and leave this plan­et healthy and inhab­it­able for our kids and grandchildren.
Demo­c­ra­t­ic social­ism means, that in a demo­c­ra­t­ic, civ­i­lized soci­ety the wealth­i­est peo­ple and the largest cor­po­ra­tions must pay their fair share of tax­es. Yes. Inno­va­tion, entre­pre­neur­ship and busi­ness suc­cess should be reward­ed. But greed for the sake of greed is not some­thing that pub­lic pol­i­cy should sup­port. It is not accept­able that in a rigged econ­o­my in the last two years the wealth­i­est 15 Amer­i­cans saw their wealth increase by $170 bil­lion, more wealth than is owned by the bot­tom 130 mil­lion Amer­i­cans. Let us not for­get what Pope Fran­cis has so ele­gant­ly stat­ed; ​"We have cre­at­ed new idols. The wor­ship of the gold­en calf of old has found a new and heart­less image in the cult of mon­ey and the dic­ta­tor­ship of an econ­o­my which is face­less and lack­ing any tru­ly humane goal."
It is not accept­able that major cor­po­ra­tions stash their prof­its in the Cay­man Islands and oth­er off­shore tax havens to avoid pay­ing $100 bil­lion in tax­es each and every year. It is not accept­able that hedge fund man­agers pay a low­er effec­tive tax rate than nurs­es or truck dri­vers. It is not accept­able that bil­lion­aire fam­i­lies are able to leave vir­tu­al­ly all of their wealth to their fam­i­lies with­out pay­ing a rea­son­able estate tax. It is not accept­able that Wall Street spec­u­la­tors are able to gam­ble tril­lions of dol­lars in the deriv­a­tives mar­ket with­out pay­ing a nick­el in tax­es on those transactions.
Demo­c­ra­t­ic social­ism, to me, does not just mean that we must cre­ate a nation of eco­nom­ic and social jus­tice. It also means that we must cre­ate a vibrant democ­ra­cy based on the prin­ci­ple of one per­son one vote. It is extreme­ly sad that the Unit­ed States, one of the old­est democ­ra­cies on earth, has one of the low­est vot­er turnouts of any major coun­try, and that mil­lions of young and work­ing class peo­ple have giv­en up on our polit­i­cal sys­tem entire­ly. Every Amer­i­can should be embar­rassed that in our last nation­al elec­tion 63% of the Amer­i­can peo­ple, and 80% of young peo­ple, did not vote. Clear­ly, despite the efforts of many Repub­li­can gov­er­nors to sup­press the vote, we must make it eas­i­er for peo­ple to par­tic­i­pate in the polit­i­cal process, not hard­er. It is not too much to demand that every­one 18 years of age is reg­is­tered to vote – end of discussion.
Fur­ther, it is unac­cept­able that we have a cor­rupt cam­paign finance sys­tem which allows mil­lion­aires, bil­lion­aires and large cor­po­ra­tions to con­tribute as much as they want to Super Pacs to elect can­di­dates who will rep­re­sent their spe­cial inter­ests. We must over­turn Cit­i­zens Unit­ed and move to pub­lic fund­ing of elections.
So the next time you hear me attacked as a social­ist, remem­ber this:
I don't believe gov­ern­ment should own the means of pro­duc­tion, but I do believe that the mid­dle class and the work­ing fam­i­lies who pro­duce the wealth of Amer­i­ca deserve a fair deal.
I believe in pri­vate com­pa­nies that thrive and invest and grow in Amer­i­ca instead of ship­ping jobs and prof­its overseas.
I believe that most Amer­i­cans can pay low­er tax­es — if hedge fund man­agers who make bil­lions manip­u­lat­ing the mar­ket­place final­ly pay the tax­es they should.
I don't believe in spe­cial treat­ment for the top 1 per­cent, but I do believe in equal treat­ment for African-Amer­i­cans who are right to pro­claim the moral prin­ci­ple that Black Lives Matter.
I despise appeals to nativism and prej­u­dice, and I do believe in immi­gra­tion reform that gives His­pan­ics and oth­ers a path­way to cit­i­zen­ship and a bet­ter life.
I don't believe in some for­eign ​"ism", but I believe deeply in Amer­i­can idealism.
I'm not run­ning for pres­i­dent because it's my turn, but because it's the turn of all of us to live in a nation of hope and oppor­tu­ni­ty not for some, not for the few, but for all.
No one under­stood bet­ter than FDR the con­nec­tion between Amer­i­can strength at home and our abil­i­ty to defend Amer­i­ca at home and across the world. That is why he pro­posed a sec­ond Bill of Rights in 1944, and said in that State of the Union:
"America's own right­ful place in the world depends in large part upon how ful­ly these and sim­i­lar rights have been car­ried into prac­tice for all our cit­i­zens. For unless there is secu­ri­ty here at home there can­not be last­ing peace in the world."
I'm not run­ning to pur­sue reck­less adven­tures abroad, but to rebuild America's strength at home. I will nev­er hes­i­tate to defend this nation, but I will nev­er send our sons and daugh­ters to war under false pre­tense or pre­tens­es or into dubi­ous bat­tles with no end in sight.
And when we dis­cuss for­eign pol­i­cy, let me join the peo­ple of Paris in mourn­ing their loss, and pray that those who have been wound­ed will enjoy a full recov­ery. Our hearts also go out to the fam­i­lies of the hun­dreds of Rus­sians appar­ent­ly killed by an ISIS bomb on their flight, and those who lost their lives to ter­ror­ist attacks in Lebanon and elsewhere.
To my mind, it is clear that the Unit­ed States must pur­sue poli­cies to destroy the bru­tal and bar­bar­ic ISIS régime, and to cre­ate con­di­tions that pre­vent fanat­i­cal extrem­ist ide­olo­gies from flour­ish­ing. But we can­not — and should not — do it alone.
Our response must begin with an under­stand­ing of past mis­takes and mis­steps in our pre­vi­ous approach­es to for­eign pol­i­cy. It begins with the acknowl­edg­ment that uni­lat­er­al mil­i­tary action should be a last resort, not a first resort, and that ill-con­ceived mil­i­tary deci­sions, such as the inva­sion of Iraq, can wreak far-reach­ing dev­as­ta­tion and desta­bi­lize entire regions for decades. It begins with the reflec­tion that the failed pol­i­cy deci­sions of the past — rush­ing to war, régime change in Iraq, or top­pling Mossadegh in Iran in 1953, or Guatemalan Pres­i­dent Árbenz in 1954, Brazil­ian Pres­i­dent Goulart in 1964, Chilean Pres­i­dent Allende in 1973. These are the sorts of poli­cies do not work, do not make us safer, and must not be repeated.
After World War II, in response to the fear of Sovi­et aggres­sion, Euro­pean nations and the Unit­ed States estab­lished the North Atlantic Treaty Orga­ni­za­tion — an orga­ni­za­tion based on shared inter­ests and goals and the notion of a col­lec­tive defense against a com­mon ene­my. It is my belief that we must expand on these ideals and solid­i­fy our com­mit­ments to work togeth­er to com­bat the glob­al threat of terror.
We must cre­ate an orga­ni­za­tion like NATO to con­front the secu­ri­ty threats of the 21st cen­tu­ry — an orga­ni­za­tion that empha­sizes coop­er­a­tion and col­lab­o­ra­tion to defeat the rise of vio­lent extrem­ism and impor­tant­ly to address the root caus­es under­ly­ing these bru­tal acts. We must work with our NATO part­ners, and expand our coali­tion to include Rus­sia and mem­bers of the Arab League.
But let's be very clear. While the U.S. and oth­er west­ern nations have the strength of our mil­i­taries and polit­i­cal sys­tems, the fight against ISIS is a strug­gle for the soul of Islam, and coun­ter­ing vio­lent extrem­ism and destroy­ing ISIS must be done pri­mar­i­ly by Mus­lim nations — with the strong sup­port of their glob­al partners.
These same sen­ti­ments have been echoed by those in the region. Jordan's King Abdal­lah II said in a speech on Sun­day that ter­ror­ism is the ​"great­est threat to our region" and that Mus­lims must lead the fight against it. He not­ed that con­fronting extrem­ism is both a region­al and inter­na­tion­al respon­si­bil­i­ty, and that it is incum­bent on Mus­lim nations and com­mu­ni­ties to con­front those who seek to hijack their soci­eties and gen­er­a­tions with intol­er­ance and vio­lent ideology.
And let me con­grat­u­late King Abdal­lah not only for his wise remarks, but also for the role that his small coun­try is play­ing in attempt­ing to address the hor­rif­ic refugee cri­sis in the region.
A new and strong coali­tion of West­ern pow­ers, Mus­lim nations, and coun­tries like Rus­sia must come togeth­er in a strong­ly coor­di­nat­ed way to com­bat ISIS, to seal the bor­ders that fight­ers are cur­rent­ly flow­ing across, to share counter-ter­ror­ism intel­li­gence, to turn off the spig­ot of ter­ror­ist financ­ing, and to end sup­port for export­ing rad­i­cal ideologies.
What does all of this mean? Well, it means that, in many cas­es, we must ask more from those in the region. While Jor­dan, Turkey, Egypt, and Lebanon have accept­ed their respon­si­bil­i­ties for tak­ing in Syr­i­an refugees, oth­er coun­tries in the region have done noth­ing or very little.
Equal­ly impor­tant, and this is a point that must be made — coun­tries in the region like Sau­di Ara­bia, Kuwait, Qatar, UAE — coun­tries of enor­mous wealth and resources — have con­tributed far too lit­tle in the fight against ISIS. That must change. King Abdal­lah is absolute­ly right when he says that that the Mus­lim nations must lead the fight against ISIS, and that includes some of the most wealthy and pow­er­ful nations in the region, who, up to this point have done far too little.
Sau­di Ara­bia has the 3rd largest defense bud­get in the world, yet instead of fight­ing ISIS they have focused more on a cam­paign to oust Iran-backed Houthi rebels in Yemen. Kuwait, a coun­try whose rul­ing fam­i­ly was restored to pow­er by U.S. troops after the first Gulf War, has been a well-known source of financ­ing for ISIS and oth­er vio­lent extrem­ists. It has been report­ed that Qatar will spend $200 bil­lion on the 2022 World Cup, includ­ing the con­struc­tion of an enor­mous num­ber of facil­i­ties to host that event — $200 bil­lion on host­ing a soc­cer event, yet very lit­tle to fight against ISIS. Worse still, it has been wide­ly report­ed that the gov­ern­ment has not been vig­i­lant in stem­ming the flow of ter­ror­ist financ­ing, and that Qatari indi­vid­u­als and orga­ni­za­tions fun­nel mon­ey to some of the most extreme ter­ror­ist groups, includ­ing al Nus­ra and ISIS.
All of this has got to change. Wealthy and pow­er­ful Mus­lim nations in the region can no longer sit on the side­lines and expect the Unit­ed States to do their work for them. As we devel­op a strong­ly coor­di­nat­ed effort, we need a com­mit­ment from these coun­tries that the fight against ISIS takes prece­dence over the reli­gious and ide­o­log­i­cal dif­fer­ences that ham­per the kind of coop­er­a­tion that we des­per­ate­ly need.
Fur­ther, we all under­stand that Bashar al-Assad is a bru­tal dic­ta­tor who has slaugh­tered many of his own peo­ple. I am pleased that we saw last week­end diplo­mats from all over world, known as the Inter­na­tion­al Syr­ia Sup­port Group, set a timetable for a Syr­i­an-led polit­i­cal tran­si­tion with open and fair elec­tions. These are the promis­ing begin­nings of a col­lec­tive effort to end the blood­shed and to move to polit­i­cal transition.
The diplo­mat­ic plan for Assad's tran­si­tion from pow­er is a good step in a unit­ed front. But our pri­or­i­ty must be to defeat ISIS. Nations all over the world, who share a com­mon inter­est in pro­tect­ing them­selves against inter­na­tion­al ter­ror­ist, must make the destruc­tion of ISIS the high­est pri­or­i­ty. Nations in the region must com­mit – that instead of turn­ing a blind eye — they will com­mit their resources to pre­vent­ing the free flow of ter­ror­ist finances and fight­ers to Syr­ia and Iraq. We need a com­mit­ment that they will counter the vio­lent rhetoric that fuels ter­ror­ism – rhetoric that often occurs with­in their very borders.
This is the mod­el in which we must pur­sue solu­tions to the sorts of glob­al threats we face.
While indi­vid­ual nations indeed have his­toric dis­putes — the U.S. and Rus­sia, Iran and Sau­di Ara­bia — the time is now to put aside those dif­fer­ences to work towards a com­mon pur­pose of destroy­ing ISIS. Sad­ly, as we have seen recent­ly, no coun­try is immune from attacks by the vio­lent orga­ni­za­tion or those whom they have radicalized.
Thus, we must work with our part­ners in Europe, the Gulf states, Africa, and South­east Asia — all along the way ask­ing the hard ques­tions whether their actions are serv­ing our uni­fied purpose.
The bot­tom line is that ISIS must be destroyed, but it can­not be defeat­ed by the Unit­ed States alone. A new and effec­tive coali­tion must be formed with the Mus­lim nations lead­ing the effort on the ground, while the Unit­ed States and oth­er major forces pro­vide the sup­port they need.

Bernie Sanders
(I‑Vt.) was elect­ed to the U.S. Sen­ate in
2006
after serv­ing
16
years in the House of Rep­re­sen­ta­tives. He is the longest serv­ing inde­pen­dent mem­ber of Con­gress in Amer­i­can his­to­ry. Elect­ed May­or of Burling­ton, Vt., by
10
votes in
1981
, he served four terms. Before his
1990
elec­tion as Ver­mon­t's at-large mem­ber in Con­gress, Sanders lec­tured at the John F. Kennedy School of Gov­ern­ment at Har­vard and at Hamil­ton Col­lege in upstate New York. Read more at his
web­site
.