Why Radicals Like Bernie Sanders Should Run As Democrats, Not Independents
The Left should take a page from the Tea Party's playbook and take power from within the Democratic Party.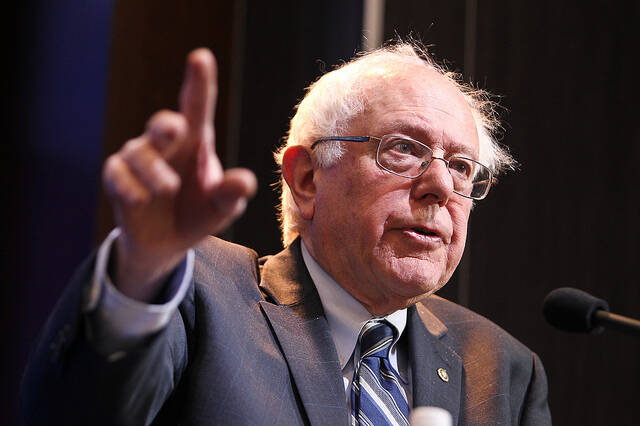 Sen­a­tor Bernie Sanders, the social­ist from Ver­mont, is run­ning for pres­i­dent. Even more ambi­tious­ly, he told ABC's George Stephanopou­los that he wants to lead ​"a polit­i­cal rev­o­lu­tion in this coun­try." And he's doing it as a Democrat.
At the current conjuncture, it's strategic for radicals to run as Democrats.
In the wake of his announce­ment, some on the prag­mat­ic left rushed to make the social­ist safe for mass con­sump­tion. ​"Bernie Sanders is not Bukharin or Trot­sky," Rolling Stone​'s Matt Taib­bi assured read­ers, while Thor Ben­son took to the New Repub­lic to demand the media stop call­ing Sanders a social­ist (he's a demo­c­ra­t­ic social­ist). The Huff­in­g­ton Post​'s Jonathan Cohn went even fur­ther. Sanders ​"isn't actu­al­ly that far to the left," Cohn said, and ulti­mate­ly, ​"the label doesn't mean a whole lot anyway."
While the prag­ma­tists were busy round­ing off Sanders polit­i­cal­ly sharp­er edges, some on the rad­i­cal left dis­missed Sanders as a sell­out. Ash­ley Smith wrote in Jacobin that by run­ning for pres­i­dent as a Demo­c­rat, Sanders ​"is act­ing as the oppo­site of an ​'alter­na­tive.' " Smith went on to say that the Demo­c­ra­t­ic Par­ty has ​"co-opt­ed and changed Sanders," approv­ing­ly quot­ing David Swanson's call for left­ists to ​"put our resources into uncor­rupt­ed, prin­ci­pled, pol­i­cy-dri­ven, non­vi­o­lent, cre­ative activism" instead of the Sanders campaign.
The debate is about more than Sanders alone. While it's clear that we live in the midst of a pop­ulist moment, many of the prag­ma­tists con­tin­ue cater­ing to the cen­ter — ready to woo inde­pen­dents and endorse who­ev­er sports a ​"D" behind their name. And many on the rad­i­cal left, as always, dis­avow the idea that a polit­i­cal rev­o­lu­tion can be waged from with­in the Demo­c­ra­t­ic Par­ty. Instead, they claim that only a third par­ty can­di­date could offer a pure, uncor­rupt­ed assault on big mon­ey politics.
But these prag­ma­tists and rad­i­cals are wrong. At the cur­rent con­junc­ture, it's strate­gic for rad­i­cals to run as Democ­rats. For proof, we should look to the Right.
In recent years, the most suc­cess­ful rad­i­cals in the coun­try have been oper­at­ing on the Right. The Tea Par­ty, as an insur­gent move­ment with­in the Repub­li­can ranks, has achieved breath­tak­ing suc­cess in a remark­ably short peri­od. Despite the fact that Tea Par­ty ideas are unpop­u­lar with the pub­lic as a whole, they've gal­va­nized a high­ly ener­gized base to pull the Repub­li­can Par­ty rightward.
Key to their suc­cess has been their use of the pri­ma­ry as a field of strug­gle. Pri­maries typ­i­cal­ly involve less mon­ey and low­er turnout than gen­er­al elec­tions. For this rea­son, a small but high­ly ener­gized and moti­vat­ed base can have an over­sized impact. Once Tea Par­ty insur­gents began to take out cen­trist incum­bents, even the threat of a pri­ma­ry began serv­ing to put cen­trists in line with the rad­i­cal right.
Rad­i­cals on the Left should take note. And so should prag­ma­tists. While the unpop­u­lar­i­ty of Tea Par­ty views among the pub­lic should ulti­mate­ly — we hope — lim­it its rise to pow­er, the major­i­ty of Amer­i­cans hold views to the left of many cur­rent rep­re­sen­ta­tives of both major polit­i­cal par­ties. By mobi­liz­ing a deter­mined vol­un­teer base, we can counter the pow­er of big mon­ey and exploit the gap between Demo­c­ra­t­ic incum­bents and their con­stituents. In oth­er words, we can use the pri­ma­ry to our own advan­tage. As we can awak­en and embold­en the pro­gres­sive major­i­ty, we can demon­strate that mov­ing left is a win­ning strat­e­gy for Democrats.
Now, as Smith and oth­ers point out, there have been past attempts to trans­form the Demo­c­ra­t­ic Par­ty from with­in — and they've failed. Michael Har­ring­ton urged fel­low social­ists to work with­in the Demo­c­ra­t­ic Par­ty. Jesse Jack­son, Al Sharp­ton and Den­nis Kucinich all made attempts to push the par­ty left by run­ning for pres­i­dent on the Demo­c­ra­t­ic tick­et. If these oth­er attempts have failed, why should we expect the strat­e­gy to suc­ceed this time?
If the effort remains con­fined to Bernie Sanders and the top of the tick­et, then I would agree that it has lit­tle chance of suc­ceed­ing. One bold cam­paign by a lone politi­cian does not a move­ment make.
But there is con­sid­er­able ten­sion build­ing with­in the Demo­c­ra­t­ic Par­ty as sen­a­tors like Eliz­a­beth War­ren, Sher­rod Brown, and Jeff Merkley rise to promi­nence. The big banks' threat in March to with­hold fund­ing from Democ­rats in response to Warren's calls to break them up shows just what a dan­ger the ris­ing pro­gres­sive wing is becom­ing to cor­po­rate capital's grip on the par­ty. If hun­dreds of rad­i­cals run in down bal­lot races as Democ­rats, we could cre­ate a seri­ous war for the soul of the par­ty. (Groups like Nation­al People's Action Cam­paign and Pro­gres­sive Major­i­ty are already mov­ing to make this hap­pen.)
At the end of the day, the objec­tions from Smith, Swan­son and oth­ers have a qua­si-reli­gious tinge to them. The two major polit­i­cal par­ties, we are told, have been and will be the par­ties of cap­i­tal. For this rea­son, we are coun­seled to avoid defile­ment at the hands of the Democ­rats and to take on oth­er uncor­rupt­ed pur­suits. But it is vain to fetishize puri­ty at the cost of pow­er. Bet­ter to step onto the field of strug­gle and risk defile­ment than rel­e­gate one­self to the sidelines.
There is, nev­er­the­less, a seri­ous ques­tion for rad­i­cals of how one can move, rather than be moved by, the dom­i­nant pow­er struc­ture. But that's not a ques­tion of polit­i­cal par­ties alone. The real­i­ty is that dur­ing the last 40 years, the dom­i­nance of neolib­er­al­ism has meant that the rise to pow­er of any politi­cian, no mat­ter how staunch­ly pro­gres­sive, involved capit­u­lat­ing to the sys­tem. Indeed, some degree of com­pro­mise will always be a con­di­tion for demo­c­ra­t­ic pow­er — a real­i­ty that purists fail to grasp. But as the neolib­er­al con­sen­sus col­laps­es, new space is open­ing up for rad­i­cals to trans­form the sys­tem — includ­ing the Demo­c­ra­t­ic Par­ty — rather than be co-opt­ed by it.
We must deter­mine, then, the best way to exploit this open­ing. We can build inde­pen­dent polit­i­cal orga­ni­za­tions that work to tran­scend neolib­er­al­ism by hold­ing can­di­dates, includ­ing rad­i­cal can­di­dates, account­able to the prin­ci­pals of the move­ment with­out nec­es­sar­i­ly build­ing a third par­ty from the ground up. There is noth­ing anti­thet­i­cal about the idea of such inde­pen­dent orga­ni­za­tions sup­port­ing rad­i­cals run­ning as insur­gent Democ­rats. Indeed, there's some­thing quite strate­gic about encour­ag­ing can­di­dates to do so.
Of course, noth­ing about this strat­e­gy pre­cludes inde­pen­dent polit­i­cal orga­ni­za­tions from also encour­ag­ing can­di­dates from run­ning on a third-par­ty tick­et where and when it makes sense. As Seattle's social­ist city coun­cil mem­ber Kshama Sawant​'s vic­to­ry shows, there are cer­tain­ly con­texts in which third par­ty can­di­dates are also forc­ing elec­toral pol­i­tics left.
But at the fed­er­al lev­el, the Demo­c­ra­t­ic Par­ty is the pri­ma­ry field of strug­gle. And Bernie Sanders, rather than herd­ing more activists into the Demo­c­ra­t­ic fold, could help fuel the insurgency.
Jacob Swen­son-Lengyel
is an orga­niz­er and writer who lives in Chica­go. He com­plet­ed an A.M. in phi­los­o­phy at the Uni­ver­si­ty of Chica­go before becom­ing involved in polit­i­cal work full time. Read more of his writ­ing at https://​jacob​swen​son​.me, fol­low him on twit­ter @_JacobSL, or check out his Insta­gram @SignsOfResistance
2017