Bernie Sanders on Labor's Future and Why Democratic Socialists Keep Winning
An exclusive interview with Sen. Sanders on how labor can respond to Janus, the fight to move the Democratic Party left and the growing popularity of democratic socialism.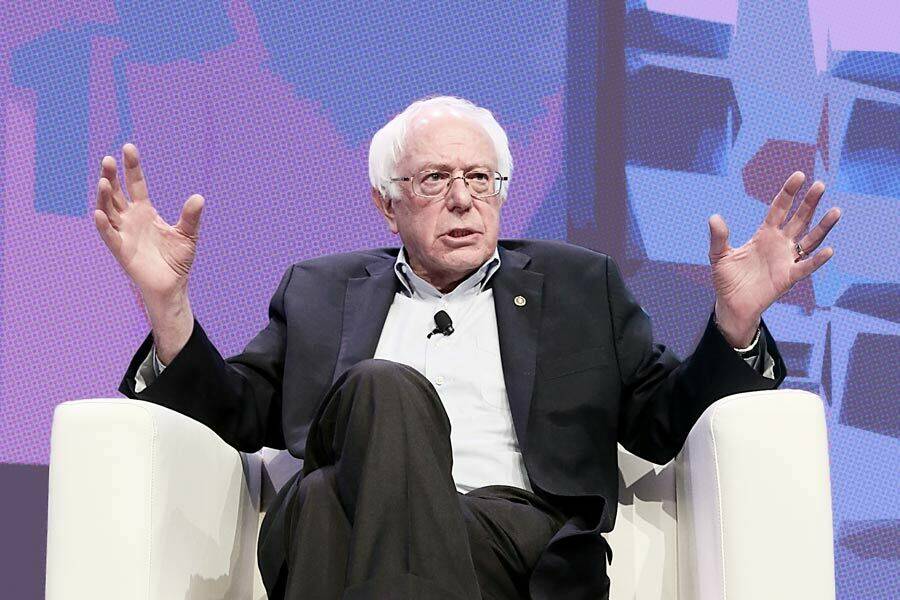 When I ask Bernie Sanders about the surge of teach­ers' strikes that swept the coun­try ear­li­er this year, he perks up, applaud­ing the teach­ers' dis­play of work­ing-class pow­er. ​"The teach­ers may be the tip of the spear here," he declares in his heavy Brook­lyn accent.
I see an anger and a resentment among working families. They want an economy that rewards the work of ordinary people and doesn't just allow the billionaires to get even richer. That's what the teachers' strikes are all about.
In many ways, the strikes illus­trate Sanders' the­o­ry of polit­i­cal change. He has long insist­ed that the key to mov­ing the coun­try in a more pro­gres­sive direc­tion is to make ambi­tious demands and build move­ments capa­ble of achiev­ing them. Strik­ing teach­ers in states from West Vir­ginia to Ari­zona bucked the tra­di­tion­al tried-and-failed mech­a­nisms for obtain­ing bet­ter pay and work­ing con­di­tions, and joined togeth­er by the tens of thou­sands to act. By with­hold­ing their labor, they won key demands.
At a time of stag­ger­ing income inequal­i­ty and stag­nant wages, with unions fac­ing an all-out assault from the Right, the teach­ers' strikes have served as a rare bright spot for labor, prov­ing that work­ers can still take on con­ser­v­a­tive politi­cians and their cor­po­rate back­ers. Now, with the Supreme Court's Janus deci­sion poised to bruise pub­lic-sec­tor unions, Sanders is attempt­ing to help revive the U.S. labor movement.
Over the spring, Sanders trekked across the coun­try to stand with lowwage work­ers at cor­po­ra­tions such as Dis­ney and Ama­zon, spot­light­ing their efforts to win bet­ter treat­ment on the job. In May, he intro­duced the Work­place Democ­ra­cy Act, a sweep­ing bill that would pre­vent employ­ers from using cer­tain anti-union tac­tics, make it eas­i­er for work­ers to union­ize, and undo so-called right-to-work laws that drain unions of resources. The bill has secured sup­port from almost a third of Sen­ate Democ­rats, includ­ing prospec­tive 2020 pres­i­den­tial con­tenders Eliz­a­beth War­ren, Kamala Har­ris and Cory Booker.
In a sprawl­ing inter­view with In These Times, Sanders dis­cuss­es how unions can respond to Janus, the fight to move the Demo­c­ra­t­ic Par­ty left, the recent vic­to­ries of demo­c­ra­t­ic social­ist can­di­dates and why he believes the 2018 midterms are the most impor­tant of his lifetime.
Q: Why do you see labor issues as a crit­i­cal ral­ly­ing point in 2018?
A: In my view, there is real­ly no way the mid­dle class in this coun­try is going to grow unless we build the trade union move­ment. Vir­tu­al­ly all of the pow­er rests with employ­ers and large cor­po­ra­tions. Work­ers with­out unions are find­ing it very dif­fi­cult to get the kind of wages and ben­e­fits that they need.
The sta­tis­tics are very clear that work­ers in union com­pa­nies are earn­ing bet­ter wages and have far bet­ter ben­e­fits than nonunion work­ers. And the work­ing peo­ple in this coun­try know it. In over­whelm­ing num­bers, work­ers want to join unions.
But it is increas­ing­ly dif­fi­cult for them to do so. That is because of the pow­er of employ­ers to intim­i­date work­ers, to threat­en to move their com­pa­nies away, and to fire work­ers who are try­ing to orga­nize. So it is very, very dif­fi­cult now for work­ers to have a union. That has got to change.
Q: You named your bill the Work­place Democ­ra­cy Act. Why do you think it's impor­tant for work­ers to be able to prac­tice more democ­ra­cy on the job?
A: It's an issue that we don't talk about as a nation very much. Mil­lions and mil­lions of peo­ple are wak­ing up in the morn­ing and say­ing, ​"Oh God, I have to go to work and I hate my job. I feel exploit­ed. I feel pow­er­less. I feel like a cog in a machine." If we believe in democ­ra­cy, it's not just vot­ing every four years, or every two years — it's about empow­er­ing your whole life and hav­ing more say in what you do all day.
Work­ers who are in a union have the abil­i­ty to have their voic­es heard and to express their dis­con­tent in terms of work­ing con­di­tions. So unions empow­er ordi­nary peo­ple to have a lit­tle bit more con­trol over their lives.
Q: Teach­ers have gone on strike across the coun­try. Polling shows that younger peo­ple have a more favor­able opin­ion of unions than old­er Amer­i­cans. Are you opti­mistic about the future of the labor movement?
A: Yes, I am. With these teach­ers' strikes— espe­cial­ly those tak­ing place in so-called con­ser­v­a­tive states like West Vir­ginia, Ken­tucky and Okla­homa — teach­ers have basi­cal­ly said, ​"Enough is enough." We have to make sure that our kids get the edu­ca­tions that they need, that we attract good peo­ple into the teach­ing pro­fes­sion. Teach­ers almost spon­ta­neous­ly stood up and fought back and took on very right-wing leg­is­la­tures. This was, I think, a very sig­nif­i­cant step forward.
The teach­ers may be the tip of the spear here, because you've got mil­lions of peo­ple watch­ing and say­ing, ​"Wait a minute, I work two or three jobs to make a liv­ing, 60 hours a week, and can't afford to send my kids to col­lege. Mean­while, my employ­er is mak­ing 300 times what I make and he gets a huge tax break." I see an anger and a resent­ment among work­ing fam­i­lies. They want an econ­o­my that rewards the work of ordi­nary peo­ple and doesn't just allow the bil­lion­aires to get even rich­er. That's what the teach­ers' strikes are all about.
In terms of younger peo­ple, they're look­ing at a nation where tech­nol­o­gy is explod­ing, where work­ers' pro­duc­tiv­i­ty has risen, and yet the aver­age young per­son today has a low­er stan­dard of liv­ing than his or her par­ents. Younger peo­ple are say­ing, ​"What is going on? This is the wealth­i­est coun­try in the his­to­ry of the world — why am I still liv­ing at home? Why am I strug­gling to pay off my stu­dent debt 10 years after I grad­u­at­ed col­lege? Why can't I afford health­care?" I think young peo­ple are smart enough to look around and say maybe we need unions to get the kinds of wages and ben­e­fits that work­ing peo­ple are enti­tled to.
Q: The Janus deci­sion will spread right to work to the pub­lic sec­tor nation­wide. How can work­ers respond?
A: The Work­place Democ­ra­cy Act would make it ille­gal for states to pass right-to-work leg­is­la­tion. The peo­ple of this coun­try have a right to orga­nize, they have a right to form trade unions, and it is not accept­able that states are deny­ing them that right.
The Janus case is a very sig­nif­i­cant set­back for the union move­ment. The Right is already try­ing to mobi­lize pub­lic employ­ees to leave their unions. What we have to do is an enor­mous amount of orga­niz­ing and edu­cat­ing to explain to work­ers: ​"You think you're going to save a few bucks by not pay­ing union dues, but in the long run you're going to be a lot worse off when you don't have a union nego­ti­at­ing a decent con­tract for you. If you want the ben­e­fits of that con­tract, you've got to pay your fair share of dues."
Q: Why do you think it's impor­tant to high­light the plight of work­ers at Dis­ney and Amazon?
A: In terms of Ama­zon, the CEO, Jeff Bezos, is the wealth­i­est per­son in the world right now. His wealth has increased in the first four months of this year by about $275 mil­lion a day. You got that? A day. That sort of astro­nom­i­cal num­ber is hard to believe.
Ama­zon is doing phe­nom­e­nal­ly well, and yet you have thou­sands of employ­ees in Ama­zon ware­hous­es who are paid wages so low that the aver­age tax­pay­er in this coun­try has got to sub­si­dize Ama­zon by pro­vid­ing them food stamps, or Med­ic­aid, or pub­licly sub­si­dized afford­able hous­ing. The tax­pay­ers of this coun­try should not have to sub­si­dize a guy whose wealth is increas­ing by $275 mil­lion every sin­gle day. That is obscene and that is absurd. This speaks to the pow­er of the peo­ple at the top who use their pow­er to become even rich­er at the expense of work­ing families.
With Dis­ney, you have a cor­po­ra­tion that made $9 bil­lion in prof­it last year — a very, very prof­itable com­pa­ny. CEO Bob Iger recent­ly reached an agree­ment for a $423 mil­lion, four-year com­pen­sa­tion pack­age. And yet he's pay­ing the work­ers in Dis­ney­land — the peo­ple in Mick­ey Mouse and Don­ald Duck cos­tumes, the peo­ple who serve food, the peo­ple who col­lect the tick­ets and man­age the rides — star­va­tion wages. Eighty per­cent of the work­ers there make less than $15 an hour.
Liv­ing expens­es are very high in Ana­heim [where Dis­ney­land is]. Many peo­ple can­not afford an apart­ment and are liv­ing in their cars. They don't have enough mon­ey for food. So here you have a prof­itable cor­po­ra­tion reach­ing an extra­or­di­nary com­pen­sa­tion pack­age for their CEO and pay­ing star­va­tion wages to their work­ers. These are the kind of issues that need to be highlighted.
Q: In Pres­i­dent Obama's first term, Democ­rats were crit­i­cized for fail­ing to pass the Employ­ee Free Choice Act, which would have enshrined card check, a fea­ture of your bill. Do you think the Demo­c­ra­t­ic Par­ty estab­lish­ment has been asleep at the wheel on pro­tect­ing labor rights?
A: If your ques­tion is whether, for too many years, the Demo­c­ra­t­ic Par­ty has been pay­ing more atten­tion to cor­po­rate inter­ests than the needs of work­ing peo­ple, then the answer is yes. Ulti­mate­ly, the fight is over the future of the par­ty. The Demo­c­ra­t­ic Par­ty has got to decide, to quote Woody Guthrie, ​"Which side are you on?" You can­not be on the side of Wall Street and large prof­itable cor­po­ra­tions and very wealthy cam­paign con­trib­u­tors while you're claim­ing to be the par­ty of work­ing peo­ple. Nobody believes that. You can't do both. And right now, the Demo­c­ra­t­ic Par­ty has got to decide which side it is on, and I'm doing every­thing that I can to make it the par­ty of work­ing people.
We need a par­ty that has the guts to stand up to the 1%. I think it's the right thing to do, and from a pub­lic pol­i­cy point of view, I think it will make this a much bet­ter coun­try — to put poli­cies in place that end our high lev­el of pover­ty, to address the fact that we're the only major coun­try not to guar­an­tee health­care, that we're not being as strong as we should on cli­mate change; that we haven't made pub­lic col­leges and uni­ver­si­ties tuition-free. Those are all ideas that will improve life in the Unit­ed States of Amer­i­ca. They're also great polit­i­cal ideas.
Q: You have worn the man­tle of demo­c­ra­t­ic social­ist through­out your polit­i­cal career. Today we're see­ing social­ism increase in pop­u­lar­i­ty among younger peo­ple, and demo­c­ra­t­ic social­ists are win­ning local pri­maries and elec­tions in states such as New York (see In Per­son, page 7), Vir­ginia, Penn­syl­va­nia and Mon­tana. What do you think this shift means?
A: Our oppo­nents can say, ​"Oh, demo­c­ra­t­ic social­ist, it's rad­i­cal, it's fringe‑y, it's crazy." But when you go issue by issue and you ask the Amer­i­can peo­ple what they think, they say, ​"Yeah, that makes sense." For exam­ple, should the Unit­ed States join every oth­er major coun­try and guar­an­tee health­care for all by mov­ing toward Medicare for All? Is that a rad­i­cal idea? No. Because health­care is a right, not a priv­i­lege. Young peo­ple say, ​"Yeah, of course. That should be a right, yeah. My grand­ma is on Medicare, she likes it. Why can't I get it?" Not a rad­i­cal idea.
Today, in many respects, a col­lege degree is as valu­able as a high school degree was 50 years ago. So, when we talk about pub­lic edu­ca­tion, it should be about mak­ing pub­lic col­leges and uni­ver­si­ties tuition-free. Is that a rad­i­cal idea? I don't think so.
At a time when you have three peo­ple, includ­ing Jeff Bezos, who own more wealth than the bot­tom 50 per­cent of the Amer­i­can peo­ple, is it a rad­i­cal idea to say that we should sig­nif­i­cant­ly raise tax­es on the very wealthy and large prof­itable cor­po­ra­tions? Not a rad­i­cal idea. Rebuild­ing our infra­struc­ture, cre­at­ing mil­lions of jobs. Not a rad­i­cal idea. Immi­gra­tion reform. Crim­i­nal jus­tice reform. The vast major­i­ty of the Amer­i­can peo­ple sup­port both those ideas.
We are man­ag­ing to get these ideas out there. The ideas are catch­ing on. And to young peo­ple espe­cial­ly, they make sense.
Q: Do you think unions have done enough to edu­cate their mem­ber­ship about the threat the Trump admin­is­tra­tion pos­es to work­ers' rights?
A: Pres­i­dent Trump is a fraud. He is a patho­log­i­cal liar. And he cer­tain­ly lied to work­ing peo­ple dur­ing his cam­paign on issue after issue after issue.
You will recall he told the Amer­i­can peo­ple that he would not cut Medicare, Med­ic­aid and Social Secu­ri­ty. Yet he brought forth a bud­get that called for a $1.4 tril­lion cut in Med­ic­aid, a $500 bil­lion cut over a 10-year peri­od to Medicare and a $64 bil­lion cut to the Social Secu­ri­ty Dis­abil­i­ty Fund. On health­care, he told the Amer­i­can peo­ple that he was going to pro­vide ​"insur­ance to every­body" and then he sup­port­ed leg­is­la­tion that would have thrown as many as 32 mil­lion peo­ple off of health insurance.
I think some unions do a very good job of edu­cat­ing their mem­ber­ship. Some unions do not. What is very, very dif­fi­cult in this era of media con­sol­i­da­tion and cor­po­rate media in gen­er­al is get­ting the word out. If Trump sends out some kind of crazy tweet, in a few min­utes the media will write about it. What they are not writ­ing about is issues of con­cern to work­ing peo­ple and low-income people.
Q: You've said that you're not focused on the 2020 pres­i­den­tial race at the moment. But if you were to decide to run again, what are the rea­sons that would moti­vate you to enter the race?
A: What I have said pub­licly is the hon­est truth. I hap­pen to believe that 2018 is the most impor­tant midterm elec­tion in my life­time. I do not believe that a blue wave is some­thing auto­mat­ic. It won't hap­pen with­out an enor­mous amount of work.
Repub­li­cans have, as you know, unimag­in­able amounts of mon­ey to put into these cam­paigns and Trump is pre­pared to work hard and go around the coun­try ral­ly­ing his sup­port­ers, so 2018 is where my mind is at. And I will do every­thing that I can to see that we end one-par­ty rule here where Repub­li­cans have con­trol of the Sen­ate and the House. After the midterm elec­tions, we can have anoth­er discussion.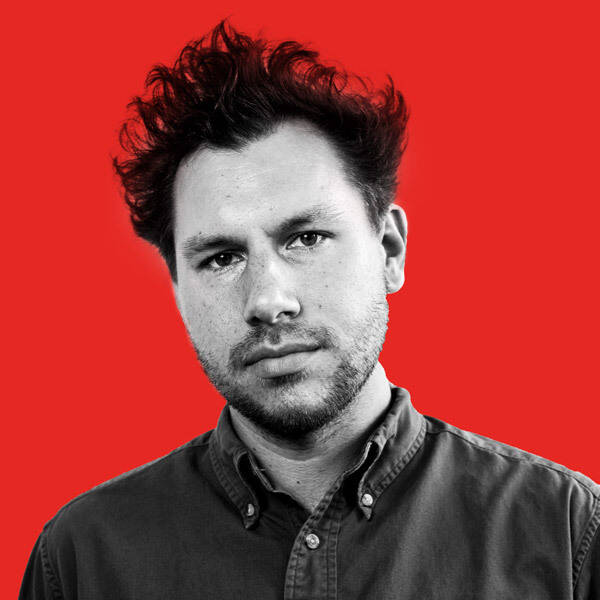 Miles Kampf-Lassin, a grad­u­ate of New York Uni­ver­si­ty's Gal­latin School in Delib­er­a­tive Democ­ra­cy and Glob­al­iza­tion, is a Web Edi­tor at In These Times. Fol­low him on Twit­ter @MilesKLassin