Bernie Sanders in 1995: A Brutal Assessment of Bill Clinton's First 2 Years as President
In this 1995 column for In These Times, Bernie Sanders laments then-President Bill Clinton's ties to corporate money—and lays out a progressive program that looks strikingly similar to his own 2016 presidential platform.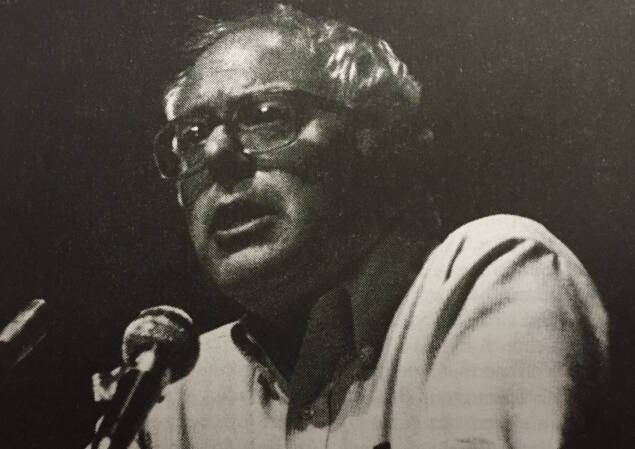 Writ­ten in Jan­u­ary 1995, this nev­er-before-pub­lished-online arti­cle by then-Rep. Bernie Sanders (I‑Vt.) assess­es the first two years of Bill Clin­ton's pres­i­den­cy, tak­ing Clin­ton to task for not push­ing hard enough for pro­gres­sive goals includ­ing rais­ing the min­i­mum wage and eco­nom­ic stim­u­lus spend­ing. Sanders explains why, under Clin­ton, there was ​"vir­tu­al­ly no orga­nized and effec­tive oppo­si­tion to the Amer­i­can rul­ing class," and crit­i­cizes the for­mer pres­i­dent for his focus on wel­fare reform, crime and free trade as ways to ​"pla­cate cor­po­rate America."
At a time when the richest 1 percent of the population owns more wealth than the bottom 90 percent, when corporate America and the wealthy have enjoyed huge tax breaks for the last 20 years, and when the federal, state and local tax burden has increasingly fallen on the middle class, we must adopt a progressive tax system that is based on one's ability to pay.
Before we can ana­lyze Bill Clin­ton's pres­i­den­cy and its prospects, we must dis­cuss the social con­text in which the Clin­ton admin­is­tra­tion is cur­rent­ly functioning.
For the vast major­i­ty of its peo­ple, the Unit­ed States is becom­ing a poor­er coun­try. The stan­dard of liv­ing of the aver­age Amer­i­can work­er con­tin­ues to decline, peo­ple are work­ing longer hours, and new jobs are often low-wage, part-time and with­out ben­e­fits. The aver­age Amer­i­can is ner­vous and angry — and has every rea­son to be.
The rich are grow­ing rich­er — and the pow­er they hold over the eco­nom­ic and polit­i­cal life of the nation makes them ever more arro­gant as well. No apolo­gies are need­ed when mil­lion­aires and bil­lion­aires spend vast sums of mon­ey to buy elec­tive office. No apolo­gies are made when strik­ing work­ers are per­ma­nent­ly replaced. No apolo­gies are even expect­ed when prof­itable cor­po­ra­tions ​"down­size" their work­forces and replace full-time employ­ees with ​"temps." The wealthy have the pow­er, and are ful­ly pre­pared to use it for their own self­ish ends.
Nev­er before in Amer­i­can his­to­ry has the mass medi­a's con­struc­tion of real­i­ty been so divorced from the expe­ri­ence of the aver­age Amer­i­can. Work­ers see with their own eyes the jobs in their com­mu­ni­ties being export­ed to Mex­i­co and Chi­na, while tele­vi­sion gives them end­less hours of the O.J. Simp­son tri­al. Work­ing peo­ple see with their own eyes the cor­po­rate CEO earn­ing 150 times as much as the line work­er, while tele­vi­sion gives them rapt descrip­tions of the Dal­las Cow­boys' offen­sive strategy.
On those occa­sions when polit­i­cal ideas man­age, to fight their way into the mass media, they are almost always tak­en straight out of a rightwing cat­e­chism. Nowa­days, the media and the polit­i­cal right are front­ed by an inter­lock­ing direc­torate of con­ser­v­a­tive ide­o­logues. Just a few years ago radio talk shows were sup­posed to at least make a pre­tense of non-par­ti­san­ship. Now nobody is even sur­prised when Rush Lim­baugh is made an hon­orary mem­ber of the Repub­li­can fresh­man class in the House. Nobody is shocked that polit­i­cal com­men­ta­tor Pat Buchanan was a Repub­li­can can­di­date for pres­i­dent (as was Pat Robert­son). Nobody thinks twice about the fact that con­vict­ed felon and Water­gate con­spir­a­tor G. Gor­don Lid­dy is a major talk­show host.
For these and oth­er rea­sons, there is vir­tu­al­ly no orga­nized and effec­tive oppo­si­tion to the Amer­i­can rul­ing class. Tens of mil­lions of Amer­i­cans, includ­ing almost all of the poor, no longer believe that gov­ern­ment or pol­i­tics is rel­e­vant to their lives. In the recent elec­tion that gave the Repub­li­cans their ​"man­date," 62 per­cent of the Amer­i­can elec­torate did not vote. In anoth­er coun­try, this turnout might be inter­pret­ed as a suc­cess­ful boy­cott against an ille­git­i­mate and unre­spon­sive gov­ern­ment. With­in this con­text, let us take a brief look at Bill Clin­ton's record over the last two years, and dis­cuss some ideas con­cern­ing the remain­der of his term.
First, seri­ous pro­gres­sives have no rea­son to be ​"dis­il­lu­sioned" with Bill Clin­ton, or to accuse him of ​"sell­ing out." Bill Clin­ton is a mod­er­ate Demo­c­rat, a founder of the con­ser­v­a­tive force with­in the Demo­c­ra­t­ic Par­ty known as the Demo­c­ra­t­ic Lead­er­ship Coun­cil (DLC). As gov­er­nor of Arkansas, and dur­ing his cam­paign for pres­i­dent, he made no secret of the fact that ​"wel­fare reform," ​"crime" and ​"free trade" were major tenets of his program.
If any­thing, pro­gres­sives should be aston­ished that a mod­er­ate Demo­c­rat like Clin­ton could bring him­self to raise tax­es on the rich, and low­er tax­es — through an expan­sion of the earned income tax cred­it — on the work­ing poor. It was cer­tain­ly a pleas­ant sur­prise when Clin­ton took mil­i­tary action in sup­port of a pop­u­lar­ly elect­ed gov­ern­ment in Latin Amer­i­ca — as he did to restore Jean-Bertrand Aris­tide to pow­er in Haiti — instead of bol­ster­ing right-wing elites. And after 12 years of Rea­gan and Bush, it has also been a wel­come change to see a pres­i­dent who is pro-choice and who, how­ev­er inept­ly, has tried to remove some of the restric­tions on gay men and women in the military.
Has Clin­ton been a bet­ter pres­i­dent than Rea­gan or Bush? Yes. Have his poli­cies begun to seri­ous­ly address the enor­mous prob­lems fac­ing our nation? No. Has he tried to build a polit­i­cal move­ment that would empow­er work­ing peo­ple so they could make real improve­ments in their lives? Absolute­ly not.
Clin­ton and his par­ty depend on cor­po­rate mon­ey and the sup­port of wealthy donors, so it should­n't sur­prise us that he would want to pla­cate cor­po­rate Amer­i­ca with NAF­TA, GATT and spe­cial trade sta­tus for Chi­na. We should not be sur­prised that the pres­i­dent has refused to lead the effort for real cam­paign finance reform. And we should not be sur­prised that his health care ini­tia­tive, which final­ly placed the Amer­i­can health care cri­sis at the top of the nation­al agen­da, was in fact devel­oped and sup­port­ed by the largest health insur­ance com­pa­nies in the country.
I expect that the Pro­gres­sive Cau­cus of the House, which I chair, will soon be meet­ing with the pres­i­dent once again. Let me briefly touch upon some of the pro­pos­als that a num­ber of us will be ask­ing the pres­i­dent to sup­port. Many of them are ideas that we have dis­cussed with him and his admin­is­tra­tion before.
•We need to raise the min­i­mum wage. Cur­rent­ly at $4.25 an hour, the min­i­mum wage must be raised to a lev­el suf­fi­cient to keep a full-time wage-earn­er and his or her fam­i­ly out of pover­ty. The min­i­mum wage must be raised to $5.50 an hour imme­di­ate­ly. That would not be enough, but it would be a good step forward.
•The pres­i­dent should push for a seri­ous eco­nom­ic stimulus/​jobs pro­gram, pro­gres­sive­ly fund­ed, to put Amer­i­cans back to work rebuild­ing the phys­i­cal and human infra­struc­ture of our coun­try. It is absurd that mil­lions of work­ers are unem­ployed or under­em­ployed when there is enor­mous work to be done rebuild­ing our bridges, rail­roads, sew­er sys­tems, afford­able hous­ing, libraries, schools and roads. We must also put Amer­i­cans to work pro­vid­ing the child care, pre­ven­tive health care and edu­ca­tion that is so des­per­ate­ly needed.
•The admin­is­tra­tion must engage in a total rethink­ing of our dis­as­trous trade pol­i­cy, which has cost us mil­lions of decent-pay­ing man­u­fac­tur­ing jobs, and which is cur­rent­ly run­ning up a $150 bil­lion trade deficit. NAF­TA, GATT and lib­er­al­ized trade rules with Chi­na are a mis­take, and must be rene­go­ti­at­ed. Cor­po­ra­tions must no longer be allowed to throw Amer­i­can work­ers out on the street so they can wring high­er prof­its out of des­per­ate Third World laborers.
•It's well past time to press Con­gress for sig­nif­i­cant decreas­es in mil­i­tary spend­ing. With the end of the Cold War, it is insane to increase the defense bud­get, when, in fact, we can make major cuts.
•Sweep­ing changes in labor law are des­per­ate­ly need­ed. Work­ers who wish to join unions must be allowed to do so. We must stop busi­ness­es from ter­ror­iz­ing work­ers and pre­vent­ing them from form­ing unions.
•Pro­gres­sive tax reform is also urgent­ly required. At a time when the rich­est 1 per­cent of the pop­u­la­tion owns more wealth than the bot­tom 90 per­cent, when cor­po­rate Amer­i­ca and the wealthy have enjoyed huge tax breaks for the last 20 years, and when the fed­er­al, state and local tax bur­den has increas­ing­ly fall­en on the mid­dle class, we must adopt a pro­gres­sive tax sys­tem that is based on one's abil­i­ty to pay.
We will urge Pres­i­dent Clin­ton to take the lead in explain­ing to the Amer­i­can peo­ple why the ​"Con­tract with Amer­i­ca" will be a dis­as­ter for the elder­ly, work­ers, vet­er­ans, women, minori­ties, stu­dents, the poor and our envi­ron­ment. And we will ask him to take out his veto pen and to fight along­side us to pro­tect the most frag­ile and vul­ner­a­ble peo­ple in our society.
Will the pres­i­dent heed our advice? Prob­a­bly not. He seems not to under­stand that no mat­ter what he does to please cor­po­rate Amer­i­ca and the Wall Street Jour­nal, they will still hate him. He seems not to under­stand that the big mon­ey inter­ests who con­trol our econ­o­my will not look fond­ly upon a pres­i­dent who gives them only 75 per­cent of what they want, when they can have a Repub­li­can who will give them 100 percent.
The pres­i­dent needs to under­stand that his only hope for polit­i­cal sur­vival, and the only strat­e­gy for defeat­ing the Repub­li­cans, is to ral­ly ordi­nary Amer­i­cans under the ban­ner of social jus­tice. Yes, the wealthy con­trol the media and exert a dom­i­nant influ­ence over the polit­i­cal and eco­nom­ic life of the nation. But 95 per­cent of the Amer­i­can peo­ple are not wealthy. Clin­ton's polit­i­cal future, and the defeat of right-wing Repub­li­can­ism, rests on his abil­i­ty to under­stand this sim­ple point — and to make it clear to the ordi­nary peo­ple of this coun­try, that he is on their side.

Bernie Sanders
(I‑Vt.) was elect­ed to the U.S. Sen­ate in
2006
after serv­ing
16
years in the House of Rep­re­sen­ta­tives. He is the longest serv­ing inde­pen­dent mem­ber of Con­gress in Amer­i­can his­to­ry. Elect­ed May­or of Burling­ton, Vt., by
10
votes in
1981
, he served four terms. Before his
1990
elec­tion as Ver­mon­t's at-large mem­ber in Con­gress, Sanders lec­tured at the John F. Kennedy School of Gov­ern­ment at Har­vard and at Hamil­ton Col­lege in upstate New York. Read more at his
web­site
.