In CNN's Tax Debate, Bernie Sanders Showed How Democrats Can Win with Socialism
By offering a bold vision of policies to help working families, Sanders voiced a popular alternative to Ted Cruz and the GOP's barbarism.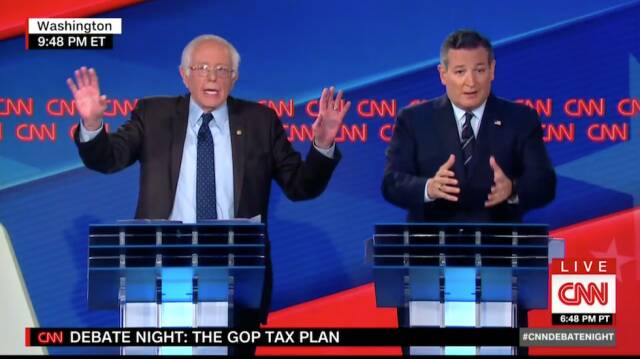 Had Wednes­day night's CNN debate on tax reform instead been one for the pres­i­den­cy, the odds for Democ­rats would look pret­ty good. Ted Cruz, an unlik­able Repub­li­can, was pit­ted against Bernie Sanders, the country's most pop­u­lar politi­cian, who artic­u­lat­ed a com­mon-sense vision for an Amer­i­ca based on equal­i­ty and a redis­tri­b­u­tion of wealth from the top to the bottom.
In contrast to what you might expect from most Democrats, Sanders was able to reframe last night's debate away from Cruz's fear-mongering about taxes to what services the government should be expected to provide.
But rather than embrac­ing this bold vision, the Demo­c­ra­t­ic estab­lish­ment seems to be mov­ing in the oppo­site direc­tion. Fol­low­ing the debate, news broke that the DNC had pushed out a num­ber of pro­gres­sives from its lead­er­ship posi­tions, includ­ing many who had sup­port­ed Rep. Kei­th Elli­son in his lead­er­ship bid against cur­rent chair Tom Perez, Obama's Labor Secretary.
One of the few cor­rect things Ted Cruz said at Wednes­day night's debate was that Bernie Sanders and Eliz­a­beth War­ren rep­re­sent ​"the heart of the Demo­c­ra­t­ic Par­ty." This recent purge at the DNC rais­es the ques­tion of whether the par­ty is inter­est­ed in hav­ing a heart at all. Or, for that mat­ter, in winning.
To under­stand why Sanders' brand of demo­c­ra­t­ic social­ism presents a promis­ing way for­ward for Democ­rats, it's impor­tant to under­stand that the GOP's cur­rent agen­da is both hol­low and inco­her­ent — on eco­nom­ic issues in particular.
Lies vs. honesty
Through­out the debate, Cruz dou­bled down on Repub­li­cans' talk­ing point that cut­ting the cor­po­rate tax rate would fuel eco­nom­ic growth — the GOP plan would slash the offi­cial rate for cor­po­ra­tions from 35 to 20, even though today's effec­tive cor­po­rate tax rate sits well below either of those fig­ures. ​"When you cut [cor­po­rate] tax­es the result is every­one ben­e­fits because you have more oppor­tu­ni­ty, bet­ter jobs and high­er wages," Cruz claimed.
The trou­ble with that sto­ry is that it's patent­ly false.
"We have run a four-decade-long exper­i­ment in reduc­ing effec­tive mar­gin­al tax rates on the rich, both in the indi­vid­ual and cor­po­rate tax sys­tems, and it has def­i­nite­ly failed to fuel eco­nom­ic growth," Mar­shall Stein­baum, a Fel­low and Research Direc­tor at the Roo­sevelt Insti­tute, tells In These Times via email. ​"What it has done is vast­ly increase pre-tax income and wealth inequal­i­ty by facil­i­tat­ing the con­cen­tra­tion of pow­er between and with­in cor­po­ra­tions — which I would argue was its aim all along."
On tax­es and oth­er issues, the GOP's eco­nom­ic talk­ing points tend to rest on a dog­ma about how the econ­o­my should work which isn't actu­al­ly sup­port­ed by evi­dence. Sanders put the debate in stark­er and more com­mon-sense terms:
"Sen­a­tor Cruz wants to see leg­is­la­tion pass that would give $1.9 tril­lion in tax breaks to the top 1 per­cent, sig­nif­i­cant­ly increase the nation­al debt being pass­es on to our kids and our grand­chil­dren, and in order to pay for these tax breaks for bil­lion­aires, he wants to throw 15 mil­lion peo­ple off of Med­ic­aid, cut Medicare by over $450 bil­lion… I do not believe that Amer­i­ca is about giv­ing tax breaks to the very, very wealthy and cut­ting life and death pro­grams for work­ing families."
Cruz would like­ly have had a much eas­i­er time debat­ing an estab­lish­ment Demo­c­rat than a social­ist. Jabs about bil­lion­aires' cam­paign fund­ing would strike close to home for DNC insid­ers, where­as sim­i­lar attacks seem to wash off Sanders. This par­tial­ly explains why Cruz decid­ed to go after Obama's record rather than push back on the mer­its of Sanders' argu­ment: That every Amer­i­can deserves health­care, free edu­ca­tion and a host of oth­er ben­e­fits that are con­sid­ered stan­dard in many oth­er indus­tri­al­ized nations.
For more than 50 years in Amer­i­can pol­i­tics, accu­sa­tions of being a social­ist have struck fear into the hearts of Democ­rats. Sanders wel­comes the term. ​"I am a demo­c­ra­t­ic social­ist and I ran as an Inde­pen­dent," Sanders respond­ed when prod­ded by Cruz. ​"You didn't run as a right-winger, you ran as a Republican."
What tax­es are for
Repub­li­cans have long tried to craft a rep­u­ta­tion for them­selves as deficit hawks, even though gov­ern­men­tal pro­jec­tions of their cur­rent tax plan — as Sanders men­tioned — esti­mate that it would add tril­lions of dol­lars to the fed­er­al deficit.
In that sense, the GOP plan would seem to fail on its own terms. But that would require the par­ty to gen­uine­ly care about the deficit in a way that it nev­er has. On its own, the nation­al debt doesn't make much of a dif­fer­ence in terms of people's day-to-day lives. What mat­ters is how that mon­ey is spent, and Repub­li­cans have his­tor­i­cal­ly been bet­ter at under­stand­ing that than Democrats.
"There's absolute­ly no eco­nom­ic jus­ti­fi­ca­tion what­so­ev­er for car­ing about gov­ern­ment deficits in the cur­rent eco­nom­ic envi­ron­ment." Stein­baum explains. ​"In this, the Repub­li­cans have out­ma­neu­vered Democ­rats time and time again. It's one of the clas­sic and con­se­quen­tial long-term polit­i­cal fail­ures of the cen­ter-left over the last 30 years."
At a time when infla­tion has been slug­gish, expan­sion­ary pro­grams make both eco­nom­ic and polit­i­cal sense. Such poli­cies would help jump start the econ­o­my while gar­ner­ing polit­i­cal sup­port in a pop­ulist moment. In con­trast to what you might expect from most Democ­rats, Sanders was able to reframe last night's debate away from Cruz's fear-mon­ger­ing about tax­es to what ser­vices the gov­ern­ment should be expect­ed to provide.
In a sly cast­ing move, CNN recruit­ed a Dan­ish cit­i­zen and think tank employ­ee to ask Sanders a gotcha ques­tion about the noto­ri­ous­ly high tax­a­tion rates in Scan­di­na­vian social democ­ra­cies. Ulti­mate­ly, how­ev­er, the ques­tion­er was forced to admit that Cruz's demo­niza­tion of Euro­pean health­care sys­tems for being expen­sive and rid­dled with long wait­ing lines was ​"just not true," and that his home coun­try is in many ways bet­ter at meet­ing basic needs than his adopt­ed one.
You don't need to be a social­ist to agree that the gov­ern­ment should be spend­ing more on the pro­grams that make a pos­i­tive dif­fer­ence in work­ing peo­ples' lives. Espe­cial­ly in the Unit­ed States, the def­i­n­i­tion of what con­sti­tutes a demo­c­ra­t­ic social­ist is some­what flu­id, and many have argued that Sanders is clos­er to a New Deal Demo­c­rat than even a Euro­pean social democrat.
What Sanders and a ris­ing tide of social­ist-aligned orga­niz­ers and elect­ed offi­cials rep­re­sent, though, is a break from the fis­cal con­ser­vatism that has defined the last 20 years of Demo­c­ra­t­ic Par­ty pol­i­tics, and a defense of good, big gov­ern­ment. Whether rais­ing the tax rate to 90 per­cent for the high­est income earn­ers counts as social­ism is a debate worth hav­ing, but the embrace of such a goal by Democ­rats would rep­re­sent a rad­i­cal shift in how the par­ty has relat­ed to tax pol­i­cy: See­ing tax­es as not just as a way to pay for vital pro­grams, but as a means of redis­trib­ut­ing wealth and pow­er away from the one percent.
Lessons from the UK
Britain's polit­i­cal land­scape might actu­al­ly offer a more hope­ful way for­ward than Denmark's. Con­ser­v­a­tives are rapid­ly shed­ding mem­bers and sup­port under dis­as­trous lead­er­ship, and lack either youth sup­port or ris­ing stars. Labour, the oppo­si­tion par­ty, is uni­fied around an uncom­pro­mis­ing social­ist vision, and may well be poised to take back the gov­ern­ment in the next gen­er­al election.
If Democ­rats knew what was good for them, the par­ty could start down a sim­i­lar path: embrace the fact that Sanders and War­ren are the heart the par­ty and lean hard into a redis­trib­u­tive agen­da, going after Trump while propos­ing a vision­ary path for­ward. There are bet­ter con­duits of that mes­sage than Sanders, but groom­ing them for office and nation­al lead­er­ship would require the par­ty to refash­ion itself into a wel­com­ing place for left pop­ulism and — on a basic infra­struc­tur­al lev­el — invest­ing in state par­ties rather than consultants.
The DNC, by con­trast, seems con­tent to keep losing.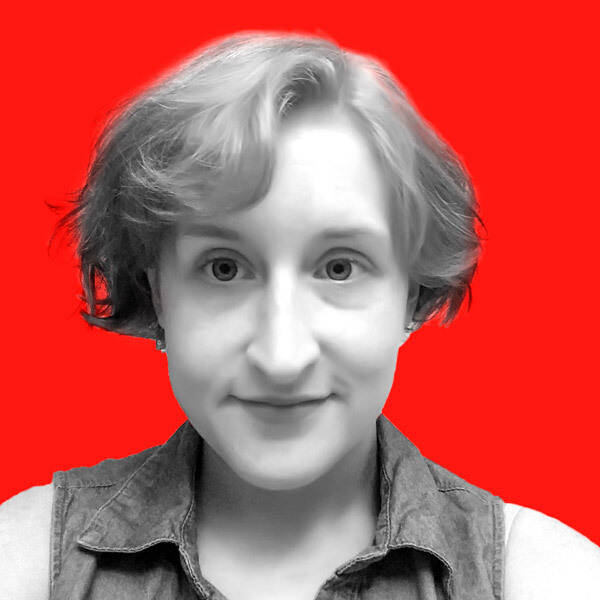 Kate Aronoff
is a Brook­lyn-based jour­nal­ist cov­er­ing cli­mate and U.S. pol­i­tics, and a con­tribut­ing writer at The Inter­cept. Fol­low her on Twit­ter @katearonoff.