The Immigrant Rights and Climate Justice Movements are Impractical—And That's a Good Thing
Now what we need, more than ever, are social movements that challenge the notion of what is possible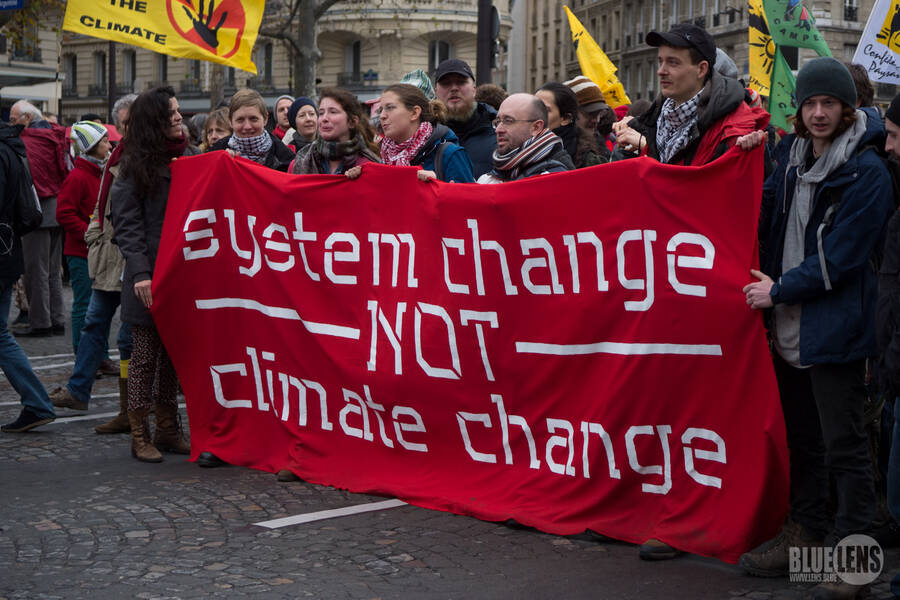 This post first appeared at TomDispatch.
Civil rights activists were constantly counseled to embrace the mildest sort of incrementalism and avoid divisive tactics. Those who reignited the civil rights movement did so by roundly ignoring this advice.
Chicagoans: Join Paul Engler and In These Times Asso­ciate Edi­tor Mic­ah Uet­richt on March 22 at the Sem­i­nary Co-op to dis­cuss the Englers' new book This Is an Upris­ing: How Non­vi­o­lent Revolt is Shap­ing The Twen­ty-First Cen­tu­ry. Full details can be found here.
Bernie Sander­s's insur­gent pres­i­den­tial cam­paign has opened up a debate about how social change hap­pens in our soci­ety. The offi­cial ver­sion of how progress is won — cur­rent­ly voiced by main­stream pun­dits and mem­bers of a spooked Demo­c­ra­t­ic Par­ty estab­lish­ment — goes some­thing like this: pol­i­tics is a tricky busi­ness, gains com­ing through the work of prag­mat­ic insid­ers who know how to maneu­ver with­in the sys­tem. In order to get things done, you have to play the game, be real­is­tic, and accept the estab­lished lim­its of debate in Wash­ing­ton, D.C.
A recent arti­cle in the Atlantic summed up this per­spec­tive with the tagline, ​"At this polar­ized moment, it's incre­men­tal change or noth­ing." This view, how­ev­er, leaves out a crit­i­cal dri­ver of social trans­for­ma­tion. It fails to account for what might be the most impor­tant engine of progress: grass­roots move­ments by cit­i­zens demand­ing change.
Social change is sel­dom either as incre­men­tal or pre­dictable as many insid­ers sug­gest. Every once in a while, an out­burst of resis­tance seems to break open a world of pos­si­bil­i­ty, cre­at­ing unfore­seen oppor­tu­ni­ties for trans­for­ma­tion. Indeed, accord­ing to that lead­ing the­o­rist of dis­rup­tive pow­er, Frances Fox Piv­en, the ​"great moments of equal­iz­ing reform in Amer­i­can polit­i­cal his­to­ry" — secur­ing labor rights, expand­ing the vote, or cre­at­ing a social safe­ty net — have been direct­ly relat­ed to surges of wide­spread defiance.
Unlike elect­ed offi­cials who pre­oc­cu­py them­selves with poli­cies con­sid­ered prac­ti­cal and attain­able with­in the polit­i­cal cli­mate of the moment, social move­ments change the polit­i­cal weath­er. They turn issues and demands con­sid­ered both unre­al­is­tic and polit­i­cal­ly incon­ve­nient into mat­ters that can no longer be ignored; they suc­ceed, that is, by cham­pi­oning the impractical.
Such move­ments, of course, face immense bar­ri­ers, but that shouldn't stop us from acknowl­edg­ing their impor­tance and high­light­ing the key role played by moments of mass defi­ance in shap­ing our world. Out­breaks of hope and deter­mined imprac­ti­cal­i­ty pro­vide an impor­tant rebut­tal to the pol­i­tics of accom­mo­da­tion, to the idea that the minor tweak­ing of the sta­tus quo is the best we can expect in our lifetimes.
Here, then, are three moments when the world broke open — and two when it still might.
Civ­il Rights: An ​
"

Unwise and Untime­ly" Movement

In hind­sight, it's easy enough for peo­ple today to imag­ine that progress on civ­il rights was pre­or­dained. But that's hard­ly how things looked as the 1960s began. Six years after the Supreme Court's 1954 Brown v. Board of Edu­ca­tion rul­ing declared ​"sep­a­rate edu­ca­tion­al facil­i­ties… inher­ent­ly unequal," defi­ance of the law had become a badge of hon­or for offi­cials through­out the South. White Cit­i­zens' Coun­cils had come to dom­i­nate local pol­i­tics in much of the region, and ever more vocal­ly racist politi­cians were win­ning elec­tions to Con­gress over more gen­teel (if still big­ot­ed) South­ern politi­cians of a pre­vi­ous generation.

Civ­il rights bills had passed in Wash­ing­ton, D.C., in 1957 and 1960, but only after they were watered down to home­o­path­ic lev­els. Activists even debat­ed whether to ask Pres­i­dent Dwight Eisen­how­er to veto the first of those bills, and Thur­good Mar­shall deemed the sec­ond ​"not worth the paper it's writ­ten on." How­ev­er inad­e­quate those bills were, Eisen­how­er had expressed doubts that any fur­ther leg­is­la­tion would be enact­ed for at least a decade, pos­si­bly two. On tak­ing office, Pres­i­dent John Kennedy was hard­ly more hope­ful and pos­si­bly even less enthu­si­as­tic when it came to tak­ing action of any sort. As jour­nal­ist Todd Pur­dum has not­ed, Kennedy ​"believed that strong civ­il rights leg­is­la­tion would be dif­fi­cult if not impos­si­ble to pass, and that it could well jeop­ar­dize the rest of his leg­isla­tive program."

In this con­text, civ­il rights activists were con­stant­ly coun­seled to embrace the mildest sort of incre­men­tal­ism and avoid divi­sive tactics.

Those who reignit­ed the civ­il rights move­ment did so by round­ly ignor­ing this advice. High­ly dis­rup­tive sit-ins at lunch coun­ters start­ing in 1960 were fol­lowed by the Free­dom Rides of 1961, in which inter­ra­cial groups of activists dra­mat­i­cal­ly endeav­ored to deseg­re­gate inter­state bus­ing in the South. These actions com­mand­ed pub­lic atten­tion and com­pelled politi­cians who only want­ed to ignore civ­il rights issues to take a stand. Grad­u­al­ly, the dis­rup­tions began to cre­ate a new con­sen­sus around the urgency of end­ing Jim Crow discrimination.

The genius of Mar­tin Luther King, Jr., lay in rec­og­niz­ing that the explo­sive events alter­ing the per­ceived lim­its of the pos­si­ble were not acci­dents; rather, there was a craft to engi­neer­ing them. With the Birm­ing­ham cam­paign of 1963, aimed at break­ing segregation's hold on that city, his South­ern Chris­t­ian Lead­er­ship Con­fer­ence teamed up with local activists in a pre­med­i­tat­ed attempt to cre­ate a pub­lic cri­sis, using esca­lat­ing acts of civ­il resis­tance to gal­va­nize pop­u­lar sentiment.

Lib­er­al crit­ics called the cam­paign ​"unwise and untime­ly." Yet the gam­bit of the activists paid off hand­some­ly. As his­to­ri­an Michael Kazin has point­ed out, nation­al­ly tele­vised scenes of police dogs snap­ping at unarmed demon­stra­tors and water can­nons open­ing up on stu­dent marchers ​"con­vinced a plu­ral­i­ty of whites, for the first time, to sup­port the cause of black free­dom." More­over, the effort spawned a wide array of copy­cat protests. ​"A score of Birm­ing­hams fol­lowed the first," explained the orga­niz­er of the Free­dom Rides, James Farmer. By some counts, close to 1,000 demon­stra­tions took place across the South dur­ing the sum­mer of 1963, result­ing in some 20,000 arrests.

"Birm­ing­ham, and the protests that imme­di­ate­ly fol­lowed it," writes his­to­ri­an Adam Fair­clough, ​"trans­formed the polit­i­cal cli­mate so that civ­il rights leg­is­la­tion became fea­si­ble; before, it had been impossible."
When Dic­ta­tors Fall
Through­out much of the twen­ti­eth cen­tu­ry, it was believed that non­vi­o­lent upris­ings could not suc­ceed in an author­i­tar­i­an con­text — that if Gand­hi, for instance, had protest­ed not the British rule of India but the rule of some state like Hitler's Ger­many or Stal­in's Sovi­et Union, he would have been prompt­ly dis­ap­peared or mur­dered. Yet in the past sev­er­al decades, cam­paigns of civ­il resis­tance have pre­vailed against a remark­able vari­ety of unde­mo­c­ra­t­ic and repres­sive regimes from the Philip­pines to Chile, Poland to Tunisia, in ways that shocked sea­soned observers.
One dra­mat­ic exam­ple was Ser­bia. In mid-1999, Slo­bo­dan Milo­se­vic, the strong­man who had ruled the coun­try for a decade and whose cam­paigns of eth­nic cleans­ing against Bosn­ian Croats and Mus­lims had earned him the nick­name ​"the Butch­er of the Balka­ns," had a sol­id grip on pow­er. He had sur­vived protests over elec­tion theft and had passed laws rein­ing in free­dom of the press and the inde­pen­dence of the coun­try's uni­ver­si­ty sys­tem. A 78-day bomb­ing cam­paign by NATO that year only ral­lied the pop­u­la­tion to his nation­al­ist appeals. By August, the Wash­ing­ton Post wrote that Milo­se­vic was ​"more firm­ly entrenched than ever."
Just over a year lat­er, how­ev­er, he would lose pow­er amid mass protests and short­ly there­after be sent to The Hague to face tri­al as a war crim­i­nal. A cru­cial cat­a­lyst in the upheaval that unseat­ed him was a youth-based group called Otpor.
Otpor's dis­obe­di­ence began with small, often humor­ous stunts, designed to show that resis­tance was pos­si­ble. For exam­ple, when author­i­ties in the city of Novi Sad brought much offi­cial pomp to the con­struc­tion of a new bridge over the Danube Riv­er, even though the bridge was lit­tle more than a tem­po­rary pon­toon, Otpor seized the oppor­tu­ni­ty. The activists cer­e­mo­ni­ous­ly built their own toy bridge over a pond in one of the city's cen­tral parks. The stunt left author­i­ties with two bad options: arrest peo­ple for cre­at­ing a Sty­ro­foam prop and look car­toon­ish­ly repres­sive or let Otpor mock the régime with­out reprisal.
While attract­ing amused audi­ences with such dis­plays, the group's activists were method­i­cal­ly sign­ing up new recruits for train­ing ses­sions on the prin­ci­ples of non­vi­o­lent revolt. Ulti­mate­ly, they drew tens of thou­sands of peo­ple into their net­works. In the fall of 2000, when Milo­se­vic attempt­ed to steal anoth­er elec­tion, they were ready. Ally­ing with the coun­try's labor move­ment and oppo­si­tion par­ties, Otpor helped launch an esca­lat­ing series of strikes and protests which cli­maxed when more than half-a-mil­lion peo­ple massed in the cen­ter of the cap­i­tal, Bel­grade, on Octo­ber 5th, forc­ing Milo­se­vic to cede power.
"Ini­tial­ly Otpor was viewed as just anoth­er stu­dent orga­ni­za­tion with no real polit­i­cal influ­ence, and nei­ther the régime nor the oppo­si­tion par­ties paid much atten­tion to it," for­mer activists Dani­jela Nenadic and Nenad Bel­cevic have writ­ten. ​"By the time the régime real­ized the strength, impact, and sig­nif­i­cance of Otpor, it was too late to stop the momen­tum of resistance."
There can, of course, be lim­its to what such non­vi­o­lent mass revolts can accom­plish in sit­u­a­tions rife with repres­sion. As Egyp­t's expe­ri­ence in the Arab Spring shows, dra­mat­ic upheavals are no sub­sti­tute for long-term orga­niz­ing that can build alter­na­tive insti­tu­tions and give demo­c­ra­t­ic forces some­thing to fall back on in bad times (as the times cer­tain­ly are in Egypt under the repres­sive mil­i­tary gov­ern­ment cur­rent­ly rul­ing the coun­try). Nev­er­the­less, unarmed upris­ings have prompt­ed some stun­ning trans­for­ma­tions. Using a data­base they com­piled of more than 300 strug­gles against unde­mo­c­ra­t­ic regimes, polit­i­cal sci­en­tists Eri­ca Chenoweth and Maria Stephan offered strik­ing evi­dence in 2011 that non­vi­o­lent move­ments can and do suc­ceed with remark­able frequency.
If those fight­ing in unde­mo­c­ra­t­ic soci­eties have an advan­tage in their pur­suit of trans­for­ma­tive change, it's this: there is lit­tle pre­tense that insid­er pol­i­tics is a viable route to change of any sort. Left with few good options, those who are unsat­is­fied with the world they inher­it­ed have lit­tle choice but to trans­form unre­al­is­tic aims into win­ning ones.
Gay Mar­riage: Touch­ing the Third Rail
Lest any­one imag­ine that trans­for­ma­tive change takes place only in far­away places or bygone decades, the strug­gle around gay mar­riage pro­vides an exam­ple of just such a shift that was recent, swift, and thor­ough. Unlike Otpor's antics or the dis­obe­di­ence cam­paigns of the civ­il rights move­ment, advo­cates for same-sex mar­riage did not gen­er­al­ly rely on civ­il dis­obe­di­ence or mass protest to gen­er­ate momen­tum. (There were, how­ev­er, notable excep­tions to this, includ­ing San Fran­cis­co May­or Gavin Newsom's 2004 deci­sion to mar­ry same-sex cou­ples in defi­ance of state law, march­es on Wash­ing­ton in 2000 and 2009, large-scale demon­stra­tions in Cal­i­for­nia against con­tro­ver­sial Propo­si­tion 8, which attempt­ed to per­ma­nent­ly ban gay mar­riage in that state, and a vari­ety of inci­dents in which mem­bers of the cler­gy broke offi­cial pro­hi­bi­tions to per­form such weddings.)
Though its focus may not have been mass protest, gay mar­riage was still a notable instance in which change came not through the lead­er­ship of an out­spo­ken pres­i­dent or cham­pi­ons in Con­gress, but despite all the timid polit­i­cal real­ists in Washington.
A decade and a half ago, as author and gay rights activist Marc Solomon has point­ed out, ​"no state allowed same-sex cou­ples to mar­ry, sup­port for gay mar­riage nation­wide hov­ered around 30 per­cent, and politi­cians every­where thought of it as the third rail of Amer­i­can pol­i­tics — draw near at your per­il." Lead­ers of the move­ment to make it an Amer­i­can real­i­ty like Evan Wolf­son, founder of the orga­ni­za­tion Free­dom to Mar­ry, worked long and hard to engen­der a major shift in pub­lic opin­ion as a way to trans­form the polit­i­cal weather.
"I'm not in this just to change the law," Wolf­son argued in 2001. ​"It's about chang­ing soci­ety." Push­ing only for more eas­i­ly obtain­able gains, such as domes­tic part­ner­ships, he con­tend­ed, was a mis­take. Instead, he advo­cat­ed going ​"into the room, ask­ing for what we deserve, telling our pow­er­ful sto­ries, and engag­ing the reach­able allies. We may leave the room not get­ting every­thing we want, but don't go in bar­gain­ing against your­self." The move­ment com­mit­ted itself, in the words of his­to­ri­an Josh Zeitz, ​"to a decades-long cam­paign to win the hearts and minds of ordi­nary voters."
Remark­ably, the trans­for­ma­tion came far more quick­ly. As state-lev­el cam­paigns pro­gressed, the once polit­i­cal­ly tox­ic issue mor­phed into a main­stream cru­sade. In 2011, for the first time, polls showed pub­lic sup­port for same-sex mar­riage to be over 50 per­cent. After that, progress came at a furi­ous pace as the world broke open. Politi­cians sud­den­ly began announc­ing that they had ​"evolved" on the issue, with six sen­a­tors declar­ing their sup­port for same-sex mar­riage in a sin­gle April week in 2013. Hillary Clin­ton joined them soon after, explic­it­ly announc­ing her sup­port, despite hav­ing declared in 2004, ​"I believe mar­riage is not just a bond but a sacred bond between a man and a woman." Even promi­nent con­ser­v­a­tives began to con­vert. For­mer rep­re­sen­ta­tive Robert Barr, for one, who had spon­sored the Defense of Mar­riage Act in 1996, came to favor its repeal.
Between 2010 and 2014, more than a dozen states joined the grow­ing list of juris­dic­tions allow­ing same-sex mar­riage. Increas­ing­ly, the wins came via leg­is­la­tion and pub­lic votes, not mere­ly court deci­sions by judges. By the time the Supreme Court was ready to make major rul­ings on the issue, it was hard­ly a fair fight.
As Wolf­son put it, ​"We had per­suad­ed the coun­try, and the courts followed."
Break­ing Open New Possibilities
The beau­ty of imprac­ti­cal move­ments is that they con­found estab­lished expec­ta­tions about the polit­i­cal future, which means it's dif­fi­cult to pre­dict when and where new out­breaks of defi­ance and hope will suc­ceed in cap­tur­ing the pub­lic imag­i­na­tion. Still, there are a num­ber of areas in which, at this very moment, activists are devel­op­ing strate­gies of dis­rup­tive revolt with an eye to pro­duc­ing the kind of whirl­wind moments that can rede­fine the pub­lic per­cep­tion of what's polit­i­cal­ly prac­ti­cal and necessary.
Two that might mat­ter in the near future are those focused on immi­grant rights and cli­mate change.
One of the great polit­i­cal suc­cess sto­ries of the last five years has been the unlike­ly tri­umph of the DREAM Act stu­dents. These immi­grant youths, most­ly Lati­no, advo­cat­ed a piece of leg­is­la­tion designed to pro­vide legal sta­tus for the chil­dren of undoc­u­ment­ed immi­grants: young peo­ple brought to the coun­try as kids, who spent their for­ma­tive years in the Unit­ed States and are seek­ing to attend col­lege or serve in the armed forces. Pre­vi­ous­ly such young peo­ple had no choice but to live in the shad­ows, with the dan­ger of depor­ta­tion con­stant­ly hang­ing over their fam­i­lies. But like gay rights activists before them, an emer­gent move­ment of DREAM­ers made ​"com­ing out" — in their case, about their undoc­u­ment­ed sta­tus – a point of pride and polit­i­cal power.
Traf­fic block­ades, civ­il dis­obe­di­ence at deten­tion cen­ters, and even sit-ins at Oba­ma cam­paign offices made their cause one which the White House could not ignore. Start­ing in June 2012, Pres­i­dent Oba­ma issued a series of guide­lines that would ulti­mate­ly allow more than five mil­lion immi­grants, includ­ing DREAM Act stu­dents, to live and work in the coun­try legal­ly. More­over, immi­grant rights protests have placed Repub­li­cans in the unen­vi­able posi­tion of either enrag­ing their nativist base or alien­at­ing one of the country's fastest grow­ing vot­ing blocs. Vox cor­re­spon­dent Dara Lind calls this ​"the mas­sive pris­on­er's dilem­ma the GOP faces on immigration."
Now, many lead­ers from this youth move­ment are about to launch a major push for a com­pre­hen­sive immi­gra­tion solu­tion, one that would be less vul­ner­a­ble to court chal­lenges or changes of admin­is­tra­tion than Pres­i­dent Obama's exec­u­tive orders. Hav­ing con­scious­ly plumbed lessons from the tra­di­tion of civ­il resis­tance, theirs is an effort sure to be cre­ative, bold, and confrontational.
Anoth­er issue on which activists are orga­niz­ing in a major way and that may be primed for a break­through is cli­mate change — and a break­through is need­ed if civ­i­liza­tion as we know it is to con­tin­ue. It's fre­quent­ly said that cli­mate change rep­re­sents a tougher fight than an issue like same-sex mar­riage, since the lat­ter involved a change in cul­tur­al atti­tudes but threat­ened to impose no sig­nif­i­cant eco­nom­ic costs on giant cor­po­ra­tions or eco­nom­ic elites.
It's true that envi­ron­men­tal­ists are squar­ing off against some of the world's most prof­itable and pow­er­ful com­pa­nies, like Exxon­Mo­bil. But this is hard­ly the end of the sto­ry. Con­ven­tion­al wis­dom once held that the British would nev­er leave India because of the prof­its gen­er­at­ed by colo­nial­ism and the Raj. Great Britain was then the most pow­er­ful force in the world, and many believed that it could nev­er be moved. But that was only until, in a chang­ing world, a trans­for­ma­tive local resis­tance move­ment rewrote the equa­tion, eco­nom­ic and otherwise.
In the future, severe super-storms, ris­ing sea lev­els, floods, droughts, record heat waves, spread­ing wild fires, and oth­er eco­log­i­cal dis­lo­ca­tions and dis­as­ters result­ing from glob­al warm­ing will begin to pile up bil­lions of dol­lars in lost prop­er­ty, failed crops, tidal waves of refugees, and the like. This means that one day in the not-so-dis­tant future the eco­nom­ic forces lin­ing up on either side of cli­mate change may not seem so des­per­ate­ly unequal.
Those who have already tak­en direct action to com­bat cli­mate change have been told again and again that their efforts would yield few results. And just as fre­quent­ly they have proven the skep­tics wrong. The Key­stone XL pipeline, slat­ed to bring car­bon-dirty tar sands oil to the U.S. Gulf Coast from Cana­da — the tar­get of civ­il dis­obe­di­ence from Wash­ing­ton D.C. to Nebras­ka to Alber­ta—was once con­sid­ered a ​"done deal" by indus­try ana­lysts. Cana­di­an Prime Min­is­ter Stephen Harp­er called it a ​"no brain­er" and Sec­re­tary of State Hillary Clin­ton indi­cat­ed that she was inclined to sign off on it. In 2010, few would have pre­dict­ed that Pres­i­dent Oba­ma would ulti­mate­ly veto the project.
The ongo­ing effort to con­vince insti­tu­tions such as church­es and uni­ver­si­ties to divest from fos­sil fuel com­pa­nies — a cam­paign backed by inter­na­tion­al protests and cam­pus build­ing occu­pa­tions—has sim­i­lar­ly been derid­ed as ​"mis­guid­ed" and ​"at best, com­plete­ly inef­fec­tive." Yet with invest­ment funds worth $3.4 tril­lion com­bined hav­ing shift­ed away from these indus­tries, theGlobe and Mail reports that ​"chang­ing investor atti­tudes are start­ing to hit coal-relat­ed firms across the globe" as ​"pen­sion fund man­agers and oth­er insti­tu­tion­al investors are now ques­tion­ing the long-term returns offered by coal and oil companies."
A deter­mined gen­er­a­tion of cli­mate activists, reared on these strug­gles, aid­ed by inter­na­tion­al allies, and engaged with past social move­ments, is pre­pared to make fos­sil fuel extrac­tion a moral issue and fight to alter the lim­its of polit­i­cal debate in order to offer human­i­ty the hope of a decent and rea­son­able future. Like oth­ers who have bro­ken open the world of pos­si­bil­i­ty, they rec­og­nize that there is a cost to play­ing the inside game, to bas­ing your pol­i­tics on the Belt­way ver­sion of hard­head­ed real­ism — espe­cial­ly giv­en the grim future real­ism of glob­al envi­ron­men­tal disaster.
Nev­er before has human­i­ty depend­ed so ful­ly for the sur­vival of us all on a social move­ment being will­ing to bet on impracticality.