Amid "Constitutional Crisis," Bernie Sanders Urges Workers To Seize Means of Production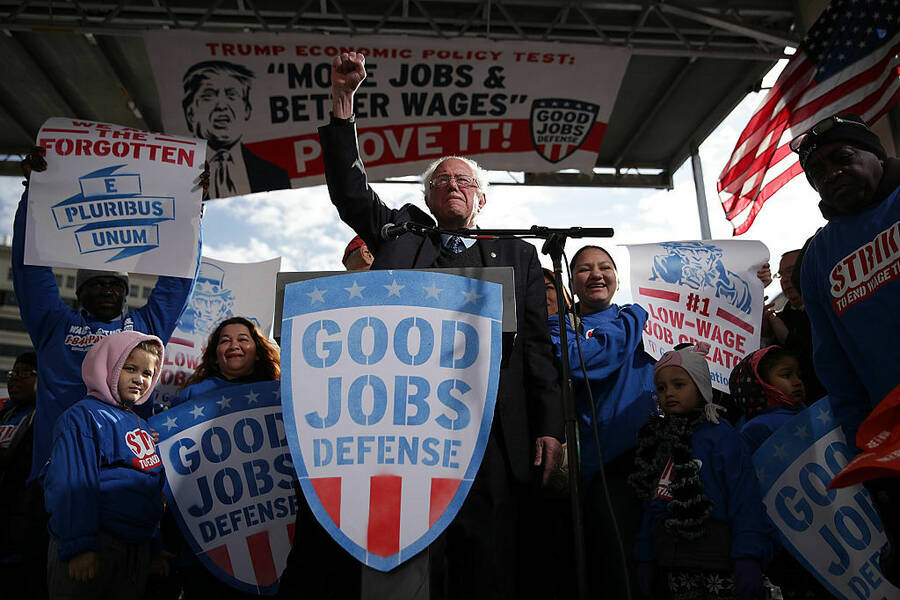 The last few days have been a bit of a whirl­wind, polit­i­cal­ly speak­ing. Most of it has to do with the onslaught of chaos that fol­lowed Don­ald Trump's abrupt fir­ing of FBI Direc­tor James Comey — a move polit­i­cal sci­en­tists agree is off the spec­trum of nor­mal­cy in the his­to­ry of the Amer­i­can pres­i­den­cy. Before his ter­mi­na­tion, Comey was lead­ing an inves­ti­ga­tion into the Trump team's alleged ties to the Russ­ian gov­ern­ment. Kei­th Elli­son, deputy chair­man of the Demo­c­ra­t­ic Nation­al Com­mit­tee, has said ​"we are wit­ness­ing a con­sti­tu­tion­al cri­sis." Calls for impeach­ment are in the air, along with a good deal of con­spir­a­cy theorizing.
In sum, the repub­lic as we know it may be its clos­est yet to tat­ters. Enter: Bernie Sanders, the sen­a­tor from Ver­mont and the country's most pop­u­lar politi­cian. He — along­side Demo­c­ra­t­ic Sens. Patrick Leahy, from Ver­mont, Kirsten Gilli­brand, from New York, and Mag­gie Has­san, from New Hamp­shire — is encour­ag­ing work­ers to take con­trol of the means of production.
This isn't some right-wing con­spir­a­cy the­o­ry, but the intend­ed result of two bills intro­duced to rel­a­tive­ly lit­tle fan­fare Thurs­day. The first, the WORK ("Work­er Own­er­ship, Readi­ness and Knowl­edge") Act, would direct more than $45 mil­lion in fund­ing to state-lev­el employ­ee own­er­ship cen­ters, aimed at pro­vid­ing train­ing and tech­ni­cal assis­tance to cur­rent and prospec­tive work­er-own­ers. A sec­ond piece of leg­is­la­tion would estab­lish some­thing called the U.S. Employ­ee Own­er­ship Bank, via $500 mil­lion in funds for low-inter­est rate loans and finan­cial assis­tance for work­ers who want to buy out the busi­ness­es where they work and either incor­po­rate them as work­er-owned coop­er­a­tives or estab­lish employ­ee stock own­er­ship plans (ESOPs), which give work­ers an own­er­ship stake in their company.
"By expand­ing employ­ee own­er­ship and par­tic­i­pa­tion, we can cre­ate stronger com­pa­nies in Ver­mont and through­out this coun­try, pre­vent job loss­es and improve work­ing con­di­tions for strug­gling employ­ees," Sanders said in a state­ment. ​"Sim­ply put, when employ­ees have an own­er­ship stake in their com­pa­ny, they will not ship their own jobs to Chi­na to increase their prof­its, they will be more pro­duc­tive, and they will earn a bet­ter living."
Notably, a pro­vi­sion out­lined in the sec­ond bill would give employ­ees the first crack at tak­ing over their work­place if own­ers move to off­shore their jobs, accord­ing to John Duda.
Duda works for the Democ­ra­cy Col­lab­o­ra­tive, a research insti­tute that sup­ports coop­er­a­tive devel­op­ment. He also helped found the work­er-owned café and book­store Red Emma's in Bal­ti­more, Maryland.
"I think it would be a game chang­er both in terms of accel­er­at­ing work­er-own­er­ship, and dis­cour­ag­ing com­pa­nies from pur­su­ing a race to the bot­tom in terms of look­ing for cheap­er wages over­seas," Duda said about the legislation.
Coop­er­a­tive own­er­ship has a long his­to­ry in the Unit­ed States, Duda explains. The ear­li­est cham­pi­ons of orga­nized labor in Amer­i­ca pushed for coop­er­a­tives as a means to shore up employ­ee con­trol over the work­place. As a doc­u­ment offi­cial­ly adopt­ed by the Knights of Labor in 1878 put it, ​"The recent alarm­ing devel­op­ment and aggres­sion of aggre­gat­ed wealth … ren­der it imper­a­tive … that a check should be placed upon its pow­er and upon unjust accu­mu­la­tion, and a sys­tem adopt­ed which will secure to the labor­er the fruits of his toil." Lat­er, New Deal ini­tia­tives like the Rur­al Elec­tri­fi­ca­tion Admin­is­tra­tion pro­vid­ed start-up funds for peo­ple in rur­al areas to cre­ate coop­er­a­tives, with rur­al elec­tric coop­er­a­tives now meet­ing 11 per­cent of the country's demand for elec­tric­i­ty. Civ­il rights lead­ers from Ella Bak­er to Fan­nie Lou Hamer would also cut their teeth in coop­er­a­tive self-help programs.
Today, com­pa­nies from Cabot Cream­ery to REI are coop­er­a­tives of one form or anoth­er. And Pub­lix Super Mar­kets and Wawa con­ve­nience stores are just two of many major firms in the Unit­ed States that offer their employ­ees ESOPs. Work­er-owned coop­er­a­tives, by con­trast — gov­erned by the prin­ci­ple of ​"one work­er, one vote" — tend to be small­er in the Unit­ed States than either ESOPs or pro­duc­er and con­sumer coop­er­a­tives, but more wide­spread through­out South Amer­i­ca and Europe. In con­trast to the esti­mat­ed 10.3 mil­lion Amer­i­cans cov­ered by ESOPs, just over 5,000 peo­ple are a part of work­er-owned cooperatives.
Sanders him­self is no stranger to coop­er­a­tives. He's intro­duced sim­i­lar bills before, and the leg­is­la­tion is par­tial­ly inspired by the Ver­mont Employ­ee Own­er­ship Cen­ter, or VEOC, of which Sanders has been a long­time boost­er. Speak­ing to a forum on work­ers' own­er­ship at Burling­ton City Hall in 1985, then-May­or Sanders said, ​"Democ­ra­cy can­not just mean the oppor­tu­ni­ty to vote for a Wal­ter Mon­dale or a Ronald Rea­gan once every four years … If we have a vision as to what democ­ra­cy is about, it's got to mean the right of a work­ing per­son to con­trol his or her job, to have some say about what's being pro­duced, to sit down with the oth­er work­ers and say, ​'This is what I think we should do.'" (You can watch the full clip here.)
One of the oth­er mod­els for the kind of sup­port pro­grams out­lined in the WORK Act emerged out of the clo­sure of the Youngstown Sheet and Tube fac­to­ry in 1977 — a siren song for the kind of dein­dus­tri­al­iza­tion that would plague the Rust Belt for years to come. Work­ers, Duda said, attempt­ed to seize the plant and run it coop­er­a­tive­ly in the run-up to the clo­sure. The effort ulti­mate­ly failed, but cap­tured the atten­tion of Ohioans inter­est­ed in devel­op­ing coop­er­a­tive busi­ness­es. Start­ed in 1987, the Ohio Employ­ee Own­er­ship Cen­ter (OEOC) has since helped some 90 com­pa­nies to become employ­ee-owned, cre­at­ing an esti­mat­ed 15,000 employ­ee-own­ers in the Buck­eye State. A like-mind­ed push in New York City has seen some ini­tial suc­cess after an invest­ment of $1.2 mil­lion in work­er coop­er­a­tive busi­ness devel­op­ment efforts in 2014.
"It's hard stuff get­ting all the legal ducks in a row, get­ting all the financ­ing lined up, fig­ur­ing out how to take advan­tage of the tax incen­tives that exist. Hav­ing tech­ni­cal assis­tance and hav­ing grant sup­port for tech­ni­cal assis­tance is incred­i­bly key," Duda said.
He wasn't over­ly opti­mistic about the bills' chances in Con­gress, but thought their intro­duc­tion rep­re­sent­ed a step for­ward in terms of bring­ing coop­er­a­tives fur­ther into America's eco­nom­ic mainstream.
"We have a lot of dra­ma going on, and it's vital­ly impor­tant to pay atten­tion to," Duda told In These Times, ​"but we need to not for­get that we are see­ing his­toric lev­els of inequal­i­ty. We need to be think­ing about solu­tions and a tran­si­tion to a broad­er-based own­er­ship of the econ­o­my that allows us to tack­le that ques­tion. We may not be able to pass this leg­is­la­tion today, but there's going to be a time at which pol­i­cy­mak­ing is pos­si­ble again and we need to be ready."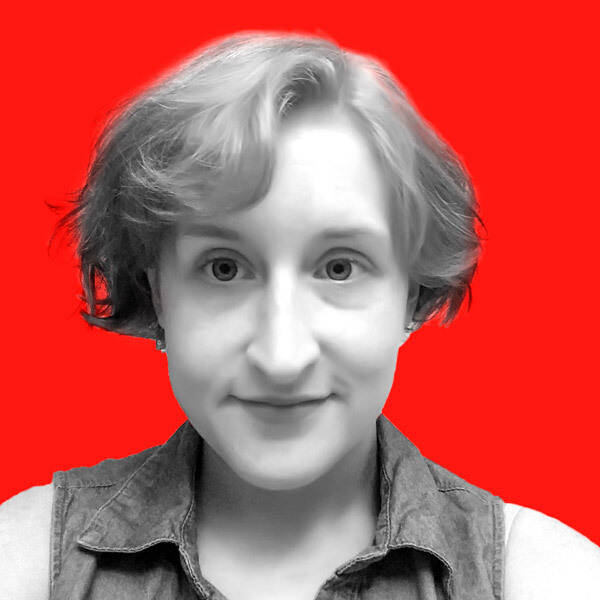 Kate Aronoff
is a Brook­lyn-based jour­nal­ist cov­er­ing cli­mate and U.S. pol­i­tics, and a con­tribut­ing writer at The Inter­cept. Fol­low her on Twit­ter @katearonoff.