Beyond the Fight for 15: The Worker-led Fast Food Union Campaign Building Power on the Shop Floor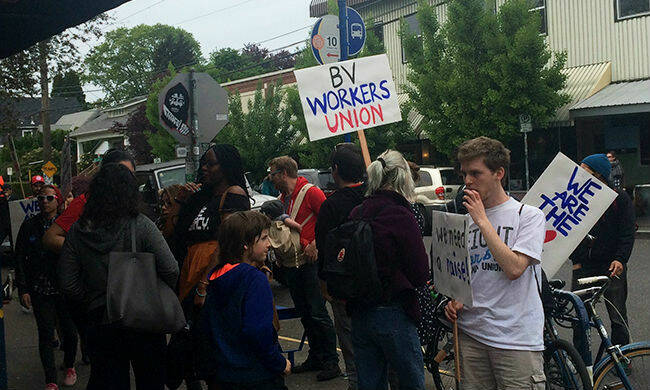 Last year, at age 17, Eli Fishel moved out of her par­ents' house in Van­cou­ver, Wash­ing­ton, squeez­ing into a three-bed­room apart­ment with five oth­er room­mates. To pay her bills as she fin­ished high school, Fishel land­ed a job at Burg­erville, a fast-food chain with 42 out­lets and more than 1,500 employ­ees in the Pacif­ic Northwest.
Found­ed in 1961, Burg­erville has cul­ti­vat­ed a loy­al fol­low­ing by empha­siz­ing fresh, local food, com­bined with sus­tain­able busi­ness prac­tices like renew­able ener­gy and recy­cling. But Fishel quick­ly real­ized she wasn't part of Burgerville's com­mit­ment to ​"region­al vital­i­ty" and ​"future generations."
After 16 months on the job, she earns just $9.85 an hour, bare­ly above the Wash­ing­ton State min­i­mum wage. Her hours and shifts fluc­tu­ate week­ly, with only a few days' notice, and every month she goes hun­gry because she runs out of mon­ey to buy food.
Speak­ing of the pri­vate­ly-owned Burg­erville, Fishel says, ​"We're poor because they're rich, and they're rich because we're poor."
Dis­grun­tled Burg­erville work­ers began covert­ly orga­niz­ing in 2015. The Burg­erville Work­ers Union (BVWU) went pub­lic on April 26 with a march of more than 100 peo­ple through Port­land, Ore­gon, and the deliv­ery of a let­ter to the cor­po­rate head­quar­ters in Van­cou­ver. BVWU demands include a $5‑an-hour raise for all hourly work­ers, recog­ni­tion of a work­ers orga­ni­za­tion, afford­able, qual­i­ty health­care, a safe and healthy work­place, and fair and con­sis­tent sched­ul­ing with ample notice.
Some BVWU mem­bers call their effort ​"Fight for $15, 2.0," play­ing off the name of the fast-food work­er cam­paign launched in 2011 by the Ser­vice Employ­ees Inter­na­tion­al Union (SEIU).
SEIU has won plau­dits for mak­ing the plight of low-wage work­ers a nation­al issue and ignit­ing the move­ment for new laws boost­ing the min­i­mum wage to $15 an hour. But the cam­paign has not, thus far, includ­ed efforts to union­ize indi­vid­ual workplaces.
Unlike Fight for $15, which Mid­dle­bury Col­lege soci­ol­o­gy pro­fes­sor and labor expert Jamie McCal­lum describes as ​"a fair­ly top-down cam­paign," BVWU is a work­er-ini­ti­at­ed and ‑led project backed by numer­ous labor orga­ni­za­tions. The group of Burg­erville work­ers who came up with the idea includes mem­bers of Indus­tri­al Work­ers of the World (IWW), a mil­i­tant union with West Coast roots that date back to the ear­ly 1900s. The cam­paign has the back­ing of the Port­land chap­ter of IWW and the sup­port SEIU Local 49, the Port­land Asso­ci­a­tion of Teach­ers, and Jobs with Justice.
This scrap­py approach enabled BVWU to leapfrog Fight for $15 by declar­ing a union from the start. While BVWU has not yet for­mal­ly peti­tioned for recog­ni­tion and Burg­erville has not cho­sen to vol­un­tar­i­ly nego­ti­ate with it, the union has estab­lished work­er com­mit­tees in five stores, is devel­op­ing units in a sim­i­lar num­ber of shops and counts scores of work­ers as members.
BVWU is full of lessons in how orga­niz­ing works. One mem­ber likens the cam­paign to ​"low-lev­el guer­ril­la war­fare" with work­ers maneu­ver­ing to increase their ranks, build pow­er on the shop floor, expand the ter­rain from shop to shop, while skir­mish­ing with man­agers over the work process, and suf­fer­ing casu­al­ties as some mem­bers have quit or say they were pushed out of their jobs at Burg­erville. In the work­place, the strat­e­gy is to devel­op lead­ers, form com­mit­tees for each store, and nur­ture trust and respect between work­ers. Out­side, BVWU uses direct action to empow­er work­ers and bring sup­pli­ers into the con­ver­sa­tion. The union also works to build com­mu­ni­ty sup­port by mobi­liz­ing social-jus­tice groups, cler­gy, and orga­nized labor to win over the pub­lic and pres­sure the company.
McCal­lum says that BVWU an exam­ple of social move­ment union­ism. ​"It's about orga­niz­ing as a class against anoth­er class," he says. ​"It's to win demands not just against a sin­gle boss or to change a law, but to engage in class struggle."
Beyond the Fight for $

15
McCal­lum also sees the cam­paign as an attempt to build on Fight for $15. ​"For the first time since the Jus­tice for Jan­i­tors cam­paign began 30 years ago, we have low-wage work­ers who are peo­ple of col­or work­ing with tra­di­tion­al unions to change pol­i­tics," he says. ​"If the IWW is inter­est­ed in push­ing that agen­da for­ward to make it more demo­c­ra­t­ic and rad­i­cal, that's awesome."
Fight for $15 is ​"one of the most suc­cess­ful and inspir­ing labor vic­to­ries in the last 20 years," says McCal­lum. ​"They've accom­plished things, like dou­bling the min­i­mum wage, thought impos­si­ble three years ago. They man­aged to raise the pro­file of low-wage work­ers in a fail­ing econ­o­my." He acknowl­edges, how­ev­er, that Fight for $15 is ​"large­ly polit­i­cal organizing."
"It doesn't require a mass base. It requires mobi­lized work­ers with incred­i­bly tal­ent­ed orga­niz­ers to move sym­pa­thet­ic politi­cians in a defined geo­graph­ic area," McCal­lum says.
To that end, Fight for $15 devotes con­sid­er­able mon­ey and effort to media. A Fight for $15 strat­e­gy doc­u­ment called ​"Strike in a Box" lists these cri­te­ria for a ​"good [orga­niz­ing] site to focus on": ​"Is it an icon­ic brand? Does the brand help tell a sto­ry, local­ly and/​or nation­al­ly? Do we have spokes­peo­ple? Trained? Reli­able? Expe­ri­enced? Do we have sto­ries? Com­pelling work­er sto­ries, Hor­ror sto­ries about site prac­tices (wage theft, sex­u­al harass­ment, etc)."
By con­trast, Burg­erville work­er Flana­gan says BVWU uses media pri­mar­i­ly as a tool to fos­ter the growth of the union along with work­er sol­i­dar­i­ty and con­scious­ness. She says media helps ​"con­nect the dots between our per­son­al strug­gles and col­lec­tive strug­gle." She adds that explain­ing what unions do and how they orga­nize helps to edu­cate ​"my gen­er­a­tion, which has very lit­tle under­stand­ing of unions."
Indeed, although the Fight for $15 demands "$15 and a union," SEIU has made a strate­gic deci­sion not to attempt to orga­nize the nation's tens of thou­sands of fast-food restau­rants shop by shop. ​"The NLRB has old rules for small shops," Kendall Fells, Fight for $15's orga­niz­ing direc­tor, told Work­ing in These Times in May. ​"This move­ment is too large to be put in that process."
Adri­ana Alvarez, a Chica­go McDonald's work­er, says that while Fight for $15 may not be a for­mal union, ​"We're act­ing like a union, not wait­ing for any­one to tell us we can have one."
"To me a union is work­ers join­ing togeth­er to accom­plish things we wouldn't be able to achieve on our own," Alvarez says. ​"And that's exact­ly what we've been doing — com­ing togeth­er and win­ning life-chang­ing rais­es for 20 mil­lion Amer­i­cans, includ­ing more than 10 mil­lion who are on the way to $15. By stand­ing togeth­er, we've gone from pow­er­less to hav­ing pow­er­ful voic­es in our stores."
If SEIU can prove that McDonald's calls the shots in its fran­chis­es, it could also push open the door to union­iz­ing the whole com­pa­ny at once instead of the Sisyphean task of one fran­chise at a time. Deploy­ing orga­niz­ers, researchers and lawyers, SEIU has gath­ered evi­dence for 181 cas­es alleg­ing that McDonald's con­trols its fran­chisees' employ­ment prac­tices and there­fore should be held account­able for unfair labor prac­tices in fran­chisees, includ­ing retal­i­a­tion against work­ers who sup­port­ed union­iza­tion. In 2014, the NLRB issued a pre­lim­i­nary find­ing in favor of SEIU's case and, then the next year in a sep­a­rate case involv­ing Brown­ing Fer­ris Indus­tries of Cal­i­for­nia the labor board revised the def­i­n­i­tion of joint employ­er to ​"con­sid­er whether an employ­er has exer­cised con­trol over terms and con­di­tions of employ­ment through an inter­me­di­ary." Years lat­er, the McDonald's case is still grind­ing its way through a judi­cial process, with a mul­ti-city case being argued before an admin­is­tra­tive law judge that was kicked back to the NLRB on Octo­ber 12. If the board finds or any of the court cas­es, which includes mul­ti­ple class-action suits SEIU has backed against McDonald's for wage theft, deter­mine that McDonald's is a joint employ­er with its fran­chisees, that may final­ly open the door to a com­pa­ny-wide union drive.
"

It's a huge amount of work"
The Burg­erville campaign's strat­e­gy of painstak­ing­ly orga­niz­ing shop by shop empha­sizes ​"build­ing work­er pow­er," which is both ​"a means and a goal," says Flanagan.
For BVWU, the ini­tial orga­niz­ing dri­ve was rel­a­tive­ly easy, with work­ers chaf­ing at dif­fi­cult work­ing con­di­tions and pover­ty-lev­el wages.
Deb­by Olson, 49, a mil­i­tary vet­er­an, has worked at Burg­erville since her home-clean­ing busi­ness tanked dur­ing the Great Reces­sion. She says the ​"peo­ple are nice, but the pay is hor­ri­ble." After six years, she makes $10.75 an hour.
Olson, says the job is ​"hard­er than my house-clean­ing busi­ness. You are lit­er­al­ly mov­ing all day. For hours you don't get to breathe. When I get home, I'm men­tal­ly and phys­i­cal­ly exhausted."
Five oth­er Burg­erville work­ers also described the pace as non-stop. Olson reduced her full-time sched­ule to three days a week because, as she says, ​"I could bare­ly walk when I got off work and my qual­i­ty of life was real­ly poor. It's scary that my feet were get­ting so dam­aged that it could affect my abil­i­ty to get anoth­er job or enjoy my lat­er years."
Burgerville's lure is gourmet-style food, sourced local­ly from ​"988 farms, ranch­es, and arti­sans," which requires labor-inten­sive prepa­ra­tion. Luis Bren­nan, 27, a two-year Burg­erville employ­ee, says, ​"The job is real­ly hard. We actu­al­ly cook the food. We core straw­ber­ries, we hand-blend milk­shakes. We cook the meat and eggs fresh, we cut the onion rings and bat­ter them twice. It's a huge amount of work."
The Burg­erville cam­paign builds on the IWW's expe­ri­ence over the last decade in fast-food orga­niz­ing at Jim­my John's and Star­bucks. Pick­ing a region­al chain works to the ben­e­fit of the union as it can exert more pres­sure because Burg­erville doesn't have the might of a glob­al food giant and its care­ful­ly craft­ed image is ripe for attack.
The pub­lic may eat up buzz­words like local, fresh and sus­tain­able, but Burgerville's rhetoric sticks in work­ers' throats. Fishel says that despite a 70 per­cent dis­count for food on shift, she still some­times can't afford it.
"If your work­ers are going with­out food, how can you say you are a bet­ter, more sus­tain­able option for your com­mu­ni­ty?" she asks.
"

This is my community"
Build­ing a work­place orga­ni­za­tion has been a trans­for­ma­tive expe­ri­ence for work­ers. Fishel says, ​"Being in the union has been very uplift­ing, inspir­ing, and super-pos­i­tive to come togeth­er with so many peo­ple. We deserve a liv­ing wage, to be treat­ed with respect and to have more than what we have right now."
Claire Flana­gan, 26, who's worked at the chain since June 2015, says, ​"The union has changed people's rela­tion­ship with the job and work. It's gone from being a place I go to work to pay my bills to feel­ing invest­ed in our cowork­ers and the job in a much deep­er way. This is my community."
Burg­erville is hard­ly rolling over, how­ev­er. Flana­gan says, ​"The com­pa­ny has dug in their heels and refus­es what­ev­er we ask for." She alleges in her store, ​"Man­agers spread anti-union rumors and encour­age work­ers to talk shit about the union as a way to gain favoritism. The com­pa­ny is engaged in a mis­in­for­ma­tion cam­paign and spread­ing fear."
But BVWU mem­bers keep the heat on whether by wear­ing a union but­ton on the job or tus­sling over floor mats. Mem­bers are demand­ing mats to ease the stress of stand­ing for hours. Man­age­ment relent­ed in a few stores, but the mats have emerged as a proxy war. Flana­gan says despite hav­ing mats, man­agers will put them away and she will bring them back out.
Jor­dan Vaan­der­ing, 26, says of work­ers at his out­let, where he's been for a year, ​"We own the cul­ture where­as before it was man­age­ment push­ing peo­ple to meet speed of ser­vice times, meet sales goals."
Build­ing work­er power
BVWU's strat­e­gy is known as ​"minor­i­ty union­ism" because BVWU may not have a major­i­ty in each shop will­ing to declare sup­port for a union. This sort of orga­niz­ing cir­cum­vents a fed­er­al labor-law process that makes union elec­tions dif­fi­cult, time-con­sum­ing and expen­sive. But BVWU uti­lizes the NLRB process when it is to its advan­tage, such as by fil­ing unfair labor prac­tice charges that allege Burg­erville is ille­gal­ly retal­i­at­ing against the union and workers.
Burg­erville work­er Bren­nan says BVWU relies on the IWW mod­el: ​"It teach­es, ​'You're a work­er who hates your job, here's how to build a com­mit­tee.' " Each orga­nized store began with a com­mit­tee and grew from there.
One use­ful ques­tion, says Bren­nan, is ask­ing work­ers, ​"What could you do with $5 an hour more?" He says talk­ing to cowork­ers about ​"what they need changed and why they need it changed helps to break down the walls of silence around hard stuff in our lives."
Bren­nan explains, ​"Build­ing rela­tion­ships in the work­place is not nat­ur­al, but it's deeply human. The work­place is full of pow­er rela­tion­ships and incred­i­bly con­strained by the boss, by pay, by gen­der, by race, by lan­guage. You need to get to know some­one to know whether or not they will fight and why they'll fight."
These rela­tion­ships come into play when man­age­ment goes after work­ers. One notable case involves Ivy Fleak, a mem­ber whom BVWU claims was tar­get­ed by man­age­ment ​"for stand­ing up on the job and stand­ing up against sex­u­al harass­ment." Flana­gan says, ​"They took Ivy off the sched­ule for two weeks. We orga­nized actions and a vig­il. She spoke out pub­licly and won, receiv­ing back pay for when she was off-schedule."
Flana­gan says, ​"Peo­ple relat­ed to Ivy's sto­ry," which boost­ed sup­port for the union. ​"At anoth­er job they saw some­one being tar­get­ed or fired for stand­ing up, or that hap­pened to them. Being part of the union means when I'm at work, I know peo­ple have my back."
BVWU claims Fleak was lat­er forced to quit under pres­sure after the com­pa­ny alleged­ly threat­ened to file spu­ri­ous crim­i­nal charges against her for gift-card theft. Burg­erville declined to com­ment on her case, saying,"Burgerville is ded­i­cat­ed to con­tin­u­ous­ly enhanc­ing our rela­tion­ship with our employ­ees. We do not com­ment on indi­vid­ual employ­ee mat­ters or inter­nal com­mu­ni­ca­tions." The com­pa­ny also opt­ed not to com­ment on the BVWU cam­paign or on com­plaints about wages and work­ing conditions.
In the case of anoth­er BVWU sup­port­er fired over a work­place acci­dent, the union orga­nized a del­e­ga­tion of 50 peo­ple to the cor­po­rate head­quar­ters ask­ing for the worker's job back and con­duct­ed a food dri­ve for the work­er. It pub­li­cized the fir­ing to make the case that Burg­erville push­es work­ers ​"past their lim­its" and demand­ed a trans­par­ent dis­ci­pli­nary process. More than half the work­ers in that out­let also signed a peti­tion ask­ing for the work­er to be rehired. The work­er remains fired.
BVWU mem­bers view the fir­ings as part of a wider anti-union cam­paign. The com­pa­ny has set up a web­site to ​"inform" work­ers of their rights, but which dis­cour­ages them from union­iz­ing. Store man­agers have also been hold­ing anti-union ses­sions with work­ers, where they play a video fea­tur­ing Burg­erville CEO Jeff Har­vey. In the video, Har­vey states, ​"I don't think a union is in the best inter­est of the com­pa­ny, our employ­ees, our sup­pli­ers, or our guests." He admits, ​"Burg­erville under­stands employ­ees face cer­tain chal­lenges like trans­porta­tion, food, and hous­ing to name just a few." Har­vey then claims, ​"We have spent well over a year look­ing into the press­ing issues that con­cern you [but] can't act" as ​"under cur­rent labor laws, we are oblig­at­ed to main­tain the sta­tus quo."
Flana­gan claims when Burg­erville says it has to ​"main­tain the sta­tus quo," what it's real­ly say­ing to work­ers is, ​"If you didn't get a raise, blame the union." On August 15, Burg­erville Work­ers Union filed four charges of unfair labor prac­tices with the NLRB, includ­ing one con­cern­ing the anti-union video. Labor law is fuzzy on the issue. Com­pa­nies are pro­hib­it­ed from increas­ing ben­e­fits dur­ing a tra­di­tion­al union elec­tion cam­paign, but as a minor­i­ty union, BVWU is act­ing out­side of this frame­work as a minor­i­ty union.
BVWU has also tak­en the offen­sive by hit­ting at the company's pub­lic image. The work­er-orga­niz­ers have kept up a brisk pace for five months, aver­ag­ing an action a week such as vig­ils, march­es, pick­ets and a bicy­cle ride. When BVWU mem­bers vis­it­ed Liepold Farms near Port­land, which sup­plies Burg­erville with berries for its sig­na­ture shakes, to ask for sup­port, the farm own­er was tak­en aback but accept­ed their let­ter. Short­ly after BVWU was unveiled, dozens of work­ers, local labor lead­ers, activists, and cler­gy packed the cor­po­rate head­quar­ters in support.
Know­ing they have the back­ing of the com­mu­ni­ty bol­sters the con­fi­dence of work­ers on the shop floor. Flana­gan says the cur­rent plan is to ​"build orga­ni­za­tion­al capac­i­ty and infra­struc­ture to pull off larg­er actions."
Time may be on the side of BVWU. The more shops the union can orga­nize, the more work­ers who join, and the more com­mu­ni­ty sup­port it builds, the like­li­er it is BVWU will force Burg­erville to the bar­gain­ing table, with or with­out a major­i­ty union. Then the Burg­erville Work­ers Union may be the one open­ing new outlets.
To find out more about the Burg­erville Work­ers Union, go to burg​erville​work​er​sunion​.org.