Life, Liberty and a Stable Climate: These Kids Are Arguing for a New Constitutional Right
After a June hearing, the youth suing the government await news on whether their case will proceed to trial.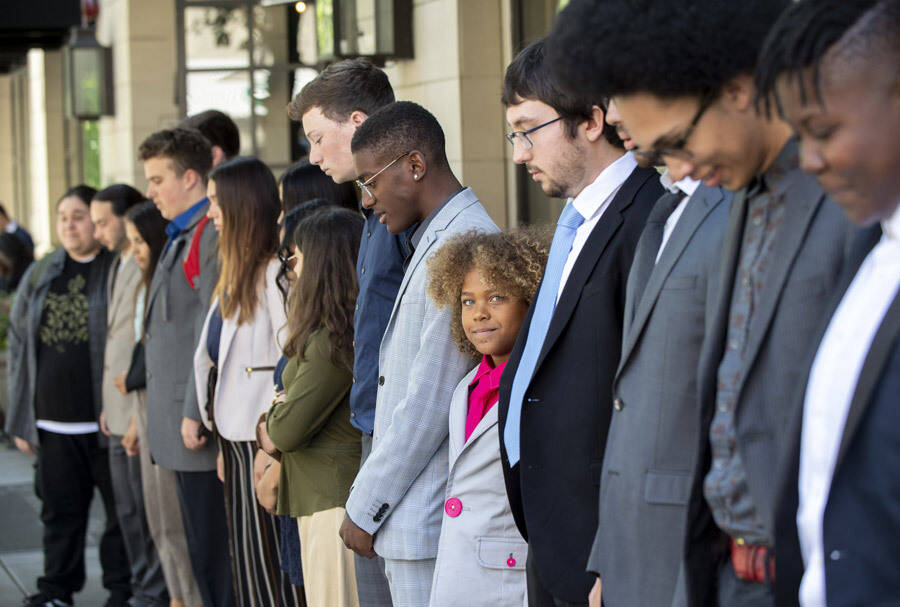 PORT­LAND, ORE. — Judge Andrew Hur­witz arched an eye­brow. ​"You're ask­ing us to do a lot of new stuff, aren't you?" He was grilling Julia Olson, exec­u­tive direc­tor of Our Children's Trust, who was argu­ing before a pan­el of three judges on the Ninth Cir­cuit Court of Appeals to allow a ground­break­ing cli­mate jus­tice law­suit, Juliana v. U.S., to pro­ceed to tri­al in fed­er­al court.
"We spent another day in court facing our government, the apparent strongest government in the world, showing fear of young people and showing fear of facts."
Filed in 2015, Juliana includes 21 plain­tiffs, then aged 8 to 19, ask­ing the judi­cia­ry to order the fed­er­al gov­ern­ment ​"to swift­ly phase-down CO2 emis­sions … [and] devel­op a nation­al plan to restore Earth's ener­gy bal­ance" because their lives are in dan­ger from gov­ern­ment-caused cli­mate change. To make the case, the plain­tiffs, more than a dozen of whom packed the bench­es behind Olson, need to prove the gov­ern­ment is vio­lat­ing their con­sti­tu­tion­al rights by facil­i­tat­ing cli­mate change.
The ques­tion of gov­ern­ment cul­pa­bil­i­ty is cen­tral to the Juliana law­suit. The gov­ern­ment can't be held liable for inac­tion to a dan­ger — but it can be held respon­si­ble for cre­at­ing that dan­ger. The law­suit hopes to prove youth are being dis­crim­i­nat­ed against in favor of the present gen­er­a­tions of adults who will expe­ri­ence few of the con­se­quences of cat­a­stroph­ic cli­mate change.
While the right to a ​"sta­ble cli­mate sys­tem" is not enu­mer­at­ed in the Con­sti­tu­tion, the Ninth Amend­ment states that oth­er rights exist even if not list­ed. Olson argues a sta­ble cli­mate sys­tem is one such right, and it is essen­tial to the Fifth Amend­ment right of not being ​"deprived of life, lib­er­ty, or prop­er­ty, with­out due process of law."
Jef­frey Clark, assis­tant attor­ney gen­er­al of the Envi­ron­ment and Nat­ur­al Resources Divi­sion, argued to the judges June 4 that the law­suit is ​"a dag­ger at the sep­a­ra­tion of pow­ers." He claimed that, if elect­ed offi­cials fail to stop an immi­nent threat to life, the solu­tion is ​"the polit­i­cal rem­e­dy of remov­ing them from office" — not hav­ing the courts to step in.
Hurwitz's grav­el­ly voice inter­ject­ed, cut­ting through the thick­et of legalese. The gov­ern­ment posi­tion, he sum­ma­rized, is if the plain­tiffs faced imme­di­ate harm and the leg­isla­tive and exec­u­tive branch­es did noth­ing, ​"The plain­tiffs would have no option but to die." He added, ​"That may well be con­sti­tu­tion­al­ly correct."
But the judges did express skep­ti­cism of the government's case. Judge Josephine Sta­ton asked Clark why the right to a life-sus­tain­ing cli­mate wouldn't ​"fit com­fort­ably with­in the nature of oth­er unenu­mer­at­ed rights — such as the right to an abor­tion, the right to bod­i­ly integri­ty, the right to mar­riage — that the court has found exists in the ​'life, lib­er­ty and prop­er­ty' rights of the constitution."
Clark answered with the same argu­ments made by the Oba­ma admin­is­tra­tion, which also sought to quash Juliana: The youth have no stand­ing to sue, their griev­ances are not redress­able and the prob­lem is out­side the pow­ers of the judi­cial branch.
"The Trump admin­is­tra­tion appears even more deter­mined to quash the law­suit than its pre­de­ces­sor — which is not sur­pris­ing giv­en its hos­til­i­ty to cli­mate pol­i­cy. This ani­mos­i­ty is shared by Clark, who, in a 2010 pan­el dis­cus­sion, called the EPA's green­house gas reg­u­la­tion ​"rem­i­nis­cent of kind of a Lenin­is­tic pro­gram from the 1920s to seize con­trol of the com­mand­ing heights of the economy."
The rul­ing may take months, but the plain­tiffs and their legal team were in a cel­e­bra­to­ry mood, pour­ing out of the fed­er­al cour­t­house to a sun­ny day, TV news cam­eras and cheers from sup­port­ers. Led by the Unpres­i­dent­ed Brass Band, they parad­ed through the streets to a plaza in down­town Portland.
A grand­moth­er and grand­daugh­ter team from cli­mate-jus­tice group 350​.org per­formed a skit out­side, read­ing sci­en­tif­ic warn­ings about cli­mate change going back to 1961 fol­lowed by pup­pets of pres­i­dents, from John F. Kennedy to Don­ald Trump, describ­ing the poli­cies they enact­ed to burn more oil, coal and nat­ur­al gas. The grand­daugh­ter would ask, ​"Did the gov­ern­ment know?" and the audi­ence of hun­dreds would yell, ​"The gov­ern­ment knew!"
Polit­i­cal­ly, the focus on chil­dren has helped to change the face of the cli­mate-jus­tice move­ment from old­er and white to youth-led and diverse.
Speak­ing at the ral­ly, plain­tiff Vic Bar­rett, 20, said, ​"We spent anoth­er day in court fac­ing our gov­ern­ment, the appar­ent strongest gov­ern­ment in the world, show­ing fear of young peo­ple and show­ing fear of facts."
The youngest plain­tiff, 11-year-old Levi Dra­heim, also spoke. ​"It's been four years since I got involved with this case. That's lit­er­al­ly one-third of my life that I have ded­i­cat­ed to this law­suit." Ris­ing sea lev­els are threat­en­ing to sub­merge the bar­ri­er island he lives on off the Atlantic coast of Flori­da, a place where, he says, ​"I can watch dol­phins, tur­tles and man­a­tees, and I can go bare­foot all year round."
As the ral­ly dis­persed, a marim­ba band struck up. Olson and a hand­ful of plain­tiffs start­ed danc­ing. When asked if they were look­ing for the gov­ern­ment to do some­thing new, Olson said, ​"We're ask­ing them to apply bedrock con­sti­tu­tion­al law to new fac­tu­al cir­cum­stances." Excus­ing her­self, she con­tin­ued dancing.