Biden and the Obama Admin Are Finally Getting the Reckoning They Deserve
From immigration to tax deals, Thursday night's debate saw the troubling records of both Biden and the Obama administration put on trial. It's long overdue.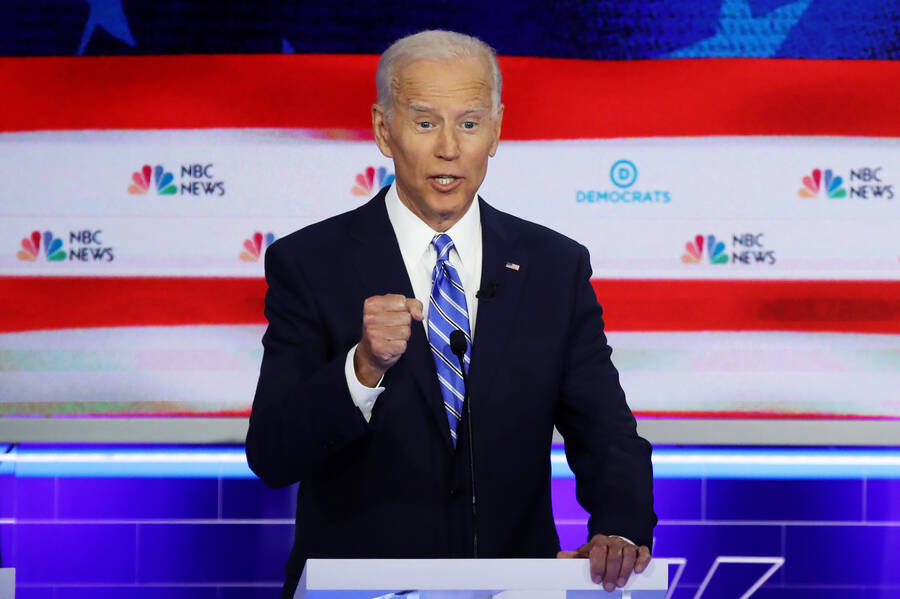 Joe Biden could have sat this cam­paign out, retired, and been fond­ly remem­bered by the Amer­i­can pub­lic as Barack Oba­ma's goofy yet love­able vice pres­i­dent. Instead, he chose to run for pres­i­dent one last time, and as a result guar­an­teed that he'll be remem­bered for his actu­al record.
The debate indicated that cracks are forming in the Obama-Biden administration's invulnerability to Democratic criticism.
Thurs­day night was a rough one for Biden. It was always going to be, not just because the can­di­date — who has assid­u­ous­ly avoid­ed unscript­ed media appear­ances since announc­ing his run — has a poor record of suc­cess as a cam­paign­er. Biden's deep-root­ed role as a cen­trist ​"neolib­er­al" Demo­c­rat has sad­dled him with a long, check­ered his­to­ry for his oppo­nents to pick apart.
And pick apart they did. Thurs­day's debate saw sev­er­al of Biden's rivals assail him for a record that sits uneasi­ly with the more pro­gres­sive direc­tion of today's Demo­c­ra­t­ic Par­ty. And Biden — who entered the night as the clear fron­trun­ner — didn't do him­self any favors by fre­quent­ly stum­bling over his words and even mak­ing non­sen­si­cal statements.
The first crack came on the sub­ject of immi­gra­tion. As Biden boast­ed of his immi­gra­tion record ("We all talk about these things, I did it!"), mod­er­a­tor Jose Diaz-Balart remind­ed him that ​"the Oba­ma-Biden admin­is­tra­tion deport­ed more than three mil­lion Amer­i­cans," prompt­ing a cam­era cut to a con­fused-look­ing Biden. This top­ic opened up space for Sen. Kamala Har­ris (D‑Calif.) to crit­i­cize not just Biden but the lega­cy of the Oba­ma admin­is­tra­tion, explain­ing that she had ​"dis­agreed with my pres­i­dent" on the issue of unjust deportations.
Biden's defense of his record on immi­gra­tion was whol­ly uncon­vinc­ing. Biden said he would ​"surge imme­di­ate­ly bil­lions of dol­lars worth of help" into Cen­tral Amer­i­ca to tack­le the root caus­es of peo­ple flee­ing, before ref­er­enc­ing a ​"bipar­ti­san agree­ment" he had secured at the very end of Oba­ma's sec­ond term. Biden was like­ly refer­ring to a plan insert­ed into the admin­is­tra­tion's 2016 bud­get request that came to be known as ​"Biden's billion."
The trou­ble is, by fun­nel­ing hun­dreds of mil­lions of dol­lars to abu­sive secu­ri­ty forces in the region, and by set­ting aside fund­ing for Cen­tral Amer­i­can gov­ern­ments to pre­vent migrants from reach­ing the U.S. bor­der, Biden's bipar­ti­san agree­ment both fueled the root caus­es dri­ving peo­ple to flee and ramped up the cru­el­ty they faced. This was not a first for Biden. He had, in his own words, been ​"one of the archi­tects" of the Clin­ton-era Plan Colom­bia enact­ed in 2000, which com­bined increased mil­i­ta­riza­tion in Colom­bia with open­ing the coun­try up to for­eign invest­ment. The plan result­ed in not just height­ened vio­lence, but eco­nom­ic and envi­ron­men­tal exploita­tion, fur­ther dri­ving peo­ple out of the coun­try, and was repli­cat­ed in the Oba­ma-era Alliance for Pros­per­i­ty for Cen­tral Amer­i­ca 15 years lat­er, also spear­head­ed by Biden.
Dur­ing his time as vice pres­i­dent, Biden didn't engage in the kind of warm and fuzzy bro­mides about pro­tect­ing immi­grants that we heard Thurs­day night. As late as 2014, Biden bragged that the Oba­ma-Biden admin­is­tra­tion was ​"enhanc­ing the enforce­ment and removal pro­ceed­ings" against migrants, and warned that any­one mak­ing the trip should ​"be aware of what awaits them" because it ​"will not be open arms." Indeed, one need only read the stom­ach-churn­ing details of an ACLU law­suit over the treat­ment of migrant chil­dren from that year to under­stand that he was being seri­ous. Biden paid lip ser­vice to ​"hav[ing] to deal with the root caus­es" then, too.
The next major hit Biden took was over his oppo­si­tion to bus­ing and defense of his friend­ly rela­tion­ships with racists and seg­re­ga­tion­ists. It was Har­ris, again, who took Biden to task over these posi­tions, with Biden hit­ting back that he ​"did not praise racists, that is not true," and that he ​"did not oppose bus­ing in America."
Nei­ther of these state­ments is true. Biden's oppo­si­tion to bus­ing is, at this point, well-worn ter­ri­to­ry, but it's worth cycling through some of his state­ments on the mat­ter: the claim that bus­ing was ​"the atom bomb of anti-dis­crim­i­na­tion weapons"; ​"the sin­gle most dev­as­tat­ing issue that could occur to Delaware"; that he'd made it ​"rea­son­able for long­stand­ing lib­er­als to begin to" oppose it as a pol­i­cy; that it was a ​"lib­er­al train wreck."
That last claim came not in the 1970s but in his 2007 autobiography.
Biden's state­ment that he has­n't praised racists is clear­ly debunked by his recent defense of his pos­i­tive rela­tion­ship with dyed-in-the-wool seg­re­ga­tion­ist Sens. James East­land and Her­man Tal­madge. But that's not all. In his 2003 eulo­gy for seg­re­ga­tion­ist and noto­ri­ous sex­u­al preda­tor Strom Thur­mond, Biden called Thur­mond ​"a brave man" who ​"tru­ly want­ed to help."
Even cen­trist Michael Ben­nett got in on the action, reject­ing Biden's pre­dic­tion that Repub­li­cans will expe­ri­ence a sud­den change of heart and wish to work with a Demo­c­ra­t­ic pres­i­dent once Trump is out of office. Ben­nett also exco­ri­at­ed an Oba­ma-era deal on tax­es Biden boast­ed of mak­ing with Mitch McConnell as a ​"com­plete vic­to­ry for the Tea Party."
"It does sound as if you haven't seen what's been hap­pen­ing in the Unit­ed States Sen­ate over the last 12 years," remarked mod­er­a­tor Chuck Todd.
But it was the sec­ond exchange with Har­ris on the issue of race that began a grad­ual unrav­el­ing for Biden through­out the night. Attempt­ing to defend his record on civ­il rights, Biden rat­tled off a series of poli­cies he'd been involved in before abrupt­ly stop­ping of his own voli­tion, say­ing, (per­haps alle­gor­i­cal­ly), ​"My time's up, I'm sorry."
Biden lat­er appeared to defend the pow­er­ful and increas­ing­ly far-Right Nation­al Rifle Asso­ci­a­tion (NRA), say­ing the ​"ene­my is the gun man­u­fac­tur­ers, not the NRA." In response to a ques­tion about what sin­gle issue he would pri­or­i­tize upon win­ning the pres­i­den­cy, he odd­ly answered, ​"make sure that we defeat Don­ald Trump."
Of course, Biden was­n't the only can­di­date to mis­rep­re­sent his record on stage. Har­ris claimed the man­tle of police account­abil­i­ty by men­tion­ing her sup­port for police body cam­eras, which like­ly came as news to civ­il rights activists in her home state of Cal­i­for­nia who crit­i­cized her in 2016 for oppos­ing mea­sures for greater police over­sight. And Kirsten Gilli­brand (D‑N.Y.) cast her­self as a tough-on-Wall Street politi­cian, despite her well-doc­u­ment­ed his­to­ry as a loy­al ally to bank­ing interests.
But Biden's mis­rep­re­sen­ta­tions, and the crit­i­cism he faced for his polit­i­cal his­to­ry, are par­tic­u­lar­ly sig­nif­i­cant giv­en his now two-month-long reign as the fron­trun­ner for the Demo­c­ra­t­ic nom­i­na­tion. Biden's dom­i­na­tion of the ear­ly polls has been cit­ed by com­men­ta­tors rang­ing from Jonathan Chait to Michelle Gold­berg as evi­dence that the desire for change and bold pro­gres­sivism among vot­ers has been over­stat­ed since 2016. The attacks Biden faced last night, and his impulse to put a pro­gres­sive spin on some unsa­vory parts of his his­to­ry, sug­gest such argu­ments have been far too hasty.
The 2020 Demo­c­ra­t­ic pri­ma­ry cam­paign will be long, and one sin­gle debate isn't like­ly to upend the can­di­dates' stand­ing. But Thurs­day offered a pre­view of what may well be in store for Biden in the months ahead: the longer he stays in pole posi­tion, the more his record will be exca­vat­ed and the more attacks he'll face from his rivals.
But the debate also indi­cat­ed that cracks are form­ing in the Oba­ma-Biden admin­is­tra­tion's invul­ner­a­bil­i­ty to Demo­c­ra­t­ic crit­i­cism. As long as Biden stays in the race, his oppo­nents will have more space to point out its flaws with­out going after the beloved for­mer pres­i­dent him­self. This may prove the most last­ing lega­cy of Biden's campaign.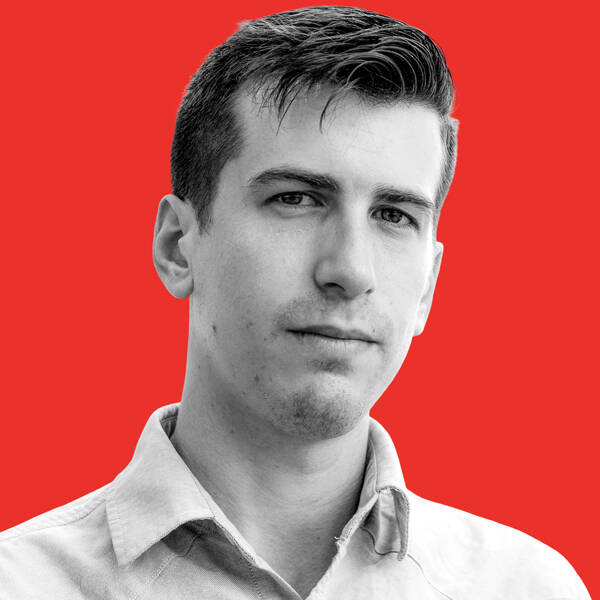 Branko Marcetic
is a staff writer at Jacobin mag­a­zine and a
2019
 – 
2020
Leonard C. Good­man Insti­tute for Inves­tiga­tive Report­ing fel­low. He is work­ing on a forth­com­ing book about Joe Biden.