Big Greens Are Mad at Bernie For All the Wrong Reasons
Sanders' low ranking by the League of Conservation Voters speaks to a deeper divide among greens.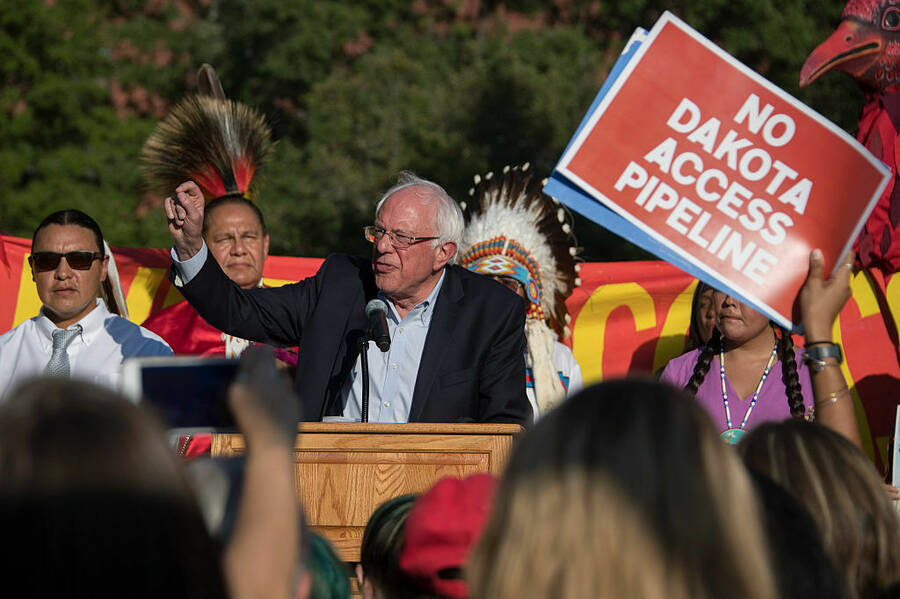 Read­ing through the League of Con­ser­va­tion Vot­ers' (LCV) most recent score­card of U.S. law­mak­ers might leave you with a strange impres­sion: That coal-lov­ing Joe Manchin, a Demo­c­rat from West Vir­ginia, and Dako­ta Access Pipeline backer Hei­di Heitkamp, a Demo­c­rat from North Dako­ta, are big­ger envi­ron­men­tal cham­pi­ons than Bernie Sanders. Nei­ther Manchin or Heitkemp received espe­cial­ly high rank­ings — 47 and 53 out of 100, respec­tive­ly — but their scores trounce Sanders' score, which was just 6 percent.
"If splits within the Democratic Party were apparent in the platform drafting process, they're all but unavoidable now."
In part, the scores are a result of the rigid­i­ty of LCV's method­ol­o­gy. Law­mak­ers' rat­ings are tal­lied based on how they vote on a series of key Con­gres­sion­al votes on dif­fer­ent sub­jects, includ­ing ener­gy, cli­mate and spend­ing for envi­ron­men­tal pro­grams. Absences count against them, so the fact that Sanders missed sev­er­al votes while on the cam­paign trail weighed him down more than Manchin's and Heitkamp's deci­sions to side with the fos­sil fuel indus­try on var­i­ous measures.
For the LCV, it may be time to look to a more holis­tic way of eval­u­at­ing envi­ron­men­tal lead­ers. In late Jan­u­ary, Heitkamp said that Don­ald Trump's deci­sion to green­light the Dako­ta Access pipeline, ​"pro­vides a step for­ward that is need­ed for those impact­ed by the long delays around the Dako­ta Access pipeline. For too long, inac­tion or inde­ci­sion paved the way even after the courts already stat­ed twice that the Corps fol­lowed the required process in con­sid­er­ing the per­mit." She has also tak­en in near­ly $400,000 from oil, gas and util­i­ty companies.
Manchin, mean­while, holds noto­ri­ous­ly close ties to the coal indus­try, and has vot­ed reli­ably to curb the Envi­ron­ment Pro­tec­tion Agency's (EPA) abil­i­ty to reg­u­late emis­sions and extrac­tion., He recent­ly stood behind Trump — phys­i­cal­ly and polit­i­cal­ly — in dis­man­tling Oba­ma-era reg­u­la­tions that pre­vent­ed coal com­pa­nies from dump­ing their waste in streams. Both Manchin and Heitkamp vot­ed for Trump's EPA pick, Scott Pruitt, who has sued the agency 14 times.
By con­trast, Sanders joined a num­ber of Democ­rats, in Novem­ber 2015, in intro­duc­ing the ​"Keep It in The Ground Act," which would have banned cor­po­ra­tions from tak­ing out new leas­es for extrac­tive projects on fed­er­al land and in the Pacif­ic and Gulf of Mex­i­co, and halt­ed off­shore drilling in the Arc­tic and Atlantic Oceans. Sanders was among the first Con­gress­men to come out against the Key­stone XL and Dako­ta Access pipelines. He also con­sult­ed close­ly with pipeline fight­ers and groups like 350​.org while on the cam­paign trail, and picked one of the group's co-founders — writer Bill McK­ibben — to serve on the Demo­c­ra­t­ic Par­ty plat­form draft­ing com­mit­tee. This morn­ing, he host­ed a Face­book live con­ver­sa­tion with Bill Nye about sci­ence, cli­mate change and tran­si­tion­ing off fos­sil fuels.
Not­ing his his­to­ry of sup­port for cli­mate and envi­ron­men­tal issues, the Sier­ra Club issued a response to Sanders' sin­gle-dig­it score. "[T]here is no ques­tion where Sen­a­tor Sanders stands," the group's exec­u­tive direc­tor, Michael Brune, wrote, ​"he is one of the strongest voic­es for envi­ron­men­tal pro­tec­tion, clean ener­gy, and cli­mate action not just in the Unit­ed States Sen­ate, but in the coun­try." Friends of the Earth penned a sim­i­lar state­ment, call­ing Sanders ​"our biggest cham­pi­on push­ing for action on the biggest stage."
But Sanders' low rank­ing speaks to a deep­er divide among greens. The chair of the LCV board, Car­ol Brown­er, a for­mer head of the EPA and Hillary Clin­ton sup­port­er, sparred with Sanders sur­ro­gates in draft­ing the Demo­c­ra­t­ic Party's plat­form. Clin­ton clashed with McK­ibben and the Ver­mont sen­a­tor's oth­er picks, and her team uni­form­ly vot­ed down bans on frack­ing and fos­sil fuel extrac­tion on fed­er­al land, along with anoth­er to ensure fed­er­al agen­cies fac­tor cli­mate impacts into their plan­ning and deci­sion-mak­ing. Fol­low­ing com­pro­mis­es on both sides, the plat­form com­mit­tee land­ed on a ​"uni­ty amend­ment," offi­cial­ly adopt­ing an Oba­ma-era pref­er­ence for renew­able ener­gy over nat­ur­al gas.
If splits with­in the Demo­c­ra­t­ic Par­ty were appar­ent in the plat­form draft­ing process, they're all but unavoid­able now. It was the same fight that played out in the Demo­c­ra­t­ic Par­ty lead­er­ship race, between Kei­th Elli­son and the party's estab­lish­ment. And strains of it are cours­ing through the envi­ron­men­tal move­ment itself. Greens and Democ­rats alike now face a choice: whether to stand with Trump and the peo­ple who col­lab­o­rate with him or with the pro­gres­sives capa­ble of mount­ing the resistance.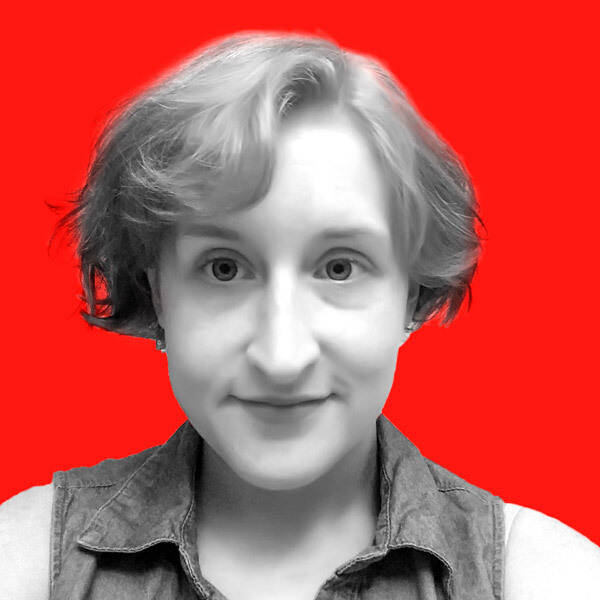 Kate Aronoff
is a Brook­lyn-based jour­nal­ist cov­er­ing cli­mate and U.S. pol­i­tics, and a con­tribut­ing writer at The Inter­cept. Fol­low her on Twit­ter @katearonoff.