Bill Moyers: Instead of Rebuilding America, Trump Bombs the Middle East
After Trump unleashed missiles on a Syrian airfield, members of Washington's national security establishment and elite pundits swooned.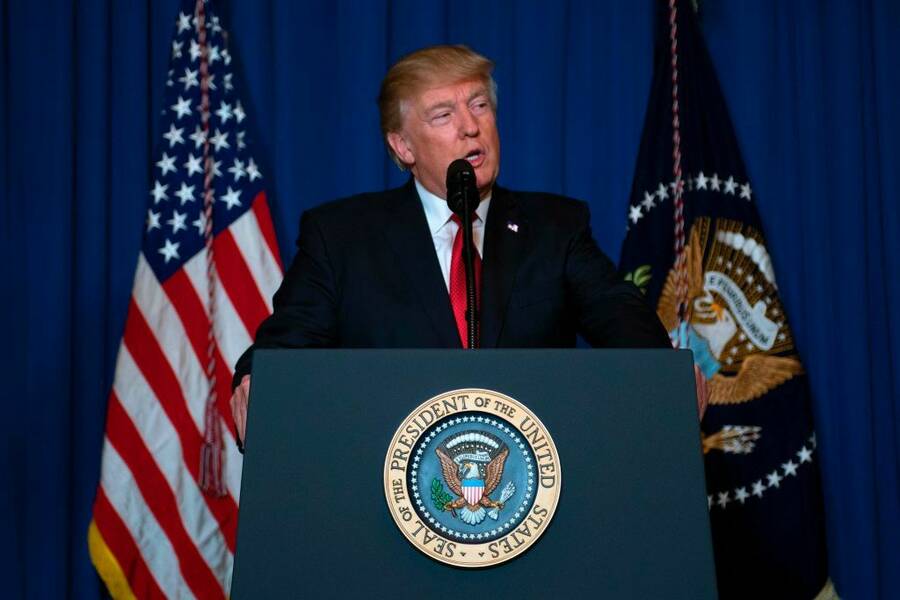 This arti­cle was first post­ed at Bill​Moy​ers​.com.
"How is it Trump seems to care the least for the very folks who voted for him? Not a day passes that he doesn't betray some of them."
It's been a week now since Don­ald Trump once again became our president.
Here's how it happened.
After he unleashed mis­siles on a Syr­i­an air­field, mem­bers of Washington's nation­al secu­ri­ty estab­lish­ment and elite pun­dits swooned. Top Democ­rats and Repub­li­cans led the way. Good sol­diers all in the mil­i­tary-indus­tri­al-polit­i­cal com­plex, they stood smart­ly at atten­tion and salut­ed the com­man­der-in-chief for send­ing a mes­sage to the world, although exact­ly what the mes­sage meant remains far from clear.
The head­line above Glenn Greenwald's sto­ry at The Inter­cept summed up the response: ​"The Spoils of War — Trump Lav­ished with Media and Bipar­ti­san Praise for Bomb­ing Syr­ia." The hawk­ish Hillary Clin­ton, who long had been crit­i­cal of Barack Oba­ma for not bring­ing Bashar Assad to heel, ​"appeared at an event"—and this was before the bomb­ing even hap­pened!—"and offered her cat­e­gor­i­cal sup­port for what Trump was planning."
Up in the choir loft, the media and pun­dits sang as one from the offi­cial hym­nal, prais­ing Trump's ​"pres­i­den­tial moment" and trans­form­ing him from a pathet­ic dun­der­head suf­fer­ing from nar­cis­sis­tic per­son­al­i­ty dis­or­der into the Lord of Hosts. It was CNN's Fareed Zakaria who pro­nounced the deci­sion to fire away as the ​"big moment" when ​"Don­ald Trump became pres­i­dent of the Unit­ed States."
The the­atrics were per­fect. The Pen­ta­gon shopped to the media a video of the mis­siles as they were loft­ed up and away. MSNBC's Bri­an Williams was among those moved by the aes­thet­ics of vio­lence: ​"We see these beau­ti­ful pic­tures at night from the decks of these two Navy ves­sels in the East­ern Mediter­ranean. I am tempt­ed to quote the great Leonard Cohen: ​'I'm guid­ed by the beau­ty of our weapons.'"
When I heard those words, I thought back to that night in 2003 when anoth­er pres­i­dent lit up the skies over Bagh­dad with the ​"shock and awe" of his air attack on Iraq. Sud­den­ly the press was talk­ing about George W. Bush as if he were George Wash­ing­ton, George Mar­shall and George Pat­ton rolled into one. A touch of George III came lat­er, as our new­ly refur­bished pres­i­dent donned a flight suit and strut­ted aboard the air­craft car­ri­er with the ban­ner behind him that read: ​"Mis­sion Accom­plished." Not quite.
Then a more recent scene and anoth­er mirac­u­lous moment came to mind, from six weeks ago — Feb. 28, to be exact. Don­ald Trump spoke to a joint ses­sion of Con­gress. He paused, point­ed to the bal­cony and rec­og­nized the wid­ow of the Navy SEAL who was killed dur­ing a raid on an alleged ter­ror­ist com­pound in Yemen, the very first mil­i­tary mis­sion dis­patched into harm's way by the brand-new com­man­der-in-chief himself.
That mis­sion went bad­ly, so much so that at least two dozen local civil­ians, includ­ing women and chil­dren, were killed. Trump did not men­tion them. He focused on hon­or­ing the griev­ing wid­ow in the bal­cony who was try­ing, unsuc­cess­ful­ly, to hold back her tears as wave after wave of applause rolled across the House cham­ber and ric­o­cheted from wall to wall.
Time mag­a­zine's White House cor­re­spon­dent tweet­ed that the speech was the ​"clear­est exam­ple Trump is begin­ning to own and under­stand the pow­ers of the office." The next day, The Wash­ing­ton Post's White House bureau chief tweet­ed, ​"This is the best morn­ing of Don­ald Trump's pres­i­den­cy. He is bask­ing in pos­i­tive pun­dit reviews. All that tumult [of the pre­vi­ous month] feels like yes­ter­year." Politi­co's man on the scene admir­ing­ly described it in a tweet as Trump's ​"Rea­ganesque moment."
And over at CNN, lib­er­al com­men­ta­tor Van Jones called it,
"one of the most extra­or­di­nary moments you have ever seen in Amer­i­can pol­i­tics, peri­od… And for peo­ple who have been hop­ing that he [Trump] would become uni­fy­ing, hop­ing that he might find some way to become pres­i­den­tial, they should be hap­py with that moment… He did some­thing tonight that you can­not take away from him. He became pres­i­dent of the Unit­ed States." [ital­ics mine]
I under­stand what these peo­ple were say­ing — that although con­sti­tu­tion­al­ly Trump had become pres­i­dent when he was inau­gu­rat­ed four weeks ear­li­er, he had not metaphor­i­cal­ly made the leap into the per­sona expect­ed of him. He did not fit the myth­i­cal image of a pres­i­dent we pre­fer over the real thing. Above all, he had yet to put on a suf­fi­cient­ly good show (the crowd at the inau­gu­ra­tion was not much larg­er than his two under­sized hands clasped togeth­er). Nor had the estab­lish­ment pun­dits ful­ly weighed in with any sem­blance of sup­port, and with­out their bless­ing, Trump was obvi­ous­ly just a usurp­er who could bare­ly read a speech, even with a teleprompter.
But after the dra­mat­ic spec­ta­cle of that Feb. 28 speech, the white smoke rose from the chim­ney: Amer­i­ca at last had a pres­i­dent who could act the part even if his cronies were rip­ping out the plumb­ing, strip­ping the wiring and cart­ing it all off in Uber cars.
Alas, the eupho­ria of that night was not to last. Once again it evap­o­rat­ed as fast as the truth on Kellyanne Conway's lips. Trump quick­ly returned to gov­ern­ing by anar­chy. Chaos again ruled the White House. Wreck­ing crews installed by Ban­non and Priebus at fed­er­al agen­cies con­tin­ued their blood­baths. Trump's state of mind once again became the sub­ject of much spec­u­la­tion. Trump's health care ​"reform" went down in flames. His pro­posed bud­get explod­ed on con­tact with real­i­ty. Con­flicts of inter­est lit­tered the city like cow pat­ties in a pas­ture. The atmos­phere stank like a fetid swamp, the one Trump has made no attempt to drain. And his pop­u­lar­i­ty dropped low­er than any pres­i­dent so ear­ly in the game.
Yet after the bomb­ing a week ago, Trump tow­ers again. Fifty-nine cruise mis­siles — tom­a­hawks — were all it took.
Mind you, there is lit­tle to show for the attack. The air­base was open the very next day. Russia's Putin and Syria's Assad may be forced into a tighter embrace as Don­ald chills on Vladimir — and vice versa.
And real­ly, what was the big deal, any­way? As Glenn Green­wald wrote,
"The CIA has spent more than a bil­lion dol­lars a year to arm anti-Assad rebels for years, and the US began bomb­ing Syr­ia in 2014 — the sev­enth pre­dom­i­nant­ly Mus­lim coun­try bombed by Oba­ma — and nev­er stopped. Trump had already esca­lat­ed that bomb­ing cam­paign, cul­mi­nat­ing in a strike last month that Syr­i­ans say destroyed a mosque and killed dozens. What makes this lat­est attack new is that rather than alleged­ly tar­get­ing terrorist's sites of ISIS and al-Qai­da, it tar­gets the Syr­i­an gov­ern­ment — some­thing Oba­ma threat­ened to do in 2013 but nev­er did."
Trump will be tempt­ed to do it again, because he likes big booms and espe­cial­ly if such thun­der­bolts gain him adu­la­tion from hard-lin­ers in the nation­al secu­ri­ty com­plex and the press.
There will be oppor­tu­ni­ties because even if Assad stops using chem­i­cal weapons, he will no doubt con­tin­ue to pum­mel what remains of Syria's civil­ian pop­u­la­tion. As Ilan Gold­en­berg, a for­mer State Depart­ment offi­cial, told The Huff­in­g­ton Post: ​"You'll see many more pic­tures of beau­ti­ful [Syr­i­an] babies [dying] on TV — specif­i­cal­ly to humil­i­ate the Unit­ed States and show the feck­less­ness of mil­i­tary action." In oth­er words, Trump is about to find out why Oba­ma avoid­ed mil­i­tary inter­ven­tion in Syria.
Mean­while, here at home, our insti­tu­tions bend and buck­le and approach the break­ing point from benign, blind or will­ful neglect — and above all, from a lead­er­ship vacuum.
One exam­ple: our trans­porta­tion infra­struc­ture. A week ago, as Trump & Com­pa­ny plot­ted the attack on the Syr­i­an air­field, here in the North­east cor­ri­dor of America's vast trans­porta­tion sys­tem a sec­ond train derail­ment in two weeks again plunged hun­dreds of thou­sands of com­muters into nail-bit­ing, life-upend­ing chaos.
It began as a minor derail­ment at Penn Sta­tion, the hub of our tran­sit net­work, but like a spi­der web, every­thing tran­sit-relat­ed is so con­nect­ed in these parts that the upheaval quick­ly spread to Long Island and New Jer­sey and then to the cor­ri­dor between Boston and Wash­ing­ton, DC. The New York Times called the calami­ty ​"anoth­er reminder of the decrepit, ten­u­ous state of much of the region's infra­struc­ture and tran­sit systems."
You would think this would be a pri­or­i­ty of Don­ald Trump. He grew up in New York. He knows the cru­cial role of mass tran­sit. He spins a good spiel on infra­struc­ture. Yet for all this, he has reject­ed an Oba­ma-era pro­gram that would have fund­ed long-range improve­ments to our region­al infra­struc­ture, even as he pro­pos­es huge tax breaks for builders and real estate devel­op­ers like himself.
He also wants to increase defense spend­ing by $54 bil­lion and pro­pos­es to slash non-mil­i­tary spend­ing by a cor­re­spond­ing amount. This includes slic­ing funds for Amtrak and tran­sit and com­muter rail pro­grams across the coun­try. The Nation­al Asso­ci­a­tion of Rail Pas­sen­gers esti­mates the cuts of fed­er­al fund­ing for Amtrak's nation­al net­work of trains would dras­ti­cal­ly affect ser­vice to 23 states and 144 mil­lion Amer­i­cans, many of them in rur­al towns in the Mid­west and the South, includ­ing my home town in East Texas which went for Trump by an over­whelm­ing major­i­ty — and I mean overwhelming.
How is it Trump seems to care the least for the very folks who vot­ed for him? Not a day pass­es that he doesn't betray some of them.
And instead of bomb­ing anoth­er coun­try, how about build­ing our own with bet­ter bridges, rail­roads, high­ways and air­ports, how about tend­ing to those who need jobs and homes, how about health care that real­ly gets the job done?
Then we might final­ly achieve the trans­for­ma­tive moment when even Don­ald Trump at last becomes pres­i­dent for real. But don't hold your breath. It is fool­ish to expect any­thing like this from a man-child who plays with America's des­tiny as if it were a rag doll in his gild­ed crib.

Bill Moy­ers
is the pres­i­dent of the Schu­mann Cen­ter for Media and Democ­ra­cy and the host of
Bill Moy­ers Jour­nal
on PBS.